Red Nichols was one of the finest cornet players to emerge during the 1920s—yet, for various reasons, he was underrated throughout much of his career and in the half-century since. Because his personality could be a bit prickly, he sometimes worked out solos and routines in advance, and he was influenced a bit by Bix Beiderbecke's tone (though less by his ideas), some of the musicians from the world of Eddie Condon (many of whom he hired in the late 1920s) were not too kind in their assessment of his playing.
It also did not help that, in the early 1930s, his recordings were much better known in Europe than those of his African-American counterparts, and that the 1959 movie The Five Pennies, which was very loosely based on his life, was a hit. Some of the Condon-associated musicians seemed to resent that Nichols (who took care of himself) survived the era while Bix Beiderbecke did not. However, if one looks at the music that he left behind in his many recordings, it is clear that Red Nichols was a very significant force with a musical legacy of his own.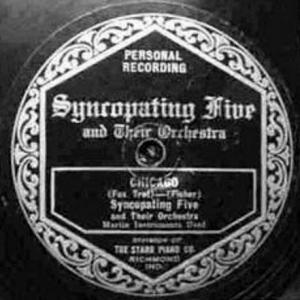 Ernest Loring "Red" Nichols was born May 8, 1905 in Ogden, Utah. He began playing cornet when he was five, studying with his father who was a college music teacher. He played with his father's brass band when he was 12 and worked at other local jobs as a teenager in Utah. For part of 1920 he studied at the Culver Military Academy although, like Beiderbecke, he ended up being expelled. On November 22, 1922 the 17-year old made his recording debut with the Syncopating Five, a group he soon took over and renamed the Royal Palms Orchestra. He took the band east and for a time they played in Atlantic City.
While Nichols recorded with Howard Lanin on two songs from May 25, 1923, it was when he became associated with Howard's brother Sam Lanin that his career took off. Lanin used the technically skilled cornetist on a countless number of recording dates from December 1923 on. That was the start of Nichols becoming one of the most recorded musicians in the world during the next decade. Nichols could read music flawlessly, had an attractive tone, was very disciplined, and could be relied upon to provide a hot chorus when it was needed. While he was aware of Beiderbecke from the start (on June 26, 1924 for George Olsen's recording of "You'll Never Get To Heaven With Those Eyes," he played a transcribed chorus of Bix's February 18, 1924, "Jazz Me Blues" solo), he actually had a cooler tone and a more emotionally reserved style.
Among the many groups that Nichols recorded with during 1924-26 in addition to Lanin and Olsen were Bailey's Lucky Seven, the Charleston Seven, Goofus Five, Tennessee Tooters, Lou Gold, Melody Sheiks, California Ramblers, Lanin's Red Heads, Varsity Eight, Five Birmingham Babies, Billy Wynne, Little Ramblers, Bill Wirges, the Georgians, Seven Missing Links, Ross Gorman, the Cotton Pickers, the Hottentots, Cliff Edwards, Ipana Troubadours, Walter Davidson's Louisville Loons, the Original Memphis Five, Broadway Bellhops, Bob Haring, Arnold Brilhart, Little Pilgrims Orchestra, Frank Signorelli, Jay C. Flippen, Jack Albin, Annette Hanshaw, Don Voorhees, John Clesi's Areoleans, Evelyn Preer, and Lee Morse; and those were only the jazz-oriented groups.
During the remainder of the 1920s, Nichols also recorded with Miff Mole's Molers, Peggy English, Carl Fenton, Sophie Tucker, Art Gillham, Cass Hagan's Park Central Hotel Orchestra, the Midnight Airedales, Irving Brodsky, and the Red Hot Dogs. Nichols spent a few months with Paul Whiteman's orchestra in 1927 and he was always proud that his replacement was Bix Beiderbecke.
Red Nichols seemed to be everywhere during this era, but it was when he emerged as a leader on records that he started becoming known to the general public. In addition to his cornet playing, he was an imaginative arranger who (like Jelly Roll Morton) was expert at mixing together jammed and arranged ensembles. He sometimes employed whole tone rows in unusual places and his writing required that he hire musicians of the highest caliber.
On many of his sidemen dates, he had been joined by Miff Mole, a trombonist who was expert at flawlessly playing wide interval jumps that were considered impossible on his instrument. Mole's solo style fit in well with Nichols, and the cornetist was also greatly impressed by the virtuosity of Jimmy Dorsey on clarinet and alto, the colorful sounds of drummer Vic Berton (who doubled on tympani and thought like a percussionist), the bell-like tone of guitarist Eddie Lang, and the inventive piano playing of Arthur Schutt. Starting on December 8, 1926 with his recordings of "Washboard Blues" and "That's No Bargain," Nichols began leading a series of records by his Five Pennies. The size of the group grew over time but the name stuck.
During 1926-32, Nichols led many recordings including those by such overlapping groups as the Five Pennies, the Charleston Chasers, the Arkansas Travelers, the Red Heads, the Louisiana Rhythm Kings, the Wabash Dance Orchestra, the Alabama Red Peppers, and Red and Miff's Stompers. He also headed larger orchestras on some records and for the shows Strike Up The Band and Girl Crazy. Nichols had a surprise hit in 1927 with the Five Pennies' recording of "Ida, Sweet As Apple Cider."
In addition to Mole (who was on most of Nichols' recordings during 1927-28 before he became a studio musician) and the sidemen already mentioned, Nichols utilized such talents as trombonists Glenn Miller, Jack Teagarden, Tommy Dorsey and Will Bradley, clarinetists Pee Wee Russell, Benny Goodman, and Frank Teschemacher, tenor-saxophonists Bud Freeman, Eddie Miller, Babe Russin, and Fud Livingston, Frankie Trumbauer on C-melody sax, Dudley Fosdick (jazz's first mellophone soloist), bass saxophonist Adrian Rollini, guitarists Dick McDonough, Carl Kress, and Eddie Condon, pianists Lennie Hayton, Joe Sullivan, Rube Bloom, and Roy Bargy, violinist Joe Venuti, Joe Tarto on tuba, bassist Artie Bernstein, drummers Gene Krupa, Chauncey Morehouse, Stan King, Dave Tough, Ray Bauduc, and Ray McKinley, singer Red McKenzie, and trumpeters Charlie Teagarden and Wingy Manone.
In the movie The Five Pennies, the Red Nichols character often uses the tag line "Don't worry, someday they'll all be working for me." When one considers the number of future major bandleaders who came out of his groups (Benny Goodman, Glenn Miller, Gene Krupa, Jack Teagarden, both Dorsey Brothers, and Artie Shaw who apparently never recorded with him), one could say that the who's who of white swing passed through his ensembles. But ironically Red Nichols would not be a successful bandleader during the Swing Era.
After 1932, Nichols appeared much less frequently on records, making no jazz sessions at all during 1933. In 1934 he led an undistinguished 11-piece group called His World Famous Pennies. He headed anonymous orchestras on the radio, and made some attempts during the Swing era with his own orchestra to find a niche or a musical personality. But he was considered a has-been when he was considered at all, while many of his former sidemen became household names. When his daughter caught polio, Nichols dropped out of the music business altogether to help take care of her, and nothing was heard from him during 1941-43.
In 1944 he started a comeback. Nichols, who was still just 39, had lost nothing of his musical skills or his cornet chops. He was featured with the Casa Loma Orchestra for a few months and later in the year he formed a new version of the Five Pennies, this time as a sextet that was based in Los Angeles. The Dixieland revival and his location resulted in Nichols getting work including making sessions with Peggy Lee, Julia Lee, Phil Harris, and Kay Starr, and appearing on the radio with Bing Crosby. The Five Pennies was popular locally, often featuring either Heinie Beau or Rosy McHargue on clarinet and tenor-saxophonist Herbie Haymer. One of Nichols' more popular numbers was his version of "Battle Hymn Of The Republic" which was taken at three different tempos: a dirge, a bluesy chorus and finally a swinging stomp.
In 1949 when bass saxophonist joined the band (taking the place of the string bass) and trombonist King Jackson became a fixture (replacing the tenor), the Five Pennies had their own distinctive sound. Occasionally there were hints of Nichols' vintage avant-garde arrangements from the 1920s, but most of the time it was a conventional, if spirited, Dixieland-oriented group. The Five Pennies recorded a string of albums for Capitol, Jump and Audiophile and kept busy in the 1950s. In addition, Nichols appeared in such movies as Wabash Avenue (1950), Disc Jockey, Quicksand (the latter two from 1951) and 1959's The Gene Krupa Story.
In October 1956, Red Nichols was the subject of an episode of the television show This Is Your Life. The telecast resulted in a growing interest in making Nichols' life story into a Hollywood movie. The 1959 film The Five Pennies is an entertaining if largely fictional film. Danny Kaye played Nichols as a slightly irresponsible musician-singer who was always getting into trouble. Never mind that the real Red Nichols was a disciplinarian who never sang. The movie, which featured Nichols ghosting the cornet solos for Kaye, was a big success. It is one of the most watchable of the jazz "biographies" and it is fun guessing where many of the jokes originated; they are taken from quite a few sources in jazz history. The chemistry between Kaye and Louis Armstrong, along with the heartwarming narrative, made this into a highly enjoyable film.
The success of The Five Pennies was followed by more recordings for Capitol, including the definitive 1959 recording of "The Battle Hymn Of The Republic" which had been a major part of the film. While Red Nichols was now nationally famous, it did not change his career much. He continued working mostly in the Los Angeles area with his Five Pennies, performing the music he most enjoyed.
Red Nichols died unexpectedly from a heart attack on June 28, 1965 at the age of 60. A few years ago Jazz Oracle put out a trio of three CD sets (called Red Nichols Volume 1-3, 4-6, and 7-9) that contain nearly all of the cornetist's recordings as a leader from 1926-32, covering his output for Brunswick and Vocalion and just skipping a dozen sides made for other labels. While he was not an innovator on the level of Louis Armstrong or Bix Beiderbecke, those highly recommended sets, along with his better 1950s recordings, show that Red Nichols succeeded in carving out his own place in jazz history.
---
This is what our print edition feels like. If you want good news to read with your morning coffee, order a print subscription. You'll get full online access to our archives, web extras, and our next issue will arrive at your door. Online only access to all of our original material is also available! Support Hot Jazz Journalism- Subscribe
Subscription Options
---
Or get the Print Edition with Online Access. To get the print edition of The Syncopated Times use this Paypal link. After you pay you will be issued a coupon for free online access.