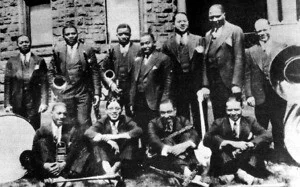 William McKinney, showman-drummer, formed his Cotton Pickers in Springfield, Ohio in 1922, but it was not until the summer of 1928 that they commenced their short but illustrious recording career for Victor.
In the autumn of 1931 Don Redman, who did most of the arrangements, took a band of his own, including in it several of the Cotton Pickers. The Cotton Pickers were based originally in the Greystone Ballroom in Detroit, opposite Jean Goldkette's excellent White orchestra, but by the early part of 1929 we find them in Harlem at various nightspots.
Their personnel varied as any personnel in a band this size, but in it's ranks were at one time such brilliant stars of the Harlem Jazz firmament as Benny Carter, Coleman Hawkins, Lonnie Johnson, James P. Johnson, Joe Smith, Ed Cuffee, Claude Jones 
and Fats Waller.
The original policy of the band was to play hot numbers, many of which were composed by Redman and/or other musicians in the band, but once in New York, with a recording contract from Victor that was demanding of all its artists a more commerical approach to work, the Cotton Pickers included a repertoire of the better popular hits of the day, giving them a rich and rare treatment, with warm section work and beautifully executed soli.
Although the brass bass is supposed to be heavier than a string bass, in Billy Taylor's hands it is a living thing, giving adequate support to Wilborn's lively banjo and Austin's crisp drumming.
Taken from the book Recorded Jazz: A Critical Guide by Rex Harris and Brian Rust.

Title

Recording Date

Recording Location

Company

After All, You're All I'm After
Vocalrefrain by George Bias


(Newman / Young / Lorraine)

11-5-1930
New York, New York
Victor
23024-B
Baby, Won't You Please Come Home
Vocal refrain by George Thomas


(Clarence Williams / Charles Warfield )

7-28-1930
Camden, New Jersey
Victor
22511-B
Victor
62-0084-B
Beedle-Um-Bum


(Thomas A. Dorsey)

4-9-1929
New York, New York
Victor
V-38052-A
Bluebird
B-6595-A
Blues Have Sure Got Me


(Stanton / Don Redman)

7-29-1930
Camden, New Jersey
Victor
62-0084-A
Come A Little Closer


(Jimmy Green / Frank Aquino)

11-18-1930
Camden, New Jersey
Victor
23035-B
Cotton Picker's Scat
Vocal refrain by George Thomas and chorus


(Don Redman / William McKinney)

7-31-1930
Camden, New Jersey
Victor
23012-A
Cherry (2)
Vocal refrain by Jean Napier


(Don Redman)

7-12-1928
Chicago, Illinois
Victor
21730-A
Cherry (3)
Vocal refrain by Jean Napier


(Don Redman)

7-12-1928
Chicago, Illinois
Victor
21730-A
Crying And Sighing


(John Nesbitt)

7-11-1928
Chicago, Illinois
Victor
V-38000-A
Do Something


(Bud Green / Sam Stept)

4-9-1929
New York, New York
Victor
V-38051-B
Do You Believe In Love At First Sight? (1)


(Gus Kahn / Ted Fiorito)

9-8-1931
Camden, New Jersey
RCA
430272
Do You Believe In Love At First Sight? (2)


(Gus Kahn / Ted Fiorito)

9-8-1931
Camden, New Jersey
Victor
22811-A
Four Or Five Times


(Byron Gay / Marceo H. Hellman)

7-11-1928
Chicago, Illinois
Victor
21583-A
Gee, Ain't I Good To You?


(Don Redman / Andy Razaf)

11-5-1929
New York, New York
Victor
V-38097-A
Bluebird
B-10249-A
HMV
B.4967
Hello


(Don Redman / Wilson)

11-5-1930
New York, New York
Victor
23031-A
Honeysuckle Rose (1)


(Andy Razaf / Fats Waller)

2-3-1930
New York, New York
Victor
Honeysuckle Rose (2)


(Andy Razaf / Fats Waller)

2-3-1930
New York, New York
Victor
unissued
Hullabaloo
(From Warner Bros. picture "Dancing Sweeties")
Vocal refrain by Dave Wilborn


(Walter O'Keefe / Bobby Dolan)

7-30-1930
Camden, New Jersey
Victor
22511-A
I'd Love It (1)


(Don Redman / Will Hudson)

11-5-1929
New York, New York
Victor
V-38133-B
HMV
B.4967
I'd Love It (2)


(Don Redman / Will Hudson)

11-5-1929
New York, New York
Victor
V-38133-B
Victor
62-0059-B
If I Could Be With You One Hour Tonight (1)
Vocal refrain by George Thomas


(Henry Creamer / James P. Johnson)

1-31-1930
New York, New York
Victor
V-38118-A
If I Could Be With You One Hour Tonight (2)
Vocal refrain by George Thomas


(Henry Creamer / James P. Johnson)

1-31-1930
New York, New York
Victor
V-38118-A
I'll Make Fun For You
1-31-1930
New York, New York
Victor
V-38142
I Miss A Little Miss
(Who Misses Me In Sunny Tennessee)
Vocal refrain by George Bias


(Tod Seymour / J. Fred Coots)

11-5-1930
New York, New York
Victor
23024-A
It's A Lonesome Old Town
(When You're Not Around) (1)
Vocal refrain by Lois Deppe


(Harry Tobias / Charles Kisco)

2-12-1931
Camden, New Jersey
Victor
22628-A
It's A Lonesome Old Town
(When You're Not Around) (2)
Vocal refrain by Lois Deppe


(Harry Tobias / Charles Kisco)

2-12-1931
Camden, New Jersey
Victor
22628-A
It's A Percious Thing Called Love


(Davis / Coots)

4-8-1929
Camden, New Jersey
Victor
V-38051-A
It Feels So Good
4-9-1929
New York, New York
Victor
It's Tight Like That


(Thomas A. Dorsey / Hudson Whittaker)

11-23-1928
Chicago, Illinois
Victor
V-38013-A
Bluebird
B-6304
I've Found A New Baby


(Spencer Williams)

4-8-1929
Camden, New Jersey
Victor
V-38061-B
Bluebbird
B-7695-B
I Want A Little Girl (2)
with vocal refrain by George Thomas


(Billy Moll / Mencher)

7-30-1930
Camden, New Jersey
Victor
23000-B
I Want A Little Girl (3)
with vocal refrain by George Thomas


(Billy Moll / Mencher)

7-30-1930
Camden, New Jersey
Victor
23000-B
I Want A Little Girl (4)


(Billy Moll / Mencher)

7-30-1930
Camden, New Jersey
Victor
23000-B
I Want Your Love (1)
Vocal refrain by Dave Wilborn


(Don Redman / Palmer)

11-5-1930
New York, New York
Victor
22638-A
I Want Your Love (2)
Vocal refrain by Dave Wilborn


(Don Redman / Palmer)

11-5-1930
New York, New York
Victor
22638-A
Just A Shade Corn
Vocal refrain by Dave Wilborn


(Abe Maule)

7-28-1930
Camden, New Jersey
Victor
23012-B
Laughing At Life (1)


(N. Kenny / C. Kenny / "Cornell" Todd)

11-4-1930
New York, New York
Victor
23020-B
Laughing At Life (2)


(N. Kenny / C. Kenny / "Cornell" Todd)

11-4-1930
New York, New York
Victor
23020-B
Milenberg Joys (2)
(Jelly Roll Morton)
7-11-1928
Chicago, Illinois
Victor
21611-A
Milenberg Joys (3)
(Jelly Roll Morton)
7-11-1928
Chicago, Illinois
RCA X
Miss Hannah
Vocal refrain by Don Redman


(Don Redman / John Nesbitt)

11-5-1929
New York, New York
Victor
V-38102-A
Never Swat A Fly
(from the FOX picture "Just Imagine")


(Buddy De Sylva / Lew Brown / Ray Henderson)

11-4-1930
New York, New York
Victor
23020-A
Victor
62-0085-B
Nobody's Sweetheart


(Gus Kahn / Ernie Erdman / Elmer Schoebel/ Billy Meyers)

7-12-1928
Chicago, Illinois
Victor
V-38000-B
Bluebird
B-5728-B
Okay, Baby
vocal refrain by George Thomas


(Tracey / Maceo Pinkard)

7-29-1930
Camden, New Jersey
Victor
23000-A
Peggy


(Bismer / Buckley / Head)

11-7-1929
New York, New York
Victor
V-38133-A
Victor
62-0059-A
Plain Dirt


(C. Stanton)

11-5-1929
New York, New York
Victor
V-38097-B
Put It There


(Todd Rhodes)

7-11-1928
Chicago, Illinois
Victor
V-38025-B
Rocky Road


(Arthur Gibbs / Joe Gray)

11-3-1930
New York, New York
Victor
62-0085-A
Save It, Pretty Mama


(Don Redman)

4-8-1929
Camden, New Jersey
Victor
V-38061-A
Victor
B-7695-A
Bluebird
7695-A
Sellin' That Stuff


(Thomas A. Dorsey)

4-9-1929
New York, New York
Victor
V-38052-A
Bluebird
B-6595-B
She's My Secret Passion
Vocal refrain by Donald King


(Val Valentine / Arthur Young)

2-12-1931
Camden, New Jersey
Victor
22628-B
Shim-Me-Sha-Wabble


(Spencer Williams)

7-12-1928
Chicago, Illinois
Victor
21611-B
Some Sweet Day


(Rose / Jackson / Olman)

7-12-1928
Chicago, Illinois
Victor
21730-B
Stop Kidding
(Neckbones And Sauerkraut) (1)


(John Nesbitt)

7-12-1928
Chicago, Illinois
RCA X
Stop Kidding (2)


(John Nesbitt)

7-12-1928
Chicago, Illinois
Victor
V-38025-A
Talk To Me (1)
Vocal refrian by Don Redman


(Don Redman)

11-3-1930
New York, New York
Victor
22640-A
Talk To Me (2)
Vocal refrian by Don Redman


(Don Redman)

11-3-1930
New York, New York
Victor
22640-A
There's A Rainbow 'Round My Shoulder


(Jolson / Rose / Dreyer)

11-23-1928
Chicago, Illinois
Victor
V-38013-B
The Way I Feel Today


(Howdy Quicksell / Don Redman / Andy Razaf)

11-5-1929
New York, New York
Victor
V-38102-B
Then Someone's In Love


(Prival / Pollack)

1-31-1930
New York, New York
Victor
To Whom It May Concern
Vocal refrain by Lois Deppe


(Mitchell / Gottier / Meyer)

11-17-1930
Camden, New Jersey
Victor
23035-A
Travelin' All Alone
Vocal refrain by George Thomas


(J.C. Johnson)

2-3-1930
New York, New York
Victor
V-38112-B
Bluebird
5647
Where Ever There's A Will Baby (2)


(Don Redman)

11-7-1929
New York, New York
Victor
22736-B
Bluebird
B-10249-B
Where Ever There's A Will Baby (3)
(Don Redman)
11-7-1929
New York, New York
RCA
RA 5314
Will You, Won't You Babe?
4-8-1929
Camden, New Jersey
Victor
Words Can't Express The Way I Feel (1)
Vocal refrain by George Thomas


(Stanton / Don Redman / Andy Razaf)

1-31-1930
New York, New York
Bluebird
5647
Words Can't Express The Way I Feel (2)
Vocal refrain by George Thomas


(Stanton / Don Redman / Andy Razaf)

1-31-1930
New York, New York
Victor
V-38112-A
Wrap Your Troubles In Dreams
(And Dream Your Troubles Away)


(Ted Koehler / Harry Barris / Billy Moll)

9-8-1931
Camden, New Jersey
Victor
22811-B
You're Driving Me Crazy
Vocal Wilborn by Dave Wilborn


(Walter Donaldson)

11-17-1930
Camden, New Jersey
Victor
23031-B
Zonky
Vocal refrain by Dave Wilborn


(Andy Razaf / Fats Waller)

2-3-1930
New York, New York
Victor
V-38118-B
Bluebird
B-5728-A

| | |
| --- | --- |
| Artist | Instrument |
| Cuba Austin | Drums, Vocals |
| George Bias | Vocals |
| Benny Carter | Clarinet, Alto Saxophone |
| Doc Cheatham | Trumpet |
| Bill Coti | Vocals |
| Langston Curl | Trumpet |
| Ed Cuffee | Trombone |
| Sidney de Paris | Trumpet |
| Lois Deppe | Vocals |
| Leonard Davis | Trumpet |
| Jimmy Dudley | Clarinet, Tenor Saxophone |
| Ralph Escudero | Tuba |
| Coleman Hawkins | Clarinet, Tenor Saxophone |
| Robert Inge | Clarinet, Alto Saxophone |
| Quentin Jackson | Trombone |
| Moxey-Hilton Jefferson | Clarinet, Alto Saxophone |
| James P. Johnson | Piano |
| Claude Jones | Trombone |
| Buddy Lee | Trumpet |
| Donald King | Vocals |
| Kaiser Marshall | Drums |
| Frank Marvin | Vocals |
| Theodore McCord | Clarinet, Tenor Saxophone |
| Jim Napier | Vocals |
| John Nesbitt | Trumpet, Arranger |
| Don Redman | Arranger, Clarinet, Alto Saxophone, Baritone Saxophone, Vocals, Leader |
| Todd Rhodes | Piano, Celeste |
| Prince Robinson | Clarinet, Tenor Saxophone |
| Milton Senior | Trumpet |
| Joe Smith | Trumpet, Cornet |
| Rex Stewart | Cornet |
| Billy Taylor | Tuba |
| George Thomas | Clarinet, Alto Saxophone, Tenor Saxophone, Vocals |
| Fats Waller | Piano, Celeste |
| Dave Wilborn | Banjo, Vocals |