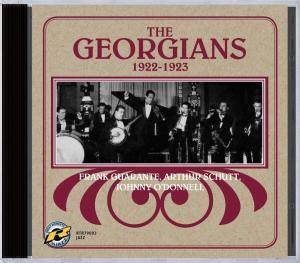 When early pre-1923 jazz recordings are discussed in history books, one encounters the Original Dixieland Jazz Band, sometimes the New Orleans Rhythm Kings, and perhaps a few of the first classic blues singers. The Original Memphis Five (which featured trumpeter Phil Napoleon swinging as early as 1921) is generally overlooked and virtually nothing is said about the Georgians.
The Georgians rank as the second small group drawn from a big band (Paul Specht's Orchestra), following the Virginians which came from Paul Whiteman's ensemble. Much more jazz-oriented, the group (comprised of six or seven musicians) was directed by trumpeter Frank Guarente and included pianist Arthur Schutt (who provided the advanced arrangements, among the first on record to swing), the subtle drummer Chauncey Morehouse, trombone (sometimes Russ Morgan), one or two reed players, and banjo.
The first 24 recordings by the Georgians are on their Retrieval CD 1922-23 including "Sister Kate," "Chicago," "Way Down Yonder In New Orleans," "Aggravatin' Papa," "Farewell Blues," "Mamma Goes Where Papa Goes," and "I'm Sitting Pretty In A Pretty Little City."
The Georgians lasted into 1924 although Guarente used the name for his group while in Europe during 1924-27. He ended up working anonymously on radio and is long forgotten but these recordings by the Georgians show that he was one of the best jazz trumpeters of the time.
The Georgians 1922-23 (Retrieval RTR 79003, 24 selections, TT = 63:59) www.challengerecords.com