Red Nichols and his Five Pennies were one of the most popular bands of the New York Jazz scene of the 1920s. They recorded under a variety of different names, including the Arkansas Travelers, The Red Heads, The Louisiana Rhythm Kings, The Charleston Chasers, The Six Hottentots, The Hottentots and Miff Mole and his Little Molers.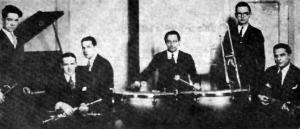 The band's style was often called "Chamber Jazz" by critics and for what it lacked in hot intensity it made up for with a cool somewhat detached, yet urban and sophisticated sound. In 1959 Hollywood made a highly fictionalized movie about the band called "The Five Pennies", starring Danny Kaye as Red Nichols.
Here is a bonus recording of Red Nichols and His Five Pennies performing the songs "Ida (Sweet As Apple Cider)", "Whispering", "Nobody's Sweetheart", "Who Cares" and "China Boy"." from the 1929 Vitaphone short "Red Nichols and His Five Pennies". Eddie Condon is the vocalist.
Thanks to Dennis Pereyra, James Gallup and Verne Buland for their help with this page. Additional thanks to Scott and Mark of Vintage Music Company If you are looking for great jazz on 78's, visit the Vintage Music Company's homepage.
>
Title

Recording Date

Recording Location

Company

After You're Gone


(Henry Creamer / J. Turner Layton)

2-3-1930
New York, New York
Brunswick
4839
Alabama Stomp


(Creamer / Johnson)

3-3-1927
New York, New York
Brunswick
3550


E-4382

Alabama Stomp


(Creamer / Johnson)

3-3-1927
New York, New York
Vocalion
15566


E-4383

Alabama Stomp


(Creamer / Johnson)

3-3-1927
New York, New York
Brunswick
3550


E-4384

Alice Bluegown
(From "Irene")


(Joseph McCarthy / Harry Tierney)

2-16-1929
New York, New York
Brunswick
4456
Allah's Holiday


(Rudolf Friml)

2-16-1929
New York, New York
Brunswick
4286


E-29294-A

Allah's Holiday


(Rudolf Friml)

2-16-1929
New York, New York
Brunswick
6824


E-29295-B

A Pretty Girl Is Like A Melody


(Irving Berlin)

10-2-1928
New York, New York
Brunswick
4456
Avalon


(Jolson / Rose)

2-25-1928
New York, New York
Brunswick
3854-B
Back Beats


(Guarente)

1-12-1927
New York, New York
Brunswick
3490-B
Ballin' The Jack


(Chris Smith / Jack Burris)

8-3-1930
New York, New York
Brunswick

Boneyard Shuffle


(Hoagy Carmichael)

12-20-1926
New York, New York
Brunswick

Boneyard Shuffle


(Hoagy Carmichael / Irving Mills)

12-20-1926
New York, New York
Brunswick
3477-B
Black And Blue


(Andy Razaf / Fats Waller)

8-3-1930
New York, New York
Brunswick

Buddy's Habits


(Charley Straight / Arnett Nelson)

12-20-1926
New York, New York
Brunswick
3477-A
Bug-A-Boo
New York, New York
Brunswick

Bugle Call Rag


(Elmer Schoebel / Jack Pettis / Meyers)

1-12-1927
New York, New York
Brunswick
3490-A
By The Shalimar
8-27-1930
New York, New York
Brunswick

California Medley Part 1
New York, New York
Brunswick

California Medley Part 2
New York, New York
Brunswick

Call Of The Freaks


(Luis Russell / Paul Barbarin)

8-3-1930
New York, New York
Radio
Broadcast
Can't Yo' Heah Me Calling, Caroline? (1) Vocal by Scrappy Lambert


(Roma)

3-2-1928
New York, New York
Brunswick
20062-B


XE-26775

Can't Yo' Heah Me Calling, Caroline?
Vocal by Scrappy Lambert


(Roma)

3-2-1928
New York, New York
Brunswick
20062-B


XE-26777

Can't We Be Friends?
9-6-1929
New York, New York
Brunswick

Carolina In The Morning


(Walter Donaldson)

8-27-1930
New York, New York
Brunswick

China Boy


(Dick Winfree / Phil Bouteljie)

7-2-1930
New York, New York
Brunswick
4877
Chinatown, My Chinatown


(Schwartz / Jerome)

2-5-1929
New York, New York
Brunswick
4363
Corn Fed
6-20-1927
New York, New York
Brunswick
3597-B


E-23665

Corn Fed
6-20-1927
New York, New York
Brunswick
3597-B


E-23666

Corrinne Corrina
10-12-1930
New York, New York
Brunswick

Dear Old Southland (vocal)


(Henry Creamer / J. Turner Layton)

5-31-1928
New York, New York
Brunswick

Davenport Blues


(Bix Beiderbecke)

New York, New York
Bluebird 10408-B
Dear Old Southland


(Henry Creamer / J. Turner Layton)

5-31-1928
New York, New York
Brunswick
A-5081


XE-27621-G

Dear Old Southland


(Henry Creamer / J. Turner Layton)

5-31-1928
New York, New York
Brunswick
20070


XE-27621-A

Dinah


(Sam M. Lewis / Joe Young / Harry Akst)

4-18-1929
New York, New York
Brunswick
4373
Eccentric


(J. Russel Robinson)

8-15-1927
New York, New York
Brunswick
3627
Feelin' No Pain


(Fud Livingstone)

8-15-1927
New York, New York
Brunswick
3626-A
Vocalion
A 15622
Five Pennies


(Red Nichols)

6-20-1927
New York, New York
Brunswick
3855
Get Happy


(Ted Koehler / Harold Arlen)

10-22-1929
New York, New York
Brunswick

Hallelujah!
1-24-1930
New York, New York
Brunswick

Haunting Blues


(Walter Hirsch / Henry Busse)

New York, New York
Brunswick

Honolulu Blues
9-16-1931
New York, New York
Brunswick
6198
How Come You Do Me Like You Do?
8-27-1930
New York, New York
Brunswick

Hurricane


(Paul Mertz / Red Nichols)

3-3-1927
New York, New York
Brunswick
3550


E-4385

Hurricane


(Paul Mertz / Red Nichols)

3-3-1927
New York, New York
Brunswick
3550


E-4386

Hurricane (3)


(Paul Mertz / Red Nichols)

3-3-1927
New York, New York
Brunswick

I Can't Give You Anything But Love


(Dorothy Fields / Jimmy McHugh)

5-31-1928
New York, New York
Vocalion
15710
Ida! Sweet As Apple Cider


(Eddie Leonard)

8-15-1927
New York, New York
Brunswick
3626-A


E-24230

Ida! Sweet As Apple Cider


(Eddie Leonard)

8-15-1927
New York, New York
Brunswick
3626-A
Vocalion
B 15622


E-24232

I Got Rhythm


(George Gershwin / Ira Gershwin)

New York, New York
Brunswick

I'll See You In My Dreams


(Gus Kahn / Isham Jones)

6-7-1929
New York, New York
Brunswick

Imagination


(Fud Livingston)

6-1-1928
New York, New York
Brunswick
3989
I May Be Wrong (A)
8-20-1929
New York, New York
Brunswick
4500
I May Be Wrong (B)
8-20-1929
New York, New York
Brunswick
4500
I May Be Wrong (G)
8-20-1929
New York, New York
Brunswick
4500
I May Be Wrong, But I Think You're Wonderful
8-27-1929
New York, New York
Radio
Broadcast
I'm Just Wild About Harry


(Noble Sissle / Eubie Blake)

2-3-1930
New York, New York
Brunswick

I'm Walking Through Clover
New York, New York
Brunswick

Indiana


(James F. Hanley)

4-18-1929
New York, New York
Brunswick
4373


E-29708-A

Indiana


(James F. Hanley)

4-18-1929
New York, New York
Brunswick
80006


E-29708-B

I Never Knew


(Gus Kahn / Ted Fiorito)

2-1-1929
New York, New York
Brunswick
4243
It Had To Be You


(Gus Kahn / Isham Jones)

6-7-1929
New York, New York
Brunswick

I Want To Be Happy
2-14-1930
New York, New York
Brunswick

Japanese Sandman


(Raymond Egan / Richard Whiting)

2-25-1928
New York, New York
Brunswick
3855


E-26695

Japanese Sandman


(Raymond Egan / Richard Whiting)

2-25-1928
New York, New York
Brunswick
3855


E-26696

Limehouse Blues
Vocal Chorus by Scrappy Lambert


(Douglas Furber / Philip Braham)

5-31-1928
New York, New York
Brunswick
20070


XE-27622-A

Limehouse Blues


(Douglas Furber / Philip Braham)

5-31-1928
New York, New York
Brunswick
A-5081


XE-27622-G

Margie


(Davis / Con Conrad / J. Russel Robinson)

6-1-1928
New York, New York
Brunswick
3961
Mean Dog Blues (1)


(Jackson)

6-25-1927
New York, New York
Brunswick
3597-A
Mean Dog Blues (2)


(Jackson)

6-25-1927
New York, New York
Brunswick
3597-A
Medley
Can Yo' Hear Me Calling Caroline?
Margie
Wait For The Happy Ending
Whispering
9-3-1929
New York, New York
Radio
Broadcast
My Future Just Passed
8-2-1930
New York, New York
Radio
Broadcast
My Gal Sal


(Paul Dresser)

2-27-1928
New York, New York
Brunswick
4844


E-26751

My Gal Sal


(Paul Dresser)

2-27-1928
New York, New York
Brunswick
4844


E-26752

My Honey's Lovin' Arms


(Ruby Meyer)

New York, New York
Brunswick

New Orleans Medley Part 1
New York, New York
Brunswick

New Orleans Medley Part 2
New York, New York
Brunswick

Nobody Knows (vocal)
9-9-1929
New York, New York
Brunswick

Nobody Knows


(Irving Berlin)

9-9-1929
New York, New York
Brunswick

Nobody's Sweetheart


(Gus Kahn / Billy Meyers / Elmer Schoebel)

2-27-1928
New York, New York
Brunswick
3854-A
Oh Peter
(You're So Nice)


(Wiedoeft / Rose Stafford)

9-16-1931
New York, New York
Brunswick
6198
On Revival Day Part 1 (a)


(Andy Razaf)

New York, New York
Brunswick

On Revival Day Part 1 (b)


(Andy Razaf)

New York, New York
Brunswick

On Revival Day Part 2


(Andy Razaf)

New York, New York
Brunswick

On The Alamo
Vocal refrain by Scrappy Lambert


(Gus Kahn / Isham Jones)

4-18-1929
New York, New York
Brunswick
4363
On The Alamo


(Gus Kahn / Isham Jones)

4-18-1929
New York, New York
Brunswick
6825
On The Alamo


(Gus Kahn / Isham Jones)

8-27-1929
New York, New York
Radio
Broadcast
Original Dixieland One-Step
(Nick LaRocca)
6-1-1928
New York, New York
Brunswick
3989
Panama


(William H. Tyers)

3-29-1928
New York, New York
Brunswick

Poor Butterfly
Vocal by Scrappy Lambert


(Hubbell)

3-2-1928
New York, New York
Brunswick
20062-A


XE-26772

Poor Butterfly
Vocal by Scrappy Lambert


(Hubbell)

3-2-1928
New York, New York
Brunswick
20062-A


XE-26773

Poor Butterfly
Vocal by Scrappy Lambert


(Hubbell)

3-2-1928
New York, New York
Brunswick
A-5044


XE-26774

Peg Of My Heart (A)
7-2-1930
New York, New York
Brunswick

Peg Of My Heart (B)
7-2-1930
New York, New York
Brunswick

Rockin' Chair


(Hoagy Carmichael)

New York, New York
Brunswick

Riverboat Shuffle


(Hoagy Carmichael / Dick Voynow / Irving Mills)

8-15-1927
New York, New York
Brunswick
3627


E-24224

Riverboat Shuffle


(Hoagy Carmichael / Dick Voynow / Irving Mills)

8-15-1927
New York, New York
Brunswick
3627


E-24225

Roses Of Picardy


(Wood / Weatherly)

2-16-1929
New York, New York
Brunswick
4268
St. Louis Blues


(W.C. Handy)

8-3-1930
New York, New York
Radio
Broadcast
Sally Won't You Come Back?
6-7-1929
New York, New York
Brunswick

Say It With Music (vocal)


(Irving Berlin)

10-22-1929
New York, New York
Brunswick

Say It With Music


(Irving Berlin)

8-27-1929
New York, New York
Radio
Broadcast
Say It With Music


(Irving Berlin)

10-22-1929
New York, New York
Brunswick

Shim-Me-Sha-Wabble (A)


(Spencer Williams)

7-3-1930
New York, New York
Brunswick

Shim-Me-Sha-Wabble (B)


(Spencer Williams)

7-3-1930
New York, New York
Brunswick

Some Of These Days


(Shelton Brooks)

6-7-1929
New York, New York
Brunswick

Sometimes I'm Happy
New York, New York
Brunswick

Smiles (vocal)


(Callahan / Roberts)

9-9-1929
New York, New York
Brunswick

Smiles


(Callahan / Roberts)

9-9-1929
New York, New York
Brunswick

Sometimes I'm Happy
1-24-1930
New York, New York
Brunswick

Soon (vocal)
1-17-1930
New York, New York
Brunswick

Soon
1-17-1930
New York, New York
Brunswick

Strike Up The Band (vocal)


(George Gershwin / Ira Gershwin)

1-17-1930
New York, New York
Brunswick

Strike Up The Band


(George Gershwin / Ira Gershwin)

1-17-1930
New York, New York
Brunswick

Strike Up The Band


(George Gershwin / Ira Gershwin)

8-3-1930
New York, New York
Brunswick

Sweet Georgia Brown (a)


(Maceo Pinkard / Kenneth Casey / Bernie)

7-2-1930
New York, New York
Brunswick

Sweet Georgia Brown (b)


(Maceo Pinkard / Kenneth Casey / Bernie)

7-2-1930
New York, New York
Brunswick

Sweet Georgia Brown


(Maceo Pinkard / Kenneth Casey / Bernie)

8-3-1930
New York, New York
Brunswick

Tea For Two


(Vincent Youmans / Irving Caesar)

2-14-1930
New York, New York
Brunswick

That's A Plenty


(Lew Pollack / Ray Gilbert)

8-27-1929
New York, New York
Radio
Broadcast
That's No Bargain


(Red Nichols)

12-8-1926
New York, New York
Brunswick
3407-B


E-4180

That's No Bargain


(Red Nichols)

12-8-1926
New York, New York
Brunswick
3407-B


E-4181

The Rose Of Washington Square


(James F. Hanley / Maceo Pinkard)

6-12-1929
New York, New York
Brunswick

The Sheik Of Araby


(Smith / Wheeler / Snyder)

7-3-1930
New York, New York
Radio
Broadcast
There'll Come A Time


(Wingy Manone / Miff Mole)

3-29-1928
New York, New York
Brunswick
3995
The New Yorkers (a)
From Murray Anderson's "Almanac" A Revue of Comedy


(Jack Yellen / Milton Ager)

8-20-1929
New York, New York
Brunswick
4500
The New Yorkers (b)
From Murray Anderson's "Almanac" A Revue of Comedy


(Jack Yellen / Milton Ager)

8-20-1929
New York, New York
Brunswick
4500
The New Yorkers
8-27-1929
New York, New York
Radio
Broadcast
They Didn't Believe Me (A)
8-27-1929
New York, New York
Brunswick

They Didn't Believe Me (G)
8-27-1929
New York, New York
Brunswick

They Didn't Believe Me
8-27-1929
New York, New York
Radio
Broadcast
Wait For The Happy Ending
9-6-1929
New York, New York
Brunswick

Washboard Blues


(Hoagy Carmichael / Fred B. Callahan / Irving Mills)

12-8-1926
New York, New York
Brunswick
3407-A


E-4179

Washboard Blues


(Hoagy Carmichael / Fred B. Callahan / Irving Mills)

12-8-1926
New York, New York
Brunswick
3407-A


E-4180

Whispering


(Melvin Schonberger / John Schonberger)

5-31-1928
New York, New York
Brunswick
3955
Who Cares?
6-12-1929
New York, New York
Brunswick

Who
8-27-1930
New York, New York
Brunswick

Who's Sorry Now?
2-1-1929
New York, New York
Brunswick
4243
The Red Nichols Story: After Intermission, 1942-1965 , by Philip R. Evans, Stanley Hester, Stephen Hester, Linda Evans (Editor), Scarecrow Press, 1997
Red Head: A Chronological Survey of "Red" Nichols and His Five Pennies, by Stephen M. Stroff, Scarecrow Press, 1996