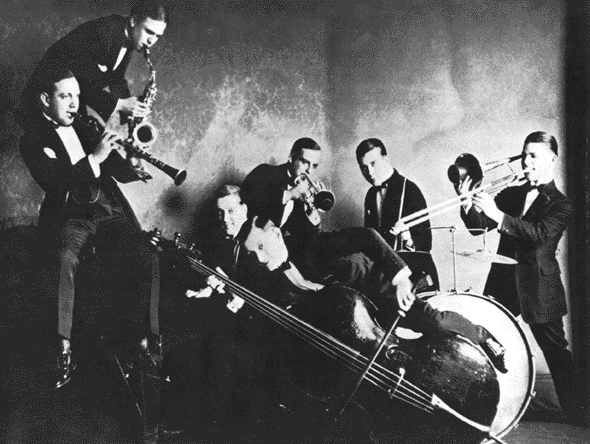 The New Orleans Rhythm Kings Gennett recordings were a big influence on many of the white bands and musicians of the 1920s.
In 1920, Paul Mares and George Brunies were working on the Mississippi riverboat S.S. Capitol when it stopped in Davenport, Iowa, where they teamed with Leon Roppolo on clarinet. They eventually added Elmer Schobel on piano, Frank Snyder on drums, Alfred Loyacano on bass and Louis Black played banjo. They got a gig at the Friar's Club in Chicago in 1922.
At first they called themselves The Friar's Society Orchestra, after the club the Friars Inn at 1834 Wabash Street at Van Buren in Chicago, but they changed their name to The New Orleans Rhythm Kings in 1923 after losing that gig.
Unlike Nick LaRocca, the leader of the Original Dixieland Jazz Band, Paul Mares did not try to deny the African-American roots of Jazz. The New Orleans Rhythm Kings were heavily influenced by King Oliver's Creole Jazz Band and became the first group to put out a "racially mixed" Jazz record in 1923 with "Sobbin' Blues", featuring Jelly Roll Morton. Morton went on to record five more tunes with the band.
The New Orleans Rhythm Kings were in existence from 1922 to 1925 when Paul Mares left the music business and went back to New Orleans to work at the family fur business. In 1934 and 1935 two recording sessions took place that revived the New Orleans Rhythm Kings name, but George Brunies was the only original member of the band to take part in the sessions.
The complete recordings of the New Orleans Rhythm Kings were recently restored by Rivermont

Title

Recording Date

Recording Location

Company

Angry
(George Brunies / Jules Cassard / Abbie Brunies / Mecum)
7-17-1923
Richmond, Indiana
Gennett
5219-B
Baby
(Santo Pecora / Newman)
1-23-1925
New Orleans
Okeh
40422
Baby Brown
Vocal Chorus by Red McKenzie
(Alex Hill)
2-20-1935
New York, New York
Decca
401 A
Bluin' The Blues
(Henry Ragas)
9-26-1934
New York, New York
Decca
464
Bugle Call Rag
Direction – Husk O'Hara
(Snyder / Jack Pettis / George Brunies)
8-29-1922
Richmond, Indiana
Gennett
4967-B
Starr
9304
Clarinet Marmalade (1)


(Nick LaRocca / Eddie Edwards / Tony Sparbaro / Larry Shields)

7-17-1923
Richmond, Indiana
Gennett
5220-B
Clarinet Marmalade (2)


(Nick LaRocca / Eddie Edwards / Tony Sparbaro / Larry Shields)

7-17-1923
Richmond, Indiana
Gennett
5220-B
Discontented Blues
Direction – Husk O'Hara
(Elmer Schoebel / Billy Meyers / Miller)
8-29-1922
Richmond, Indiana
Gennett
4967-A
Eccentric
(J. Russel Robinson)
8-29-1922
Richmond, Indiana
Gennett
5009-B
Everybody Loves Somebody Blues (1)
(Paul Mares / Red Long / Santo Pecora)
1-26-1925
New Orleans
Victor
19645-B
Everybody Loves Somebody Blues (2)
(Paul Mares / Red Long / Santo Pecora)
1-26-1925
New Orleans
Bluebird
B-10956-B
Farewell Blues
(Paul Mares / Leon Roppolo / Elmer Schoebel)
8-29-1922
Richmond, Indiana
Gennett
4966-A
Gold Leaf Strut
(Paul Mares / Leon Roppolo)
1-23-1925
New Orleans
Okeh
I Never Knew What A Girl Could Do
(Elmer Schoebel)
1-23-1925
New Orleans
Okeh
40422
Jazz Me Blues
(Tom Delaney)
9-12-1934
New York, New York
Decca
162 B
Livery Stable Blues
(Alcide Nuņez / Ray Lopez)
8-30-1922
Richmond, Indiana
Paramount
14028
London Blues
(Jelly Roll Morton)
7-18-1923
Richmond, Indiana
Gennett
5221-A
Mad
(Jimmy McHugh / Heath)
7-18-1923
Richmond, Indiana
Gennett
5221-B
Maple Leaf Rag
(Scott Joplin)
3-13-1923
Richmond, Indiana
Gennett
5102-B
Marguette
(Pierce / Novak)
7-17-1923
Richmond, Indiana
Gennett
5217-B
Milenberg Joys (1)
(Jelly Roll Morton)
7-18-1923
Richmond, Indiana
Gennett
3076-A
Milenberg Joys (4)
(Jelly Roll Morton)
7-18-1923
Richmond, Indiana
Gennett
5217-A
Mr. Jelly Lord (2)
(Jelly Roll Morton)
7-17-1923
Richmond, Indiana
Gennett
5220-A
Mr. Jelly Lord (4)
(Jelly Roll Morton)
7-17-1923
Richmond, Indiana
Gennett
5220-A
No Lovers Allowed
Vocal Chorus by Red McKenzie
(Shad / Lange / Jones)
2-20-1935
New York, New York
Decca
401 B
(Oh! Susanna) Dust Off The Old Piano (A)


(Caesar / Lerner / Marks)

2-20-1935
New York, New York
Decca
388
(Oh! Susanna) Dust Off The Old Piano (B)


(Caesar / Lerner / Marks)

2-20-1935
New York, New York
Decca
388
Ostrich Walk
(Nick LaRocca / Larry Shields)
9-26-1934
New York, New York
Decca
229
Oriental
(Elmer Schoebel / Meyers)
8-30-1922
Richmond, Indiana
Gennett
4966-B
Starr
9303
Original Dixieland One-Step
(J. Russel Robinson / Jordan)
9-26-1934
New York, New York
Decca
229
Panama
(William H. Tyers)
8-30-1922
Richmond, Indiana
Gennett
4968-A
Panama
(William H. Tyers)
9-12-1934
New York, New York
Decca
162 A
San Antonio Shout


(Sidney Arodin)

9-12-1934
New York, New York
Decca
161 A


38606

Sensation
(Eddie Edwards)
9-26-1934
New York, New York
Decca
464
She's Crying For Me (1)
(Santo Pecora)
1-26-1925
New Orleans
Bluebird
B-10956-A
She's Crying For Me Blues (4)
(Santo Pecora)
1-26-1925
New Orleans
Victor
19645-A
Shimmeshawabble
(Spencer Williams)
3-13-1923
Richmond, Indiana
Gennett
5106-A
Since We Fell Out Of Love
(Shand / De Lange / Bernard)
2-20-1935
New York, New York
Decca
388
Sobbin' Blues
(Art Kassell / Vic Berton)
7-17-1923
Richmond, Indiana
Gennett
5219-A
Sweet Lovin' Man
(Lil Hardin / Walter Melrose)
3-12-1923
Richmond, Indiana
Gennett
5104-A
That's A Plenty
(Lew Pollack / Ray Gilbert)
3-12-1923
Richmond, Indiana
Gennett
5105-B
That Da Da Strain
(Medina / Dowell)
3-13-1923
Richmond, Indiana
Gennett
5106-B
Tiger Rag
(Nick LaRocca)
8-30-1922
Richmond, Indiana
Gennett
4968-B
Tin Roof Blues
(New Orleans Rhythm Kings)
3-13-1923
Richmond, Indiana
Gennett
5105-A
Tin Roof Blues
(New Orleans Rhythm Kings)
9-12-1934
New York, New York
Decca
161 B
38606
Weary Blues
(Artie Mattews)
3-12-1923
Richmond, Indiana
Gennett
5102-B
Wolverine Blues
(Benjamin Spikes / John Spikes / Jelly Roll Morton)
3-13-1923
Richmond, Indiana
Gennett
5102-A

| | |
| --- | --- |
| Artist | Instrument |
| Sidney Arodin | Clarinet |
| Lou Black | Banjo |
| Steve Brown | Bass |
| George Brunies | Trombone |
| Charlie Cordella | Tenor Saxophone |
| Bill Eastwood | Banjo |
| Bob Gillette | Banjo |
| Gene Krupa | Drums |
| Red Long | Piano |
| Wingy Manone | Trumpet |
| Paul Mares | Cornet |
| Red McKenzie | Vocals |
| Chink Martin | Bass |
| Eddie Miller | Clarinet |
| Jelly Roll Morton | Piano |
| Don Murray | Clarinet, Tenor Saxophone |
| Santo Pecora | Trombone |
| Jack Pettis | Tenor Saxophone |
| Ben Pollack | Drums |
| Benny Pottle | Bass |
| Kyle Pierce | Piano |
| Leon Roppolo | Clarinet |
| Elmer Schoebel | Piano |
| Glenn Scoville | Alto and Tenor Saxophone |
| Terry Shand | Piano |
| Mel Stitzel | Piano |
| Frank Snyder | Drums |
| Bob White | Drums |