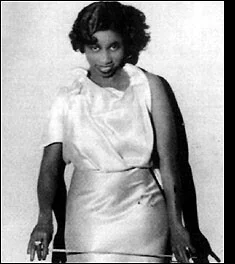 Lil Hardin-Armstrong (February 3, 1898 – August 27, 1971)was the most prominent woman in early jazz. She played piano, composed, and arranged for most of the important Hot Bands from New Orleans.
While working at a music store in Chicago, she was invited to play with Sugar Johnny's Creole Orchestra, from there she went to Freddie Keppard's Original Creole Orchestra, and then led her own band at the Dreamland Cafe at 3520 South State Street in Chicago.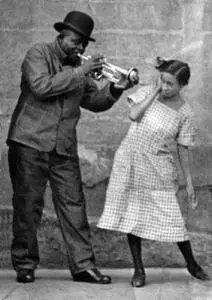 In 1921 she joined King Oliver's Creole Jazz Band where she met Louis Armstrong. They were married in 1924. Lil was Louis Armstrong's second wife and she is generally credited with persuading Louis to be more ambitious, and leave King Oliver's Creole Jazz Band.
Lil was a major contributor to Louis Armstrong's Hot Five and Hot Seven recordings. She played piano and sang occasionally, and composed several of the groups major songs, including "Struttin' with Some Barbeque." Lil was the leader of several other recording groups, including Lil's Hot Shots and the New Orleans Wanderers.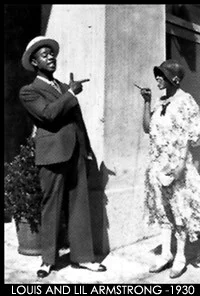 She and Louis were separated in 1931 and were divorced in 1938, although they remained friends for life.
Lil appeared in several Broadway shows including "Hot Chocolates" and "Shuffle Along".
In the late 1930s Lil recast herself as a Swing vocalist and cut 26 vocal sides for Decca records. In the 1940s she moved back to Chicago and played as a soloist in nightclubs. She continued to record sporadically up until 1963, often with the old gang of New Orleans/Chicago musicians like Johnny Dodds, Red Allen, Zutty Singleton, Frankie "Half-Pint" Jaxon, Lonnie Johnson, Buster Bailey, Natty Dominque, Lovie Austin, and Sidney Bechet.
Lil kept active in the music business for the rest of her life, although far from the limelight. Strangely enough, Lil died while taking part in a Louis Armstrong Memorial Concert in Chicago while playing "St. Louis Blues", just two months after Louis had died.


Title

Recording Date

Recording Location

Company

East Town Boogie


(Lil Armstrong)

1947
Chicago, Illinois
Eastwood
101


1181

Little Daddy Blues


(Lil Armstrong)

1947
Chicago, Illinois
Eastwood


1182

Rock It
1947
Chicago, Illinois
Eastwood


1183

Walking On Air


(Lil Armstrong)

1947
Chicago, Illinois
Eastwood
102


1180

Just For A Thrill; Lil Hardin Armstrong, First Lady Of Jazz by James L. Dickerson, Cooper Square Press, 2002