Sidney Bechet
was a child prodigy in New Orleans. He was such good clarinet player that, in his youth he was featured by some of the top bands in the city.
Bechet's style of playing clarinet and soprano sax dominated many of the bands that he was in. He played lead parts that were usually reserved for trumpets and was a master of improvisation.
In 1917 he moved to Chicago. In 1919 he was playing with Will Marion Cook's Syncopated Orchestra and with Louis Mitchell's Jazz Kings in Europe. While overseas he bought a soprano sax and from then on it was his main instrument.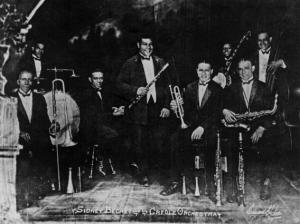 Back in the U.S. Bechet made his recording debut in 1923 with Clarence Williams and during the next two years he appeared on several of Williams' records backing up blues singers and on a classic session with the Clarence Williams Blue Five, featuring Louis Armstrong whom he knew as a child in New Orleans. He played in an early version of Duke Ellington's Washingtonians but unfortunately never recorded with them.
From 1925 to 1929 Bechet lived and played in Europe, playing in England, France, Germany and Russia. While living in Paris, Bechet got into a dispute with another musician and a gun fight broke out. Three people were wounded and Sidney spent a year in a French jail as a result of the fracas.
He was deported upon release from prison and went to Berlin, Germany. He could not stay in France and he would not get a visa for England so he stayed in Berlin till 1931 then joined the Noble Sissle Orchestra and returned to America. Bechet managed to keep playing during the Thirties, but he also ran an unsuccessful tailor's shop with Tommy Ladnier and made some memorable recordings with the trumpeter under the name of the New Orleans Feetwarmers.
In 1938 he had a hit record of "Summertime". In the Forties Bechet worked regularly in New York with Eddie Condon and tried to start a band with Bunk Johnson. Bechet was a popular figure of the Dixieland revival of the late Forties often recording with Mezz Mezzrow.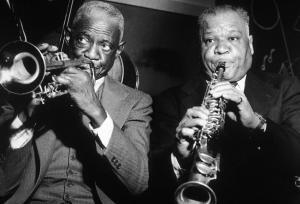 Bechet returned to France in 1952 and was warmly received there. While in France he recorded hit records that rivaled the sales of pop stars. Bechet was one of the great soloists of early Jazz. He lived a very rich life, always managing to "make the scene" where it was "happening", whether it be in New Orleans, Chicago, New York, Berlin or Paris.
Here's a special bonus recording courtesy of Verne Buland
This is a strange record. The "Sheik Of Araby" is an early example of multi-track recording. Sidney Bechet was at the RCA studios on April 18th, 1941 (before tape) and the engineers fiddled with some early multiple recordings. This is the result.
Record an instrument, play the record back while he played another instrument along with the record, ad nauseum – the first ones recorded sounding worse each time another record is made. Clarinet, soprano saxophone, tenor saxophone, piano, bass and drums, all played by Bechet. If you can hear the drums, you win a cigar.
For additional information on Sidney Bechet you are encouraged to visit the The Sidney Bechet Society, Ltd. Website.
Also See: Sidney Bechet: Profiles in Jazz
| | | |
| --- | --- | --- |
| Title | Director | Year |
| Einbrecher | Hanns Schwarz | 1930 |
| Moon Over Harlem | Edgar G. Ulmer | 1939 |
| L'Inspecteur connaît la musique | Jean Josipovici | 1955 |
| Série noire | Pierre Foucaud | 1955 |
| Ah, quelle équipe! | Roland Quignon | 1956 |
Sidney Bechet, The Wizard of Jazz by John Chilton, MacMillan Press, 1987
Treat It Gentle: An Autobiography by Sidney Bechet, London, Cassell & Co., 1960
Sidney Bechet, by Fabrice Zammarchi, Filipacchi Coll. Jazz Magazine, 1989Thanks to Klaus Pehl for his help with this page.