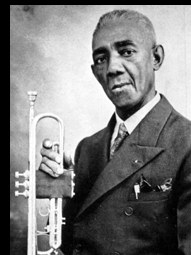 Bunk Johnson
(December 27, 1879 or 1889 – July 7, 1949) confused Jazz historians for years by lying about almost everything, but nevertheless he was an early Jazz pioneer who apparently played in bands led by
Buddy Bolden
. He definitely played in 
Frankie Dusen's Eagle Band
, The Superior Orchestra and with 
Clarence Williams
. He left New Orleans in 1915 and played in minstrel shows, theatre orchestras and circus bands, and with the Black Eagle Band. While playing with the Black Eagles in 1930 the band's other trumpet player Evan Thomas was stabbed to death on the bandstand. A fight broke out and Bunk's instrument was damaged. After this incident Bunk continued to play a from time to time, using a borrowed trumpet, but his heart was not in it any longer. His teeth were also starting to give him troubles and in 1931 he had pretty much retired from music. He worked as a truck driver, laborer, and as a WPA funded children's music teacher.
In 1938 Bill Russell and Fredric Ramsey started to write their book, "Jazzmen". After interviewing several Jazz musicians, including Louis Armstrong, Bunk's name kept coming up as one of the early influential jazz musicians in New Orleans. They managed to track Bunk down in New Iberia, Louisiana where he was living, and interviewed him for the book. Bunk lied about a great many things, including his birth date, so that it would look like he had been one of the first Jazz musicians. It took years until other historians figured out that Bunk was shall we say, "full of bunk" . Despite all that, Bunk's colorful stories contributed to the success of the book, and the authors took up a collection among musicians and record collectors to fix Bunk's teeth and buy him a new horn. He made his first recordings in 1942, and became a popular fixture of the Dixieland revival of the 1940's.
For investigations into his date of birth see Doctor Jazz. For a longer article on his career see Bunk Johnson: Profiles in Jazz

| | |
| --- | --- |
| Bunk Johnson and his Superior Jazz Band | Bunk Johnson's Jazz Band |
| Bunk Johnson and his New Orleans Jazz Band | Bunk's Brass and Dance Band |

Bunk Johnson by Christopher Hillman, Universe Books, 1988
Willie Geary "Bunk" Johnson by Austin M. Sonnier, Jr., Cresendo Publishing, 1977
Jazzmen by Bill Russell and Fredric Ramsey, Harcout, Brace, 1938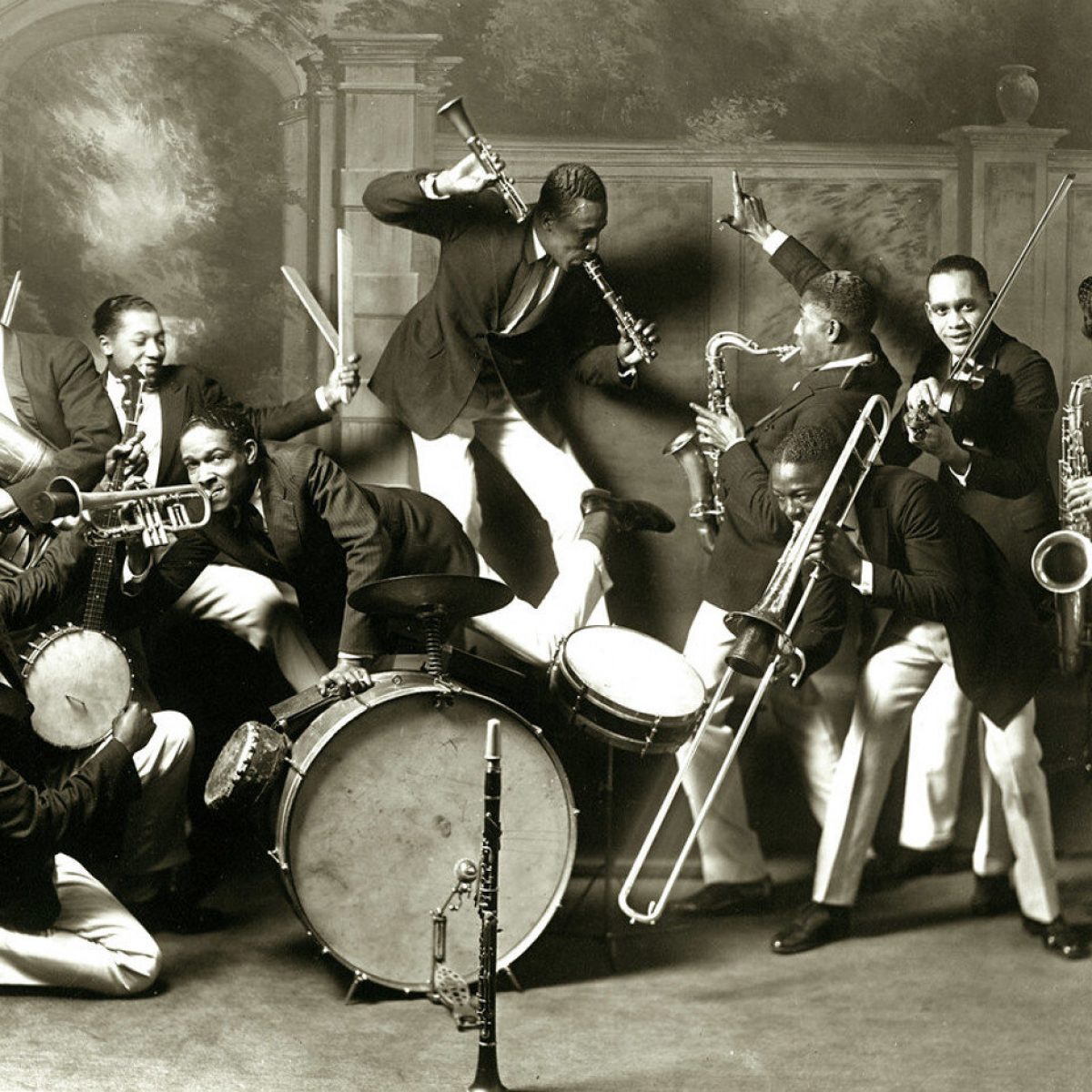 Redhotjazz.com was a pioneering website during the "Information wants to be Free" era of the 1990s. In that spirit we are recovering the lost data from the now defunct site and sharing it with you.
Most of the music in the archive is in the form of MP3s hosted on Archive.org or the French servers of Jazz-on-line.com where this music is all in the public domain.
Files unavailable from those sources we host ourselves. They were made from original 78 RPM records in the hands of private collectors in the 1990s who contributed to the original redhotjazz.com. They were hosted as .ra files originally and we have converted them into the more modern MP3 format. They are of inferior quality to what is available commercially and are intended for reference purposes only. In some cases a Real Audio (.ra) file from Archive.org will download. Don't be scared! Those files will play in many music programs, but not Windows Media Player.