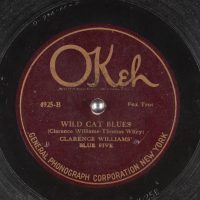 Clarence Williams' Blue Five were a series of recording sessions that featured some of the best Jazz musicians and Blues singers of the early 1920s. 
Louis Armstrong
, 
Sidney Bechet
, 
Coleman Hawkins
 and 
Bubber Miley
 all were featured as soloists, and Blues singers such as 
Sippie Wallace
, 
Margaret Johnson
, 
Virginia Liston
 and Williams' wife, 
Eva Taylor
 all contributed vocals.
Louis Armstrong was playing in New York with Fletcher Henderson at the time these recordings were made. Clarence Williams obviously understood Louis' greatness more than Henderson and featured him on 21 of these songs.

Title

Recording Date

Recording Location

Company

Achin' Heart Blues
(Clarence Williams / Clarence Johnson / Spencer Williams)
8-27-1923
New York, New York
Okeh
4966-B
Baby, I Can't Use You No More
(Sippie Wallace)
11-28-1924
New York, New York
Okeh
8212-A
Black Snake Blues
(Victoria Spivey / Lonnie Johnson)
4-14-1927
New York, New York
Okeh
8465
Cake Walking Babies From Home
Vocal Chorus by Eva Taylor
(Clarence Williams / Chris Smith / Henry Troy)
1-7-1925
New York, New York
Okeh
40321-A
Cast Away
(Clarence Williams / Clarence Todd / Spencer Williams)
3-4-1925
New York, New York
Okeh
40330
Coal Cart Blues
(Louis Armstrong / Lil Hardin Armstrong)
10-8-1925
New York, New York
Okeh
8245-B
Get It Fixed
(Clarence Williams)
12-15-1925
New York, New York
Okeh
8267-B
Early In The Morning


(Billy Higgins / W. Benton Overstreet)

10-17-1924
New York, New York
Okeh
8187-B
Everybody Loves My Baby
(But My Baby Don't Love Nobody But Me)
Vocal Chorus by Eva Taylor


(Jack Palmer / Spencer Williams)

11-6-1924
New York, New York
Okeh
8181-A
House Rent Blues


(DeKoven / Thompson)

11-14-1923
New York, New York
Okeh
8171-A
I'm A Little Blackbird Looking For A Bluebird
(From The Musical Review, "Dixie To Broadway")
Vocal Chorus by Eva Taylor


(Grant Clarke / Roy Turk / George W. Meyer / Arthur Johnson)

12-17-1924
New York, New York
Okeh
40260-A
I've Found A New Baby


(Jack Palmer / Spencer Williams)

1-22-1926
New York, New York
Okeh
8286


73957-A

I've Found A New Baby


(Jack Palmer / Spencer Williams)

1-22-1926
New York, New York
Okeh
8286-B


73957-B

I've Got The Yes! We Have No Banana Blues


(Lew Brown / James F. Hanley / Robert King)

11-10-1923
New York, New York
Okeh
4927
Just A Cotton Picker's Blues


(Clarence Todd)

12-1924
New York, New York
Okeh
8204
Just Wait 'Til You See My Baby Do The Charleston
(Clarence Todd / Clarence Williams / Rosseau Simmons)
10-6-1925
New York, New York
Okeh
8272-A
Kansas City Man Blues
(Clarence Williams / Clarence Johnson)
7-30-1923
New York, New York
Okeh
4925-A
Livin' High


(Maceo Pinkard)

10-6-1925
New York, New York
Okeh
8272-B
Mandy, Make Up Your Mind
(From The Musical Review, "Dixie To Broadway")
Vocal Chorus by Eva Taylor


(Grant Clarke / Roy Turk / George W. Meyer)

12-17-1924
New York, New York
Okeh
40260-B
Mean Blues


(Billy Symthe / Art Gilham)

11-14-1923
New York, New York
Okeh
40006-A
New Orleans Hop Scop Blues


(George W. Thomas)

10-1923
New York, New York
Okeh
4975-A
Of All The Wrongs You've Done To Me


(Leyton / Smith / Davell)

11-6-1924
New York, New York
Okeh
8181-B
Oh Daddy! Blues
(Oh Daddy! You Won't Have No Mama At All)


(William Russell / Ed Herbert)

11-10-1923
New York, New York
Okeh
4993-B
Old Fashioned Love
(From The Musical Comedy "Runnin' Wild")
(James P. Johnson / Cecil Mack)
10-1923
New York, New York
Okeh
4993-A
Old Folks Shuffle
(Clarence Williams / Fats Waller)
4-14-1927
New York, New York
Okeh
8465
Papa-De-Da-Da
(Clarence Williams / Clarence Todd)
3-4-1925
New York, New York
Okeh
8215-A
Picking On My Baby


(Jones / Reynolds)

1-7-1925
New York, New York
Okeh
40330
Pile Of Logs And Stone
(Called Home)


(Maceo Pinkard)

1-22-1926
New York, New York
Okeh
8286-A
Santa Claus Blues


(Charley Straight / Gus Kahn)

10-8-1925
New York, New York
Okeh
8245-A
Shake It Down
(Charlie Jackson)
12-15-1925
New York, New York
Okeh
8267-A
Shreveport Blues


(A.F. Potter)

11-10-1923
New York, New York
Okeh
40006-B
Squeeze Me
(Clarence Williams / Fats Waller)
10-26-1925
New York, New York
Okeh
8254-A
'Tain't Nobody's Bus'ness If I Do


(Porter Grainger / Everett Robbins)

10-1923
New York, New York
Okeh
4966-A
Temptation Blues


(Reed)

12-1924
New York, New York
Okeh
8204
Texas Moaner Blues
(Clarence Williams / Fae Barnes)
10-17-1924
New York, New York
Okeh
8171-B
Wild Cat Blues
(Clarence Williams / Thomas Wiley)
7-30-1923
New York, New York
Okeh
4925-B
You Can't Shush Katie


(Harry White / Henry Creamer / Harry Warren)

10-26-1925
New York, New York
Okeh
8342-A
You've Got The Right Key, But The Wrong Keyhole


(Ed Green)

10-17-1924
New York, New York
Okeh
8173-A