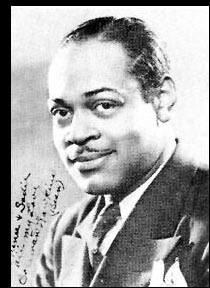 Coleman Hawkins
(November 21, 1904 – May 19, 1969) was the first great saxophonist of Jazz. As a child he was a gifted musician. In 1922,
Mamie Smith
 spotted him in 
Jesse Stone and his Blues Serenaders
 in Kansas City theatre and hired him away to play with her 
Jazz Hounds
. Hawkins stayed with Smith until 1923, and appeared on some of her records.
After leaving The Jazz Hounds, he played with Wilbur Sweatman and then made his first recordings with Fletcher Henderson. He joined Henderson's Orchestra in 1924 and stayed with him for the next ten years. In addition to his work with Henderson, he recorded with McKinney's Cotton Pickers, and with Red McKenzie's Mound City Blue Blowers in 1929.
When he left Henderson in 1934 he moved to Europe, and stayed there until 1939 playing first with Jack Hylton's Orchestra in England and then traveling and recording throughout the continent. In 1937 he appeared on a famous recording date with Benny Carter, Django Reinhardt and Stéphane Grappelli. In 1939 as World War II started, Hawkins wisely returned to America.
He recorded a version of "Body and Soul" in 1940 that became his most famous record. Hawkins was one of the few Hot Jazz musicians who made the shift to Be Bop in the Forties. He hired Thelonious Monk for his quartet in 1944 and led an early bop recording session the same year which included Dizzy Gillespie. He also hired Miles Davis and Max Roach to play on his bands early in their careers.
In 1946 he recorded with J.J. Johnson and Fats Navarro. By the early 1950s, the innovations of Lester Young and Charlie Parker made Hawkins' style seem a bit old fashioned. However Hawkins was able to adapt to the changing currents in Jazz again, when he teamed up with Roy Eldridge. Throughout the rest Fifties and Sixties he appeared on records made by Thelonious Monk, Max Roach, Eric Dolphy and John Coltrane. In the early 1960s Coleman Hawkins recorded with Duke Ellington, and made a record with Sonny Rollins.
Also See: Coleman Hawkins: Profiles in Jazz

| | |
| --- | --- |
| Coleman Hawkins and his Orchestra | Henry Allen – Coleman Hawkins and their Orchestra |
| Coleman Hawkins and the Chocolate Dandies | Coleman Hawkins accompanied by the Berries |
| Coleman Hawkins accompanied by Michael Warlop and his Orchestra | Coleman Hawkins accompanied by the Ramblers |

| | | |
| --- | --- | --- |
| Title | Director | Year |
| Stormy Weather | Andrew L. Stone | 1943 |

The Song Of The Hawk, The Life And Recordings Of Coleman Hawkins by John Chilton, The University Of Michigan Press, 1990
The Birth Of Bebop, A Social And Musical History by Scott DeVeaux, University Of California Press, 1997