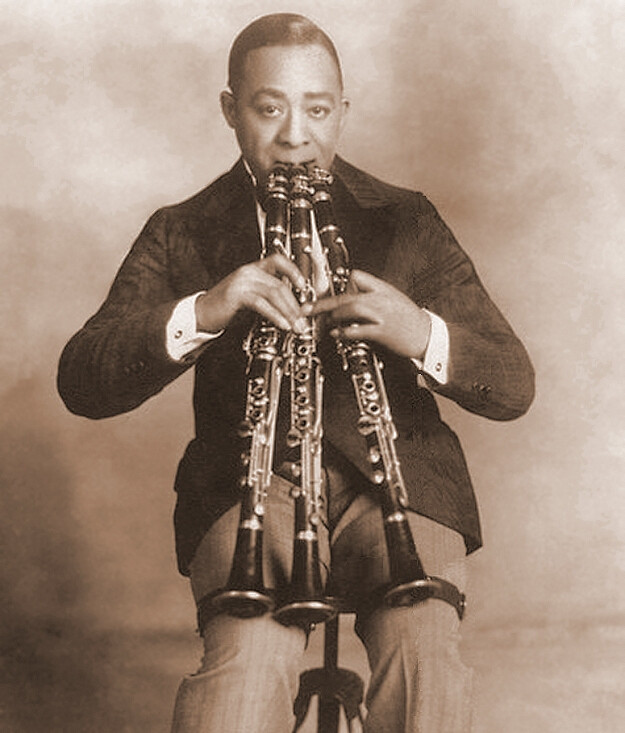 Wilbur Sweatman
's (February 7, 1882 – March 9, 1961) musical career reads like the history of African-Americans in popular music. He got his professional start in a circus band, then moved on to minstrel shows and vaudeville. He led a successful syncopated orchestra based in Chicago early in the century and made the first recording of Scott Joplin's "Maple Leaf Rag" in 1903.
In the years before World War I, Wilbur Sweatman lead a band at the Big Grand Theatre in Chicago (3110 State Street at 31st Street). He moved to New York in 1913 and was one of the first African-Americans to join ASCAP in 1917.
After the success of Original Dixieland Jass Band, Sweatman jumped on the jazz bandwagon and released dozens of records in the Teens and 1920s the most famous being "Down Home Rag". Sweatman gets my vote for being the first African-American to record Jazz, but he is remembered less as a jazz musician and more as a great showman famous for playing at first two then three clarinets at once.
Duke Ellington, Sonny Greer, Otto Hardwick, Cozy Cole and Coleman Hawkins all played in his orchestra early in their careers. In the 1930s Sweatman was active in music publishing and was the executor of Scott Joplin's estate. Unfortunately after Sweatman's death in 1961, Joplin's estate fell into disarray and many unpublished and original manuscripts were lost. In the 1940s he led a trio at Paddells Club in New York and continued to play live into the 1950s.


Title

Recording Date

Recording Location

Company

Battleship Kate


(Wilbur Sweatman)

1930
New York, New York
Victor
23254-B
Breakdown Blues


(Wilbur Sweatman)

4-29-1930
New York, New York
Victor
V-38597-B
Down Home Rag


(Wilbur Sweatman)

12-1916
New York, New York
Emerson
7161


2377-1

Down Home Rag


(Wilbur Sweatman)

12-1916
New York, New York
Emerson
5163


1202-1

Get It Now


(Pearl)

3-1926
New York, New York
Dandy
5156
Grey Gull
1340
'Got 'Em Blues'


(Wilbur Sweatman)

1930
New York, New York
Victor
23254-A
My Hawaiian Sunshine


(L. Wolfe Gilbert)

12-1916
New York, New York
Emerson
5166


1200-1

My Hawaiian Sunshine


(L. Wolfe Gilbert)

12-1916
New York, New York
Emerson
7120


2375-1

Poor Papa


(Billy Rose / Harry Woods)

3-1926
New York, New York
Dandy
5156
Grey Gull
1340
Sweat Blues


(Wilbur Sweatman)

4-29-1930
New York, New York
Victor
V-38597-A
Sweat Blues


(Wilbur Sweatman)

3-1929
New York, New York
Radiex
1706

Lost Sounds; Blacks And The Birth Of The Recording Industry
 by Tim Brooks, Appendix by Dick Spottswood, University of Illinois Press, 2004