The Fletcher Henderson Orchestra was the most popular African-American band of the 1920s. The smooth, carefully arranged sound of Henderson's orchestra was a huge influence on the Swing style of the next decade. The Orchestra played at the Club Alabam on West 44th Street in New York from 1922 to July of 1924 and then moved to the Roseland Ballroom when Armand J. Piron's Orchestra vacated the job and returned to New Orleans.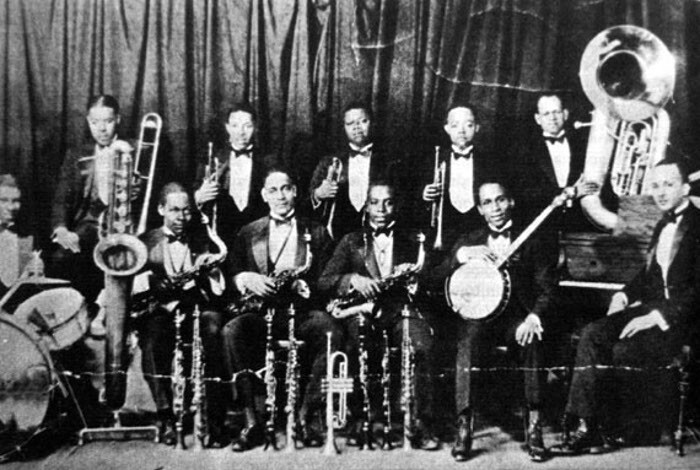 In 1924 Henderson hired Louis Armstrong to replace Joe Smith on trumpet. Armstrong's thirteen months in the band caused quite a stir among New York Jazz musicians who had never heard anything like him.
The orchestra also featured Coleman Hawkins on tenor saxophone, Buster Bailey on clarinet and Don Redman on alto saxophone and also contributing arrangements. When Armstrong left the band to return to Chicago to join Erskine Tate's Vendome Orchestra a succession of fine cornet and trumpet players played in the band.
They included Rex Stewart, Tommy Ladnier and June Clark. The orchestra recorded with dozens of record companies under a number of different names and pseudonyms including Henderson's Dance Orchestra, Henderson's Club Alabam Orchestra, The Dixie Stompers, Henderson's Happy Six Orchestra, Fletcher Henderson and his Sawin' Six, Louisiana Stompers and the Connie's Inn Orchestra.
In 1929 the band traveled to Philadelphia to play the music in a musical revue called Horseshoes. During rehearsals for the show a dispute over White musicians' role in the production fractured the band and half of the orchestra quit. Henderson put together another version of the band, but things were never the same and the band never resumed the level of popularity that it had enjoyed throughout the 1920s.
Thanks to Bob Palmer, Dominic Combe, J.E. Knox, Owen Miller, Scott and Mark of Vintage Music Company and James Gallup for their help with the recordings on this page.

Title

Recording Date

Recording Location

Company

After The Storm


(Nelson)

4-1924
New York, New York
Pathe Actuelle
After You're Gone


(Henry Creamer / J. Turner Layton)

2-1931
New York, New York
Crown
2093 B
Alabamy Bound


(Buddy DeSylva / Bud Green / Ray Henderson)

1-31-1925
New York, New York
Regal
9789-A
Alabamy Bound (2)


(Buddy DeSylva / Bud Green / Ray Henderson)

2-6-1925
New York, New York
Domino
Alabamy Bound (3)


(Buddy DeSylva / Bud Green / Ray Henderson)

2-6-1925
New York, New York
Banner
Alabamy Bound (4)


(Buddy DeSylva / Bud Green / Ray Henderson)

2-6-1925
New York, New York
Ajax
All God's Chillun Got Rhythm
From "A Day At THe Races"
Vocal Chorus by Jerry Blake


(Kahn / Jurmann / Kaper)

6-3-1937
New York, New York
Vocalion
3641
Along Came Love
11-16-1925
New York, New York
Banner
1654-B
Domino
1654-B
Araby
11-17-1924
New York, New York
Banner
A New Kind Of Man
(With A New Kind Of Love For Me)


(Clare / Flatow)

8-29-1924
New York, New York
Vocalion
A 14880
Baby Won't You Please Come Home


(Clarence Williams / Charles Warfield)

1-19-1927
New York, New York
Vocalion
1079
Beale Street Mama


(Roy Turk / Robinson)

5-1-1923
New York, New York
Paramount
Back in Your Own Back Yard


(Jolson / Rose / Dreyer)

3-22-1937
New York, New York
Vocalion
3511
Big John's Special
(Fletcher Henderson)
9-11-1934
New York, New York
Decca
214 A
Blue Lou


(Edgar Sampson)

3-27-1936
New York, New York
Vocalion
3211
Blazin'


(Joe Sanders)

5-16-1929
New York, New York
Columbia
1913-D
Vocalion
3323
Blues In My Heart
10-16-1931
New York, New York
Columbia
2559-D
Blue Moments
3-11-1932
New York, New York
Vocalion
Bye And Bye


(Pease / Nelson / Vincent)

1-23-1925
New York, New York
Columbia
292-D
Business In F
10-16-1931
New York, New York
Columbia
2615-D
Can You Take It?


(Fletcher Henderson)

8-18-1933
New York, New York
Columbia
2583
Carolina Stomp


(Rube Bloom)

10-21-1925
New York, New York
Columbia
509-D
Charley, My Boy


(Gus Kahn / Ted Fiorito)

8-1924
New York, New York
Banner
Chattanooga (Down In Tennessee)
3-1924
New York, New York
Emerson
Chicago Blues


(Allen)

3-25-1924
New York, New York
Vocalion
B 14788
Chinatown, My Chinatown


(Jean Schwartz / Jerome)

10-3-1930
New York, New York
Columbia
2329-D
Chris And His Gang


(Fletcher Henderson / Horace Henderson)

6-3-1937
New York, New York
Vocalion
3641
Christopher Columbus
(A Rhythm Cocktail)


(Andy Razaf / Leon Berry)

3-27-1936
New York, New York
Vocalion
3211
Clarinet Marmalade


(Larry Shields / Henry Ragas)

12-8-1926
New York, New York
Vocalion
1065
Brunswick
3406-A
Clarinet Marmalade


(Larry Shields / Henry Ragas)

3-19-1931
New York, New York
Columbia
2513-D
Cold Mamas (Burn Me Up)
9-24-1924
New York, New York
Vocalion
B 14892
Come On, Baby!


(Gottler / Clare / Pinkard)

12-12-1928
New York, New York
Columbia
14392-D
Comin' And Goin'


(Horace Henderson / Fletcher Henderson)

3-19-1931
New York, New York
Columbia
Copenhagen (1)


(Charlie Davis / Walter Melrose)

10-30-1924
New York, New York
Vocalion
Copenhagen (2)


(Charlie Davis)

10-30-1924
New York, New York
Vocalion
B 14926
Darktown Has A Gay White Way
1-1924
New York, New York
Ajax
Dinah


(Sam M. Lewis / Joe Young / Harry Akst)

1-6-1926
New York, New York
Vocalion
B 15204
D Natural Blues
3-14-1928
New York, New York
Columbia
Don't Think You'll Be Missed


(Harrison / Lyons / Rose)

5-1-1923
New York, New York
Paramount
Dicty Blues


(Fletcher Henderson / T. Lyons)

8-7-1923
New York, New York
Vocalion
B 14654
Dicty Blues


(T. Lyons / Fletcher Henderson)

9-13-1923
New York, New York
Columbia
A3995
Don't Forget You'll Regret Day By Day
10-10-1924
New York, New York
Pathe Actuelle
Do You Or Don't You Love Me?
Vocal refrain by Teddy Lewis


(Ed Smalle / Sidney Nesbitt)

5-23-1936
Chicago, Illinois
Victor
25334-B
Doo Doodle Blues


(Porter Grainger / Fletcher Henderson)

8-9-1923
New York, New York
Vocalion
A 14654
Doo Doodle Blues
9-13-1923
New York, New York
Columbia
Down Hearted Blues


(Alberta Hunter / Lovie Austin)

5-1923
New York, New York
Paramount
20235-A
Puritan
1406-A
Down-Hearted Blues
(Alberta Hunter / Lovie Alovieustin)
6-28-1923
New York, New York
Vocalion
B 14636
Down South Blues


(Fletcher Henderson / Waters)

10-6-1923
New York, New York
Vocalion
Down South Camp Meetin'


(Fletcher Henderson)

9-12-1934
New York, New York
Decca
213 B
Driftwood


(Gold)

4-1924
New York, New York
Pathe Actuelle
Perfect 14271-A
Easy Money Blues


(Austin / Lewis)

12-12-1928
New York, New York
Columbia
14392-D
Everybody Loves My Baby


(Jack Palmer / Spencer Williams)

11-24-1924
New York, New York
Ajax
17109-B
Everybody Loves My Baby


(Jack Palmer / Spencer Williams)

11-24-1924
New York, New York
Banner
Feelin' The Way I Do


(Buddy De Sylva / Walter Donaldson)

4-1924
New York, New York
Vocalion
A 14788
Regal
9658-A
Fidgety Feet


(Larry Shields / Nick LaRocca)

3-19-1927
New York, New York
Vocalion
1092
Forsaken Blues


(Straight / Morgan)

9-24-1924
New York, New York
Vocalion
A 14892
Freeze N' Melt


(Dorthy Fields / Jimmy McHugh)

4-1929
New York, New York
Cameo
Ghost Of The Blues


(Tim Brymn / Sidney Bechet)

3-1924
New York, New York
Emerson
Go 'Long, Mule (1)
10-7-1924
New York, New York
Columbia
Go 'Long, Mule (2)
10-7-1924
New York, New York
Columbia
228-D
Grand Terrace Swing


(Ferdinand Arbelle)

3-27-1936
New York, New York
Vocalion
3213
Grand Terrace Rhythm
5-23-1936
Chicago, Illinois
Victor
25339-A
Gulf Coast Blues


(Clarence Williams)

5-1923
New York, New York
Paramount
20235-B
Puritan
1406-B
Gulf Coast Blues


(Clarence Williams)

6-28-1923
New York, New York
Vocalion
A 14636
Happy As The Day Is Long
Featuring Ben Webster


(Harold Arlen / TedKoehler)

9-11-1934
New York, New York
Decca
3885 B
Hard Hearted Hannah


(Milton Ager)

7-1924
New York, New York
Vocalion
B 14859
Harlem Madness
3-6-1934
New York, New York
Victor
24699
Have It Ready


(Fletcher Henderson)

1-22-1927
New York, New York
Vocalion
15532
Brunswick
3460
Hay Foot, Straw Foot
12-7-1925
New York, New York
Vocalion
15174-B
He's The Hottest Man In Town
9-8-1924
New York, New York
Columbia
Henderson Stomp


(Fletcher Henderson)

11-3-1926
New York, New York
Columbia
Hocus Pocus


(Will Hudson)

3-6-1934
New York, New York
Bluebird
B-10247-B
Bluebird
5682


81787-1

Hocus Pocus


(Will Hudson)

3-6-1934
New York, New York
LPV-556


81787-2

Honey Suckle Rose


(Andy Razaf / Fats Waller)

12-9-1932
New York, New York
Columbia
2732-D
House Rent Blues
1-1924
New York, New York
Ajax
Hop Off


(Clarence Williams / Fats Waller)

11-4-1927
New York, New York
Columbia
35670
Hop Off


(Fats Waller)

9-14-1928
New York, New York
Brunswick
4119
Hot And Anxious


(Horace Henderson)

3-19-1931
New York, New York
Columbia
Hot Mustard


(Fletcher Henderson)

12-6-1926
New York, New York
Vocalion
1065
Hot Mustard


(Fletcher Henderson)

12-8-1926
New York, New York
Vocalion
15497 B
Brunswick
3406-B
Hotter Than 'Ell


(Fletcher Henderson)

9-25-1934
New York, New York
Decca
3518 A
Houston Blues


(George W. Thomas)

6-21-1924
New York, New York
Columbia
164-D
How Come You Do Me Like You Do


(Gene Austin / Roy Bergere)

11-17-1924
New York, New York
Banner 1445


5728-1

How Come You Do Me Like You Do
11-17-1924
New York, New York
Banner 1445


5728-2

I'll Always Be In Love With You


(Ruby / Green / Stept)

4-9-1936
Chicago, Illinois
Victor
25317-B
I Can't Get The One I Want
5-1924
New York, New York
Banner
I'll See You In My Dreams


(Gus Kahn / Isham Jones)

1-12-1925
New York, New York
Banner
I'll See You In My Dreams


(Gus Kahn / Isham Jones)

1-12-1925
New York, New York
Regal
I'll See You In My Dreams


(Gus Kahn / Isham Jones)

1-12-1925
New York, New York
Regal
I'll Take Her Back If She Wants To Come Back


(Monaco / Leslie)

5-19-1925
New York, New York
Columbia
383-D
I'm A Fool For Loving You


(Sam M. Lewis / Pete Wendling)

4-9-1936
Chicago, Illinois
Victor
25297-A
I'm Coming, Virginia


(Marion Cook / Donald Heywood)

5-11-1927
New York, New York
Columbia
1059-D
I Need Lovin'
11-19-1926
New York, New York
Columbia
I Never Care 'Bout Tomorrow
9-8-1924
New York, New York
Columbia
It's The Darndest Thing
(from "Singin' The Blues")


(Jimmy McHugh / Dorothy Fields)

10-15-1931
New York, New York
Columbia
2565-D
It's The Last Thing I Do


(Cahn / Chaplin)

10-25-1937
New York, New York
Vocalion
3850
It's The Little Things That Count
5-28-1938
New York, New York
Vocalion
4154
It's The The Talk Of The Town


(Levinson / Symes / Neiburg)

9-22-1933
New York, New York
Columbia
2825-D
(I've Been) Saving Myself For You
From "Grand Terrace Review"
Vocal Chorus Chuck Richards


(Cahn / Chaplin)

5-27-1938
New York, New York
Vocalion
4154
I've Found What I Wanted In You
2-5-1931
New York, New York
Columbia
2414-D
I Wanna Count Sleep
3-10-1932
New York, New York
Victor
I Want Somebody To Cheer Me Up
1-6-1926
New York, New York
Vocalion
A 15204
I Want To See A Little More Than I Saw


(Heston / Edelheit /Oliver / Farrar)

1-6-1926
New York, New York
Brunswick
3026-B
I Wish I Could Make You Cry
3-1924
New York, New York
Pathe Actuelle
Jangled Nerves


(Fletcher Henderson / Moore)

4-9-1936
Chicago, Illinois
Victor
25317-A
Jealous
5-1924
New York, New York
Banner
Jimmy Gee
4-1924
New York, New York
Banner
Jim Town Blues
(C. Davis / F. Rose)
Arranged by Fletcher Henderson
8-4-1936
New York, New York
Victor
25379-A
Just Hot


(Jimmy McHugh)

10-5-1923
New York, New York
Vocalion
Just Blues


(Fletcher Henderson)

New York, New York
Brunswick 12239
Keep A Song In Your Soul
12-2-1930
New York, New York
Columbia
King Porter Stomp


(Jelly Roll Morton)

3-14-1928
New York, New York
Columbia
King Porter Stomp


(Jelly Roll Morton)

New York, New York
Vocalion
2527-A
King Porter Stomp


(Jelly Roll Morton)

8-18-1933
New York, New York
Columbia
Knock, Knock, Who's There?
Vocal Refrain by Roy Eldrigde and Edward Cuffee


(Tyson / Davies / Lopez / Morris)

8-4-1936
New York, New York
Victor
25373-A
Let 'Er Go
Vocal Chorus by Jerry Blake


(Clinton / Kay)

9-22-1937
New York, New York
Vocalion
3713
Let Me Introduce You To My Rosie
1-6-1926
New York, New York
Vocalion
A 3026
Limehouse Blues


(Douglas Furber / Philip Braham)

9-11-1934
New York, New York
Decca
157 A
Linger Awhile


(Harry Owens / Vincent Rose)

11-27-1923
New York, New York
Edison
51277-R
Livery Stable Blues


(Ray Lopez / Yellow Nuņez )

4-29-1927
New York, New York
Columbia
1002-D
Liza
9-25-1934
New York, New York
Decca
Mama'a Gonna Slow You Down


(Bud Cooper)

1-1924
New York, New York
Emerson
Manda
10-7-1924
New York, New York
Columbia
228-D
Mandy, Make Up Your Mind (1)
11-1924
New York, New York
Paramount
Mandy, Make Up Your Mind (2)
11-1924
New York, New York
Paramount
Mary Had A Little Lamb
5-23-1936
Chicago, Illinois
Victor
Memphis Blues


(W.C. Handy)

9-12-1934
New York, New York
Decca
158 B
Memphis Bound


(Banta / De Rose)

4-18-1925
New York, New York
Vocalion
B 15030
Me Neeyah (My Little One)
2-4-1925
New York, New York
Pathe Actuelle
Money Blues (1)


(Leader / Coleman / Eller)

5-19-1925
New York, New York
Columbia
383-D
Money Blues (2)


(Leader / Coleman / Eller)

5-19-1925
New York, New York
Columbia
383-D
Moonrise On The Lowlands
4-9-1936
Chicago, Illinois
Victor
25297-B
Moten Stomp


(Benny Moten / Buster Moten)

5-28-1938
New York, New York
Vocalion
Muscle Shoals Blues


(George W. Thomas)

6-21-1924
New York, New York
Columbia
164-D
My Dream Man
11-10-1924
New York, New York
Banner
My Gal Sal


(Paul Dresser)

2-5-1931
New York, New York
Columbia
My Papa Doesn't Two-time No Time


(Walter Donaldson)

New York, New York
Columbia
126-D
My Pretty Girl
2-5-1931
New York, New York
Columbia
My Rose Marie


(Buddy De Sylva / King / Ray Henderson)

10-10-1924
New York, New York
Pathe Actuelle
Perfect
14337 B
My Sweetie Went Away
(She Didn't Say Where – When – Or Why)


(Roy Turk / Lou Handman)

7-1923
New York, New York
Paramount
20251-A
Nagasaki


(Mort Dixon / Harry Warren)

9-22-1933
New York, New York
Columbia
2825-D
Naughty Man
11-7-1924
New York, New York
Vocalion
B 14935
Naughty Man
11-14-1924
New York, New York
Columbia
245-D
Naughty Man
11-24-1924
New York, New York
Oriole
New King Porter Stomp
12-9-1932
New York, New York
Columbia
Night Life


(Will Hudson)

9-22-1933
New York, New York
Columbia
Decca
18254 B
Nobody's Rose
12-20-1925
New York, New York
Columbia
532-D
Off To Buffalo
5-11-1927
New York, New York
Paramount
14012B
Oh, Sister! Ain't You Hot?


(Will Donaldson)

1-1924
New York, New York
Emerson
Old Black Joe's Blues


(Fletcher Henderson)

12-22-1923
New York, New York
Vocalion
A 14740
Oh! Eva (Ain't Ya Comin' Out Tonight?)
4-1924
New York, New York
Banner
One Of These Days


(D.A. Hoffman)

11-10-1924
New York, New York
Banner
1457-B
Papa, Better Watch Your Step
7-1923
New York, New York
Paramount
Potomac River Blues


(Maceo Pinkard)

12-22-1923
New York, New York
Vocalion
B 14740
PDQ Blues


(Henry / Simpson)

4-29-1927
New York, New York
Columbia
1002-D
Peaceful Valley
12-7-1925
New York, New York
Vocalion
Pensacola


(Rose)

12-20-1925
New York, New York
Columbia
532-D
Phantom Fantasie


(Russ Morgan)

3-6-1934
New York, New York
Victor
Play Me Slow (2)
1-23-1925
New York, New York
Columbia
Play Me Slow (3)
1-23-1925
New York, New York
Columbia
Poor Old Joe
3-10-1932
New York, New York
Victor
Poplar Street Blues
2-4-1925
New York, New York
Pathe Actuelle
Potomac River Blues
12-22-1923
New York, New York
Vocalion
B 14740
Prince Of Wails


(Elmer Schoebel)

11-1924
New York, New York
Paramount
Queer Notions


(Coleman Hawkins )

8-18-1933
New York, New York
Vocalion
2583-A
Queer Notions


(Coleman Hawkins )

9-22-1933
New York, New York
Columbia
Radio Rhythm
(Nat Leslie / Irving Mills)
New York, New York
Brunswick 6176
Rasin' The Roof


(Dorthy Fields / Jimmy McHugh)

4-1929
New York, New York
Cameo
Red Hot Mama
4-1924
New York, New York
Regal
9658-A
Rhythm Of The Tambourine


(Franklin)

3-2-1937
New York, New York
Vocalion
Riffin'
5-23-1936
Chicago, Illinois
Victor
25339-B
Rocky Mountain Blues


(Fletcher Henderson / Carroll / Macomber)

1-21-1927
New York, New York
Columbia
Rose Room


(Art Hickman / Harry Williams )

3-22-1937
New York, New York
Vocalion
3511
Rug Cutter's Swing
9-25-1934
New York, New York
Decca
Say Say Sadie
3-1924
New York, New York
Pathe Actuelle
Say You Where Teasing Me
3-10-1932
New York, New York
Victor
Sensation
3-19-1927
New York, New York
Vocalion
Shake Your Feet
from "Ziegfeld Follies of 1923"


(Dave Stamper)

11-27-1923
New York, New York
Edison
51276-R
Shanghai Shuffle


(Gene Rodemich / Larry Conley)

10-10-1924
New York, New York
Pathe Actuelle
Shanghai Shuffle


(Gene Rodemich / Larry Conley)

11-7-1924
New York, New York
Vocalion
A 14935
Shanghai Shuffle


(Gene Rodemich / Larry Conley)

9-11-1934
New York, New York
Decca
158 A
Shoe Shine Boy
8-4-1936
New York, New York
Victor
25375-B
Shuffling Sadie
3-11-1927
New York, New York
Pirate
Sing, Sing, Sing
(With A Swing)
Vocal refrain by Georgia Boy Simkins


(Louis Prima)

New York, New York
Victor
25375-A
Sing You Sinners
From "Honey"


(Coslow / Harling)

10-25-1937
New York, New York
Vocalion
4125
Singin' The Blues
(from "Singin' The Blues")


(Sam Lewis / Joe Young / Con Conrad / J. Russel Robinson)

10-15-1931
New York, New York
Columbia
2565-D
Sleepy Time Gal
11-16-1925
New York, New York
Banner
Somebody Loves Me


(Buddy DeSylva / Ballard Macdonald / George Gershwin)

10-3-1930
New York, New York
Columbia
Somebody Stole My Gal


(Wood)

2-1931
New York, New York
Crown
Some Of These Days


(Shelton Brooks)

1-19-1927
New York, New York
Vocalion
B 1079
Perfect
14337
Sorry
11-22-1927
New York, New York
Banner
Spanish Shawl (Dixie Stompers)


(Schoebel)

11-23-1925
Apex
8433-B
Stampede


(Fletcher Henderson)

3-22-1937
New York, New York
Vocalion
3534
Stardust
(Mitchell Parrish / Hoagy Carmichael)
2-1931
New York, New York
Broadway
1441-B
Crown
2093 A
Stealin' Apples


(Fats Waller)

3-27-1936
New York, New York
Vocalion
3213
Steppin' Out
1-1924
New York, New York
Emerson
St. Louis Shuffle (1)


(Fats Waller / Pettis)

4-27-1927
New York, New York
RCA X
St. Louis Shuffle (2)


(Fats Waller / Pettis)

4-27-1927
New York, New York
Victor
St. Louis Shuffle (3)


(Fats Waller / Pettis)

4-27-1927
New York, New York
Bluebird
B-10246-B
Stockholm Stomp
1-22-1927
New York, New York
Brunswick
Strangers
3-10-1932
New York, New York
Victor
Sugar
10-16-1931
New York, New York
Columbia
Sugar Foot Stomp


(King Oliver / Louis Armstrong)

5-29-1925
New York, New York
Columbia
395-D
Sugar Foot Stomp


(King Oliver)

3-19-1931
New York, New York
Columbia
2513-D
Bluebird
B-10247-A
Swamp Blues
5-11-1927
New York, New York
Paramount
14012A
Swanee Butterfly


(Billy Rose / Walter Donaldson)

1-31-1925
New York, New York
Domino
3475-B
Sweet And Hot


(Jack Yellen / Harold Arlen)

2-5-1931
New York, New York
Columbia
2414-D
Sweet Thing (4)


(Williams / Kahn)

11-19-1926
New York, New York
Columbia
Sweet Thing (6)


(Williams / Kahn)

11-19-1926
New York, New York
Columbia
Take A Picture Of The Moon
3-10-1932
New York, New York
Victor
Take Me Away From The River
3-10-1932
New York, New York
Victor
Tell Me Dreamy Eyes
10-10-1924
New York, New York
Pathe Actuelle
That's Georgia
8-21-1924
New York, New York
Columbia
202-D
The Chant


(Mel Stitzel)

11-3-1926
New York, New York
Columbia
The Grass Is Always Greener (In The Other Fellows Yard)


(Whiting / Egan)

7-1924
New York, New York
Apex
8233-A
Then I'll Be Happy
Chorus by Donald Redman


(Friend / Clare / Brown)

11-16-1925
New York, New York
Banner
1654-A
Domino
1654-A
The Meanest Kind Of Blues


(Jackson)

8-29-1924
New York, New York
Vocalion
B 14880
The Meanest Kind Of Blues


(Jackson)

11-14-1924
New York, New York
Columbia
245-D
The Wang Wang Blues
(Gus Mueller / Bert Johnson / Henry Busse)
5-16-1929
New York, New York
Columbia
1913-D
There's A Rickety Rackety Shack (By A Rickety Rockety Road)


(Charles Tobias / Roy Turk )

11-26-1927
New York, New York
Banner
Tidal Wave


(Morgan)

9-12-1934
New York, New York
Decca
Tidal Wave
3-6-1934
New York, New York
Bluebird
Tiger Rag


(Nick LaRocca)

2-1931
New York, New York
Crown
T.N.T.
10-21-1925
New York, New York
Columbia
Tozo
1-21-1927
New York, New York
Columbia
Trees
Vocal Chorus by Chuck Richards


(Kilmer / Rasbach)

9-22-1937
New York, New York
Vocalion
3760
Twelfth Street Blues
2-4-1925
New York, New York
Pathe Actuelle
Underneath The Harlem Moon


(Revel / Gordon)

12-9-1932
New York, New York
Columbia
2732-D
Until Today


(Davis / Coots / Levant – Arranger Fletcher Henderson)

8-4-1936
New York, New York
Victor
25373-B
Variety Stomp (1)
4-27-1927
New York, New York
RCA X
Variety Stomp (2)
4-27-1927
New York, New York
Bluebird
B-10246-B
Variety Stomp (3)
4-27-1927
New York, New York
Victor
Wait'll You See My Gal
5-1924
New York, New York
Banner
What-Cha-Call-'Em Blues


(Steve L. Roberts)

5-29-1925
New York, New York
Columbia
395-D
What Good I'm I Without You?
12-2-1930
New York, New York
Columbia
What's Your Story
(What's Your Jive)
Vocal Chorus by Chuck Richards


(Johnson / Henderson)

New York, New York
Vocalion
3760
Whiteman Stomp
(Fats Waller / Jo Trent / Paul Whiteman)
5-11-1927
New York, New York
Columbia
1059-D
When You Do What You Do
4-18-1925
New York, New York
Vocalion
When You Walked Out (Somebody Else Walked Right In)


(Irving Berlin)

5-1923
New York, New York
Paramount
Where The Dreamy Wabash Flows
7-1924
New York, New York
Banner
Where There's You There's Me
(From the Film "The Two Of Us")


(Sigler / Goodhart / Hoffman)

5-23-1936
Chicago, Illinois
Victor
25334-A
Who?
(From Musical Comedy "Sunny")


(Kern)

Apex
8433-A
Why Couldn't It Be Poor Little Me


(Williams / Palmer)

1-12-1925
New York, New York
Banner
Why Couldn't It Be Poor Little Me (4)


(Williams / Palmer)

1-12-1925
New York, New York
Regal
Why Couldn't It Be Poor Little Me (5)


(Williams / Palmer)

1-12-1925
New York, New York
Regal
Why Couldn't It Be Poor Little Me (6)


(Williams / Palmer)

1-12-1925
New York, New York
Banner
1476
Wild Party


(Will Hudson)

9-25-1934
New York, New York
Decca
342 A
Words


(Spencer)

10-30-1924
New York, New York
Vocalion
A 14926
Words


(Spencer)

10-30-1924
New York, New York
Vocalion
A 14926
Worried Over You
9-22-1937
New York, New York
Vocalion
3713
Wrappin' It Up (The Lindy Glide)
(Fletcher Henderson)
9-12-1934
New York, New York
Decca
157 B
Yeah Man!


(Noble Sisle / J. Russell Robinson)

8-18-1933
New York, New York
Vocalion
2527-B
You Can Depend On Me


(Dunlap / Carpenter / Hines)

8-4-1936
New York, New York
Victor
25379-B
You're In Love With Love
10-25-1937
New York, New York
Vocalion
3850
You're In Love With Me
New York, New York
Vocalion
3850
You've Got To Get It Hot


(Al Siegel)

10-27-1923
New York, New York
Vocalion
B 14726
You Know Me, Alabam'


(Jack Yellen / Milton Ager)

5-1924
New York, New York
Banner 1372
You'll Never Get To Heaven With Those Eyes


(Monaco / Clarke / Little)

8-21-1924
New York, New York
Columbia
202-D

| | |
| --- | --- |
| Bernard Addison | Guitar |
| Henry "Red" Allen | Trumpet |
| Fernando Arbello | Trombone |
| Louis Armstrong | Trumpet |
| Buster Bailey | Clarinet |
| Eddie Barefield | Alto Saxophone , Clarinet |
| Chu Berry | Tenor Saxophone |
| Emmett Berry | Trumpet |
| Jerry Blake | Alto Clarinet |
| Harvey Boone | Alto Saxophone |
| Lonnie Brown | Alto, C-Melody Saxophone |
| Scoops Carry | Alto Saxophone , Clarinet |
| Benny Carter | Alto Saxophone , Arranger |
| Sid Catlett | Drums |
| Bill Challis | Arranger |
| Elmer Chambers | Trumpet |
| June Cole | Tuba |
| Israel Crosby | Bass |
| Ed Cuffee | Trombone |
| Charlie Dixon | Banjo |
| Roy Eldridge | Trumpet |
| Ralph Escudero | Tuba |
| Charlie Green | Trumpet |
| Arville Harris | Alto Saxophone , Clarinet |
| Jimmy Harrison | Trombone |
| Coleman Hawkins | Tenor, Bass or Baritone Saxophones |
| Fletcher Henderson | Piano , Arranger |
| Horace Henderson | Piano , Arranger |
| Leora Henderson | Trumpet |
| J.C. Higginbotham | Trombone |
| Clarence Holiday | Banjo, Guitar |
| George Hunt | Trombone |
| Franz Jackson | Tenor Saxophone |
| Hilton Jefferson | Alto Saxophone |
| Carmelo Jejo | Clarinet , Alto Saxophone |
| Budd Johnson | Alto Saxophone , Clarinet |
| Walter Johnson | Drums |
| Claude Jones | Trombone |
| John Kirby | Tuba , Bass , Bass Violin |
| Tommy Ladnier | Trumpet |
| Bob Lessey | Guitar |
| Lawrence Lucie | Guitar |
| Kaiser Marshall | Drums |
| John McConnell | Trombone |
| Benny Morton | Trombone |
| Teddy Nixon | Trombone |
| Don Pasquall | Alto and Baritone Saxophone |
| Russell Procope | Alto Saxophone , Clarinet |
| Don Redman | Alto Saxophone , Clarinet , Arranger |
| Milt Robinson | Trombone |
| Edgar Sampson | Alto Saxophone , Violin |
| Howard Scott | Trumpet |
| Joe Smith | Trumpet |
| Russell Smith | Trumpet |
| Bobby Stark | Trumpet |
| Rex Stewart | Cornet |
| Pete Suggs | Drums , Vibraphone |
| Del Thomas | Bass Brass |
| Joe Thomas | Trumpet |
| Dick Vance | Trumpet |
| Fats Waller | Piano |
| George Washington | Trombone |
| Ben Webster | Tenor Saxophone |
| Dicky Wells | Trombone |
| Elmer Williams | Tenor Saxophone |
| Sandy Williams | Trombone |
| Freddie White | Guitar |
| Al Wynn | Trombone |