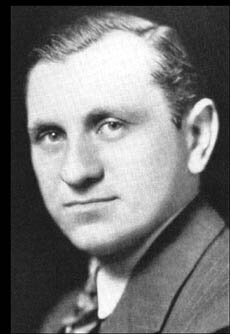 Irving Mills (January 16, 1894 – April 21, 1985) was born in New York City, in the Jewish ghetto on the East Side in 1894 to Jewish parents. His mother and father were born in Odessa, Russia. He had one brother, Jack, who was about 2 years older then him and born in Odessa. His father died when Irving was 11. They were poor, so both he and his brother left school and went to work.
I remember my Dad telling me that he sold ties and later wallpaper, but he got his start in the music business when he took a job as a page boy at Shanley's Restaurant which was the finest in New York and opposite the theater district (Broadway and 29th Street). It was where all the actors and actresses met and was his first exposure to the world of theater.
He told me that the restaurant had a fine orchestra that played all the classics and show music from all the theaters on Broadway. At about 14 or 15 he became a page boy at the Friars in New York, the original (and much later he was one of the founders of the Friar's in Beverly Hills). Raymond Hitchcock and George M. Cohan and all the great greats were there.
He met many of the actors and vaudevillians who frequented the club but never got to hear or see them perform, and wanting to, he got a job as an usher at Proctor's Twenty-Eighth Street which was a Keith Albee house. This was before radio; Tin Pan Alley was just around the corner. The performers did two-a-day for a week so he got to learn not only the songs but the way they were being delivered – the interpretations.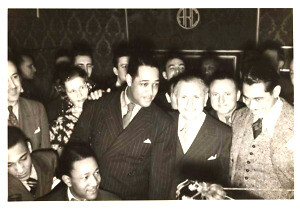 Some of the acts would ask him to go to the publishing houses to get some professional copies of the latest tunes. The publisher's song-pluggers had a difficult time getting past the stage door to contact the performers, but Irving was working there so they were glad to see him. One of them asked if he would like to be a song-plugger and he took the job. He had a good voice and had been listening to the best and found that he could come up with his own interpretations of songs.
The family (his mother and brother and he) moved to Philadelphia. He was looking for a song-plugging job when someone tipped him off about Emmett Welsh, a publisher and band leader who also had a concession at Snellenberg's Department Store. Irving auditioned for him and became a demonstrator. He had to learn and sing only Snellenberg's songs. To be able to sing other songs you would have to demonstrate at department stores such as Kresge's, Woolworth's, McCrory's, Grant or Neisner Bros. He would sing all day with a megaphone and then at night sing to slides in the motion picture theaters and later in the early mornings would sing with bands in the dance halls.
When he was 19 he was booked in Harrisburg, Pennsylvania where he met my mother. He was demonstrating at a music counter. He knew her just one week before he proposed. She said yes. They were married for over sixty years and had seven children.
He went back to Philadelphia, worked for Leo Feist, Music Publisher for some time until 1919 when the company folded. He and his brother Jack decided to go into music publishing themselves. Between 1919 and 1965 when they sold Mills Music, Inc. they built and became the largest independent music publisher in the world.
It was tough to get material for their new publishing company because the popular writers of the day were already working with established publishers. They had to find young unknown writers for material and some of them became top ASCAP writers like Sammy Fain, Harry Barris, Gene Austin, Hoagy Carmichael, Jimmy McHugh, Dorothy Fields and others. (When BMI started he was offered a great deal of money to have Mills Music, Inc. join. He didn't.)
Irving continued to demonstrate the music by sitting in with various small orchestras, and in doing so began to like the sounds of various instrumentalists. He got the idea of putting together his own orchestra using what he felt were extraordinary musicians from the various combinations he sang with. Records were selling for 35 cents apiece in those days and he made up special labels for Sears Roebuck, Montgomery Ward, McCrory, and another for Kresge.
The records came out good so he built another orchestra with different combinations and before you knew it he had 36 combinations. The first was Fletcher Henderson. Harry Revel was a piano player in the Mills office and Mack Gordon was doing a vaudeville act with a group of girls. Neither had ever written or had any songs published, but Irving liked them and felt that they could write some shows he had ideas for.
One night he went down to a little club on West 49th Street between 7th Avenue and Broadway called the Kentucky Club. The owner had brought in a little band from Washington, D.C. and wanted to know what Irving thought of them. Instead of going out and making the rounds he found himself sitting there all night listening to the orchestra. That was Duke Ellington and his Kentucky Club Orchestra who he signed up the very next day. They made a lot of records together, not only under the name of Duke Ellington, but built groups around Duke's side men who were great instrumentalists in their own right.
Ellington and Mills collaborated on quite a number of tunes that became popular standards: "Mood Indigo", "Solitude", "It Don't Mean A Thing (If It Ain't Got That Swing)", "Sophisticated Lady", "Black and Tan Fantasy" and many others that you'll find listed on ASCAP's website. In spite of a limited vocabulary Irving had a poetic sense of beauty and knew how to create a lyric, sometimes using a ghost writer to complete his idea, and sometimes building on the idea of the ghost writer. He put Duke into the Cotton Club and I'm sure you are aware of that history.
Mills was one of the first to record black and white musicians together, using twelve White musicians and the Duke Ellington Orchestra on a 12″ 78 RPM disc performing St. Louis Blues on one side and a medley of songs called Gems from Blackbirds of 1928 on the other side, himself singing with the Ellington Orchestra. Victor Records first hedged on releasing the record, but when Mills threatened to take his artists off the roster, he won out.
When he took Duke out of the Cotton Club he was looking for a little ingénue. He was told of a girl in Chicago named Blanche Calloway who was in a colored cafe doing a review. He liked her but she said she would not go to New York unless her brother could go with her. He asked what he did and she said "He sings a good song and he dances very good. But, the proprietor didn't want to use him in the review so he made him a bus boy."
Irving knew the proprietor well and arranged for an audition in the early morning hours after the last show. He signed her brother immediately and took them both to New York. That was Cab Calloway.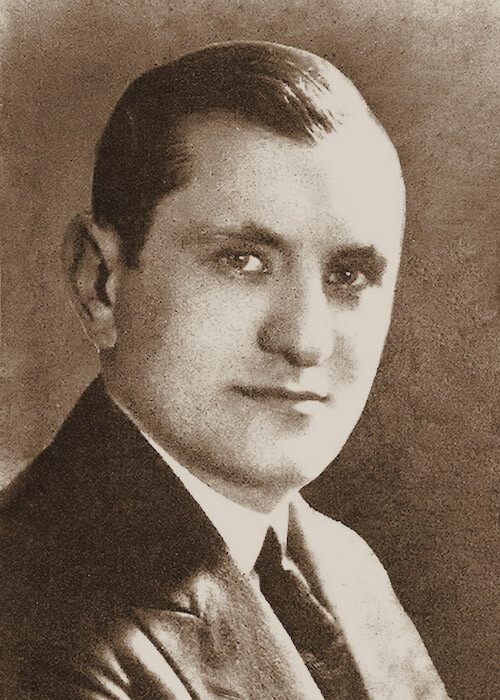 Irving thought that he should insure that the Ellington Orchestra always had top musicians and protected himself by forming the Mills Blue Rhythm Band which was equally as good. Calloway and the band went into the Cotton Club with a new tune Irving wrote with Calloway and Clarence Gaskill called "Minnie The Moocher". Then Irving took Duke and the men to Hollywood in 1930 to be in a motion picture, Check And Double Check, with Amos and Andy.
While they were there Irving was getting phone calls raving about what a sensation Cab Calloway was making with "Minnie The Moocher" so he immediately returned to New York and recorded it. It was a smash, not only in America but England and France as well so Irving took him to Europe where he played for royalty and had everybody Hi-De-Ho-ing.
During that period Irving was recording for 16 record companies and people were requesting the bands in different parts of the country. So, he went into the artist business and formed Mills Artists Booking Company and took over an entire floor at 799 Seventh Avenue. It was then that he formed an all girl orchestra and put at its head the beautiful Ina Ray. He added the name Hutton and it became the popular Ina Ray Hutton and her Orchestra.
Irving was recording all the time and became the head of the American Recording Company which is now Columbia Records. All of his records are in there – The Mills Blue Rhythm Band, Irving Mills and his Hotsy Totsy Gang. He and Jimmy McHugh were the Hotsy Totsy Boys. They were the first team to go on radio and before you knew it the Hotsy Totsy Club opened in New York and everything became Hotsy Totsy.
Once radio blossomed Irving was singing at six radio stations seven days a week plugging Mills tunes. Jimmy McHugh, Sammy Fain and Gene Austin took turns being his pianist. Gene Austin became famous in his own right and Irving put him on Victor records. Gene, Jimmy and Irving wrote a song for Gene called "When My Sugar Walks Down The Street (All The Little Birdies Go Tweet Tweet Tweet)". Austin became famous.
I don't know how many recordings he did using Rudy Vallee as vocalist. In one of Irving's bands, Irving Mills and his Hotsy Totsy Gang he had for sidemen: Tommy Dorsey, Jimmy Dorsey, Joe Venuti, Eddie Lang, Arnold Brillhardt, Artie Schutt, Manny Klein, and in others Glenn Miller and Red Nichols (Irving gave Red Nichols the tag "and his Five Pennies") – all became famous in their own right. He made the first records under the name of Benny Goodman.
One of his innovations was the "band within a band," recording small groups out of the main orchestra and printing "small orchestrations" transcribed off the record, so that non-professional musicians could see how great solos were constructed. This was later done by Benny Goodman, Artie Shaw and many other bands.
He produced one picture for Twentieth Century Fox in 1943. It was called "Stormy Weather" and starred jazz greats Lena Horne, Cab Calloway, Zutty Singleton, Fats Waller and the great jazz dancers the Nicholas Brothers and Bill "Bojangles" Robinson. He had a contract to do other movies but found it "too slow" so he continued finding, recording and plugging music.
Irving lived to be over 92 years old. In spite of his limited formal education Irving Mills was comfortable in any company. He enjoyed the role of raconteur, especially on the subject of show business. He was a fastidious dresser and was always in the latest style and outfitted the orchestras he managed in stunning uniforms. He was a natural born decorator. His offices were always the most elaborate in the business and his homes were always show places of art and antiques.
Irving was not a musician, but he knew how to convey to an arranger or composer embellishments and changes that would improve the music. His place in the history of Jazz is founded primarily on his business skills rather than his singing and songwriting abilities (which were considerable), but it was his management skills and publishing empire that were central to the history and financial success of jazz. Because of his promotion of black entertainers a leading black newspaper referred to him as the Abraham Lincoln of music.
Among the artists Mills personally recorded were Irving Aaronson and his Commanders, Vic Berton's Orchestra, Bill Banks Orchestra, Cab Calloway Orchestra, Chocolate Dandies, Duke Ellington and his Orchestra, the Frank Foreba Orchestra, Sonny Greer and his Memphis Men, Baron Lee and the Mills Blue Rhythm Band, Jimmy Lunceford, Wingy Manone, Benny Meroff Orchestra, Mills Cavalcade Orchestra, Irving Mills and his Hotsy Totsy Gang, Mills Music Masters, Louis Prima Orchestra, Chuck Richards, Clark Randall Orchestra, Joe Venuti, The Whoopee Makers, Jay Randell Orchestra, Will Hudson-Eddie DeLange Orchestra, Tommy "Red" Tomkins Orchestra, The Swingsters, The Modernists (Benny Goodman), Ina Ray Hutton & Her Melodears, Lud Gluskin Orchestra, Red Norvo & His Swing Septet, Rex Stewart Orchestra, Benny Carter Orchestra, Buster Bailey Orchestra, Joe Haymes Orchestra, Manny Klein Orchestra, Red Nichols & His Five Pennies and others. -by Bob Mills