He has been gone for 25 years but everyone still knows who Cab Calloway was. The "Hi-De-Ho Man," the singer of "Minnie The Moocher," an always-hip entertainer, and a national celebrity since the early 1930s thanks to his many records and film appearances, there is little chance that Calloway will ever be forgotten.
Cabell Calloway III. was born on Christmas 1907 in Rochester, New York. His sister Blanche Calloway, who was five years older, was a colorful and flamboyant singer who had some success. She recorded in 1925 (using Louis Armstrong as a sideman), performed in Chicago area clubs, and would lead a big band during 1931-38. Cab, who grew up in Baltimore and had voice lessons starting in 1922, was very impressed by her lifestyle and decided to try to make it as a singer and dancer. The son of a lawyer, he attended law school in Chicago but the lure of show business insured that that did not last long.
Calloway picked up tips from his sister, appeared in the Plantation Days revue with her, and worked at the Sunset Café as an emcee and substitute drummer. Calloway never seriously played an instrument and the drumming was soon discarded. In 1929 he moved to New York where he appeared in the show Hot Chocolates, a short-lived revue that featured the music of Fats Waller and Andy Razaf and performances from Louis Armstrong.
In 1929 Calloway secured an engagement at the Savoy Ballroom, taking over the leadership of a group called the Alabamians. However the band was not strong enough to make it in the Big Apple and soon broke up. He had much better luck with his next group. The Missourians, an exciting jazz combo that recorded three hot record dates during 1929-30, was on the brink of breaking up due to the Depression. Calloway took over the ten-piece band, renamed it the Cab Calloway Orchestra, and added a third trumpeter.
Cab Calloway and his new band made their first recordings on July 24, 1930, resulting in a spectacular version of "St. Louis Blues." Four other record sessions in 1930 included such numbers as "Sweet Jennie Lee," "Some Of These Days," "Nobody's Sweetheart," and "St. James Infirmary." Throughout these performances, Calloway, who was already very recognizable, took wild chances in his singing, engaged in extroverted and slightly crazy scat-singing, and put on quite a show.
1931 might have been near the height of the Depression but it was also the year that Cab Calloway became famous. In February, his orchestra became the house band at the Cotton Club, succeeding Duke Ellington. The regular radio broadcasts led to Calloway becoming nationally known within a short time. While radio audiences could not see his hyper and sometimes nutty conducting or his dancing, they could experience the joy and wild abandon in his singing.
On March 3 he recorded the original version of "Minnie The Moocher." Few listeners knew that he was singing about opium use. The "hi-de-ho" call and response with the band (which was soon taken up by audiences) became his trademark and made him into a sensation. Other songs in a similar fashion, some of which dealt with the further adventures of Minnie and Smoky Joe, followed including "Kickin' The Gong Around," "Minnie The Moocher's Wedding Day," "You Gotta Hi-De-Ho To Get Along With Me," "Zaz Zuh Zaz," "Keep That Hi-De-Hi In Your Soul," "The Hi-De-Ho Miracle Man," "Hi-De-Ho Romeo," and "The Ghost Of Smoky Joe."
A true original from the start, Cab Calloway combined together the influences of Louis Armstrong (particularly in his scatting), the over-the-top emotionalism of Al Jolson, opera singers, Bing Crosby, and minstrel shows in creating an eternally hip character. Jazz critics, who often praised his band, never really knew what to say about Calloway, letting his showmanship hide the fact that he was one of the top jazz singers of the 1930s and '40s. Calloway was the only jazz vocalist (other than Bob Crosby who really was not much of a jazz singer) to lead a successful swing big band. His jive talking became an influence on Slim Gaillard and Harry "The Hipster" Gibson, who extended Cab's crazier ideas. But while Calloway might have appeared a bit nutty during some of his stage shows, he was a skilled businessman, reliable, and never an alcoholic or a drug addict. He almost always knew exactly what he was doing.
Cab Calloway was, along with Louis Armstrong and Bill "Bojangles" Robinson, one of the most famous male African-American performers of the 1930s. The Cotton Club, which was not only at the center of the Harlem jazz scene but the jazz world itself for a time, was the perfect venue for his performances. Calloway also recorded regularly with his orchestra up until the 1942 Musicians Union strike and his records were solid sellers.
Calloway's recording legacy, which in the 1990s was fully reissued by the European Classics label on a dozen CDs, is full of overlooked gems with literally hundreds of enjoyable performances including "Blues In My Heart," "Bugle Call Rag," "Trickeration," "Corinne Corinna," "Cabin In The Cotton," "Reefer Man," "The Jumpin' Jive," "Fifteen Minute Intermission," "Are You Hep To The Jive," "Are You All Reet," and "Blues In The Night."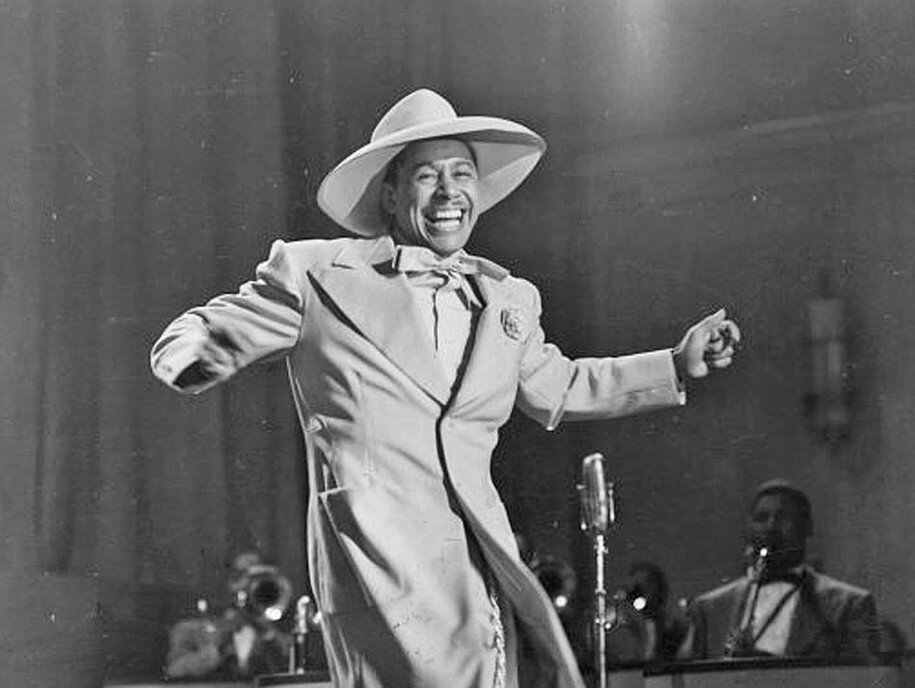 For African-American musicians of the swing era, playing in the Calloway Orchestra was one of the best jobs in the profession. The musicians were well paid, had fringe benefits, and enjoyed regular vacations. All they had to do was show up on time, play flawlessly, and look like they were enjoying themselves onstage no matter what Calloway was doing. The leader was always the star, but he hired first-class musicians, was proud of them, and featured his top players on occasional instrumentals.
A gradual turnover and modernization resulted in the former members of the Missourians eventually being replaced. Among the top Calloway sidemen of the 1931-42 period were trumpeters Doc Cheatham (who played lead), Shad Collins, Dizzy Gillespie and Jonah Jones, trombonist Tyree Glenn, and tenor-saxophonists Ben Webster, Chu Berry, and (in the mid-1940s) Ike Quebec. By 1939 Calloway also had one of the top rhythm sections in jazz: pianist Bennie Payne, guitarist Danny Barker, bassist Milt Hinton, and drummer Cozy Cole.
Since Calloway's fame always reached beyond the jazz world, he was a natural to appear in movies. In addition to a few band shorts (most amusing is Cab Calloway's Jitterbug Party) and his voice being used in some cartoons (including with Betty Boop), he made appearances in such motion pictures as The Big Broadcast (1932), International House (1933), The Singing Kid (1936), Stormy Weather (1943), Sensations of 1945 (1944), and Hi De Ho (1947). While Calloway usually just performed a number or two, in Stormy Weather he had a small part, sang a rousing version of "The Jumpin' Jive," and conducted his orchestra behind a remarkable dance routine by the Nicholas Brothers.
Dizzy Gillespie during his period with Calloway (1939-41) had experimented with playing solos that sounded futuristic. His solos were full of notes that sounded wrong because he was improvising over more modern chords than the rhythm section was playing. Calloway derided the young trumpeter's playing as "Chinese music" but was mostly pretty tolerant and gave him a generous amount of solo space. However a fight that was caused by Calloway thinking that the constantly joking Gillespie had thrown spitballs at him while he was performing (Jonah Jones was the actual culprit) cut short that association.
Between nightclub appearances, regular radio broadcasts, recordings, and occasional film work, Cab Calloway kept busy for many years. The end of the big band era during 1945-46 and the rise of bebop resulted in less work being available although Calloway was always popular. In 1949 he satirized both bebop and his own singing in his hilarious recording of "I Beeped When I Should Have Bopped" in 1949.
Calloway reluctantly broke up his big band in April 1948, cutting back to an octet, then a sextet and, by 1950, a quartet with Jonah Jones and Milt Hinton. In 1952 he stopped leading a regular band altogether. It may have seemed that Cab Calloway's career was over, but he was still just 44.
That year he began two years of playing "Sportin' Life" in a highly-rated production of Porgy and Bess. Since George Gershwin had originally based that character's personality on Calloway, it seemed quite fitting that he would eventually play the role. From that point forward, Calloway led short-term bands whenever he felt like performing. He had a few notable acting roles, playing a dramatic part in the fictional W.C. Handy biography St. Louis Blues (1958), appearing with Steve McQueen in The Cincinnati Kid (1965), and singing "Minnie The Moocher" in The Blues Brothers (1980). He also acted with Pearl Bailey as part of an all-black cast in Hello Dolly on Broadway.
Cab Calloway made occasional records during his later years including an album with Eddie Barefield's orchestra in 1957, an RCA recording filled with remakes of his hits in 1958, a bluesy jazz standards set in 1961, and a 1988 album with the Cincinnati Pops Big Band Orchestra. He also wrote his entertaining autobiography Of Minnie The Moocher And Me (which was published in 1976). Calloway's singing and personality were inspirations for the Retro Swing movement of the 1990s with many much younger performers doing their best to emulate him.
Cab Calloway passed away on November 18, 1994, at the age of 86. While one could easily argue that he did not create any significant new music during the second half of his life and was just revisiting past glories, there really was no reason for Calloway to change or evolve. His timeless music and personality never went out of style and he was the one and only Cab Calloway up until the end.
---
Also See: Chris Calloway Brooks Keeps the "Hi-De-Ho" in the Family