Bob Crosby: Profiles in Jazz
Bob Crosby definitely had an unusual career. Being the younger brother of Bing Crosby, the most famous singer in the world for quite a few years, there was no way that Bob was ever going to reach the heights of his sibling. One wonders why he decided to become a vocalist himself, particularly since he only had an average if pleasing voice. But, then again, why did Frank Sinatra, Jr.? The particularly odd aspect to Bob Crosby's career was that by 1940 he was a household name yet all of the hits that his band had were instrumentals with the leader entirely absent!
Bob Crosby, who was nine years younger than Bing, was born August 23, 1913, in Spokane, Washington. He attended Gonzaga College and originally planned to become a lawyer but was persuaded to give singing a try. The Crosby name was already magical by 1932 when Bob joined Anson Weeks' orchestra. Although no one claimed that he was a masterful singer, Crosby had a friendly personality and enough showmanship to hold an audience's attention.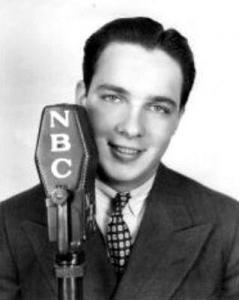 During 1934-35, Bob Crosby was the main singer with the Dorsey Brothers Orchestra, making his recording debut with a vocalized version of "I'm Getting Sentimental Over You." He appeared on numerous other titles until the band's breakup in 1935. At that point in time, he got his biggest break. The sidemen of Ben Pollack's orchestra had mutinied against their leader in 1934 when Pollack neglected the band in favor of showcasing his girlfriend (who had limited musical talents) as a singer. After brief periods working under the leadership of singer Clark Randall and altoist Gil Rodin (who did not want the job), the sidemen tried to get Jack Teagarden as their leader. Unfortunately, Mr. T. had signed a five-year contract with Paul Whiteman and was not free. The musicians finally decided to offer the job to Bob Crosby, figuring that he would be a perfect front man, with Rodin working as musical director. Crosby did not play any instruments or write music but he fit his role perfectly and his last name helped to open some doors.
At first the Bob Crosby Orchestra, which began recording on June 1, 1935 (a session that ironically included a song called "The Dixieland Band"), was a conventional swing band. During its first ten months, the big band recorded 28 numbers. All but one ("Christopher Columbus") featured vocals, 23 by Crosby. No hits resulted and few noticed the orchestra.
More than a year after it debuted, the session of April 13, 1936 (which featured instrumental versions of "Muskrat Ramble" and "Dixieland Shuffle") for the first time showed what the Bob Crosby big band could do. With trumpeter Yank Lawson, clarinetist Matty Matlock, and tenor-saxophonist Eddie Miller as the main soloists and a rhythm section that included guitarist Nappy Lamare (who took occasional goodtime vocals), bassist-arranger Bob Haggart, and drummer Ray Bauduc, the band began to realize its great potential. While Crosby still sang on six of the 13 selections recorded by his orchestra during the remainder of 1936, it was such instrumentals as "Sugar Foot Strut," "Pagan Love Song," "Savoy Blues," and "Royal Garden Blues" that gained the most attention.
While freewheeling Dixieland had been pushed aside during the Depression years in favor of sweet dance music and (by mid-1935) hard-driving swing, the Crosby Orchestra helped bring it back, finding its own sound in the vintage style. In 1937, Joe Sullivan became the band's new pianist although a bout with tuberculosis resulted in Bob Zurke taking his place. While Crosby continued to record some ballads, it was the orchestra's renditions of "Gin Mill Blues" and Sullivan's "Little Rock Getaway" that caused the most excitement. And then, on November 13, 1937, a small group from the big band called Bob Crosby and his Bob Cats made their debut.
The Bob Cats, a four-horn, four-rhythm octet, emphasized jammed versions of Dixieland and swing songs. Originally the frontline had Yank Lawson, trombonist Warren Smith, clarinetist Matty Matlock and Eddie Miller. The first session had the Bobcats playing such tunes as "Who's Sorry Now," "Fidgety Feet," and "You're Driving Me Crazy." In addition, they accompanied Connie Boswell on three numbers including a swinging version of "Home On The Range" and her hit rendition of "Martha." From then on, the Bobcats would be as big an attraction as the Bob Crosby Orchestra, helping to lead to the New Orleans jazz comeback of the early 1940s.
Bob Crosby always seemed to accept his minor role in his band's success with good humor, generously featuring his sidemen, particularly during 1938-39. His big band introduced Haggart's "South Rampart Street Parade" on their November 16, 1937, session and jammed joyfully on that session on "Panama." With a trumpet section that included Lawson, Billy Butterfield, and Charlie Spivak, Crosby had one of his strongest lineups as 1938 began, a group that was strengthened even more by the addition of clarinetist Irving Fazola. Some of the recording dates, such as the five-song March 10, 1938, orchestra session that resulted in "Yancey Special," "At The Jazz Band Ball," and "Tea For Two," did not find Crosby singing a single note as his big band became more and more influenced by the style of the Bob Cats.
While Lawson and Spivak were lured away to Tommy Dorsey's band (they were soon replaced by Sterling Bose and Zeke Zarchey), it did not slow down the momentum of the Bob Crosby Orchestra and Bobcats. Recorded highlights of 1938 include "March Of The Bobcats" (based on "Maryland, My Maryland"), a session in which the big band accompanied Bing Crosby (including a happy version of "You Must Have Been A Beautiful Baby"), two hot numbers that showcased Eddie Miller with the rhythm section, big band recordings of "Honky Tonk Train Blues" and Butterfield's showcase on "I'm Free" (which was soon renamed "What's New"), and the debut of the Haggart-Bauduc bass-drums classic "The Big Noise From Winnetka."
As 1939 began, Bob Crosby (who was still just 25) was at the height of his fame. However he and Gil Rodin began to mess with the band's successful sound. Crosby started to sing on a larger percentage of the big band numbers, and the hits came to a stop. Marion Mann, a decent if not remarkable vocalist, was featured on some of the Bobcats recordings, taking away from some of the combo's hot performances. When Crosby began to sing on some of the Bobcats' dates, it defeated their purpose. However there were some hot moments during 1940 with cornetist Muggsy Spanier taking Butterfield's place, Jess Stacy clearly enjoying being the band's pianist, and Eddie Miller continuing to make major contributions. While the band was largely coasting, the return of Yank Lawson later in 1941 resulted in some happy music during the orchestra's final year and some excitement during the final Bobcats sessions.
The Sounds Of Yesteryear label (available from www.cityhallrecords.com) has released three sets that contain all of the recordings by Bob Crosby's Bobcats from 1937-42: In The Beginning, Jazz Me Blues, and the two-CD set It's All Over Now. In addition to the many spirited instrumentals, the Bobcats are heard on sessions with singers Connie Boswell, the Andrews Sisters, Marion Mann, Nappy Lamare, Bob Crosby, Bing Crosby, and Mary Lee. While the most essential music is on the first volume, the final CDs have the rarest recordings. All are well worth picking up not only for the stirring music but for their historic value. The earlier performances predate Muggsy Spanier's Ragtimers, Eddie Condon's Commodore sessions, Lu Watters, the rediscovery of Bunk Johnson, and the other significant events that launched the New Orleans jazz revival.
With World War II. raging and the draft depleting the Bob Crosby Orchestra, the band broke up in the summer of 1942. Eddie Miller picked up the nucleus of the big band for a year before giving up. Crosby became a fulltime movie actor for a time, appearing in 1944 in Kansas City Kitty, The Singing Sheriff, My Gal Loves Music, and Meet Miss Bobby Socks. He was drafted later that year and spent a period in the Marines, leading a band that played for troops in the Pacific.
Bob Crosby's career after his discharge was largely anti-climactic but he kept busy for decades. He continued having bit parts in films (including 1959's The Five Pennies where he played a stuffy bandleader), led the orchestra for The Jack Benny Show on radio and television, and had his own daytime TV variety show during 1953-57 (and briefly at night in 1958). Crosby also hosted occasional reunions of the Bobcats through the years including a V-Disc session as early as April 1945. He reorganized a short-lived swing big band in 1946, made an attempted comeback with an orchestra in 1952, and occasionally led big bands for special occasions. He also made some albums along the way with former members of the Bobcats including Bobcats In Hi Fi, South Pacific Blows Warm, Porgy and Bess (his longtime theme song was "Summertime"), and 1966's Live At The Rainbow Grill although, quite typically, he hardly sings on any of his own jazz albums.
Meanwhile, many of Crosby's key sidemen had major careers for decades after their main association with the bandleader ended. While Bob Zurke and Irving Fazola had short lives, Yank Lawson, Billy Butterfield, Muggsy Spanier, Eddie Miller, Matty Matlock, Joe Sullivan, and Bob Haggart appeared in a countless number of sessions and were major forces for many years. Lawson and Haggart, in addition to teaming up for a series of recordings that they co-led in the early 1950s (the Lawson-Haggart band), put together the World's Greatest Jazz Band in the late 1960s, a band with Butterfield (not to mention Bud Freeman, Bob Wilbur and Ralph Sutton) that one could not imagine having existed without being preceded by the Bobcats.
Always a genial and friendly presence who made good-natured jokes about being in the shadow of brother Bing, Bob Crosby stayed active as often as he wanted to into the early 1990s. He passed away at the age of 79 on March 9, 1993, having made his main musical legacy not as a singer or a musician but as a bandleader who simply let his musicians play.
---
Online Only
For Online Only Access without delivery of the print paper sign up below.
Subscription Options
---
Print Edition
 If you'd like the PRINT EDITION, (12 monthly issues) use the following PayPal link. After your payment is complete you will be allowed to create an online account. You will receive the next mailed copy, usually shipping around the 22nd of the month. See a PDF Sample Here.