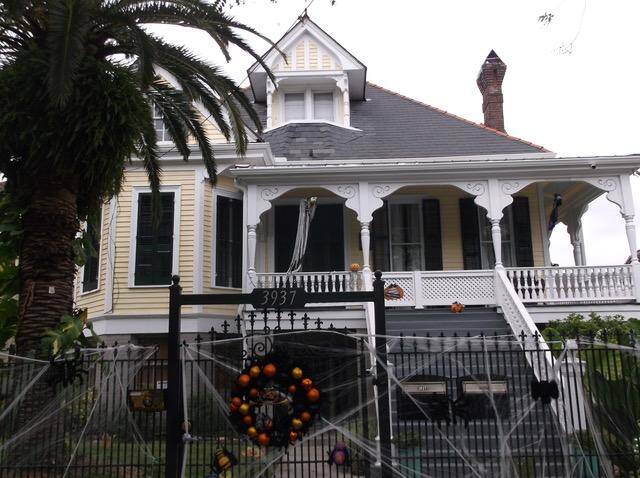 On foot in the Crescent City
Jazz Travels with Bill Hoffman
In late October I finished a bicycle trip in New Orleans, where I had allotted two days to indulge my other passion, traditional jazz. I could have easily stayed longer, but even though my itinerary was flexible, it wasn't entirely without limitations.
Because there was some big convention taking place in the city, I could not get a hotel room anywhere downtown at a price I was willing to pay, and my Wyndham Hotels reward points were not usable. And my Airbnb inquiry was not answered. So I wound up staying (for free) at a Wyndham hotel by the airport that has a free shuttle, which I used in combination with public buses to travel into and out of the city. While this was very inexpensive, it precluded taking in late night music gigs. Using my bike was not a viable option due to the risk of theft and of riding 10 miles back to the hotel after dark, possibly in the rain. Once in the city, all the music venues were within easy walking distance of each other, so the bike would have become a liability.
Buffa's
My first gig was at Buffa's, an unpretentious bar on the edge of the French Quarter. My friend Banu Gibson had an early show there with her quartet, so that one was easy to attend. Backing her up were her regular pianist David Boeddinghaus, Larry Scala on guitar, Jim Singleton on bass, and Andy Schumm from Chicago on clarinet and cornet. Andy was an unexpected treat; Banu had brought him in for the weekend to help her celebrate her 70th birthday, or as she described it, her second 35th. When David had to leave early for another gig, Kris Tokarski took over on the ivories. They did mostly '30s pop and show tunes. Quite a few of Banu's friends, locals and out-of-towners, were on hand.
New Orleans Jazz Museum
The next day my first stop was the New Orleans Jazz Museum, now housed in the former US Mint. I recall visiting this museum on one of my two previous trips, in 1967 or 1994, when it was at a different location. I remember very little of that visit, other than seeing a copy of Victor 18255, the ODJB's first record. I remembered it because I have a copy myself, as do many collectors. This disk sold over a million copies and undoubtedly many are still extant. The current museum was a big disappointment, but I must temper my criticism owing to several factors.
The museum has had a troubled past. Originally located in the Quarter upon its founding in 1961, it has moved three times since, and has been at the Mint since the early 1980s. It is now part of the Louisiana State Museum, which received the original museum's collections after it went bankrupt. Some were damaged in Hurricane Katrina and it's possible that they are beyond salvation, or that restoration is not complete. So what I saw was evidently only a portion of the holdings.
There are only two exhibit rooms, both on the second floor. One deals with women in New Orleans jazz, from the originals to the contemporaries, and includes photos of those being recognized. One of the few artifacts is a soprano sax on loan from Aurora Nealand. The other room is devoted to Pete Fountain, including his clarinet, album covers, and photos. This is a worthy presentation of Pete, and I was initially expecting similar exhibits of other New Orleanians who left their mark on America's original music. The only other artifacts are Louis Armstrong's first cornet and Fats Domino's 1980-era Steinway.
The exhibits on the ground floor relating to the mint were more extensive and of better quality than those in the jazz section, even though the place is called a jazz museum, not a mint museum. There is a third floor in the building housing a performance space; it was not open when I was there. I wish I could tell you more about the museum, but "that's all there is, there ain't no more." About 45 minutes is more than enough time to see everything that's currently there.
Frenchman St.
From the museum I walked up Frenchmen Street, which while technically outside the Quarter, has several establishments that regularly feature live music. Only a few are active at midday. From one—Bamboula's—the strains of a guitar and mandolin got my attention. It was lunchtime, so I went in and while I ate my po-boy, I caught roughly the last half of the two-hour set by a young husband and wife duo called Co and Co's Traveling Show. They were quite engaging, playing some Brazilian as well as American tunes. One that I'll remember is Stuff Smith's "I'se a-Muggin." I have never heard any band play it.
Preservation Hall
Later in the afternoon, I was first in line for the 5 o'clock show at Preservation Hall. I was there in 1994, when I saw both Willie and Percy Humphrey. In the band this evening were Wendell Brunious, leader and trumpet; Steve Pistorius, piano; Orange Kellin, clarinet; Maynard Chatters, trombone; Ernie Elly, drums; and Rickie Monie, bass. I was familiar only with the first three. The sets last about 35-40 minutes, which is never enough for jazz aficionados but is ample for sitting on the cushion-less benches. As I was leaving I ran into two fellow Tri-State Jazz Society members coming in for the 6 o'clock show.
Preservation Hall, in addition, has at least one traveling band, which I have seen elsewhere at least once. They played a week later in York, PA, and half an hour into their show there I was tempted to stand up and ask "When does the music begin?" but I feared being lynched by the frenzied crowd. They sounded like a garage band rehearsing—a bad garage band. Despite the direct family connection several members have with the original PHJB, nothing they played resembled jazz, Dixieland, or anything close. A friend I saw there had the same opinion. I left at intermission, tempted to demand a refund for misrepresentation.
Banu's Birthday
My only other music event occurred the following evening, when I was honored to be invited to one of Banu's numerous birthday parties, this one at her home. That gal celebrates as well as she sings! Several of the same musicians from Buffa's were on hand to entertain (as if the party by itself wasn't enough entertainment), augmented by bass saxophonist Tom Saunders. I believe drummer Hal Smith was also there, but it must have been after I had to leave because I did not see him.
One other thing I did was visit the home of several New Orleans musicians. One (pictured) was the Boswell Sisters' childhood home at 3937 Camp Street. There is a plaque by the front door commemorating this fact, but the house now contains two or three units and is surrounded by a fence with a locked gate, so I could not get in to read the plaque.
Another home I viewed was that of Jelly Roll Morton. I know it's on Frenchmen Street, but I had conflicting notes as to the address. I went to both, but I don't know which is the correct one. In both cases, the house is currently a two-family unit and not in a high state of repair. If I'd had the time, I would have researched and visited the homes (or sites) of other music notables.
I should not wait another 23 years to return to the Big Easy.
---
Jazz Travels columnist Bill Hoffman is a retired management consultant and is the concert booker for the Tri-State Jazz Society in greater Philadelphia. Bill lives in Lancaster, PA.
---
This is what our print edition feels like. If you want good news to read with your morning coffee, order a print subscription. You'll get full online access to our archives, web extras, and our next issue will arrive at your door. Online only access to all of our original material is also available! Support Hot Jazz Journalism- Subscribe
---
Online Only
For Online Only Access without delivery of the print paper sign up below.
Subscription Options
---
Print Edition
 If you'd like the PRINT EDITION, (12 monthly issues) use the following PayPal link. After your payment is complete you will be allowed to create an online account. You will receive the next mailed copy, usually shipping around the 22nd of the month. See a PDF Sample Here.