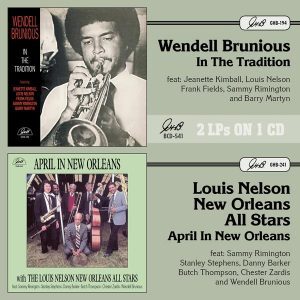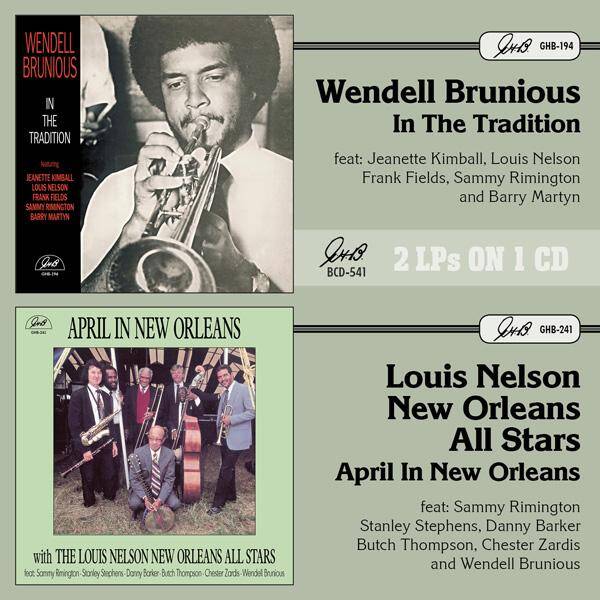 In The Tradition/April In New Orleans is a single CD containing the music of two very complementary former LPs, both of which feature the frontline of trumpeter Wendell Brunious, trombonist Louis Nelson, and Sammy Rimington on clarinet and alto. While Brunious, a powerful player with self-restraint who is in the tradition of Alvin Alcorn and Thomas Jefferson, was only in his early thirties during these sets from 1986 and 1988, he sounds like a true veteran of New Orleans jazz.
His own set, In The Tradition, probably has a few too many of his vocals (his range is pretty limited) but the repertoire displays both his versatility and consistency as a trumpeter. With fine backing from pianist Jeannette Kimball, bassist Frank Fields, and drummer Barry Martyn, and some fine George Lewis-inspired playing by Rimington, the group uplifts such numbers as an exciting "Bugle Boy March," "Maryland My Maryland," "Put On Your Old Grey Bonnet," and even an offbeat 'Mr. Sandman."
The second set, Louis Nelson's April In New Orleans, is actually slightly better. Brunious sings much less, banjoist Danny Barker (who sings a fascinating version of "Bill Bailey") is a major asset, and pianist Butch Thompson has some good spots while bassist Chester Zardis and drummer Stanley Stephens provide solid support.
While Nelson was not quite on Tommy Dorsey's level on "This Love Of Mine" (he reportedly loved Dorsey's playing), his percussive work in the ensembles and his solos are excellent. This version of "Climax Rag" is one of the best and other highpoints include "I'm Sorry I Made You Cry," "I Can't Believe That You're In Love With Me," and "Mahogany Hall Stomp." If one had any doubt that there was plenty of fine New Orleans jazz to be heard in the 1980s, this CD can prove as evidence.
In The Tradition/April In New Orleans (GHB BCD-541, 18 selections, TT = 76:12) www.jazzology.com
---
This review originally ran in the December 2016 Nights at the Turntable column.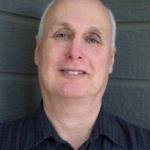 Since 1975 Scott Yanow has been a regular reviewer of albums in many jazz styles. He has written for many jazz and arts magazines, including JazzTimes, Jazziz, Down Beat, Cadence, CODA, and the Los Angeles Jazz Scene, and was the jazz editor for Record Review. He has written an in-depth biography on Dizzy Gillespie for AllMusic.com. He has authored 11 books on jazz, over 900 liner notes for CDs and over 20,000 reviews of jazz recordings.
Yanow was a contributor to and co-editor of the third edition of the All Music Guide to Jazz. He continues to write for Downbeat, Jazziz, the Los Angeles Jazz Scene, the Jazz Rag, the New York City Jazz Record and other publications.