Guitarist and banjoist Danny Barker, a nephew of drummer Paul Barbarin, discovered his interest in music at an early age and was soon taking clarinet lessons from Barney Bigard.
Because of his uncle, Danny was often found cutting school and following many bands around town witnessing some of the finest New Orleans had to offer including bands led by Buddy Bolden and Bunk Johnson, the Imperial, the Eagle Band and the Superior.
This led to his first gig playing banjo subbing for an intoxicated Babe Son in Kid Rena's band. After this surprising debut, Barker began taking banjo lessons from George Augustin of the Imperial band, and came under the direct influence of Lorenzo Stall, Buddy Bolden's banjoist. It was not long before he dubbed "Banjo King of New Orleans".
In 1930 Barker moved north to New York City where he switched from banjo to guitar and in 1938 joined Benny Carter's Big Band and from 1939 to 1949 was the rhythm guitarist for Cab Calloway.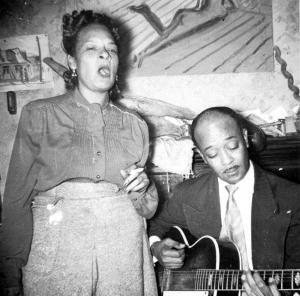 In 1947 he took a job as guitarist for the "Jazz on the River" weekend cruises up and down the Hudson river where he played with fellow New Orleanians Albert Nicholas, Pops Foster, Baby Dodds, pianist James P. Johnson and cornetist Wild Bill Davison. Barker then worked as a freelance rhythm man around New York playing and recording with Sidney Bechet and Mezz Mezzrow, Bunk Johnson, Edmond Hall and Henry "Red" Allen.
By 1965, Barker, back in New Orleans, had married singer Blue Lu Barker. He split his time between performing with his wife and the Fairview Baptist Church Christian Band which he founded, lecturing on traditional jazz and working as Assistant to the Curator of the New Orleans Jazz museum up until his death in 1994. -by Ted Gottsegen