Paul Barbarin (May 5, 1899 – February 17, 1969) was from a musical family. His father Isidore was the leader of The Onward Brass Band, and all of his brothers were very involved in the music of New Orleans.  Unlike most of the other famous musicians from the city, Barbarin never cut his ties with the city, but returned again and again throughout his career.
As a teenager, he started drumming with bands like Buddy Petit's Young Olympians. He left the Crescent City in 1917 and found work in the Armour and Company stockyards in Chicago, while still managing to play music by night. By 1920 he was touring with bands, working with Freddie Keppard and his brother-in-law Jimmie Noone.
He returned to New Orleans to play with Luis Russell and other bands in the city, but left again in 1924 to play with King Oliver's Dixie Syncopators in Chicago. He stayed with Oliver until 1927, and then once again returned home.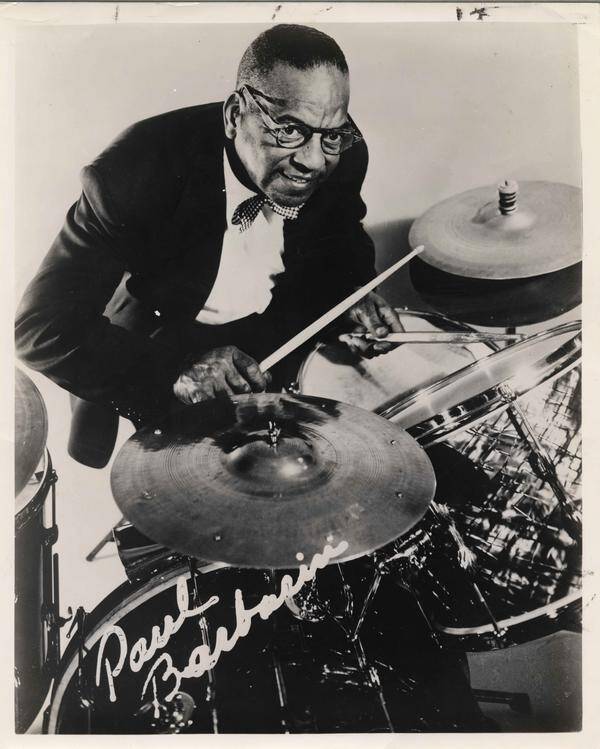 In 1928 he moved to New York to play with Luis Russell's Orchestra. He played in various bands in New York before returning once again to New Orleans in 1932.
In 1935 he rejoined the Luis Russell Orchestra which was fronted by Louis Armstrong at the time, and remained with them until 1938. Then it was back to New Orleans again until he rejoined Armstrong briefly in 1941 and then went on to play with Red Allen and led his own band. In 1944 he played with Sidney Bechet.
After World War Two he stayed in New Orleans, leading his own bands and marching in brass bands. In 1960 he re-formed his father's Onward Brass Band and played at Preservation Hall and also made several recordings. He died in 1969 while he was leading The Onward Brass Band in a street parade.