After the breakup of 
King Oliver's
 great 
Creole Jazz Band
, Oliver rebounded with the Dixie Syncopators after a brief stint with the Dave Peyton Orchestra at the Plantation Cafe.
The Syncopators would never achieve the creative or financial success of his earlier band, but it was still was one of the great bands of the 1920s. They played at the Plantation Cafe in Chicago (338 East Thirty-fifth Street at State Street) from 1925 to 1927 and recorded for Vocalion and Brunswick.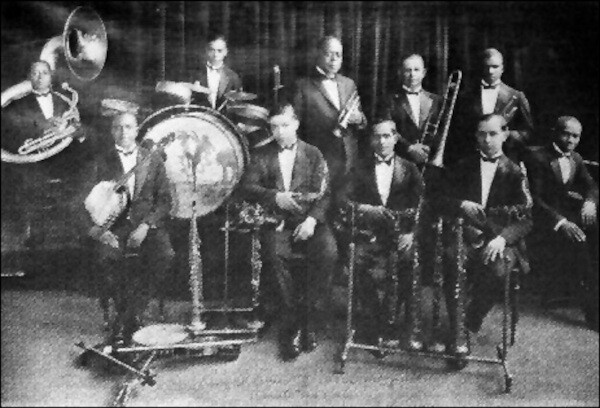 When the Plantation Cafe was destroyed by fire Oliver began an ill-fated tour that ended at the Savoy Ballroom in New York. While on the road the band had been cheated out of money by promoters. King Oliver unwisely turned down a the gig at the Cotton Club in New York City because the money was not up to his standards. The job went to Duke Ellington who became famous while at the club via its radio broadcasts.
The Dixie Syncopators found themselves without work and Oliver was suffering from dental problems that impaired his trumpet playing. The group disbanded in New York. Luis Russell picked up the pieces of the band and formed the Luis Russell Orchestra.

Title

Recording Date

Recording Location

Company

Aunt Hagar's Blues


(W.C. Handy)

9-10-1928
Chicago, Illinois
Vocalion
1225
Black Snake Blues
(Victoria Spivey)
4-27-1927
Chicago, Illinois
Vocalion
B 1112
Dead Man Blues
(Jelly Roll Morton)
9-17-1926
Chicago, Illinois
Vocalion
B 1059
Deep Henderson


(Fred Rose)

4-21-1926
Chicago, Illinois
Vocalion
B 1014
Brunswick
3245-B
Doctor Jazz


(King Oliver)

4-22-1927
Chicago, Illinois
Vocalion
1113
Every Tub
(King Oliver / Paul Barbarin)
4-22-1927
Chicago, Illinois
Vocalion
A 1114
Farewell Blues
(Elmer Schoebel / Paul Mares / Leon Roppolo)
11-18-1927
Chicago, Illinois
Vocalion
A 1152
Perfect
15685-A
Brunswick
3741-A
Four Or Five Times (vocal)


(Hellman / Gay)

8-13-1928
Chicago, Illinois
Brunswick
4028
Four Or Five Times


(Hellman / Gay)

8-13-1928
Chicago, Illinois
Brunswick
A-7890
Got Everything (Don't Want Anything But You) (A) (vocal)


(Andy Razaf / Jack Palmer)

8-13-1928
Chicago, Illinois
Brunswick
4028
Got Everything (Don't Want Anything But You) (B)


(Andy Razaf / Jack Palmer)

8-13-1928
Chicago, Illinois
Brunswick
A-7890
Got Everything (Don't Want Anything But You) (G)


(Andy Razaf / Jack Palmer)

8-13-1928
Chicago, Illinois
Brunswick
Jackass Blues
Vocal Chorus by Georgia Taylor


(Art Kassell / Mel Stitzel)

4-23-1926
Chicago, Illinois
Vocalion
A 1014
Brunswick
3245-A
I'm Watching The Clock
(King Oliver)
9-12-1928
Chicago, Illinois
Brunswick
4469
Lazy Mama


(Gilford / Gray)

7-11-1928
Chicago, Illinois
Vocalion
1190
New Wang Wang Blues
(Henry Busse / Bert Johnson / Gus Mueller)
9-17-1926
Chicago, Illinois
Vocalion
B 1049
Slow And Steady


(King Oliver / Delaney)

11-14-1928
New York, New York
Brunswick
4469
Sobbin' Blues
(Art Kassell / Vic Berton)
11-18-1927
Chicago, Illinois
Vocalion
B 1152
Perfect
15685-B
Brunswick
3741-B
Someday Sweetheart


(Benjamin Spikes / John Spikes)

9-17-1926
Chicago, Illinois
Vocalion
A 1059
Brunswick
3373-A
Showboat Shuffle
(King Oliver / Barney Bigard)
4-22-1927
Chicago, Illinois
Vocalion
B 1114
Speak Easy Blues
9-10-1928
Chicago, Illinois
Vocalion
1225
Sugar Foot Stomp


(King Oliver)

5-29-1926
Chicago, Illinois
Vocalion
A 1033
Brunswick
3361-B
Sweet Emmalina


(Andy Razaf / Jack Palmer)

7-11-1928
Chicago, Illinois
Vocalion
1190
Tack Annie


(King Oliver / Paul Barbarin)

7-23-1926
Chicago, Illinois
Vocalion
A 1049
Tin Roof Blues
(New Orleans Rhythm Kings)
7-11-1928
Chicago, Illinois
Vocalion
1189
Wa Wa Wa


(Schaefer)

5-29-1926
Chicago, Illinois
Vocalion
B 1033
Brunswick
3373-B
West End Blues


(King Oliver)

7-11-1928
Chicago, Illinois
Vocalion
1189
Willie The Weeper


(Rymal / Bloom / Walter Melrose)

4-22-1927
Chicago, Illinois
Vocalion
A 1112

| | |
| --- | --- |
| Artist | Instrument |
| Ed Anderson | Cornet |
| James Archey | Trombone |
| Paul Barbarin | Drums |
| Paul Barnes | Soprano and Alto Saxophone |
| Barney Bigard | Clarinet, Soprano and Tenor Saxophone |
| Lawson Buford | Tuba |
| Bert Cobb | Tuba |
| Ed Cuffee | Trombone |
| Johnny Dodds | Clarinet |
| Ernest Elliot | Clarinet, Alto Saxophone |
| Stump Evans | Soprano Saxophone |
| Arville Harris | Clarinet, Tenor and Alto Saxophone |
| Leroy Harris | Banjo |
| Darnell Howard | Clarinet |
| J.C. Higginbotham | Trombone |
| Teddy Hill | Tenor Saxophone |
| Charlie Holmes | Clarinet, Alto and Soprano Saxophone |
| Willie Jackson | Vocals |
| Richard M. Jones | Vocals |
| Will Johnson | Banjo |
| Louis Metcalf | Trumpet |
| Bass Moore | Tuba |
| Albert Nicholas | Clarinet, Soprano and Alto Saxophone |
| King Oliver | Cornet, Leader |
| Kid Ory | Trombone |
| Billy Paige | Clarinet, Soprano and Alto Saxophone |
| Andy Pendleton | Vocals |
| Luis Rusell | Piano |
| Bud Scott | Banjo |
| Omer Simeon | Clarinet, Soprano Saxophone |
| Bob Shoffner | Cornet |
| Cyrus St. Clair | Tuba |
| Johnny St. Cyr | Banjo, Guitar |
| Georgia Taylor | Vocals |
| Leroy Tibbs | Piano |
| Benny Waters | Clarinet, Tenor and Alto Saxophone |
| Clarence Williams | Piano, Vocals |