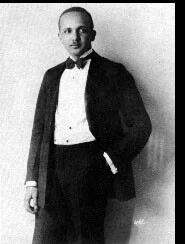 Fletcher Henderson
(December 18, 1897 – December 29, 1952) led the most commercially successful of the African-American Jazz bands of the 1920s. The smooth sound of his orchestra gave birth to the Swing style of the next decade.
Henderson was from a middle class family and held a degree in chemistry from Atlanta University. He moved to New York in 1920 intending to do post-graduate work there while working as a chemist, but he found that jobs were closed to him because of his race. He instead found work demonstrating sheet music for W.C. Handy's music publishing company.
He left that company to become a manager at the Black Swan Recording Company, and organized a band to support Blues singer Ethel Waters. In 1922, Fletcher led a band at the Club Alabam, which later moved to the Roseland Ballroom (Broadway at 50th St.) where they stayed for the next ten years. Coleman Hawkins played saxophone in the band and is generally considered to be the first great saxophonist in Jazz.
In 1924 he hired the up-and-coming trumpet player Louis Armstrong importing him from Chicago, where he had been playing with King Oliver's Creole Jazz Band.
The Orchestra continued to tour and record until 1939 when it disbanded, and he joined Benny Goodman Orchestra as the pianist and arranger. This was the first time that a "White" band hired a "Black" musician to appear on stage with an orchestra. Goodman even used the same arrangements as the Fletcher Henderson Orchestra had used. The band went on to become one of the most popular of the Swing bands.
In 1943 Henderson left Goodman's band until 1947, when he rejoined Goodman them as an arranger. He toured as an accompanist for Ethel Waters in 1948 and 1949. In 1950 he suffered a stroke and was never able to play again.
For more on Fletcher Henderson's life read: Fletcher Henderson: Profiles in Jazz



Hendersonia, The Music of Fletcher Henderson and his Musicians; a Bio-Discography by Walter C. Allen., Highland Park , 1973
The Uncrowned King Of Swing Fletcher Henderson, by Jeffery Magee, Oxford University Press , 2005