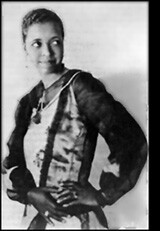 Ethel Waters
(October 31, 1896 – September 1, 1977) was one of the most popular African-American singers and actresses of the 1920s. She moved to New York in 1919 after touring in vaudeville shows as a singer and a dancer. She made her recording debut in 1921 on Cardinal records with "
The New York Glide
" and "
At the New Jump Steady Ball
", but switched over to African-American owned 
Black Swan
 label, and recorded "
Down Home Blues
" and "
Oh Daddy
" the first Blues numbers for that company.
She frequently sang with Fletcher Henderson during the early 1920s, but by the mid-1920s Waters had became more of a pop singer. She performed in a number of musical revues throughout the rest of the decade and appeared a couple of films, including "Check and Double Check" with Amos 'n' Andy and Duke Ellington.
By the end of the 1930s she was a big star on Broadway. In 1949, she was nominated for an Oscar for best supporting actress in the film "Pinky", and the next year she won the New York Drama Critics Award for best actress. Waters got religion in the late Fifties and performed and toured with evangelist Billy Graham until her death in 1977.


Title

Recording Date

Recording Location

Company

All The Time


(Horley)

6-1923
Long Island City, New York
Black Swan
14155
Am I Blue?
From Warner Brothers Talking Picture "On With The Show"


(Harry Akst / Grant Clarke)

5-14-1929
New York, New York
Columbia
1837-D
Back Bitin' Mamma


(Fats Waller)

8-1-1924
New York, New York
Vocalion
A 14860
Better Keep Your Eye On Your Man
7-11-1929
New York, New York
Columbia
14458-D
Birmingham Bertha
From Warner Brothers Talking Picture "On With The Show"


(Harry Akst / Grant Clarke)

5-14-1929
New York, New York
Columbia
1837-D
Brother, You Got Me Wrong


(Hall / Geise)

5-13-1925
New York, New York
Columbia
433-D
Come Up And See Me Sometime
"Take A Chance"


(Swanstrom / Alter)

3-16-1934
New York, New York
Brunswick
6885
Do I Know What I'm Doing?


(Robin / Coslow / Whiting)

6-7-1929
New York, New York
Columbia
1905-D
Do What You Did Last Night
Piano Accompaniment by James P. Johnson

(Andy Razaf / J.C. Johnson)

8-21-1928
New York, New York
Columbia
14380-D
Ethel Sings 'Em


(Ethel Waters)

6-1923
Long Island City, New York
Black Swan
14154-B
Georgia Blues
7-8-1929
New York, New York
Columbia
14565-D
Get Up Off Your Knees
Piano Accompaniment by James P. Johnson


(Clarence Williams)

8-21-1928
New York, New York
Columbia
14380-D
Guess Who's In Town
Piano Accompaniment by James P. Johnson


(Andy Razaf / J.C. Johnson)

8-21-1928
New York, New York
Columbia
14353-D
Harlem On My Mind
From "As Thousands Cheer"


(Irving Berlin)

10-10-1933
New York, New York
Columbia
2826-D
Heat Wave


(Irving Berlin)

10-10-1933
New York, New York
Columbia
2826-D
Home
(Cradle Of Happiness)


(Johnson)

5-6-1927
New York, New York
Columbia
14297-D
If You Don't Think I'll Do Sweet Pops (Just Try Me)
(Louis Armstrong / Lil Hardin-Armstrong)
3-1923
Long Island City, New York
Black Swan
14148-B
I Got Rhythm


(George Gershwin)

11-18-1930
New York, New York
Columbia
2346-D
I Like The Way He Does It


(Dallavon)

7-8-1929
New York, New York
Columbia
14565-D
I Want My Sweet Daddy Now


(Heywood)

6-28-1927
New York, New York
Columbia
14229-D
Jeepers Creepers
New York, New York
Bluebird
B-10025-B
Jersey Walk


(Creamer / Dowling / Hanley)

9-29-1926
New York, New York
Columbia
14182-D
Lonesome Swallow


(Andy Razaf / J.C. Johnson)

8-21-1928
New York, New York
Columbia
14411-D
Long Lean Lanky Moma


(Rich)

7-11-1929
New York, New York
Columbia
14458-D
Memories Of You


(Andy Razaf / Eubie Blake)

8-19-1930
New York, New York
Columbia
2288-D
Miss Otis Regrets
(She's Unable To Lunch Today)


(Porter)

8-20-1934
New York, New York
Decca
140 A
Moonglow


(Hudson / DeLange / Mills)

8-20-1934
New York, New York
Decca
140 B
My Baby Sure Knows How To Love


(Crawford / Rafe)

8-21-1928
New York, New York
Columbia
14411-D
My Handy Man
Piano Accompaniment by James P. Johnson


(Andy Razaf)

8-21-1928
New York, New York
Columbia
14353-D
My Kind Of Man


(Strothart / Grey / Rice)

6-3-1930
New York, New York
Columbia
2222-D
One Sweet Letter From You


(Warren / Clare / Brown)

10-14-1927
New York, New York
Columbia
test
Organ Grinder Blues


(Clarence Williams)

8-21-1928
New York, New York
Columbia
14365-D
Please Don't Talk About Me When I'm Gone
(Sidney Clare / Sam H. Stept / Bee Palmer)
2-10-1931
New York, New York
Columbia
2409-D
Pleasure Mad
(Sidney Bechet)
8-1-1924
New York, New York
Vocalion
B 14860
Porgy


(Dorothy Fields / Jimmy McHugh)

4-1-1930
New York, New York
Columbia
2184-D
Refrigeratin' Papa
(Mama's Gonna Warm You Up)


(Wasserman)

2-19-1926
New York, New York
Columbia
14132-D
River Stay 'Way From My Door


(Dixon / Woods)

8-10-1931
New York, New York
Columbia
2511-D
Second-Handed Man


(Easton / Ethel Waters)

6-6-1929
New York, New York
Columbia
1871-D
Shine On, Harvest Moon


(Nora Bayes / Norworth)

8-10-1931
New York, New York
Columbia
2511-D
Shoo Shoo Boogie Boo
(From Moran and Mack's Talking Picture "Why Bring That Up")


(Robin / Coslow / Whiting)

6-7-1929
New York, New York
Columbia
1905-D
Smile!


(Heywood / Dancer / Whiteman)

5-6-1927
New York, New York
Columbia
14229-D
Someday, Sweetheart


(Warren / Clare / Brown)

10-14-1927
New York, New York
Columbia
14264-D
Some Of These Days


(Shelton Brooks)

10-14-1927
New York, New York
Columbia
14264-D
Sweet Man Blues


(J.C. Johnson)

6-1923
Long Island City, New York
Black Swan
14154-A
Sympathetic Dan


(Flatow / Creamer)

7-28-1925
New York, New York
Columbia
433-D
Take Your Black Bottom Outside


(Williams)

5-6-1927
New York, New York
Columbia
14214-D
Tell 'Em Bout Me (When You Reach Tennessee)


(Sidney Easton)

3-25-1924
Chicago, Illinois
Paramount
12214-A
Throw Dirt In Your Face
New York, New York
Columbia
14132-D
They Say
New York, New York
Bluebird
B-10025-A
Trav'lin' All Alone


(Johnson)

7-11-1929
New York, New York
Columbia
1933-D
Three Little Words


(Kalmar / Ruby)

11-28-1930
New York, New York
Columbia
2346-D
True Blue Lou


(Robin / Coslow / Whiting)

6-7-1929
New York, New York
Columbia
1871-D
Waiting At The End Of The Road


(Irving Berlin)

7-11-1929
New York, New York
Columbia
1933-D
Weary Feet
5-6-1927
New York, New York
Columbia
14214-D
West End Blues


(King Oliver / Clarence Williams)

8-21-1928
New York, New York
Columbia
14365-D
(What Did I Do To Be So) Black And Blue


(Andy Razaf / Fats Waller / Ernie Brooks)

4-1-1930
New York, New York
Columbia
2184-D
When Your Lover Has Gone


(Swan)

2-10-1931
New York, New York
Columbia
2409-D
Who'll Get It When I'm Gone?


(Horley)

6-1923
Long Island City, New York
Black Swan
14155
Without That Gal!


(Donaldson)

6-16-1931
New York, New York
Columbia
2481-D
You Brought A New Kind Of Love To Me


(Fain / Kahal / Norman)

6-3-1930
New York, New York
Columbia
2222-D
You Can't Do What My Last Man Did


(James P. Johnson)

6-1923
Long Island City, New York
Black Swan
14151-A
You Can't Stop Me From Loving You


(Holiner / Nichols)

6-16-1931
New York, New York
Columbia
2481-D
You'll Need Me When I'm Long Gone


(Carpenter)

3-25-1924
Chicago, Illinois
Paramount
12214-B
You're Lucky To Me
(from "Lew Leslie's" Blackbirds of 1930″)


(Andy Razaf / Eubie Blake)

8-19-1930
New York, New York
Columbia
2288-D
You've Seen Harlem At It's Best
3-16-1934
New York, New York
Brunswick
6885


| | | |
| --- | --- | --- |
| Title | Director | Year |
| On With The Show | Alan Crosland | 1929 |
| Rufus Jones For President | Roy Mack | 1934 |
| Gift of Gab | Karl Freund | 1934 |
| Bubbling Over | | 1934 |
| Cairo | W.S. Van Dyke | 1942 |
| Tales of Manhattan | Julien Duvivier | 1942 |
| Stage Door Canteen | Frank Borzage | 1942 |
| Cabin in the Sky | Vincente Minnelli | 1943 |
| Pinky | John Ford and Elia Kazan | 1943 |
| The Member of the Wedding | Fred Zinnemann | 1952 |
| The Sound and the Fury | Martin Ritt | 1959 |

His Eye Is On The Sparrow by Ethel Waters with Charles Samuels, Doubleday and Company, 1950
To Me It's Wonderful by Ethel Waters, Harper and Row, 1972