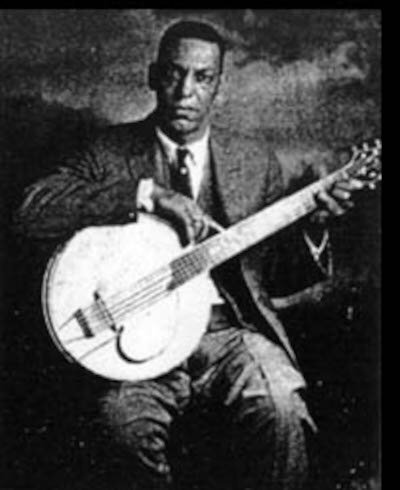 When it comes to the discussion of blues and jazz throughout the early part of the twentieth century, there are bound to be crossovers, musicians who played and recorded as both solo blues acts and as ensemble players in the early hot jazz bands. Let's not forget that blues was considered a type of song, not a genre as it is today. One such person was "Papa" Charlie Jackson, a very sophisticated player of the six-string banjo who was one of the earliest and most successful of the solo blues singer/instrumentalists.
Little to nothing is known about Jackson's personal life, other than that he was born in New Orleans around 1890 where it is presumed that he began playing a six-string banjo tuned like a guitar, similar to the instrument used by Johnny St. Cyr. Jackson settled in Chicago on the famed Maxwell Street around 1920 where he began earning a living by playing on street corners and at house parties. In 1924 he cut his first solo sides "Papa's Lawdy Blues" and "Airy Man Blues" for the Paramount label.
During this period Jackson also became a sideman with many of the hot groups in and around Chicago. In July 1926 Jackson was providing the banjo on "Salty Dog" and "Stockyard Strut" for Freddie Keppard and his Jazz Cardinals which featured another New Orleans stalwart Johnny Dodds on clarinet. Jackson also recorded with two of Tiny Parham's bands "Tiny Parham and his "Forty" Fives and Tiny Parham and his Musicians with whom he recorded between 1927 and 1930. Parham's band also featured Punch Miller, Kid Ory and a young Milt Hinton on tuba.
Jackson was the first really successful self accompanied performer and he has the distinction of being one of the creators of "Hokum", a spicy form of popular song that made repeated and continual references to sex, his most popular composition being "Shake That Thing". He also recorded with Ma Rainey and Ida Cox before his subsequent death around 1938.
Jackson's style as a soloist was unique and sophisticated for the period. It ran the gamut from hot chordal solos and single-note plectrum runs a la Lonnie Johnson or Eddie Lang, to the finger picking styles of the rural blues guitarist. He often used fast chordal runs behind his vocals following the melody closely, which gave his songs more bounce and swing. Due to his early death Jackson seems to have fallen through the cracks and is all but forgotten today by critics and historians. Instrumentally he resides on the same plateau with Lonnie Johnson and Teddy Bunn and is one pioneer who deserves wider recognition. —by Ted Gottsegen
[The audio files in the original Red Hot Jazz Archive for Papa Charlie Jackson were corrupted. If you have copies of these recordings taken directly from the original 78 discs rather than a published reissue please let us know.]


Title

Recording Date

Recording Location

Company

Airy Man Blues


(Charlie Jackson)

8-1924
Chicago, Illinois
Paramount
12219-B
All I Want Is A Spoonful


(William H.Jackson)

9-1925
Chicago, Illinois
Paramount
12320-A
Ash Tray Blues
5-1928
Chicago, Illinois
Paramount
12660-A
Baby Papa Needs His Loving
6-1928
Chicago, Illinois
Paramount
12675
Baby Please Loan Me Your Heart


(Charlie Jackson)

1-1929
Chicago, Illinois
Paramount
12736
Baby, Don't You Be So Mean


(Charlie Jackson)

10-1927
Chicago, Illinois
Paramount
12553-B
Bad Luck Woman


(Aletha Dickerson)

8-1926
Chicago, Illinois
Paramount
12383-B
Blue Monday Morning Blues


(Charlie Jackson)

11-1927
Chicago, Illinois
Paramount
12574
Bright Eyes


(Charlie Jackson)

11-1927
Chicago, Illinois
Paramount
12574
Butter And Egg Man Blues


(Everett Murphy)

2-1926
Chicago, Illinois
Paramount
12358-B
Coal Man Blues


(Charlie Jackson)

3-1927
Chicago, Illinois
Paramount
12461-A
Coffee Pot Blues


(Charlie Jackson)

2-1925
Chicago, Illinois
Paramount
12264
Corn Liquor Blues


(Charlie Jackson)

12-1928
Chicago, Illinois
Paramount
12721-B
Don't Break Down On Me


(Charlie Jackson)

1-1929
Chicago, Illinois
Paramount
12736
Drop That Sack


(Charlie Jackson)

5-1925
Chicago, Illinois
Paramount
12289-B
Faking Blues


(Charlie Jackson / Mayo Williams)

5-1925
Chicago, Illinois
Paramount
12281-A
Fat Mouth Blues


(Charlie Jackson / Mayo Williams)

1-1927
Chicago, Illinois
Paramount
12422-A
Forgotten Blues


(Charlie Jackson)

11-1929
Grafton, Wisconsin
Paramount
12853
Four Eleven 44


(Ezra Shelton)

5-1926
Chicago, Illinois
Paramount
12375
Gay Catting


(Charlie Jackson / L. Harris)

9-1926
Chicago, Illinois
Paramount
12422-B
Good Doing Papa Blues
9-1928
Chicago, Illinois
Paramount
12700-B
Hot Papa Blues


(Gertrude Davis)

8-1925
Chicago, Illinois
Paramount
12305-B
Hot Papa Blues


(Gertrude Davis)

3-1929
Chicago, Illinois
Paramount
12765
I Got What It Takes
(But It Breaks My Heart To Give It Away)


(Jackson / Davis)

1-1925
Chicago, Illinois
Paramount
12259-B
If I Got What You Want
11-3-1934
Chicago, Illinois
Okeh
8957
Vocalion
03048 B
I Like To Love My Baby
6-1928
Chicago, Illinois
Paramount
12675
I'll Be Gone Babe


(Charlie Jackson)

11-1929
Grafton, Wisconsin
Paramount
12905-B
I'm Alabama Bound


(Charlie Jackson)

5-1925
Chicago, Illinois
Paramount
12289-A
I'm Going Where Chilly Winds Don't Blow


(Paul Carter)

12-1925
Chicago, Illinois
Paramount
12335-A
I'm Looking For A Woman Who Knows How To Treat Me Right
1-1928
Chicago, Illinois
Paramount
12602-A
I'm Tired Of Foolin Around


(Evelyn Riley)

1-1926
Chicago, Illinois
Paramount
12348-A
If I Got What You Want
11-03-34
Chicago, Illinois
Vocalion
03048 B
Okeh
8957
Jackson Blues


(Charlie Jackson)

1-1925
Chicago, Illinois
Paramount
12348-B
Judge Cliff Davis Blues
4-1926
Chicago, Illinois
Paramount
12366
Jungle Man Blues


(A. Lamoore)

12-1928
Chicago, Illinois
Paramount
12721-A
Let's Get Along


(Aletha Dickerson)

12-1926
Chicago, Illinois
Paramount
12358-A
Lexington Kentucky Blues
9-1928
Chicago, Illinois
Paramount
12700-A
Long Gone Lost John


(W.C. Handy / Chris Smith)

1-1928
Chicago, Illinois
Paramount
12602-B
Look Out Papa Don't Tear Your Clothes


(Charlie Jackson)

10-1927
Chicago, Illinois
Paramount
12553-A
Mama Don't Allow It
(And She Ain't Gonna Have It Here)


(William Henry Jackson)

8-1925
Chicago, Illinois
Paramount
12296-A
Mama, Don't You Think I Know?


(William Henry Jackson)

8-1925
Chicago, Illinois
Paramount
12305-A
Maxwell Street Blues


(Sara Moore / Charlie Jackson)

9-1925
Chicago, Illinois
Paramount
12320-B
Mumsy Mumsy Blues


(Charlie Jackson)

2-1926
Chicago, Illinois
Paramount
12366
No Need Of Knockin' On The Blind


(Charlie Jackson)

5-1928
Chicago, Illinois
Paramount
12660
Papa Charlie And Blind Blake Talk About It (Part 1)


(Charlie Jackson / Arthur Blake)

9-1929
Grafton, Wisconsin
Paramount
12911-A
Papa Charlie And Blind Blake Talk About It (Part 2)


(Charlie Jackson / Arthur Blake)

9-1929
Grafton, Wisconsin
Paramount
12911-B
Papa Do Do Blues


(Charlie Jackson)

11-1929
Grafton, Wisconsin
Paramount
12905-A
Papa Lawdy Lawdy Blues


(Charlie Jackson)

8-1924
Chicago, Illinois
Paramount
12219-A
Salt Lake City Blues


(Gertrude Davis)

8-1924
Chicago, Illinois
Paramount
12236-A
Salty Dog Blues


(Charlie Jackson)

9-1924
Chicago, Illinois
Paramount
12236-B
Self Experience


(Charlie Jackson)

5-26-1930
Grafton, Wisconsin
Paramount
12956-B
Shake That Thing


(Charlie Jackson)

5-1925
Chicago, Illinois
Paramount
12281-B
Shave Em Dry


(Charlie Jackson)

2-1925
Chicago, Illinois
Paramount
12264
She Belongs To Me


(Charlie Jackson)

3-1927
Chicago, Illinois
Paramount
12461-B
Sheik Of Desplanes Street


(Charlie Jackson)

7-1927
Chicago, Illinois
Paramount
12501-B
Skoodle-Um-Skoo


(Charlie Jackson)

7-1927
Chicago, Illinois
Paramount
12501-A
Skoodle-Um-Skoo


(Charlie Jackson)

11-3-1934
Chicago, Illinois
Okeh
8954
Tailor Made Lover


(LaMoore)

7-1929
Chicago, Illinois
Paramount
12797-A
Tain't What You Do But How You Do It
11-1929
Grafton, Wisconsin
Paramount
12853-A
Take Me Back Blues


(Charlie Jackson)

8-1925
Chicago, Illinois
Paramount
12296-B
Take Me Back Blues


(Charlie Jackson)

7-1929
Chicago, Illinois
Paramount
12797-B
Talk About It
11-1929
Chicago, Illinois
Paramount
12911-B
Texas Blues


(Charlie Jackson / Everett)

12-1925
Chicago, Illinois
Paramount
12335-B
The Cat's Got The Measles


(Murphy / Smiley)

1-1925
Chicago, Illinois
Paramount
12259-A
The Faking Blues


(Charlie Jackson / Mayo Williams)

5-1925
Chicago, Illinois
Paramount
12281-A
Up The Way Bound


(Lillian Brown)

5-1926
Chicago, Illinois
Paramount
12375
We Can't Buy It No More


(Charlie Jackson)

3-1929
Chicago, Illinois
Paramount
12765-B
What's That Thing She's Shaking
11-26-1934
Chicago, Illinois
Okeh
8954
You Got That Wrong


(Charlie Jackson)

5-26-1930
Grafton, Wisconsin
Paramount
12956-A
You Put It In, I'll Take It Out


(Charlie Jackson)

11-26-1934
Chicago, Illinois
Vocalion
03048 A
Okeh
8957
Your Baby Ain't Sweet Like Mine


(Charlie Jackson / Mayo Williams)

8-1926
Chicago, Illinois
Paramount
12383-A