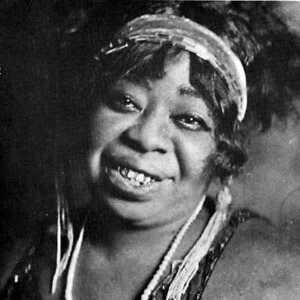 Gertrude Pridgett was born into a showbiz family that performed in minstrel shows. She first appeared onstage in 1900, singing and dancing in minstrel and vaudeville stage revues. In 1902 she married the song and dance man William "Pa" Rainey and from then on became known as Ma Rainey.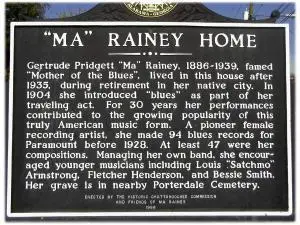 The couple formed a song and dance act that included Blues and popular songs. They toured the country, but primarily the South and became a popular attraction as part of Tolliver's Circus, The Musical Extravaganza and The Rabbit Foot Minstrels, where Rainey befriended a young Bessie Smith.
In the 1920s Rainey was a solo star of the T.O.B.A. vaudeville circuit. It was not until 1923 that Ma Rainey signed a recording contract with Paramount. She was billed as the "Mother of the Blues", which wasn't far off the mark. Few historians can point to any real Blues singers before Ma Rainey.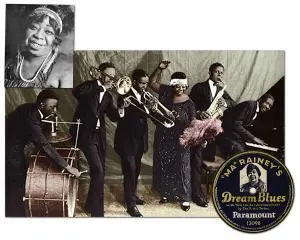 She ended up recording 100 songs between 1923 and 1928 on Paramount Records. During that time she was accompanied by many noted jazz musicians such as, Louis Armstrong, Tommy Ladnier, Fletcher Henderson and Coleman Hawkins. She continued working until 1935 and retired to Columbus, Georgia. Ma had been smart with her money and managed to build and operate two theaters; she also owned her own home in Columbus. Ma Rainey died in 1939, of a heart attack.
---
Jazzology.com owns the rights to the Paramount catalog and has several collections of Ma Rainey material available.
Title

Recording Date

Recording Location

Company

Black Dust Blues


(Davis / Ma Rainey)

9-1928
Chicago, Illinois
Paramount
12926
Black Eye Blues


(Thomas A. Dorsey)

9-1928
Chicago, Illinois
Paramount
12963
Blame It On The Blues


(Thomas A. Dorsey / Ma Rainey)

9-1928
Chicago, Illinois
Paramount
12760
Daddy Goodbye Blues


(Ma Rainey)

9-1928
Chicago, Illinois
Paramount
12963
Dead Drunk Blues
Piano Acc. Hop Hopkins


(Ma Rainey)

8-1927
Chicago, Illinois
Paramount
12508-A
Don't Fish In My Sea
Piano Accompaniment James Blythe


(Ma Rainey / Smith)

12-1926
Chicago, Illinois
Paramount
12438-B
Farewell Daddy Blues


(Ma Rainey)

8-1924
Chicago, Illinois
Paramount
12222-B
Grievin' Hearted Blues


(unknown)

12-1926
Chicago, Illinois
Paramount
12419-B
Hellish Rag


(unknown)

12-1927
Chicago, Illinois
Paramount
12612
Ice Bag Papa


(K. Mills)

12-1927
Chicago, Illinois
Paramount
12612
Leaving This Morning


(Davis / Ma Rainey)

9-1928
Chicago, Illinois
Paramount
12902
Little Low Mama


(Ma Rainey)

12-1926
Chicago, Illinois
Paramount
12419-A
Misery Blues


(Ma Rainey)

8-1927
Chicago, Illinois
Paramount
12508-B
Morning Hour Blues


(Ma Rainey / Smith)

11-1926
Chicago, Illinois
Paramount
12455
Mountain Jack Blues
Jimmy Blythe – Piano


(Sid Harris)

3-1926
Chicago, Illinois
Paramount
12352-A
Runaway Blues


(Ma Rainey)

9-1928
Chicago, Illinois
Paramount
12902
Screech Owl Man


(Ma Rainey)

9-1928
Chicago, Illinois
Paramount
12735-B
Shave ' Em Dry Blues


(Ma Rainey / H. Jackson)

8-1924
Chicago, Illinois
Paramount
12222-A
Sleep Talkin' Blues


(Randall / Ma Rainey)

9-1928
Chicago, Illinois
Paramount
12760
Sweet Rough Man


(Randall / Ma Rainey)

9-1928
Chicago, Illinois
Paramount
12926
Tough Luck Blues


(Ma Rainey)

9-1928
Chicago, Illinois
Paramount
12735-A
Trust No Man


(Lil Henderson)

6-1926
Chicago, Illinois
Paramount
12395
| | |
| --- | --- |
| Artist | Instrument |
| Blind Blake | Guitar |
| Jimmy Blythe | Piano |
| Shirley Clay | Cornet |
| Thomas A. Dorsey | Piano |
| Lil Henderson | Piano |
| Claude Hopkins | Piano |
| Leroy Pickett? | Violin |
| Kid Ory? | Trombone |
| Milas Pruitt | Guitar |
| Miles Pruitt | Guitar |
| Artie Starks? | Clarinet |
| Tampa Red | Guitar |
| Al Wynn? | Trombone |
| Ike Rodgers | Trombone |
| unknown | Banjo, Tuba |
Mother Of The Blues: A Study of Ma Rainey, by Sandra Lieb, University of Massachusetts Press, 1981
Ma Rainey And The Classic Blues Singers, by Derrick Stewart-Baxter, Stein and Day Press, 1970
Blues Legacies And Black Feminism, by Angela Davis, Pantheon Books, 1998