Bessie Smith was a rough, crude, violent woman. She was also the greatest of the classic Blues singers of the 1920s.
Bessie started out as a street musician in Chattanooga. In 1912 Bessie joined a traveling show as a dancer and singer. The show featured Pa and Ma Rainey, and Smith developed a friendship with Ma. Ma Rainey was Bessie's mentor and she stayed with her show until 1915.
Bessie then joined the T.O.B.A. vaudeville circuit and gradually built up her own following in the south and along the eastern seaboard. By the early 1920s she was one of the most popular Blues singers in vaudeville.
In 1923 she made her recording debut on Columbia, accompanied by pianist Clarence Williams. They recorded "Gulf Coast Blues" and "Down Hearted Blues." The record sold more than 750,000 copies that same year, rivaling the success of Blues singer Mamie Smith (no relation). Throughout the 1920s Smith recorded with many of the great Jazz musicians of that era, including Fletcher Henderson, James P. Johnson, Coleman Hawkins, Don Redman and Louis Armstrong. Her rendition of "St. Louis Blues" with Armstrong is considered by most critics to be one of finest recordings of the 1920s.
Bessie Smith 
was one of the biggest African-American stars of the 1920s and was popular with both Whites and African-Americans, but by 1931 the Classic Blues style of Bessie Smith was out of style and the Depression, radio, and sound movies had all damaged the record companies' ability to sell records so Columbia dropped Smith from its roster.
In 1933 she recorded for the last time under the direction of John Hammond for Okeh. The session was released under the name of Bessie Smith accompanied by Buck and his Band.
Despite having no record company Smith was still very popular in the South and continued to draw large crowds, although the money was not nearly as good as it had been in the 1920s.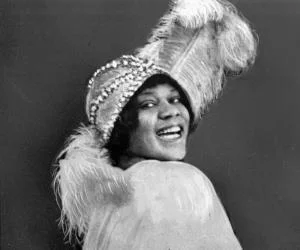 Bessie had started to style herself as a Swing musician and was on the verge of a comeback when her life was tragically cut short by an automobile accident in 1937. While driving with her lover Richard Morgan (Lionel Hampton's uncle) in Mississippi their car rear-ended a slow moving truck and rolled over crushing Smith's left arm and ribs. Smith bled to death by the time she reached the hospital.
John Hammond caused quite a stir by writing an article in Downbeat magazine suggesting that Smith had bled to death because she had been taken to a White hospital and had been turned away. This proved not to be true, but the rumor persists to this day.
Title

Recording Date

Recording Location

Company

A Good Man Is Hard To Find


(Eddie Green)

9-27-1927
New York, New York
Columbia
14250-D
Any Woman's Blues
(Lovie Austin)
10-16-1923
New York, New York
Columbia
13001-D
At The Christmas Ball


(Fred Longshaw)

11-18-1925
New York, New York
Columbia
35842
Baby Doll


(Bessie Smith / H. Webman)

5-4-1926
New York, New York
Columbia
14147-D
Baby Have Pity On Me


(Clarence Williams / Billy Moll)

4-12-1930
New York, New York
Columbia
37576
Baby Won't You Please Come Home


(Clarence Williams / Charles Warfield)

4-11-1923
New York, New York
Columbia
A3888
Back-Water Blues
Piano accompaniment by Jimmy Johnson


(Bessie Smith)

2-17-1927
New York, New York
Columbia
14195-D
Black Mountain Blues


(J.C. Johnson)

7-22-1930
New York, New York
Columbia
14554-D
Bleeding Hearted Blues
Fletcher Henderson at the Piano


(Lovie Austin)

6-14-1923
New York, New York
Columbia
A3936
Blue Blues


(Bessie Smith)

6-11-1931
New York, New York
Columbia
14611-D
Blue Spirit Blues


(Spencer Williams)

10-11-1929
New York, New York
Columbia
14527-D
Bowevil Blues


(Ma Rainey)

4-7-1924
New York, New York
Columbia
14018-D
Careless Love Blues


(W.C. Handy)

5-26-1925
New York, New York
Columbia
14083-D


140626-1

Careless Love Blues


(W.C. Handy)

5-26-1925
New York, New York
Columbia
14083-D


140626-2

Cemetery Blues


(Sid Laney)

9-26-1923
New York, New York
Columbia
13001-D
Chicago Bound Blues


(Lovie Austin)

12-4-1923
New York, New York
Columbia
14000-D
Cold In Hand Blues


(Jack Gee / Fred Longshaw)

1-14-1925
New York, New York
Columbia
14064-D
Devil's Gonna Git You


(Porter Grainger)

8-24-1928
New York, New York
Columbia
14354D
Dirty No-Gooder's Blues


(Bessie Smith)

10-1-1929
New York, New York
Columbia
14476-D
Dixie Flyer Blues


(Bessie Smith)

5-15-1925
New York, New York
Columbia
14079-D
Don't Cry Baby


(Stella Unger / Saul Bernie / James P. Johnson)

10-11-1929
New York, New York
Columbia
14487-D
Down Hearted Blues
Clarence Williams at the Piano
(Alberta Hunter / Lovie Austin)
2-16-1923
New York, New York
Columbia
A3844
Dyin' By The Hour


(George Brooks)

10-27-1927
New York, New York
Columbia
14273-D
Dying Gambler's Blues


(Jack Gee)

12-13-1924
New York, New York
Columbia
14051-D
Easy Come Easy Go Blues


(W. Jackson / E. Brown)

1-10-1924
New York, New York
Columbia
14005-D
Empty Bed Blues (Part 1)


(J.C. Johnson)

3-20-1928
New York, New York
Columbia
14312-D
Empty Bed Blues (Part 2)


(J.C. Johnson)

3-20-1928
New York, New York
Columbia
14312-D
Evesdropper's Blues


(J.C. Johnson)

1-9-1924
New York, New York
Columbia
14010-D
Far Away Blues
(Duet with Clara Smith)


(George Brooks)

10-4-1923
New York, New York
Columbia
13007-D
Florida Bound Blues


(Clarence Williams)

11-17-1925
New York, New York
Columbia
14109-D
Follow The Deal On Down


(Tom Delaney)

12-11-1924
New York, New York
Columbia
14052-D
Foolish Man Blues


(Bessie Smith)

10-27-1927
New York, New York
Columbia
14273-D
Frankie Blues


(E. Johnson)

4-8-1924
New York, New York
Columbia
14023-D
Frosty Morining Blues


(Eddie Brown)

1-8-1924
New York, New York
Columbia
14005-D
Golden Rule Blues


(Bessie Smith)

11-20-1925
New York, New York
Columbia
14123-D
Graveyard Dream Blues
Jimmy Jones at the Piano


(Ida Cox)

9-26-1923
New York, New York
Columbia
A4001
Gulf Coast Blues
Clarence Williams at the Piano


(Clarence Williams)

2-16-1923
New York, New York
Columbia
A3844
Hard Driving Papa


(George Brooks)

5-4-1926
New York, New York
Columbia
14137-D
Hard Time Blues


(Bessie Smith)

10-25-1926
New York, New York
Columbia
14179-D
Hateful Blues


(E. Johnson)

4-8-1924
New York, New York
Columbia
14023-D
Haunted House Blues


(J.C. Johnson)

1-9-1924
New York, New York
Columbia
14010-D
He's Gone Blues


(Bessie Smith)

6-23-1925
New York, New York
Columbia
14083-D
He's Got Me Goin'


(H. Gray)

8-20-1929
New York, New York
Columbia
14464-D
Homeless Blues


(Porter Grainger)

9-28-1927
New York, New York
Columbia
14260-D
Honey Man Blues


(George Brooks)

10-25-1926
New York, New York
Columbia
14172-D
House Rent Blues


(T. Wallace)

7-23-1924
New York, New York
Columbia
14032-D
Hustlin' Dan


(J. Crawford)

7-22-1930
New York, New York
Columbia
14554-D
I Aint' Goin' To Play No Second Fiddle


(Perry Bradford)

5-27-1925
New York, New York
Columbia
14090-D
I'd Rather Be Dead And Buried In My Grave


(P. Fuller)

2-16-1928
New York, New York
Columbia
14304-D
If You Don't Know Who Will?
Fletcher Henderson at the Piano


(Clarence Williams)

6-21-1923
New York, New York
Columbia
A3942
I Got What It Takes (But It Breaks My Heart To Give It Away)


(Clarence Williams / H. Jenkins)

5-15-1929
New York, New York
Columbia
14435-D
I'm Going Back To My Used To Be
(Duet with Clara Smith)


(J. Cox)

10-4-1923
New York, New York
Columbia
13007-D
I'm Wild About That Thing


(Spencer Williams)

5-8-1929
New York, New York
Columbia
14427-D
In The House Blues


(Bessie Smith)

6-11-1931
New York, New York
Columbia
14611-D
It Makes My Love Come Down


(Bessie Smith)

8-20-1929
New York, New York
Columbia
14464-D
It Won't Be You


(Bessie Smith)

2-21-1928
New York, New York
Columbia
14338-D
I Want Ev'ry Bit Of It


(Clarence Williams / Spencer Williams)

3-5-1926
New York, New York
Columbia
14129-D
I Used To Be Your Sweet Mama


(L. Miller / Fred Longshaw)

2-9-1928
New York, New York
Columbia
14292-D
I've Been Mistreated And I Don't Like It


(Fred Longshaw)

11-18-1925
New York, New York
Columbia
14115-D
I've Got What It Takes


(Clarence Williams / H. Jenkins)

5-15-1929
New York, New York
Columbia
14435-D
Jail-House Blues
Jimmy Jones at the Piano


(Bessie Smith / Clarence Williams)

9-21-1923
New York, New York
Columbia
A4001
Jazzbo Brown From Memphis Town


(George Brooks)

3-18-1926
New York, New York
Columbia
14133-D
J.C. Holmes Blues


(Gus Horsley)

5-27-1925
New York, New York
Columbia
14095-D
Keep It To Yourself


(Clarence Williams)

3-27-1930
New York, New York
Columbia
14516-D
Keeps On A Rainin'
(Papa, He Can't Make No Time)
Clarence Williams at the Piano


(Spencer Williams / M Kortlander)

4-26-1923
New York, New York
Columbia
A3898
Kitchen Man


(Andy Razaf / Alex Bellenda)

5-8-1929
New York, New York
Columbia
14435-D
Lady Luck Blues
Fletcher Henderson at the Piano


(W. Weber / Clarence Williams)

6-14-1923
New York, New York
Columbia
A3939
Lock And Key


(Henry Creamer / James P. Johnson)

4-1-1927
New York, New York
Columbia
14232-D
Lonesome Desert Blues


(Bessie Smith)

12-9-1925
New York, New York
Columbia
14123-D
Long Old Road


(Bessie Smith)

6-11-1931
New York, New York
Columbia
14663-D
Looking For My Man Blues
9-28-1927
New York, New York
Columbia
14569-D
Lost Your Head Blues


(Bessie Smith)

5-4-1926
New York, New York
Columbia
14158-D
Lou'siana Low Down Blues


(Spencer Williams)

7-22-1924
New York, New York
Columbia
14031-D
Love Me Dady Blues


(Fred Longshaw)

12-12-1924
New York, New York
Columbia
14060-D
Mamas Got The Blues
Fletcher Henderson at the Piano


(Sarah Martin / Clarence Williams)

4-28-1923
New York, New York
Columbia
A3900
Mean Old Bed Bug Blues


(L. Wood)

9-27-1927
New York, New York
Columbia
14250-D
Me And My Gin


(H. Burke)

8-25-1928
New York, New York
Columbia
14384-D
Midnight Blues
Fletcher Henderson at the Piano


(B. Thompson / Spencer Williams)

6-15-1923
New York, New York
Columbia
A3936
Mistreatin' Daddy


(Porter Grainger / Bob Ricketts)

12-4-1923
New York, New York
Columbia
14000-D
Moan Mourners


(Spencer Williams)

6-9-1930
New York, New York
Columbia
14538-D
Money Blues


(D.K. Leader / H. Eller)

5-4-1926
New York, New York
Columbia
14137-D
Moonshine Blues


(Ma Rainey)

4-9-1924
New York, New York
Columbia
14018-D
Mountaintop Blues


(Spencer Williams)

7-22-1924
New York, New York
Columbia
14031-D
My Man Blues
(Duet with Clara Smith)


(Bessie Smith)

9-1-1925
New York, New York
Columbia
14098-D
Nashville Woman's Blues


(Fred Longshaw)

5-26-1925
New York, New York
Columbia
14090-D


140625-1

Nashville Woman's Blues


(Fred Longshaw)

5-26-1925
New York, New York
Columbia
14090-D


140625-2

Need A Little Sugar In My Bowl


(Clarence Williams / D. Small / Tim Brymn)

11-20-1931
New York, New York
Columbia
14634-D
New Gulf Coast Blues


(Clarence Williams )

11-17-1925
New York, New York
Columbia
14109-D
New Orleans Hop Scop Blues


(George W. Thomas)

3-27-1930
New York, New York
Columbia
14516-D
Nobody In Town Can Bake A Sweet Jelly Roll Like Mine
Fletcher Henderson at the Piano


(Clarence Williams / Spencer Williams)

6-22-1923
New York, New York
Columbia
A3942
Nobody Knows You When You're Down And Out


(Jimmy Cox)

5-15-1929
New York, New York
Columbia
14451-D
Oh Daddy Blues


(William Russell / Ed Herbert)

4-11-1923
New York, New York
Columbia
A3888
One And Two Blues


(George Brooks)

10-26-1926
New York, New York
Columbia
14172-D
On Revival Day
(A Rhythmic Spiritual)


(Andy Razaf)

6-9-1930
New York, New York
Columbia
14538-D
Outside Of That
Fletcher Henderson at the Piano


(J.H. Trent / Clarence Williams)

4-28-1923
New York, New York
Columbia
A3900
Pickpocket Blues


(Bessie Smith)

2-9-1928
New York, New York
Columbia
14304-D
Pinchbacks – Take "Em Away


(Bessie Smith / Irving Johns)

4-4-1924
New York, New York
Columbia
14025-D
Please Help Me Get Him Off My Mind


(Bessie Smith)

8-25-1928
New York, New York
Columbia
14375-D
Poorman's Blues
Piano accompaniment by Jimmy Johnson


(Bessie Smith)

8-24-1928
New York, New York
Columbia
14399-D
Preachin' The Blues


(Bessie Smith)

2-17-1927
New York, New York
Columbia
14195-D
Put It Right Here
(Or Keep It Out Of There)


(Porter Grainger)

3-20-1928
New York, New York
Columbia
14324 -D
Rainy Weather Blues


(George Brooks)

8-8-1924
New York, New York
Columbia
14037-D
Reckless Blues


(Fred Longshaw / Jack Gee)

1-14-1925
New York, New York
Columbia
14056-D
Red Mountain Blues


(H. Troy)

11-20-1925
New York, New York
Columbia
14115-D
Rocking Chair Blues


(Bessie Smith / Irving Johns)

4-4-1924
New York, New York
Columbia
14020-D
Safety Mama


(Bessie Smith)

11-20-1931
New York, New York
Columbia
14634-D
Salt Water Blues


(George Brooks)

7-31-1924
New York, New York
Columbia
14037-D
Sam Jones Blues


(Al Bernard / Roy Turk / J. Russel Robinson)

9-24-1923
New York, New York
Columbia
13005-D
See If I Care


(Clarence Williams / Alex Hill)

4-12-1930
New York, New York
Columbia
37576
Shipwreck Blues


(Bessie Smith)

6-11-1931
New York, New York
Columbia
14663-D
Sinful Blues
(Perry Bradford)
12-11-1924
New York, New York
Columbia
14052-D
Sing Sing Prison Blues


(Porter Grainger / Freddie Johnson)

12-6-1924
New York, New York
Columbia
14051-D
Slow And Easy Man


(S. Red)

8-24-1928
New York, New York
Columbia
14384-D
Sobbin' Hearted Blues


(Perry Bradford / Layer / Davis)

1-14-1925
New York, New York
Columbia
14056-D
Sorrowful Blues


(Bessie Smith / Irving Johns)

4-4-1924
New York, New York
Columbia
14020-D
Spider Man Blues


(Bessie Smith / H.Gray)

3-19-1928
New York, New York
Columbia
14324-D
Squeeze Me


(Clarence Williams / Fats Waller)

3-5-1925
New York, New York
Columbia
14133-D
Standin' In The Rain Blues


(Bessie Smith)

2-21-1928
New York, New York
Columbia
14338 -D
St. Louis Blues


(W.C. Handy)

1-14-1925
New York, New York
Columbia
14064-D
St. Louis Gal


(J. Russel Robinson)

9-24-1923
New York, New York
Columbia
13005-D
Sweet Mistreater


(Henry Creamer / James P. Johnson)

1-4-1927
New York, New York
Columbia
14260-D
'Tain't Nobody's Bizness If I Do
Clarence Williams at the Piano


(Porter Grainger / E. Robbins)

4-26-1923
New York, New York
Columbia
A3898
Take It Right Back
('Cause I Don't Want It Here)


(H. Gray)

7-25-1929
New York, New York
Columbia
14451-D
The Bye Bye Blues


(Paul Carter)

9-26-1924
New York, New York
Columbia
14042-D
The Gin House Blues


(H. Troy / Fletcher Henderson)

3-18-1926
New York, New York
Columbia
14158-D
Them "Has Been" Blues


(W.E. Skidmore / M. Walker)

3-5-1925
New York, New York
Columbia
14147-D
Thinking Blues


(Bessie Smith)

2-9-1928
New York, New York
Columbia
14292-D
Ticket Agent Ease Your Window Down


(Spencer Williams)

4-5-1924
New York, New York
Columbia
14025-D
Washwoman's Blues


(Spencer Williams)

8-24-1928
New York, New York
Columbia
14375-D
Wasted Life Blues


(Bessie Smith)

10-1-1929
New York, New York
Columbia
14476-D
Weeping Willow Blues


(Pam Carter)

9-26-1924
New York, New York
Columbia
14042-D
What's The Matter Now?
(Clarence Williams / Spenser Williams)
3-5-1926
New York, New York
Columbia
14129-D
Woman's Trouble Blues


(Jack Gee)

12-12-1924
New York, New York
Columbia
14060-D
Work House Blues


(Ted Wallace)

7-23-1924
New York, New York
Columbia
14032-D
Worn Out Papa


(Spencer Williams)

10-11-1929
New York, New York
Columbia
14527-D
Yes Indeed He Do!


(Porter Grainger)

8-24-1928
New York, New York
Columbia
14354-D
Yodling Blues
Fletcher Henderson at the Piano


(Alex Hill / Clarence Williams)

6-14-1923
New York, New York
Columbia
A3939
Young Woman's Blues


(Bessie Smith)

10-26-1926
New York, New York
Columbia
14179-D
You Don't Understand


(Clarence Williams, Spencer Williams / James P. Johnson)

10-11-1929
New York, New York
Columbia
14487-D
You Ought To Ashamed


(Porter Grainger)

8-24-1928
New York, New York
Columbia
14399-D
You've Been A Good Old Wagon


(Smith / Balcom)

1-14-1925
New York, New York
Columbia
14079-D
You've Got To Get Me Some


(Spencer Williams)

5-8-1929
New York, New York
Columbia
14427-D
| | |
| --- | --- |
| Artist | Instrument |
| Ed Allen | Cornet |
| Louis Armstrong | Cornet |
| Buster Bailey | Clarinet |
| Louis Bacon | Trumpet |
| George Baquet | Clarinet |
| Bessemer Singers | Vocals |
| Gavin Bushell | Alto Saxophone |
| Buddy Christian | Banjo |
| June Cole | Bass Brass |
| Lincoln M. Conway | Guitar |
| Demas Dean | Cornet |
| Ernest Elliot | Alto Saxophone, Clarinet |
| Bob Fuller | Clarinet, Alto Saxophone |
| Porter Grainger | Piano |
| Charlie Green | Trombone |
| John Griffin | Guitar |
| Coleman Hawkins | Tenor Saxophone |
| Fletcher Henderson | Piano |
| Shelton Hemphill | Cornet |
| Irving Johns | Piano |
| James C. Johnson | Piano |
| James P. Johnson | Piano |
| Jimmy Jones | Piano |
| Tommy Ladnier | Cornet |
| Eddie Lang | Guitar |
| Fred Longshaw | Piano |
| Stanley Miller | Piano, Talking |
| John Mitchell | Banjo |
| Don Redman | Clarinet |
| Harry Reser | Guitar |
| Robert Robbins | Violin |
| Clara Smith | Vocals |
| Joe Smith | Cornet |
| Elmer Snowden | Banjo |
| Cyrus St. Clair | Bass Brass |
| Steve Stevens | Piano |
| Greely Walton | Tenor Saxophone |
| Abraham Wheat | Clarinet, Soprano Saxophone |
| Clarence Williams | Piano |
| Joe Williams | Trombone |
Somebody's Angel Child; The Story Of Bessie Smith, by Carmen Moore, 1969
Bessie, by Chris Albertson, Stein and Day Publishers, 1972
The Bessie Smith Companion, by Edward Brooks, Cavendish Publishing Co., 1982
Bessie Smith, by Jackie Kay, Outlines, 1997
Bessie Smith; Empress Of The Blues, by Elaine Feinstein, Viking Penguin Inc., 1985
Blues Legacies And Black Feminism, by Angela Davis, Pantheon Books, 1998
Backwater Blues; In Search Of Bessie Smith, by Sara Grimes, Rose Island Publishing Company, 2001