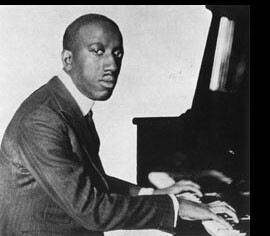 As a boy,
James P. Johnson
studied Classical music and Ragtime. He started playing professionally in a sporting house, and then progressed to rent parties, bars and vaudeville. He eventually became known as the best piano player on the East Coast and was widely utilized as an accompanist on over 400 recordings and from 1916 on, produced hundreds of piano rolls under his own name.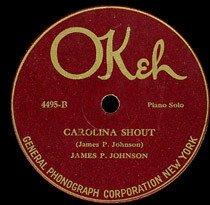 He backed up many of the Classic Blues singers of the 1920s, such as Ida Cox, Ethel Waters and Bessie Smith. Johnson's 1921 recording of "Carolina Shout" is considered to be the first recorded Jazz piano solo by some critics, although it sounds a lot like Ragtime to this listener's ears. He wrote several musical revues, including "Running W and "Plantation Days and his 1928 collaboration with his former piano student Fats Waller, Keep Shufflin'. His song "Charleston" from Running Wild  was one of the best known and most widely recorded songs of 1920s. Other hits included "Old Fashioned Love" and "If I Could Be With You (One Hour Tonight)".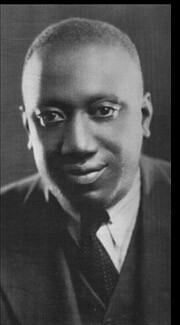 Johnson composed several symphonic works, which include "Yamecraw: A Negro Rhapsody" (1928), "Tone Poem" (1930), "Symphony Harlem " (1932), a symphonic version of W.C. Handy's "St. Louis Blues" (1937), and the one-act opera "De Organizer" (1940), with lyrics by Langston Hughes. None of his symphonic works were very popular and have seldom been performed. Johnson is generally considered the "Father of the Stride" piano, and was a major influence on some of Jazz's great pianists such as Duke Ellington, Fats Waller and Thelonious Monk.
Thanks to Owen Miller for his help with this page.
The discography of James P. Johnson and his bands should not be treated as exhaustive. He recorded extensively in the 1940s, reviving some of his band names from the 1920s and also recording solo for several labels. There are both Asch and Decca recordings missing from this discography that may be added over time.
Also see: James P. Johnson and the Birth of Modern Jazz Piano & James P. Johnson: Forgotten Musical Genius


Title

Recording Date

Recording Location

Company

A Flat Dream


(James P. Johnson)

6-4-1939
New York, New York
Columbia
37333
Ain't Cha Got Music?


(Andy Razaf / James P. Johnson)

6-1947
New York, New York
Manhatten
504
Pumpkin
117
Ain't Cha Got Music?


(Andy Razaf / James P. Johnson)

6-5-1947
New York, New York
Circle
3005
Aunt Hager's Blues


(W.C. Handy)

5-1945
New York, New York
Folkways
FJ 2850
Aunt Hager's Blues


(W.C. Handy)

5-1945
New York, New York
Xtra
1024
A Porter's Love Song To A Chamber Maid


(James P. Johnson / Andy Razaf)

1944
New York, New York
Decca
All That I Had Is Gone


(James P. Johnson)

2-25-1927
New York, New York
Columbia
14204-D
Arkansas Blues
12-15-1943
New York, New York
Blue Note
27-B
Back Water Blues (In Memory of Bessie Smith)
(Bessie Smith)
11-17-1943
New York, New York
Blue Note
25-A
Back Water Blues
(Bessie Smith)
5-24-1947
New York, New York
Pumpkin
117
Bleeding Hearted Blues
(Lovie Austin)
7-25-1923
Camden, New Jersey
Victor
19123-A
Blue Moods (1)
1944
New York, New York
Folkways
FG 3540
Blue Moods (2)
1944
New York, New York
Folkways
FG 3540
Xtra
1024
Blue Moods, Sex
1944
New York, New York
Folkways
FG 3540
Xtra
1024
Blues For Fats


(James P. Johnson)

12-18-1943
New York, New York
Signature
28105
Blues For Jimmy
4-1945
New York, New York
Selmer
7218
Cupol
9001
Folkways
FJ 2850
Blueberry Rhyme


(James P. Johnson)

6-4-1939
New York, New York
CBS
Blueberry Rhyme


(James P. Johnson)

12-18-1943
New York, New York
Signature
28105
Boogie Woogie Stride


(James P. Johnson)

7-2-1942
New York, New York
Asch
1001 A
Caprice Rag


(James P. Johnson)

12-15-1943
New York, New York
Blue Note
26
Caprice Rag


(James P. Johnson)

3-1-1947
New York, New York
Rarities
33
Carolina Balmoral


(James P. Johnson)

11-17-1943
New York, New York
Blue Note
25-B
Carolina Shout


(James P. Johnson)

10-18-1921
New York, New York
Okeh
4495-B
Carolina Shout


(James P. Johnson)

12-23-1938
New York, New York
Vanguard
Carolina Shout


(James P. Johnson)

1944
New York, New York
Decca
Chocolate Bar
5-24-1947
New York, New York
Pumpkin
117
Crying for the Carolines
1-21-1930
New York, New York
Brunswick
4712
Daintiness Rag


(James P. Johnson)

1943
New York, New York
Folkways
FJ 2850
Daintiness Rag


(James P. Johnson)

6-5-1947
New York, New York
Circle
3005
Fascination


(James P. Johnson)

6-4-1939
New York, New York
CBS
Feeling Blue


(James P. Johnson)

1-29-1929
New York, New York
Okeh
8770
Gut Stomp
11-17-1943
New York, New York
Blue Note
24-B
Keep Movin'
4-1945
New York, New York
Xtra
1024
Keep Movin'
4-1945
New York, New York
Folkways
FJ 2850
Keep Off The Grass


(James P. Johnson)

10-18-1921
New York, New York
Okeh
If Dreams Come True
6-4-1939
New York, New York
CBS
If I Could Be With You (One Hour Tonight)


(Henry Creamer / James P. Johnson)

1944
New York, New York
Decca
I'm Crazy About My Baby
6-5-1947
New York, New York
Riverside
RLP 1056
Impressions


(James P. Johnson)

7-2-1942
New York, New York
Asch
1001 B
Improvisation On Pinetops Boogie
12-15-1943
New York, New York
Blue Note
26
Jersey Sweet (1)
4-1945
New York, New York
Folkways
FJ 2850
Jersey Sweet (2)
4-1945
New York, New York
Folkways
FJ 2850
J.P. Boogie


(James P. Johnson)

11-17-1943
New York, New York
Blue Note
24-A
Jingles
1-21-1930
New York, New York
Brunswick 4762

Jungle Drums
4-1945
New York, New York
Folkways
FJ 2850
Keep Off The Grass


(James P. Johnson)

1944
New York, New York
Decca
4495-A
Liza
(Perry Bradford / James P. Johnson)
5-1945
New York, New York
Folkways
FJ 2850
Liza


(Perry Bradford / James P. Johnson)

5-1945
New York, New York
Xtra
1024
Liza


(Perry Bradford / James P. Johnson)

4-1937
New York, New York
Ristic
LP
Liza


(Perry Bradford / James P. Johnson)

5-24-1947
New York, New York
Pumpkin
117
Lonesome Reverie


(James P. Johnson)

6-4-1939
New York, New York
CBS
Mama And Papa Blues
6-5-1947
New York, New York
Riverside
RLP 1056
Maple Leaf Rag


(Scott Joplin)

2-15-1947
New York, New York
Wax
LP 201
Mule Walk


(James P. Johnson)

12-23-1938
New York, New York
Vanguard
Mule Walk


(James P. Johnson)

6-4-1939
New York, New York
CBS
Mule Walk


(James P. Johnson)

12-15-1943
New York, New York
Blue Note
27-A
Old Fashioned Love


(James P. Johnson)

1944
New York, New York
Decca
Old Fashioned Love


(James P. Johnson)

6-5-1947
New York, New York
Riverside
RLP 1056
Over The Bars


(James P. Johnson)

1944
New York, New York
Decca
Riffs


(James P. Johnson)

1-29-1929
New York, New York
Okeh
Riffs


(James P. Johnson)

1944
New York, New York
Decca
Scouting Around


(James P. Johnson)

8-8-1923
New York, New York
Okeh
4937-A
Snowy Morning Blues
(James P. Johnson / Perry Bradford)
2-25-1927
New York, New York
Columbia
14204-D
Snowy Morning Blues


(James P. Johnson / Perry Bradford)

7-2-1942
New York, New York
Asch
Snowy Morning Blues


(James P. Johnson / Perry Bradford)

1943
New York, New York
Folkways
FP 71
Snowy Morning Blues (alt)


(James P. Johnson / Perry Bradford)

1943
New York, New York
Folkways
FJ 2850
Snowy Morning Blues


(James P. Johnson / Perry Bradford)

1944
New York, New York
Decca
Snowy Morning Blues


(James P. Johnson / Perry Bradford)

6-1947
New York, New York
Manhatten
503
Steeplechase Rag


(James P. Johnson)

9-1949
Los Angeles, California
Pumpkin
117
Sugar


(Maceo Pinkard / Edna Alexander)

9-1949
Los Angeles, California
Pumpkin
117
Sugar Hill Theme (You Can't Lose A Broken Heart)
9-1949
Los Angeles, California
Pumpkin
117
St. Louis Blues


(W.C. Handy)

5-1945
New York, New York
Folkways
FJ 2850
Sweet Lorraine (2)


(Mitchell Parish / Cliff Burwell)

5-1945
New York, New York
Folkways
FJ 2850
Sweet Lorraine


(Mitchell Parish / Cliff Burwell)

5-1945
New York, New York
Selmer
7218
Xtra
1024
The Dream (2)
5-1945
New York, New York
Xtra
1024
The Dream (4)
5-1945
New York, New York
Folkways
FJ 2850
The Harlem Strut


(James P. Johnson)

8-1921
New York, New York
Black Swan
2026-A
Toddlin'


(James P. Johnson)

8-8-1923
New York, New York
Okeh
4937-B
Twilight Rag
4-1945
New York, New York
Xtra
1024
Twilight Rag
4-1945
New York, New York
Folkways
FJ 2850
Weeping Blues


(James P. Johnson)

6-28-1923
New York, New York
Columbia
A3950
What is this Thing Called Love


(James P. Johnson)

1-21-1930
New York, New York
Brunswick 4712
Worried And Lonesome Blues


(James P. Johnson)

6-28-1923
New York, New York
Columbia
A3950
Yamekraw – A Negro Rhapsody (In Four Movements)

(James P. Johnson)

1944
New York, New York
Folkways
FJ 2842
You Can't Do What My Last Man Did


(James P. Johnson)

7-25-1923
Camden, New Jersey
Victor
19123-B
You've Got To Be Modernistic


(James P. Johnson)

1-21-1930
New York, New York
Brunswick
4762

Title

Recording Date

Recording Location

Company

After Tonight


(William A. Farrell)

5-1917
New York, New York
Universal
2191
After Tonight


(William A. Farrell)

6-1917
Orange, New Jersey
Perfection
87020
Arkansas Blues


(Spencer Williams)

10-1921
New York, New York
QRS
1670
Baltimore Buzz


(Noble Sissle / Eubie Blake)

12-1921
New York, New York
QRS
1738
Birmingham Blues


(McCord / Matthews)

8-1922
New York, New York
QRS
1994
Black Bottom Dance


(Buddy DeSylva / Lew Brown / Ray Henderson)

2-1927
New York, New York
QRS
3792
Black Man (Be On Yo' Way)


(Spencer Williams)

11-1923
New York, New York
QRS
2351
Buzz Mirandy


(Dave Franklin / Henry Creamer)

8-1922
New York, New York
QRS
1952
Caprice Rag


(James P. Johnson)

5-1917
New York, New York
Metro Art
203176
Caprice Rag


(James P. Johnson)

7-1917
Orange, New Jersey
Universal
203177
Carolina Shout


(James P. Johnson)

2-1918
New York, New York
Artempo
12975
Carolina Shout


(James P. Johnson)

2-1921
Newark, New Jersey
QRS
100999, Q129
Charleston (South Carolina)


(Cecil Mack / James P. Johnson)

6-1925
New York, New York
QRS
3143, Q-133
Crying For My Used To Be
(played by James P. Johnson and Fats Waller)
2-1927
New York, New York
QRS
3800
Cry Baby Blues


(Meyer / Lewis / Young)

10-1921
New York, New York
QRS
1673
Daintiness Rag


(James P. Johnson)

7-1917
New York, New York
Universal
203107
Don't Mess With Me
5-1923
New York, New York
QRS
2202, Q-136
Don't Tell Your Monkey Man


(L. Johnson / Ted Koehler)

5-1921
Newark, New Jersey
QRS
1338
Dr. Jazzes Raz-Ma-Taz


(O'Flynn / Rose)

6-1921
New York, New York
QRS
1473
Eccentricity


(James P. Johnson)

2-1918
New York, New York
Artempo
12997
Eccentricity


(James P. Johnson)

5-1921
Newark, New Jersey
QRS
1011000
Fascination


(James P. Johnson)

9-1917
New York, New York
Universal
203227
Fascination Rag


(James P. Johnson)

?
New York, New York
Metro-Art
2032226
Farewell Blues
(Paul Mares / Leon Roppolo / Elmer Schoebel)
5-1923
New York, New York
QRS
2244, Q-134
Gypsy Blues


(Noble Sissle / Eubie Blake)

10-1921
New York, New York
QRS
1674
Harlem Choc'late Babies On Parade


(James P. Johnson / Henry Creamer)

7-1926
New York, New York
QRS
3526
Harlem Strut


(James P. Johnson)

6-1922
New York, New York
QRS
101014, Q-130
He's My Man


(Anton Lada)

10-1926
New York, New York
QRS
3676
I Ain't Givin' Nothin' Away


(Zoel / Tally)

12-1921
New York, New York
QRS
1724
If I Could Be With You
Duet with Fats Waller


(Henry Creamer / James P. Johnson)

3-1927
New York, New York
QRS
3818, Q-152
If You've Never Been Vamped By A Brownskin


(Noble Sissle / Eubie Blake)

9-1921
New York, New York
QRS
1644
Innovation Rag


(James P. Johnson)

10-1917
New York, New York
Universal
203255
It Takes Love To Cure The Hearts Disease
5-1921
Newark, New Jersey
QRS
1339
I've Got My Habits On
(Jimmy Durante)
2-1922
New York, New York
QRS
1804
Joe Turner Blues


(W. C. Handy)

3-1922
New York, New York
QRS
1830
Look What A Fool I've Been
(Clarence Williams)
3-1922
New York, New York
QRS
1831
Loveless Love
(A "Blues Ballad")


(W. C. Handy)

5/1921
Newark, New Jersey
QRS
1340
Make Me A Pallet


(W. C. Handy)

9-1926
New York, New York
QRS
3626
Mama's Blues


(James P. Johnson)

7-1917
Newark, New Jersey
Artempo
12286
Mama's Blues


(James P. Johnson)

7-1917
Belleville, New Jersey
Rhythm
E17933
Mama's Blues


(James P. Johnson)

9-1917
New York, New York
Universal
2335
Mama's Blues


(James P. Johnson)

9-1917
Orange, New Jersey
Arto 228X
Mama's Blues


(James P. Johnson)

1917
New York, New York
Singa
5228
Monkey Hunch


(James P. Johnson)

1917
New York, New York
Universal
2235
Muscle Shoal Blues


(George W. Thomas)

4-1922
New York, New York
QRS
1888
Nervous Blues


(Perry Bradford)

3-1922
New York, New York
QRS
1833, Q-128
Ole Miss Blues


(W.C. Handy)

3-1922
New York, New York
QRS
1834, Q-132
Railroad Man


(Elmer Schoebel)

8-1923
New York, New York
QRS
2302
Roumania
(Spencer Williams / Clarence Williams)
6-1921
New York, New York
QRS
1479
Runnin' Wild Medley
a. Charleston
b. Old Fashioned Love
c. Open Your Heart
d. Love Bug


(Cecil Mack / James P. Johnson)

3-1924
New York, New York
QRS
101027
Steeplechase Rag


(James P. Johnson)

5-1917
New York, New York
Universal
203179
Stop It


(James P. Johnson)

8-1917
Belleville, New Jersey
Rhytmn
H100253
Stop It


(James P. Johnson)

8-1917
New York, New York
Universal
203205
Sugar
(That Sugar Baby O' Mine)


(Maceo Pinkard / Edna Alexander)

11-1926
New York, New York
QRS
3705
The Down Home Blues


(Tom Delaney)

2-1922
New York, New York
QRS
1797
Twilight Rag
with E.E. Wilson


(James P. Johnson)

11-1917
New York, New York
Metro Art
203274
Vampin' Liza Jane


(Marion Dickerson)

3-1922
New York, New York
QRS
1836
Wasn't It Nice
8-1927
New York, New York
QRS
3996
When It's Cherry Time in Tokio


(Reid / de Rose)

6-1917
Orange, New Jersey
Perfection
87019

James P. Johnson : a case of mistaken identity / Scott E. Brown ; A James P. Johnson discography, 1917-1950 by Robert Hilbert Scarecrow Press and the Institute of Jazz Studies, Rutgers University, 1986