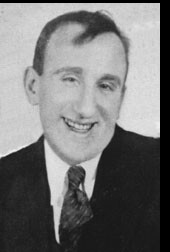 Before
Jimmy Durante
(February 10, 1893 – January 29, 1980) became one of the most famous and lovable entertainers of the Twentieth Century, he was a hot piano player and bandleader. Durante was greatly influenced by Scott Joplin and had his first success in show business as a Ragtime piano player starting around 1911. He was billed as "Ragtime Jimmy" and played in New York City and Coney Island. Durante was part of the same wild crowd of early White jazz musicians as the
Original Dixieland Jazz Band
 and Johnny Stein. When the New Orleans Jazz style swept New York by storm in 1917 with the arrival of the Original Dixieland Jazz Band Durante was part of the audience at Reisenweber's on Columbus Circle. Durante was very impressed with the band and invited them to play at a club called the Alamo in Harlem where Jimmy played piano.
The band was soon the hottest thing in show business and Durante had his friend Johnny Stein assemble a group of like-minded New Orleans musicians to accompany his act at the Alamo. They billed themselves as "Durante's Jazz and Novelty Band". In late 1918 they recorded two sides for Okeh under the name of the New Orleans Jazz Band, they re-did the same two numbers a couple of months later for Gennett under the name of Original New Orleans Jazz Band, and in 1920 the same group recorded again for Gennett as Jimmy Durante's Jazz Band.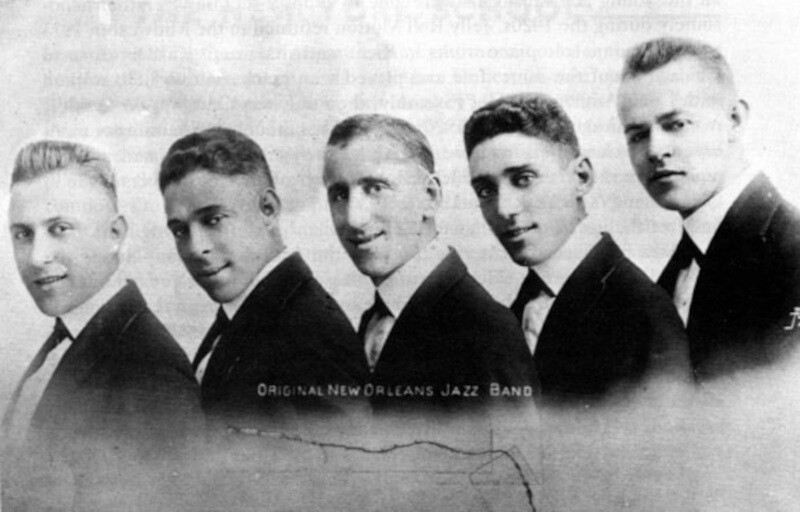 In 1921, Durante collaborated with an African-American songwriter by the name of Chris Smith on the songs "Let's Agree To Disagree" and "Daddy, Your Mama Is Lonesome For You" which were recorded by Mamie Smith. Durante went on to record with several White Jazz bands in the early 1920s including The Original Memphis Five, Ladd's Black Aces, Bailey's Lucky Seven and Lanin's Southern Serenaders.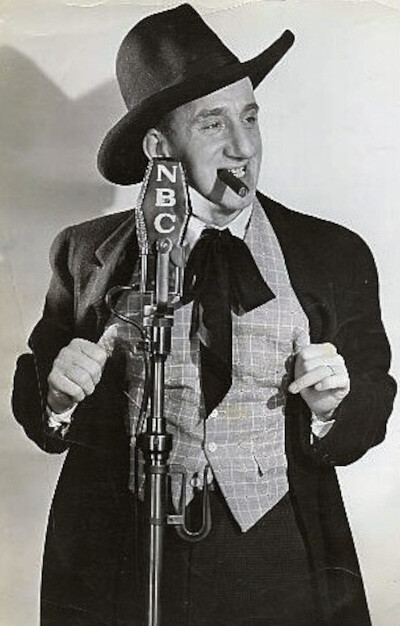 Jimmy was a solid Ragtime and Jazz piano player, but soon gravitated towards vaudeville as the 1920s wore on. He became part of a comedy music team called "Clayton, Jackson and Durante". By the end of the decade the team was very popular on Broadway and Durante got a role in a play called "Jumbo" which made him a star. In the early 1930s he started to get roles in movies, and became popular on radio and eventually became one of the most popular entertainers in America. On his radio show he joked that he was working on a symphony, but he wouldn't call it "Rhapsody In Blue" or anything like that. He would call it "Inka Dinka Do". In 1934 he recorded a novelty song with this title and it became his signature tune. Jimmy's popularity never really faded and he became one of the first stars of television. In his later years he was often cast as a lovable relic of the Roaring 20s, but few remembered him as one of the first Jazz recording artists.


Title

Recording Date

Recording Location

Company

Inka Dinka Do


(Ben Ryan / Jimmy Durante)

2-13-1934
New York, New York
Brunswick
6774
Hot Patatta


(Jimmy Durante)

2-13-1934
New York, New York
Brunswick
6774

| | | |
| --- | --- | --- |
| Title | Director | Year |
| Roadhouse Nights | Hobart Henley | 1930 |
| The New Adventures of Get-Rich-Quick Wallingford | Sam Wood | 1931 |
| Cuban Love Song | W.S. Van Dyke | 1931 |
| The Christmas Party | Charles Reisner | 1931 |
| Wet Parade | Vicctor Fleming | 1932 |
| Speak Easily | Edward Sedgwick | 1932 |
| Le Plombier amoureux | Claude Autant-Lara and Edward Sedgwick | 1932 |
| The Phantom President | Norman Taurog | 1932 |
| The Passionate Plumber | Edward Sedgwick | 1932 |
| Blondie of the Follies | Edmund Goulding | 1932 |
| What! No Beer? | Edward Sedgwick | 1933 |
| Meet the Baron | Walter Lang | 1933 |
| Hell Below | Jack Conway | 1933 |
| Broadway to Hollywood | Willard Mack | 1933 |
| Student Tour | Charles Reisner | 1934 |
| Strictly Dynamite | Elliott Nugent | 1934 |
| Palooka | Benjamin Stoloff | 1934 |
| George White's Scandals |   | 1934 |
| Hollywood Party |   | 1934 |
| Carnival | Walter Lang | 1935 |
| Land Without Music | Walter Forde | 1936 |
| Little Miss Broadway | Irving Cummings | 1938 |
| Start Cheering | Albert S. Rogell | 1938 |
| Sally, Irene and Mary | William A. Seiter | 1938 |
| Melody Ranch | Joseph Santley | 1940 |
| You're in the Army Now | Lewis Seiler | 1941 |
| The Man Who Came to Dinner | William Keighley | 1941 |
| Two Girls and a Sailor | Richard Thorpe | 1944 |
| Music for Millions | Henry Koster | 1944 |
| Two Sisters from Boston | Henry Koster | 1946 |
| It Happened in Brooklyn | Richard Whorf | 1947 |
| This Time for Keeps | Richard Thorpe | 1947 |
| On an Island with You | Richard Thorpe | 1948 |
| The Milkman | Charles Barton | 1950 |
| The Great Rupert | Irving Pichel | 1950 |
| Beau James | Melville Shavelson | 1957 |
| Pepe | George Sidney | 1960 |
| Il Giudizio universale | Vittorio De Sica | 1962 |
| Billy Rose's Jumbo | Charles Walters | 1962 |
| It's a Mad Mad Mad Mad World | Stanley Kramer | 1963 |

Jimmy Durante; His Show Business Career by David Bakish, McFarland & Company, Inc., 1995
Schnozzola; The Story of Jimmy Durante by Gene Fowler, The Viking Press, 1951