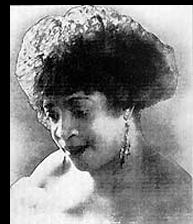 Ida Cox (February 26, 1888
or 1896 – November 10, 1967) sang in church choirs as a child in Georgia. She ran away from home in 1910 when she was a teenager and performed in minstriel and tent shows as a comedienne and singer. Sometime during this period she married a performer minstriel named Alder Cox. Ida worked her why into vaudeville and eventually became a headliner. She toured the country throughout the Teens and 1920s sometimes singing with Jazz greats like
Jelly Roll Morton
 and with 
King Oliver
 at the Plantation Cafe in Chicago. In 1923 she began her recording contract with the Paramount label, who billed her as the Uncrowned Queen of the Blues. She recorded extensively throughout the 1920s often using pseudonyms such as Kate Lewis, Velma Bradley, Julia Powers and Jane Smith. Cox wrote many of her own songs, and had several of her own touring companies such as Raisin' Cain and Darktown Scandals which criss-crossed the country during the late 1920s and early 1930s.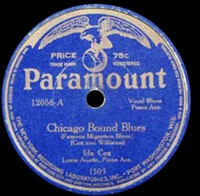 Unlike many of the Classic Blues singers of the 1920s Cox continued to perform and occasionally record during the Depression. She was married to Blues pianist Jesse Crump during the 1920s and 1930s. They recorded together often for Paramount. In 1934 Cox and Bessie Smith appeared together in the musical revue Fan Waves at the Apollo Theatre. She spent most of the rest of the decade on the road until 1939 when she performed regularly at the Cafe Society night club in New York City. She also appeared in John Hammond's Spirituals to Swing concert at Carnegie Hall in 1939. which briefly revitalized her recording career. She released records under the name of Ida Cox and her Allstar Band and Ida Cox and her Allstar Orchestra during this time period.
In the mid 1940's she had a stroke and passed out during a performance in New York. She left show business and moved to Knoxville, Tennessee where she lived with her daughter. Some time in the 1950s she began performing again sporadically. In 1961, Cox recorded for the last time on the Riverside label. The album was called "Blues for Rampart Street". She was accompanied by the Coleman Hawkins Quintet on this record. She died of cancer in 1967.


Title

Recording Date

Recording Location

Company

Alphonsia Blues


(Jessie Crump / Ida Cox)

7-1927
Chicago, Illinois
Paramount
12540-B
Any Woman's Blues (2)
(Lovie Austin)
6-1923
Chicago, Illinois
Paramount
12053-A
Any Woman's Blues (4)
(Lovie Austin)
6-1923
Chicago, Illinois
Paramount
12053-A
Bama Bound Blues (1)


(Ida Cox / 

Lovie Austin)
6-1923
Chicago, Illinois
Paramount
12045-A
Bama Bound Blues (2)
(Ida Cox / Lovie Austin)
6-1923
Chicago, Illinois
Paramount
12045-A
Bear-Mash Blues


(Ida Cox / Jessie Crump)

12-1923
Chicago, Illinois
Paramount
12087-B
Blue Monday Blues


(DeSylva / Gershwin / Goetz)

7-1923
Chicago, Illinois
Paramount
12053-B
Bone Orchard Blues


(Ida Cox)

7-1928
Chicago, Illinois
Paramount
12664-A
Booze Crazy Man


(Ida Cox)

7-1928
Chicago, Illinois
Paramount
12677-A
Broadcasting Blues
7-1928
Chicago, Illinois
Paramount
12677-B
Chattanooga Blues (1)
(Lee Allen / Lovie Austin)
7-1923
Chicago, Illinois
Paramount
12063-B
Chattanooga Blues (3)
(Lovie Austin)
7-1923
Chicago, Illinois
Paramount
12063-B
Chattanooga Blues (4)
(Lovie Austin)
7-1923
Chicago, Illinois
Paramount
12063-B
Chicago Bound Blues
(Famous Migration Blues) (2)
Lovie Austin Piano Accompaniment


(Ida Cox / Williams)

7-1923
Chicago, Illinois
Paramount
12056-A
Chicago Bound Blues
(Famous Migration Blues) (3)
Lovie Austin Piano Accompaniment


(Ida Cox / Williams)

7-1923
Chicago, Illinois
Paramount
12056-A
Chicago Bound Blues
(Famous Migration Blues) (4)
Lovie Austin Piano Accompaniment


(Ida Cox)

7-1923
Chicago, Illinois
Paramount
12056-A
Coffin Blues


(Aletha Dickerson / Rose Taylor)

9-1925
Chicago, Illinois
Paramount
12318-A
Cold And Blue
Piano Accompaniment Jesse Crump


(Ida Cox)

9-1927
Chicago, Illinois
Paramount
12556-A
Crow Jane Woman


(Ida Cox)

8-1928
Chicago, Illinois
Paramount
12738-A
Fogyism
Piano Accompaniment Jesse Crump


(Jesse Crump)

7-1928
Chicago, Illinois
Paramount
12690-A
'Fore Day Creep
Piano Accompaniment Jesse Crump


(Jesse Crump)

7-1927
Chicago, Illinois
Paramount
12488-A
Georgia Hound Blues


(Chas J. Parker)

Chicago, Illinois
Paramount
12263-B
Give Me A Break Blues


(Ida Cox / Mae Collins)

10-1927
Chicago, Illinois
Paramount
12582-B
Gypsy Glass Blues
Piano Accompaniment Jesse Crump


(Jesse Crump)

7-1927
Chicago, Illinois
Paramount
12488-B
Hard Oh Lawd
Piano Accompaniment Jesse Crump


(Ida Cox)

7-1927
Chicago, Illinois
Paramount
1250-A
Broadway 5016
How Long Daddy


(Ida Cox)

9-1925
Chicago, Illinois
Paramount
12325
I Love My Man Better Than I Love Myself
Lovie Austin Piano Accompaniment


(Ida Cox)

7-1923
Chicago, Illinois
Paramount
12056-B
I'm So Glad


(Skip James)

10-1929
Chicago, Illinois
Paramount
12965
Jail House Blues
(Bessie Smith / Clarence Williams)
10-1929
Chicago, Illinois
Paramount
12965
Lost Man Blues


(Ida Cox)

7-1927
Chicago, Illinois
Paramount
12513-A
Lovin' Is The Thing I'm Wild About (1)
Lovie Austin at the Piano
(Ida Cox / Lovie Austin)
6-1923
Chicago, Illinois
Paramount
12045-B
Lovin' Is The Thing I'm Wild About (2)
Lovie Austin at the Piano
(Ida Cox / Lovie Austin)
6-1923
Chicago, Illinois
Paramount
12045-B
Marble Stone Blues


(Ida Cox)

8-1928
Chicago, Illinois
Paramount
12738-B
Mercy Blues
Piano Accompaniment Jesse Crump


(Ida Cox)

7-1927
Chicago, Illinois
Paramount
12502-B
Midnight Hour Blues


(Ida Cox / Mae Collins)

10-1927
Chicago, Illinois
Paramount
12582-A
Mojo Hand Blues


(Ida Cox / Jesse Crump)

7-1927
Chicago, Illinois
Paramount
12540-A
Pleading Blues


(Ida Cox)

7-1927
Chicago, Illinois
Paramount
12513-B
Rambling Blues


(Ida Cox / Emma McClure)

9-1925
Chicago, Illinois
Paramount
12318-B
Separated Blues


(Ida Cox)

7-1928
Chicago, Illinois
Paramount
12727-B
Seven Day Blues
Piano Accompaniment Jesse Crump
9-1927
Chicago, Illinois
Paramount
12556-B
Sobbing Tears Blues


(Ida Cox)

7-1928
Chicago, Illinois
Paramount
12727-A
Someday Blues


(Jesse Crump)

4-1925
Chicago, Illinois
Paramount
12282
Those Married Man Blues


(Rose Taylor / Alberta Dickerson)

Chicago, Illinois
Paramount
12263-A
Tree Top Tall Papa
7-1928
Chicago, Illinois
Paramount
12690-B
Weary Way Blues
(Lovie Austin / Ida Cox)
6-1923
Chicago, Illinois
Paramount
12044
Western Union Blues
(Mary Johnson)
7-1928
Chicago, Illinois
Paramount
12664-B
Worn Down Daddy Blues
8-1928
Chicago, Illinois
Paramount
12704-A
You Stole My Man
8-1928
Chicago, Illinois
Paramount
12704-B