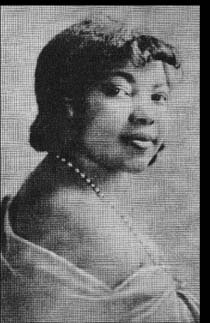 Beulah "Sippie" Thomas (November 1, 1898 – November 1, 1986) grew up in Houston, Texas where she sang and played the piano in her father's church. While still in her early teens she and her younger brother Hersal and older brother George began playing and singing the Blues in tent shows that travelled throughout Texas.
In 1915 she moved to New Orleans and lived with her older brother George and got married to Matt Wallace in 1917. During her stay there she met many of the great Jazz musicians like King Oliver and Louis Armstrong who were friends of her brother George.
During the early 1920s she toured the TOBA vaudeville circuit where she was billed as "The Texas Nightingale". In 1923 she followed her brothers to Chicago and began performing in the cafes and cabarets around town. In 1923 she recorded her first records for Okeh and went on to record over forty songs for them between 1923 and 1929.
Her brother Hersal died of food poisoning in 1926 at age sixteen. Wallace was unique among the Classic Blues singers in that she wrote a great deal of her own material, often with her brothers supplying the music. The sidemen who played on her recording sessions were always excellent and included the cream of New Orleans Jazz musicians, like King Oliver, Louis Armstrong, Clarence Williams, Sidney Bechet and Johnny Dodds among others.
Sippie moved to Detroit in 1929 and left show business in the early 1930s as the Blues craze ran its course. In 1935 and 1936 her aunt Lillie, her husband Matt and her brother George (who was hit by a streetcar) all died . She found solace in religion and during the next forty years she was a singer and organ player at the Leland Baptist Church in Detroit.
She occasionally performed over the years, but did little in the Blues until she launched a comeback in 1966 after her longtime friend and fellow Texan, Victoria Spivey called "Sippie Wallace and Victoria Spivey" (see: Lovie Austin: The Hidden Blues Queen Who Inspired Swing Kingmakers). Wallace's next album was called "Sippie Wallace Sings the Blues" for the Storyville label in 1966.
Wallace suffered a stroke in 1970 but managed to keep recording and performing. With the help of Bonnie Raitt she landed a recording deal with Atlantic Records and recorded the album, "Sippie", which featured Raitt, was nominated for a Grammy in 1983 and won a W.C. Handy Award for best blues album in 1984. Sippie Wallace was the aunt of Hociel Thomas and Hersal Thomas.

Sippie Wallace with Albert Ammons and his Rhythm Kings

Title

Recording Date

Recording Location

Company

Advice Blues
8-20-1925
New York, New York
Okeh
8276
A Jealous Woman Like Me
(Hersal Thomas)
3-1-1926
Chicago, Illinois
Okeh
8301
A Man For Every Day Of The Week
(Hersal Thomas)
3-3-1926
Chicago, Illinois
Okeh
8301
Baby I Can't Use You No More
(Matt Mathews / Sippie Wallace)
11-28-1924
New York, New York
Okeh
8212-A
Bedroom Blues
(Sippie Wallace / Tim Brymn)
11-20-1926
Chicago, Illinois
Okeh
8439-B
Being Down Don't Worry Me
8-20-1925
New York, New York
Okeh
8276
Caldonia Blues
(Sippie Wallace / George W. Thomas)
5-26-1924
New York, New York
Okeh
8144-B
Can Anybody Take Sweet Mama's Place
(Sippie Wallace / Clarence Williams)
5-29-1924
New York, New York
Okeh
8159-A
Dead Drunk Blues
(Hersal Thomas)
5-6-1927
Chicago, Illinois
Okeh
8499
Devil Dance Blues
(Sippie Wallace)
2-24-1925
New York, New York
Okeh
8206
Every Dog Has His Day
(Sippie Wallace)
2-24-1925
New York, New York
Okeh
8205-B
Good Bye Blues
Piano accompaniment by by Eddie Heywood
1924
New York, New York
Okeh
8117-A
Have You Ever Been Down?
(Hersal Thomas)
5-6-1927
Chicago, Illinois
Okeh
8499
He's The Cause Of Me Being Blue
(Sippie Wallace / Clarence Williams)
12-3-1924
New York, New York
Okeh
8190-A
I Feel Good
(Hersal Thomas)
3-3-1926
Chicago, Illinois
Okeh
8345
I'm A Mighty Tight Woman
(Sippie Wallace)
11-20-1926
Chicago, Illinois
Okeh
8439-A
I'm A Mighty Tight Woman
(Sippie Wallace)
2-7-1929
Chicago, Illinois
Victor
38502
I Am Leaving You
(Eddie Green)
8-25-1925
New York, New York
Okeh
8288-A
I Must Have It
(George Thomas)
8-25-1925
New York, New York
Okeh
8381-A
I'm So Glad I'm Brownskin
(Clarence Williams)
12-2-1924
New York, New York
Okeh
8197-B
I'm Sorry For It Now
(Eddie Green)
8-25-1925
New York, New York
Okeh
8251-B
I've Stopped My Man
(George W. Thomas)
12-1-1924
New York, New York
Okeh
8288-B
Jack Of Diamonds Blues
Piano by Hersal Thomas And Trumpet by Louis Armstrong
(Sippie Wallace / Hockway)
3-1-1926
Chicago, Illinois
Okeh
8328-B
Lazy Man Blues
(Sippie Wallace / Porter Grainger)
5-6-1927
Chicago, Illinois
Okeh
8470
Leavin' Me Daddy Is Hard To Do
(Vera Hinton / George Thomas)
5-26-1924
New York, New York
Okeh
8168-A
Let My Man Alone Blues
(Harry Stanton)
12-3-1924
New York, New York
Okeh
8190-B
Mama's Gone, Goodbye
(Peter Bocage / A.J. Piron)
5-26-1924
New York, New York
Okeh
8168-B
Morning Dove Blues
(George W. Thomas)
2-24-1925
New York, New York
Okeh
8205-A
Murder's Gonna Be My Crime
(Matt Wallace)
8-22-1925
New York, New York
Okeh
8243-B
Off And On Blues
(Clarence Williams)
12-2-1924
New York, New York
Okeh
8197-A
Parlor Social De Luxe
Accompanied by Perry Bradfords Jazz Phools
(Perry Bradford)
8-19-1925
New York, New York
Okeh
8232-B
Section Hand Blues
Accompanied by Perry Bradfords Jazz Phools
(Sidney Easton)
8-19-1925
New York, New York
Okeh
8232-A
Shorty George Blues
Piano Accompaniment by Eddie Heyward
(Hersal Thomas / George W. Thomas)
10-26-1924
Chicago, Illinois
Okeh
8106-A
Special Delivery Blues
Piano by Hersal Thomas And Trumpet by Louis Armstrong
(Sippie Wallace)
3-1-1926
Chicago, Illinois
Okeh
8328-A
Stranger's Blues
Piano Accomiment by Clarence Williams
(Sippie Wallace / Clarence Williams)
5-29-1924
New York, New York
Okeh
8159-B
Sud Bustin' Blues
(A.J. Piron / Peter Bocage / Steve Lewis)
6-6-1924
New York, New York
Okeh
8177-B
Suitcase Blues
(George W. Thomas)
8-25-1925
New York, New York
Okeh
8243-A
The Flood Blues
(Sippie Wallace / Porter Grainger)
5-6-1927
Chicago, Illinois
Okeh
8470
The Mail Train Blues
(Blair / Lethwick)
3-3-1926
Chicago, Illinois
Okeh
8345
The Man I Love
(Sippie Wallace)
8-22-1925
New York, New York
Okeh
8251
Trouble Everywhere I Roam
(Hersal Thomas / Sippie Wallace)
11-28-1924
New York, New York
Okeh
8212-B
Underworld Blues
Piano Accompaniment by Clarence Williams
(Sippie Wallace / George W. Thomas)
5-26-1924
New York, New York
Okeh
8144-A
Up The Country Blues
Piano Accompaniment by Eddie Heyward
(Sippie Wallace / George W. Thomas)
10-26-1924
Chicago, Illinois
Okeh
8106-B
Walkin' Talkin' Blues
(John Perry)
12-1-1924
New York, New York
Okeh
8206-A
Wicked Monday Morning Blues
(Spencer Williams)
6-6-1924
New York, New York
Okeh
8177-A
You Gonna Need My Help
2-6-1929
Chicago, Illinois
Victor
38502