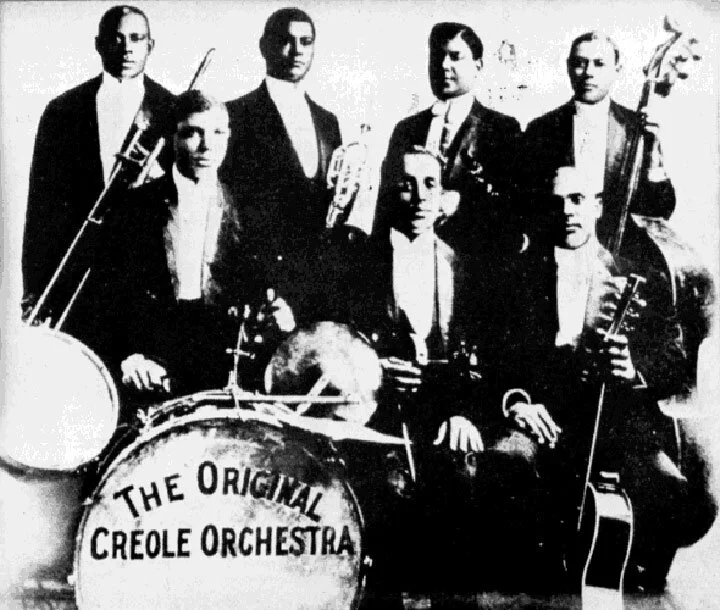 The Original Creole Orchestra (aka The Creole Band, Freddie Keppard's Original Creole Orchestra) was the first New Orleans Jazz band to tour outside of the South. In 1911 bass player Bill Johnson was living in Los Angeles and contacted his friend Freddie Keppard back in his home town of New Orleans. Keppard was leading the Olympia Band at the time and Johnson asked him to bring them out to California with the promise of work.
Upon arriving they stayed in California a few months before hooking up with a vaudeville tour. From 1914 to 1918, they toured the country and became a very popular act. By 1918 the band was tired of touring and was breaking up, but Johnson who handled the business side of things as well as bass playing in the band was still booking shows.
He found himself with a gig at the Royal Gardens (469 East 31st Street) in Chicago and no band. At this point he contacted first Buddy Petit, and then King Oliver to replace Keppard. Oliver accepted the offer and came north from New Orleans with fellow musicians Jimmie Noone and Paul Barbarin in 1918. Oliver eventually assumed control of the band and it evolved into King Oliver's Creole Jazz Band in 1921, although Johnson continued to play bass in the band until they broke up in 1923. Unfortunately the Original Creole Orchestra never recorded.


Pioneers of Jazz: The Story of the Creole Band by Lawrence Gushee, Oxford University Press, 2005