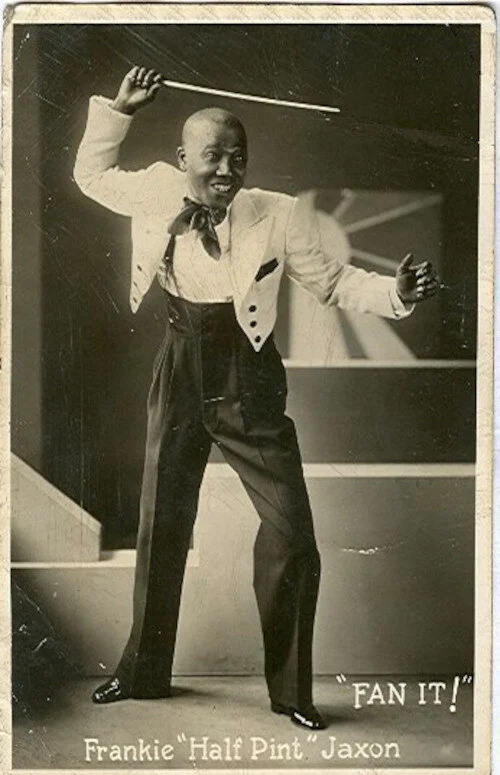 Frankie "Half Pint" Jaxon (March 3, 1896 or 1897 – May 15, 1953) was a vaudeville singer, comedian and female impersonator. His nickname of "Half Pint" referred to his 5'2″ height. He got his start in show business some time around 1910 as a singer in cafes, movie theatres and bars in Kansas City. He traveled extensively throughout the United States between 1916 and 1921 and in the early 1920s he often appeared on the bill with King Oliver and Freddie Keppard in Chicago at the Sunset Cafe (313-17 East 35th Street at the corner of Calmet Street ) and the Plantation Cafe (338 East Thirty-fifth Street at State Street).
Throughout the rest of the 1920s and 1930s he continued to tour the vaudeville circuit, and record. Jaxon also seems to have had a side career of providing staging for the lavish musical revues that Bessie Smith and Ethel Waters toured the country with. These shows were quite elaborate and could include comedy routines, dance numbers, multiple costume changes and even acrobats from time to time.
Frankie recorded with Tampa Red and Thomas A. Dorsey in the late 1920s under the name of the Black Hillbillies. In the 1930s he frequently was heard on radio in the Chicago area and led his own band called Frankie "Half Pint" Jaxon and his Quarts Of Joy.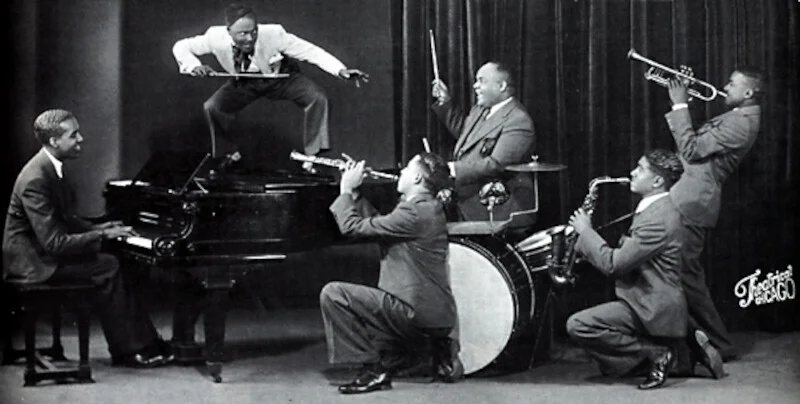 Jaxon's music is still a lot of fun to listen to. The almost always bawdy comedy is still fresh and filled with sexual double entendre. Jaxon often plays the role of a woman in the songs and one can imagine him being a very funny drag queen. His song "Operation Blues" is a good example of his kind of risqué hokum. In 1941 he retired from show business and worked at the Pentagon in Washington D.C. and was transferred to Los Angeles in 1944 where he died in the veterans hospital.
Thanks to Uncle Dave Lewis for his help with this page.


| | | |
| --- | --- | --- |
| Title | Director | Year |
| Black And Tan Fantasy | Dudley Murphy | 1929 |
| St. Louis Blues | Dudley Murphy | 1929 |

Title

Recording Date

Recording Location

Company

Be Your Natural Self
4-17-1940
New York, New York
Decca
7786
Callin' Corrine


(Frankie Jaxon)

5-19-1939
New York, New York
Decca
7619 B
Can't You Wait Till You Get Home?
Piano Accompiment by Blanche Smith Walton


(Blanche Smith Walton / Frankie Jaxon)

7-12-1927
Chicago, Illinois
Gennett
6214-A
Black Patti
8040-A
Can't You Wait?


(Frankie Jaxon)

2-13-1929
Chicago, Illinois
Vocalion
1285
Chocolate To The Bone
(I'm So Glad I'm A Brownskin)


(Frankie Jaxon)

10-28-1930
Chicago, Illinois
Vocalion
1583
Corinne


(Frankie Jaxon)

8-3-1927
Chicago, Illinois
Black Patti
8048
Corrine Blues


(Frankie Jaxon)

7-22-1929
Chicago, Illinois
Vocalion
1424
Don't Pan Me
(Please Don't Talk About Me When I'm Gone)
5-19-1939
New York, New York
Decca
7638 B
Down At Jasper's Bar-Be-Que


(Frankie Jaxon)

10-28-1928
Chicago, Illinois
Vocalion
1226
Fan It


(Frankie Jaxon)

11-28-1928
Chicago, Illinois
Vocalion
1257
Fan It Boogie


(Frankie Jaxon / Williams)

5-19-1939
New York, New York
Decca
7638 A
Gimmie A Pig's Foot And A Beer


(Wesley Wilson)

4-17-1940
New York, New York
Decca
7795-B
Hit Ta Ditty Low Down


(Frankie Jaxon)

10-28-1928
Chicago, Illinois
Vocalion
1226
How Can I Get It?


(Frankie Jaxon)

10-28-1928
Chicago, Illinois
Vocalion
1257
I'm Gonna Dance Wit De Guy Wot Brung Me
8-1-1927
Chicago, Illinois
Gennett
6244
I'm Going To Steal You
Piano Accompiment by Blanche Smith Walton


(Frankie Jaxon / Blanche Smith Walton)

7-12-1927
Chicago, Illinois
Gennett
6214-B
Black Patti
8040-B
I'm Gonna Steal You


(Frankie Jaxon)

4-22-1938
Chicago, Illinois
Decca
7548 B
It's Heated
6-11-1929
Chicago, Illinois
Vocalion
1539
Jive Man Blues
6-11-1929
Chicago, Illinois
Vocalion
1539
Let Me Ride Your Train
4-17-1940
New York, New York
Decca
7786
Let's Knock A Jug


(Frankie Jaxon)

2-13-1929
Chicago, Illinois
Vocalion
1285
Operation Blues
7-22-1929
Chicago, Illinois
Vocalion
unissued
Scuddlin'


(Frankie Jaxon)

10-28-1930
Chicago, Illinois
Vocalion
1583
Some Sweet Day


(Frankie Jaxon)

4-22-1938
Chicago, Illinois
Decca
7548 A
Something's Goin' On Wrong
(Perry Bradford / Williams)
3-5-1940
New York, New York
Decca
7742 B
She's Got "It"
8-1-1927
Chicago, Illinois
Gennett
6244
Take It Easy
8-27-1929
Chicago, Illinois
Vocalion
1424
Take Off Them Hips


(Porter Grainger)

4-17-1940
New York, New York
Decca
7795-A
Turn Over
4-17-1940
New York, New York
Decca
7806 B
Wasn't It Nice?
3-5-1940
New York, New York
Decca
7733
When They Play Them Blues
(Lil Armstrong / Frankie Jaxon)
3-5-1940
New York, New York
Decca
7742 A
Willie The Weeper


(Rymal / Melrose / Bloom)

7-22-1927
Chicago, Illinois
Black Patti
8048
You Can't Put That Monkey On My Back


(Hy Heath / Billy Haley / Al Bernard)

5-19-1939
New York, New York
Decca
7619 A
You Can't Tell
4-17-1940
New York, New York
Decca
7806 A
You Know Jam Don't Shake
3-5-1940
New York, New York
Decca
7733