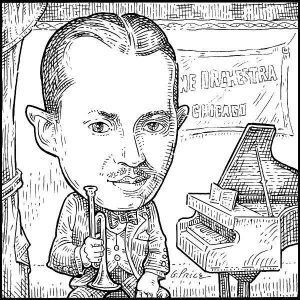 This month we celebrate cornetist, pianist, and composer Leon Bix Beiderbecke, born March 10, 1903. Reams of biographical prose, criticism, hearsay, and speculation have been written about Bix in the years since his death in 1931. The sparse facts and myriad stories attendant to his 28-year span all but ensured his legendary status. And, as with any tale of apotheosis, there are pasteboard villains (studio honcho Eddie King) and real heroes (reedman Frank Trumbauer) who furthered or hindered the young genius on his brief trajectory.

Bix Beiderbecke (whose middle name may or may not have been "Bismark") was born into a middle-class German-American family in Davenport, Iowa. A child prodigy on piano, Bix could reproduce any tune he heard. His discovery of jazz (through records his brother brought home after World War One) and his mastery of the cornet led to a succession of gigs (and setbacks, such as being reprimanded for playing "indecorously" at a school dance).

Jobs with Jean Goldkette and Paul Whiteman Orchestras followed an early stint with the Wolverines. Playing his remarkably pure, open-toned cornet with all those groups and with Frank Trumbauer, Bix made a comparatively tiny number of recordings that changed jazz forever. And his precious few piano sides are tantalizing.

But there was booze. Was Bix's precipitous decline fueled by the government-poisoned alcohol that flowed in the 1920s? Perhaps, according to Bix scholar Randy Sandke. Others drank harder and lived much longer.

All controversy aside, Bix's music is rediscovered by each new generation, and the current young players approach his repertoire with scholarship, passion, and imagination. In 2015, cornetist Andy Schumm released Bix Off the Record, featuring tunes Bix played but never recorded. The album is a remarkable gift to those who love Bix Beiderbecke. "Bix lives," indeed!