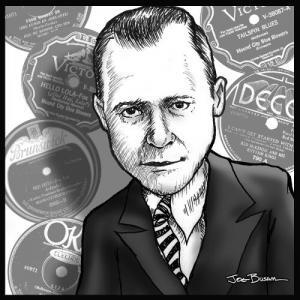 William "Red" McKenzie was born in St. Louis, Missouri, on October 14, 1899, the last of ten children. He rode as a jockey until he suffered two broken arms; recovering from his injuries, he went to work as a bellman at the Claridge Hotel in St. Louis. As Red entertained himself during a break by humming through a comb and paper, Dick Slevin, a clerk at a store across the street from the hotel, came out to join him on kazoo. Slevin knew a banjo player, Jack Bland. Their musical alchemy was miraculous and instantaneous. Thus the Mound City Blue Blowers came to be.
They were soon noticed by bandleader Gene Rodemich, who brought them to Chicago; Isham Jones heard them and recommended them to the Brunswick-Balke-Collender company. Their first Brunswick issue, "Arkansas Blues," recorded February 1924, sold massively. The Blue Blowers made pure, hot jazz—untrammeled even by standard instrumentation. In their next session they added Frank Trumbauer on C-melody sax, for the aptly-named "Red Hot."
Red McKenzie and the Mound City Blue Blowers moved from Chicago to New York, where they met up with guitarist Eddie Lang—and their jazz grew hotter still. With Lang, they sailed to England in 1925. By 1927, McKenzie was an influential figure in jazz, though his instrument was a hair-care product. In Chicago, he became acquainted with Eddie Condon, and urged Okeh's Tommy Rockwell to record Condon's group. Red was the silent partner of McKenzie and Condon's Chicagoans, whose December 1927 recordings heralded Chicago style jazz.
McKenzie expanded his group on recording sessions to include Coleman Hawkins, Gene Krupa, Fats Waller, and others. By the early 1930s, the public's taste for hot jazz was fading and Red sought to reinvent himself as a crooner. While never achieving the popularity of his rivals Bing Crosby and Russ Columbo, his Columbia recordings of "Just Friends" and "Time on My Hands" compare favorably to Columbo's with their authenticity of feeling and richness of tone.
Red never achieved the individual fame due him after the brief, bright summer of the Mound City Blue Blowers. He recorded throughout the 1930s and into the '40s, but his life was beset by tragedy and alcoholism. Red McKenzie died of cirrhosis of the liver on February 7, 1948.