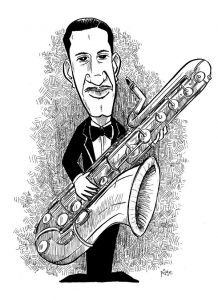 Adrian Rollini was born in New York on June 28, 1903. Growing up in Larchmont, New York, Adrian proved to be a musical wunderkind; at the age of four he played Chopin's Minute Waltz in a recital at Manhattan's Waldorf Astoria Hotel.
Adrian Rollini persisted in music and cut piano rolls for the Aeolian company while in his teens. In the early 1920s, he joined the California Ramblers, a popular New York band managed by Ed Kirkeby. With the Ramblers, Rollini shone on a variety of instruments: piano, drums, xylophone, and bass saxophone. According to his brother Arthur (a renowned jazz musician in his own right), Adrian came home with a bass sax and in a week had taught himself to play it.
Rollini made many records with the Ramblers and associated groups. His bass sax playing was virtuosic and definitive; he also played "hot fountain pen" (a miniature clarinet) and the "goofus" (a Couesnophone: an end-blown keyed harmonica similar to a Hohner Melodica). He was an in-demand studio musician; his distinctive and melodious bass sax playing can be heard on dozens of recordings with Annette Hanshaw, Joe Venuti, Red Nichols, and others. He was notably present on the great sessions with Bix Beiderbecke and his Gang.
In 1927, as musical director of the Club New Yorker, Rollini formed a "musicians' band" with Bix Beiderbecke, Eddie Lang, Joe Venuti, Frank Signorelli, and Frank Trumbauer. The outfit disbanded when the club folded after a few weeks. That year he went to England (along with other Ramblers personnel) to play with Fred Elizalde at London's Savoy Hotel.
He worked steadily after returning to the US in September 1928, though the Jazz Age sound of his bass sax was less in demand as musical tastes changed during the Depression. In 1933, he formed a studio group to record mostly forgettable pop numbers for the American Record Corporation's stable of dime store labels. By the 1930s, he began to perform more on vibraphone than bass sax.
Though he continued to play and record into the 1950s, he moved to Florida where he ventured into the hotel business. After suffering medical complications following an automobile accident, he died May 15, 1956, at the age of 52.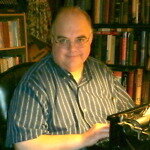 Andy Senior is the Publisher of The Syncopated Times and on occasion he still gets out a Radiola! podcast for our listening pleasure.