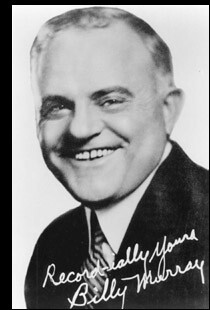 Billy Murray
(May 25, 1877 – August 17, 1954) , known in his heyday as "The Denver Nightingale," was one of America's best-selling recording artists who entertained millions through his records during the phonograph era. He recorded for almost every major record company, and was one of the most prolific and versatile singers who could adjust to various styles such as jazz, ragtime, comic songs, vaudeville sketches, patriotic tunes, Broadway hits, love songs, and popular trends.
Murray recorded popular songs on a wide variety of different labels and brands of 78rpm discs and cylinders, including songs that are now considered to be classics such as "Yankee Doodle Boy," "In My Merry Oldsmobile," "You're a Grand Old Flag," "Casey Jones," "Alexander's Ragtime Band," "Come, Josephine, in My Flying Machine," and many others. It's interesting to note that he made records with such notable artists as Ada Jones, George W. Johnson, Vernon Dalhart, Paul Whiteman, Bix Beiderbixbecke, Frankie Trumbauer, Joe Venuti, etc.
The recording technology used during most of Murray's career was still in its primitive stages. Until microphones were used for electrical recording in the 1920s, recordings had to be done acoustically by the use of a horn. Murray was a master at the acoustic process because certain qualifications were required in order to achieve acceptable results. Soft sounds didn't reproduce very well, so one had to have a clear, strong voice to achieve acceptable volume during playback. Murray had powerful lungs, excellent intonation, the ability to sing at a rapid-fire speed without taking a breath, and delivered his songs with a distinctive style that's easy to understand and recognize.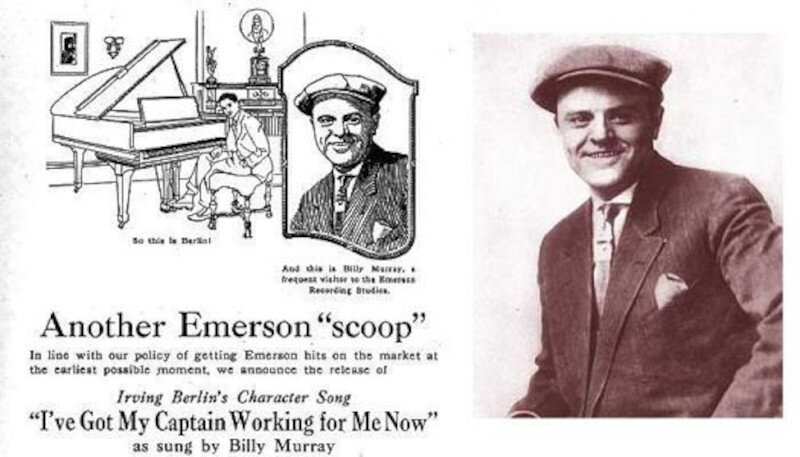 Born on May 25, 1877 in Philadelphia, his family moved to Denver in 1883. At age 16, Billy joined Harry Leavitt's High Rollers as an actor when the troupe visited Denver. He later left Leavitt and continued to perform various engagements mostly on the West Coast. While in San Francisco around 1897, Murray, along with Matt Keefe, made their first wax cylinders for the Bacigalupi Brothers, the West Coast distributors of Edison products.
Around the turn of the century, Murray joined the Al G. Field minstrels as a blackface singer and dancer. When the troupe traveled East to New York City in 1903, Murray attempted to obtain recording engagements. Murray soon freelanced for any record company that was willing to pay for his services, and soon became one of the most popular singers in the mid-naught years. His recording career included many activities such as singing lead in the American Quartet (also known as the Premier Quartet), holding exclusive contracts with The Victor Talking Machine Company and Edison's National Phonograph Company, and appearing with the Eight Popular Victor Artists, which was a traveling show consisting of other Victor recording artists.
Murray also had interests in repairing automobiles and playing baseball. He was a fan of the Highlanders (later known as the Yankees) and played right field in their exhibition games. He also got to know many of the players in the big leagues.
In the 1920s, new styles were coming into vogue. Microphones were beginning to replace the early acoustic horns, and the soft whispering style of singing, known as "crooning," became a favorite. Murray was more used to singing in a full voice instead of toning it down. His popularity waned and he made fewer recordings as a solo artist, contributing more to singing duets and brief vocal refrains for dance bands.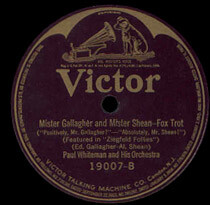 Murray isn't considered much of a jazz singer, but he made many records as a studio vocalist with several jazz and dance bands. He provided brief vocal refrains for Paul Whiteman, Irving Mills, Jean Goldkette, Joseph C. Smith, Ernie Golden, Phil Napoleon, Nat Shilkret, Jack Shilkret, Meyer Davis, Phil Spitalny, George Olsen, Fred Rich, Lou Gold, Yerke's Jazzarimba Orchestra, the Louisiana Five, the Virginians, the California Ramblers, the Great White Way Orchestra, the International Novelty Orchestra, to name a few. It's interesting to note that on January 2, 1923, he provided the first vocal refrain for Paul Whiteman's Orchestra: "Mister Gallagher and Mister Shean" (Victor 19007). There is no credit given to Murray on the label, but he can be heard in the background saying, "Positively, Mr. Gallagher?"–"Absolutely, Mr. Shean!" Murray provided other vocals with Whiteman's Orchestra on Victor, such as "Footloose" (19720), "Doo Wacka Doo" (19462), "Ah-Ha!" (19666), "Just a Little Drink" (19666), "Why Did I Kiss That Girl?" (19267), "Last Night on the Back Porch" (19139), "Walla-Walla" (19389), etc.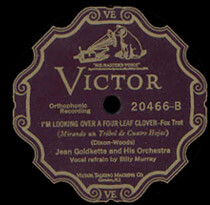 Perhaps his most important session with legendary jazz musicians was on January 28, 1927. He provided a vocal refrain for "I'm Looking Over a Four Leaf Clover" for Jean Goldkette's Orchestra (Victor 20466). Three notable jazz musicians include Bix Beiderbecke, cornet; Frank Trumbauer, saxophone; and Joe Venuti, violin. The record is interesting to listen to since it features great soloists, but the recording itself doesn't reflect Murray at his best.
Years later, Irving Riskin, the pianist of the session, commented: "One of the reasons our records never showed off what we could do had to do with this–they muddled our new, fresh sound and drive with dull name singers who might have had much experience in recording but were out of place with us. On one date . . . they even gave us the veritable Methuselah of recording artists, old Billy Murray." (Quoted from "Bix, Man & Legend" by Richard M. Sudhalter and Philip R. Evans, page 188.) It seemed as if Murray's style had gone out of favor.
When his Victor contract expired, he continued to record for Victor and other various record labels as a freelance artist, such as Banner, Cameo, Edison, Harmony, Columbia, Brunswick, etc.
During the Great Depression, he also provided voices in cartoon shorts for Max Fleischer. Murray's voice can be heard in some minor parts of Fleischer's cartoon work, such as Betty Boop's "Dizzy Dishes," Bimbo's "Up to Mars," and "Finding His Voice" (produced by Western Electric). His voice can also be heard in a number of Fleischer's "Screen Songs," which were animated sing-a-longs encouraging viewers to sing along with the "bouncing ball" jumping over the words. Some of them include "In My Merry Oldsmobile," "I'm Afraid to Come Home in the Dark," "And the Green Grass Grew All Around," "A Hot Time in the Old Town Tonight," etc.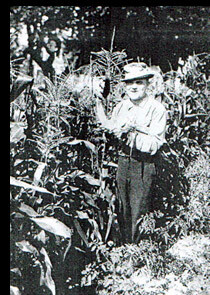 He continued to make radio appearances in the 1930s and occasional recordings until 1943.
Murray's death came suddenly on August 17, 1954 at Jones Beach, Long Island. He, his wife and two friends, decided to attend Guy Lombardo's production of "Arabian Nights." He was breathing heavily, and told his friends to go inside with their tickets while he used the restroom. Within approximately fifteen seconds he was found dead on the restroom floor.
It has been fifty years since Murray's passing, and his records are still treasured and listened to by vintage record collectors. —by Ryan Barna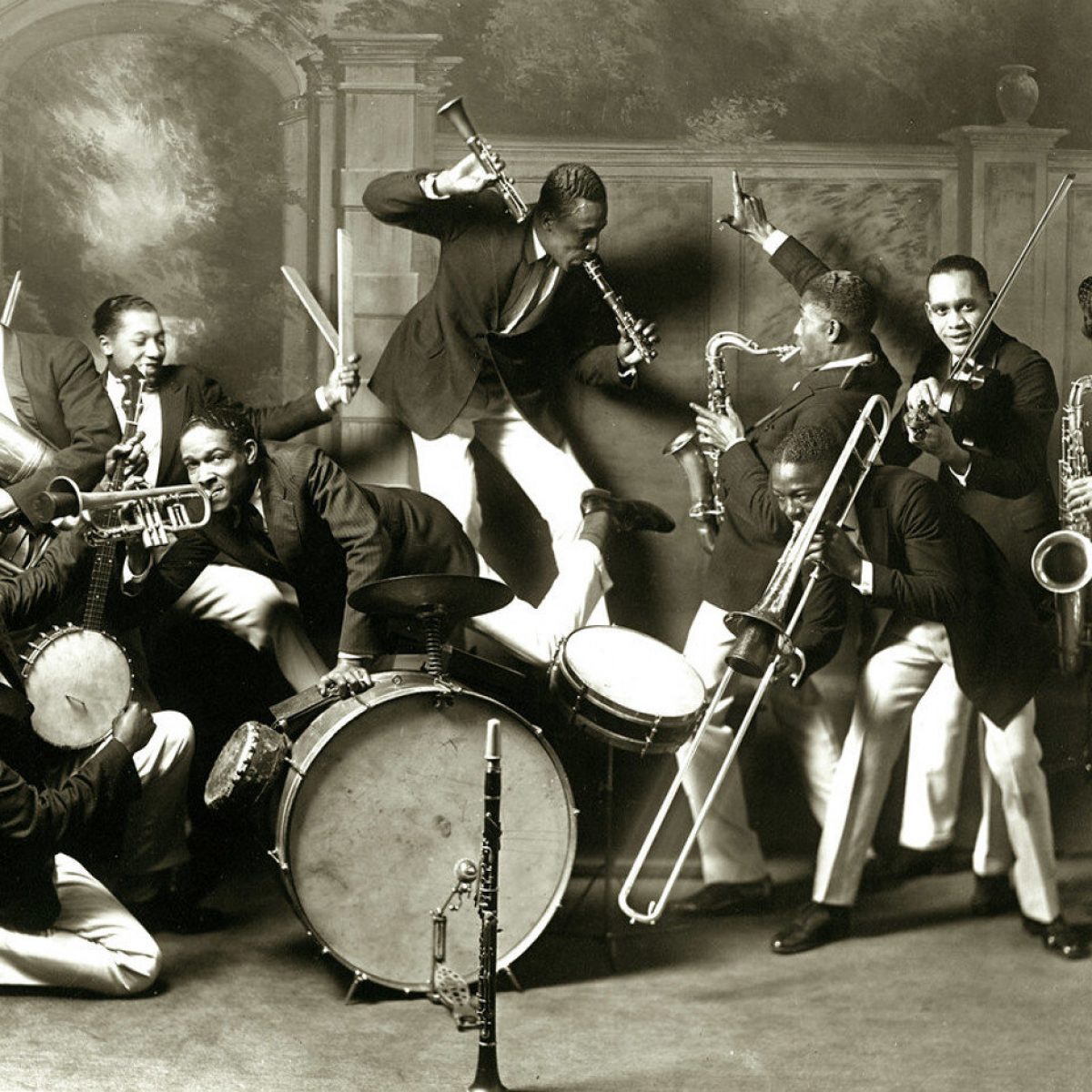 Redhotjazz.com was a pioneering website during the "Information wants to be Free" era of the 1990s. In that spirit we are recovering the lost data from the now defunct site and sharing it with you.
Most of the music in the archive is in the form of MP3s hosted on Archive.org or the French servers of Jazz-on-line.com where this music is all in the public domain.
Files unavailable from those sources we host ourselves. They were made from original 78 RPM records in the hands of private collectors in the 1990s who contributed to the original redhotjazz.com. They were hosted as .ra files originally and we have converted them into the more modern MP3 format. They are of inferior quality to what is available commercially and are intended for reference purposes only. In some cases a Real Audio (.ra) file from Archive.org will download. Don't be scared! Those files will play in many music programs, but not Windows Media Player.