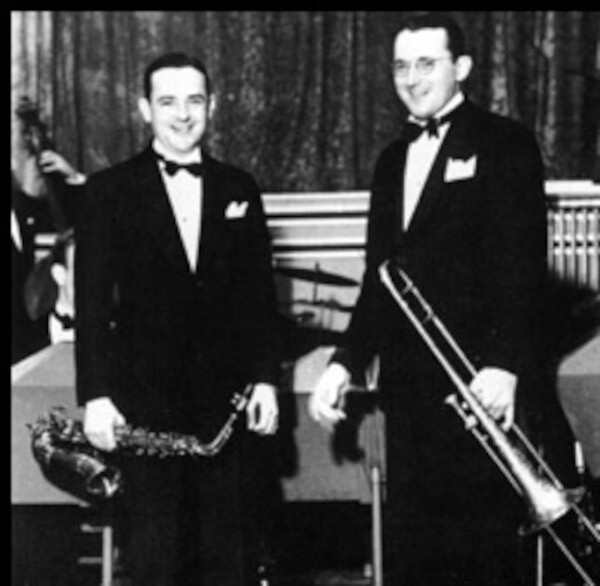 The Dorsey Brothers Orchestra began recording in 1928, but didn't become a real band until 1934. The 1934 band featured both Glenn Miller and Bob Crosby, but didn't last long because
Tommy
 and 
Jimmy
 were always fighting with each other and in 1935 Tommy stormed off the stage quitting the orchestra. He soon took over Joe Haymes Orchestra re-naming it the Tommy Dorsey Orchestra.
Jimmy continued on with the Dorsey Brothers group re-naming it the Jimmy Dorsey Orchestra. Tommy's orchestra was the more successful of the two but both bands were very successful.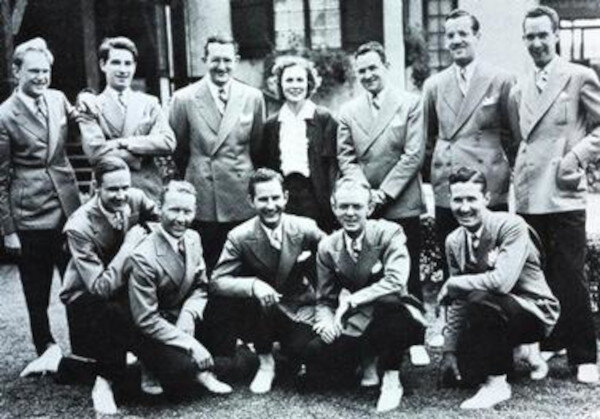 In 1953, Jimmy and Tommy reunited and continued playing together until Tommy's death in 1956. The Dorsey brothers had a popular television variety show on CBS in 1954 and one episode featured the first TV appearance by the then unknown Elvis Presley.
Thanks to Dennis Pereyra, Verne Buland and James Gallup for their help with this page.

Title

Recording Date

Recording Location

Company

All Through The Night


(Cole Porter)

11-27-1934
New York, New York
Decca
318 B
An Earful Of Music


(Walter Donaldson / Gus Kahn)

9-28-1934
New York, New York
Decca
Annie's Cousin Fanny


(Glenn Miller)

6-4-1934
New York, New York
Brunswick
6938
Annie's Cousin Fanny


(Glenn Miller)

8-15-1934
New York, New York
Decca
Annie's Cousin Fanny


(Glenn Miller)

8-23-1934
New York, New York
Decca
117 A
Anything Goes


(Cole Porter)

11-27-1934
New York, New York
Decca
318
Apache


(Simon / Mysels)

11-15-1934
New York, New York
Decca
214 A
Au Revoir l'Amour


(Stern / Meskill)

12-28-1934
New York, New York
Decca
357 A
Basin Street Blues (a)


(Spencer Williams)

8-23-1934
New York, New York
Decca
Basin Street Blues (b)


(Spencer Williams)

8-23-1934
New York, New York
Decca
118 B
Beside An Open Fireplace


(Denniker / Osborne)

1-13-1930
New York, New York
Banner
Conqueror
7476
Blame It On Youth


(Levant / Hayman)

11-15-1934
New York, New York
Decca
320
Blue Room


(Richard Rodgers / Lorenz Hart)

10-17-1933
New York, New York
Brunswick
But I Can't Make A Man
10-17-1933
New York, New York
Brunswick
7542
Button Up Your Overcoat


(Ray Henderson / Lew Brown / Buddy DeSylva)

3-15-1929
New York, New York
Okeh
41210
By Heck (a)


(L. Wolfe Gilbert / S.R. Henry)

6-13-1933
New York, New York
Brunswick
6624
By Heck (b)


(L. Wolfe Gilbert / S.R. Henry)

6-13-1933
New York, New York
Brunswick
By Heck


(L. Wolfe Gilbert / S.R. Henry)

8-14-1934
New York, New York
Decca
By The Sycamore Tree


(Wendling /Gillespie)

12-9-1931
New York, New York
Columbia
2581-D
Butterfingers
3-28-1934
New York, New York
Brunswick
Chasing Shadows


(Benny Davis / Abner Silver)

5-27-1935
New York, New York
Decca
476 A
Congratulations


(Maceo Pinkard / Goetz / Green / Stept)

1-13-1930
New York, New York
Banner
566
Conqueror
7476
Coquette


(Gus Kahn / Carman Lombardo /Jimmy Green)

3-14-1928
New York, New York
Okeh
41007
Cross Roads


(Axt / Klages / Mendoza)

11-21-1928
New York, New York
Okeh
41151
Dancing In The Moonlight
3-28-1934
New York, New York
Melotone
Dancing With My Shadow


(Lenny Adelson / Lyn Murray)

12-21-1934
New York, New York
Decca
335 B
Dawn Patrol
12-19-1933
New York, New York
Brunswick
Day Dreams
9-24-1934
New York, New York
Decca
206 B
Dese Dem Dose


(Glenn Miller)

2-6-1935
New York, New York
Decca
Dinah


(Sam M. Lewis / Joe Young / Harry Akst)

1-11-1935
New York, New York
Decca
376 B
Dippermouth Blues
(King Oliver)
2-6-1935
New York, New York
Decca
561 B
Dixie Dawn


(Trent / DeRose)

5-22-1928
New York, New York
Okeh
41050
Doctor Heckle and Mr. Jibe
10-17-1933
New York, New York
Brunswick
Dr. Heckle and Mr. Jibe


(Dick Mcdonough)

8-15-1934
New York, New York
Decca
Dr. Heckle and Mr. Jibe


(Dick Mcdonough)

8-23-1934
New York, New York
Decca
117 B
Don't Be Afraid To Tell Your Mother


(Tomlin / Poe / Greer)

1-25-1935
New York, New York
Decca
371 B
Don't Let It Bother You


(Gordon / Revel)

9-24-1934
New York, New York
Decca
207 A
Down't Uncle Bill's
11-30-1934
New York, New York
Decca
Down Where The Sun Goes Down
10-1928
New York, New York
Duo
Easy Come, Easy Go
5-21-1934
New York, New York
Banner
Eccentric


(J. Russel Robinson)

2-6-1935
New York, New York
Decca
1304
Evening Star (a)


(Roy Turk / Fred Ahlert)

6-4-1928
New York, New York
Okeh
Evening Star (b)


(Roy Turk / Fred Ahlert)

6-4-1928
New York, New York
Okeh
41065
Every Little Moment (a)


(Dorothy Fields / Jimmy McHugh)

5-27-1935
New York, New York
Decca
Every Little Moment (b)


(Dorothy Fields / Jimmy McHugh)

5-27-1935
New York, New York
Decca
480 B
Ev'ry Single Little Tingle Of My Heart


(Simon / Loman / Roberts)

5-27-1935
New York, New York
Decca
476 B
Fidgety
10-17-1933
New York, New York
Brunswick
Footloose And Fancy Free
5-27-1935
New York, New York
Decca
482 A
Forgetting You (a)


(Ray Henderson / Lew Brown / Buddy DeSylva)

4-24-1928
New York, New York
Okeh
41065
Forgetting You (b)


(Ray Henderson / Lew Brown / Buddy DeSylva)

4-24-1928
New York, New York
Okeh
Fun To Be Fooled


(Arlen / Gershwin / Harburg)

11-7-1934
New York, New York
Decca
260 A
Gracias


(Lake / Mayers)

8-30-1934
New York, New York
Decca
445 B
Goodnight, Lovely Little Lady
3-14-1934
New York, New York
Vocalion
Harlem Chapel Chimes
2-6-1935
New York, New York
Decca
Hands Across The Table


(Delettre / Parish)

11-7-1934
New York, New York
Decca
291 B
Have A Little Faith (2)


(Lewis / Young / Warren)

1-13-1930
New York, New York
Banner
571
Have A Little Faith (3)


(Lewis / Young / Warren)

1-13-1930
New York, New York
Conqueror
7472
Heat Wave


(Irving Berlin)

8-14-1934
New York, New York
Decca
208 A
Here Is My Heart


(Robin / Gensler)

11-7-1934
New York, New York
Decca
311 A
Hold My Hand
3-14-1934
New York, New York
Vocalion
Home


(Van Steeden / Clarkson)

12-9-1931
New York, New York
Columbia
Home Ties


(Tobias / Loesser / Pokrass)

12-21-1934
New York, New York
Decca
340 A
Honeysuckle Rose Part 1
(Andy Razaf / Fats Waller)
8-23-1934
New York, New York
Decca
296 A
Honeysuckle Rose Part 2


(Andy Razaf / Fats Waller)

8-23-1934
New York, New York
Decca
296 B
How Can You Face Me


(Andy Razaf / Fats Waller)

9-21-1934
New York, New York
Decca
196 A
How Do I Know It's Sunday?
4-23-1934
New York, New York
Vocalion
I Ain't Gonna Sin No More


(Conrad / Magidson)

8-30-1934
New York, New York
Decca
116 A
I Ain't Got Nobody
10-1928
New York, New York
Duo
I Believe In Miracles


(Wendling / Meyer / Lewis)

12-21-1934
New York, New York
Decca
335 A
I Can't Dance (I Got Ants In My Pants)


(Williams / Gaines)

8-30-1934
New York, New York
Decca
116 B
I Couldn't Believe My Eyes
8-1-1935
New York, New York
Decca
519 B
I Couldn't Be Mean To You


(Adams / Greer)

9-21-1934
New York, New York
Decca
195 B
I'd Like To Dunk You In My Coffee


(Akst / Brown)

11-30-1934
New York, New York
Decca
321 A
If It's Love


(Akst / Brown)

11-30-1934
New York, New York
Decca
321 B
I Get A Kick Out Of You


(Cole Porter)

11-30-1934
New York, New York
Decca
319 B
I'll Never Ask For More


(Turk / Ahlert)

3-15-1929
New York, New York
Okeh
41220
I Never Say "Never Again" Again


(Woods)

5-27-1935
New York, New York
Decca
480 A
I'm Getting Sentimental Over You (a)


(Washington / Bassman)

9-24-1932
New York, New York
Columbia
I'm Getting Sentimental Over You (b)


(Washington / Bassman)

9-24-1932
New York, New York
Columbia
36065
I'm Getting Sentimental Over You


(Washington / Bassman)

8-15-1934
New York, New York
Decca
115 A
Decca
3942 A
(I Got A) New Deal In Love
1-4-1935
New York, New York
Decca
I'm Facing The Music
1-18-1935
New York, New York
Decca
367 B
I'm Goin' Shoppin' With You
1-26-1935
New York, New York
Decca
371 A
I'm Just A Little Boy Blue
1-4-1935
New York, New York
Decca
348 A
Indian Cradle Song (b)


(Kahn / Wayne)

4-24-1928
New York, New York
Okeh
41032
Indian Cradle Song (c)


(Kahn / Wayne)

4-24-1928
New York, New York
Okeh
I Threw A Bean Bag At The Moon


(Ager / Adams)

1-18-1935
New York, New York
Decca
368 B
I Thrill When They Mention Your Name
1-4-1935
New York, New York
Decca
It's Dark On Conservatory Hill


(Spina / Burke)

11-15-1934
New York, New York
Decca
314 B
I've Got A Feelin' You're Foolin'
9-11-1935
New York, New York
Decca
560 A
I've Got Your Number
2-6-1935
New York, New York
Decca
515 B
I've Had My Moments
4-23-1934
New York, New York
Vocalion
I Was Lucky
12-28-1934
New York, New York
Decca
Judy
(Hoagy Carmichael)
4-23-1934
New York, New York
Brunswick
6938
Let's Do It (Let's Fall In Love)


(Cole Porter)

1-26-1929
New York, New York
Okeh
41181
Let's Take A Walk Around The Block


(Arlen / Gershwin / Harburg)

10-24-1934
New York, New York
Decca
260 B
Long May We Love


(Freed / Hillman)

8-15-1934
New York, New York
Decca
115 B
Lost In A Fog


(Dorothy Fields / Jimmy McHugh)

9-21-1934
New York, New York
Decca
195 A
Louisiana
10-1928
New York, New York
Duo
Love Is Just Around The Corner


(Robin / Gensler)

11-7-1934
New York, New York
Decca
311 B
Love Thy Neighbor
4-23-1934
New York, New York
Vocalion
Lullaby Of Broadway


(Al Dubin / Harry Warren)

1-26-1935
New York, New York
Decca
370 A
Mama, Yo Quiero Un Novio


(Raven / Collazo)

8-30-1934
New York, New York
Decca
445 A
Mary Ann


(Davis / Silver)

2-14-1928
New York, New York
Okeh
40995
Maybe – Who Knows


(Etting / Schuster / Tucker)

7-12-1929
New York, New York
Okeh
41279
May I?
4-23-1934
New York, New York
Vocalion
Mean To Me


(Roy Turk / Fred Ahlert)

3-15-1929
New York, New York
Okeh
41210
Milenberg Joys
(Leon Roppollo / Paul Mares / Jelly Roll Morton)
8-23-1934
New York, New York
Decca
119 A
Mississippi Mud


(James Cavanaugh / Harry Barris)

10-1928
New York, New York
Duo
Mood Hollywood (a)
(Jimmy Dorsey / Lennie Hayton)
9-24-1933
New York, New York
Columbia
36066
Mood Hollywood (b)
(Jimmy Dorsey / Lennie Hayton)
9-24-1933
New York, New York
Brunswick
6537
Missouri Misery


(Yip Harberg / Dana Suesse)

9-28-1934
New York, New York
Decca
297 B
My Dog Loves Your Dog


(Irving Caesar / Ray Henderson / Jack Yellen)

3-14-1934
New York, New York
Vocalion
My Kind Of Love


(Trent / Alter)

1-26-1929
New York, New York
Okeh
41188
My Melancholy Baby (a)


(Norman / Burnett)

4-24-1928
New York, New York
Okeh
My Melancholy Baby (c)


(Norman / Burnett)

4-24-1928
New York, New York
Okeh
41032
My Very Good Friend The Milkman
8-1-1935
New York, New York
Decca
519 A
Nasty Man


(Irving Caesar / Ray Henderson / Jack Yellen)

3-14-1934
New York, New York
Vocalion
Night Wind


(Pollack / Rothberg)

1-4-1935
New York, New York
Decca
376 A
No Strings
8-1-1935
New York, New York
Decca
516 B
Okay, Toots


(Donaldson / Kahn )

9-28-1934
New York, New York
Decca
259 A
Old Man Harlem
(Hoagy Carmichael / Rudy Vallee)
6-8-1933
New York, New York
Brunswick
6624
On Accounts I Love You
5-21-1934
New York, New York
Banner
On A Sunday Afternoon
9-11-1935
New York, New York
Decca
559 A
Ooh! That Kiss


(Warren / Dixon / Stept)

12-9-1931
New York, New York
Columbia
2581-D
Out In The Cold Again


(Bloom / Koehler)

9-24-1934
New York, New York
Decca
206 A
Out Of The Dawn


(Walter Donaldson)

9-29-1928
New York, New York
Okeh
41124
Persian Rug


(Gus Kahn / Neil Moret)

2-14-1928
New York, New York
Okeh
40995
Rhythm Of The Rain


(Stern / Meskill)

12-28-1934
New York, New York
Decca
358 A
'Round Evening


(Steiner / Coots / Whiting)

9-29-1928
New York, New York
Okeh
41124
Sally Of My Dreams


(Kernell)

11-21-1928
New York, New York
Okeh
41151
Sandman


(Lake / Mayer)

8-23-1934
New York, New York
Decca
Sandman


(Lake / Mayer)

11-15-1934
New York, New York
Decca
297 A
She's Funny That Way


(Neil Moret / Richard Whiting)

11-21-1928
New York, New York
Okeh
She's Funny That Way


(Neil Moret / Richard Whiting)

10-17-1933
New York, New York
Brunswick
7542
She Reminds Me Of You


(Mack Gordon / Harry Revel)

3-14-1934
New York, New York
Vocalion
Shim Sham Shimmy (a)
(Jimmy Dorsey / Fulton McGrath)
9-24-1933
New York, New York
Brunswick
6537
Shim Sham Shimmy (b)
(Jimmy Dorsey / Fulton McGrath)
9-24-1933
New York, New York
Brunswick
6537
Sing (It's Good For You)
(Harold Mooney / Hughie Prince)
9-27-1932
New York, New York
Brunswick
6409
Singing A Happy Song
12-28-1934
New York, New York
Decca
357 B
Singin' In The Rain (a)


(Arthur Freed / Herb Brown)

7-12-1929
New York, New York
Okeh
Singin' In The Rain (b)


(Arthur Freed / Herb Brown)

7-12-1929
New York, New York
Okeh
41272
So Help Me
5-21-1934
New York, New York
Banner
Solitude
(Duke Ellington / Irving Mills / DeLange )
1-11-1935
New York, New York
Decca
15013
Someone Stole Gabriel's Horn
9-24-1932
New York, New York
Brunswick
Stop, Look And Listen
8-15-1934
New York, New York
Decca
208 B
St. Louis Blues


(W.C. Handy)

8-23-1934
New York, New York
Decca
119 A
Decca
3524 B
Decca
11032
Sweet And Simple
3-14-1934
New York, New York
Vocalion
Tailspin
(Frankie Trumbauer / Tommy Dorsey)
2-6-1935
New York, New York
Decca
560 B
Decca
4202 B
That's My Mammy


(Pease / Baer / Nelson)

5-22-1928
New York, New York
Okeh
41050
The Breeze


(Sacco / Smith / Lewis)

9-24-1934
New York, New York
Decca
207 B
The Church Bells Tolled


(Schwartz / Schuster / Young)

12-21-1934
New York, New York
Decca
340 B
The Farmer Takes A Wife


(Schwartz / Schuster / Young)

1-18-1935
New York, New York
Decca
340 B
The Gentleman Obviously Doesn't Believe


(Eddie Pola / Michael Carr)

9-11-1935
New York, New York
Decca
561 A
The Moon Was Yellow


(Leslie / Ahlert)

9-21-1934
New York, New York
Decca
The Moon Was Yellow


(Leslie / Ahlert)

9-28-1934
New York, New York
Decca
196 B
The Spell Of The Blues


(Johnston / Dreyer / Ruby)

1-26-1929
New York, New York
Okeh
41181
The Words In My Heart


(Harry Warren / Al Dubin)

1-26-1935
New York, New York
Decca
370 B
The Yale Blues


(Knox / Ellis)

3-14-1928
New York, New York
Okeh
41007
Tiger Rag
(Nick LaRocca)
10-1928
New York, New York
Duo
Tiny Little Fingerprints
1-18-1935
New York, New York
Decca
367 A
Tomorrow's Another Day
2-6-1935
New York, New York
Decca
515 A
Top Hat, White Tie And Tails


(Irving Berlin)

8-1-1935
New York, New York
Decca
516 A
Weary Blues (39340-A)


(Artie Matthews)

2-6-1935
New York, New York
Decca
469 A
Weary Blues (39341-A)


(Artie Matthews)

2-6-1935
New York, New York
Decca
When My Ship Comes In
9-28-1934
New York, New York
Decca
You Ain't Been Livin' Right
1-11-1935
New York, New York
Decca
You Don't Know Me From Adam (And I Didn't Know You From Eve)
11-30-1934
New York, New York
Decca
320 B
(You Knew You'd Hurt Somebody)
Why Did It Have To Be Me?


(Green / Lombardo / Stept)

12-9-1931
New York, New York
Columbia
You Saved My Life
8-1-1935
New York, New York
Decca
520 B
You're All I Need
5-27-1935
New York, New York
Decca
482 B
Your Head On My Shoulder


(Adamson / Lane)

9-28-1934
New York, New York
Decca
258 B
Your Mother And Mine
7-12-1929
New York, New York
Okeh
41272
Your My Lucky Star
9-11-1935
New York, New York
Decca
Your The Top
From "Anything Goes"


(Cole Porter)

11-27-1934
New York, New York
Decca
319 A
You're O.K.
2-6-1935
New York, New York
Decca
1304
You're So Darn Charming
8-1-1935
New York, New York
Decca
520 A

| | |
| --- | --- |
| Artist | Instrument |
| Larry Abbott | Alto Saxophone |
| Mildred Bailey | Vocals |
| Smith Ballew | Vocals |
| Bunny Berigan | Trumpet |
| Artie Bernstein | Bass |
| Larry Binyon | Tenor Saxophone |
| Mickey Bloom | Trumpet |
| Harry Bluestone | Violin |
| Connie Boswell | Vocals |
| Perry Botkin | Banjo |
| Lyle Bowen | Tenor Saxophone |
| Jean Bowes | Vocals |
| Arnold Brilhart | Alto Saxophone, Oboe, Flute |
| Chick Bullock | Vocals |
| Chuck Campbell | Trombone |
| Tony Colucci | Banjo |
| Jerry Cooper | Vocals |
| Bob Crosby | Vocals |
| Jimmy Crossan | Tenor Saxophone |
| Jimmy Dorsey | Clarinet, Alto Saxophone |
| Tommy Dorsey | Trombone, Trumpet |
| Al Duffy | Violin |
| Bill Dutton | Vocals |
| Seger Ellis | Vocals |
| Skinny Ennis | Vocals |
| Bob Eberle | Vocals |
| Fuzzy Farrar | Trumpet |
| Louis Garcia | Trumpet |
| Frank Guarente | Trumpet |
| Delmar Kaplan | Bass |
| Irving Kaufman (Noel Taylor) | Vocals |
| Stan King | Drums |
| Manny Klein | Trumpet |
| Serge Kostelarsky | Violin |
| Carl Kress | Guitar, Banjo |
| Skeets Herfurt | Tenor Saxophone, Vocals |
| Rock Hillman | Guitar, Vocals |
| Scrappy Lambert | Vocals |
| Eddie Lang | Guitar |
| Charlie Margulis | Trumpet |
| Don Mattison | Trombone, Vocals |
| Leo McConville | Trumpet |
| Dick McDonough | Guitar |
| Fulton McGrath | Piano |
| Ray McKinley | Drums, Vocals |
| Johnny Mercer | Vocals |
| Glenn Miller | Trombone, Vocals |
| Chauncey Morehouse | Drums, Chimes |
| Nat Natoli | Trumpet |
| Jerry Neary | Trumpet |
| Adrian Rollini | Bass Saxophone |
| Babe Ruskin | Tenor Saxophone |
| Lucien Smith | Tenor Saxophone |
| Herbert Spencer | Tenor Saxophone |
| Charliw Spivak | Trumpet |
| Arthur Schutt | Piano |
| Frank Signorelli | Piano |
| Muggsy Spanier | Trumpet |
| Jack Stacey | Alto Saxophone |
| Hank Stern | Tuba |
| Joe Tarto | Tuba, Bass |
| Jack Teagarden | Trombone |
| Frank Teschemacher | Clarinet, Tenor Saxophone |
| George Thow | Trumpet |
| Lloyd Turner | Trombone |
| Bobby van Eps | Piano |
| Wes Vaughan | Vocals |
| Joe Venuti | Violin |
| Harry Waller | Viola |
| Kay Weber | Vocals |
| Bob Yukl | Trombone |