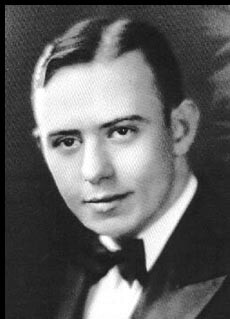 Frank Teschemacher
was born in Kansas City, Missouri on March 13, 1906 to Charles and Charlotte McCorkell Teschemacher and was the youngest of their three children. Charles Teschemacher relocated the family to the west-side upper middle-class Austin neighborhood of Chicago in 1912 when he was transferred by his employer, a railroad company.
Frank took the "customary and obligatory" piano lessons as a youngster, but soon gravitated to banjo on which he was largely self-taught. His parents preferred him to study a more conventional instrument and compromised with him in selecting the violin when he was ten years old. He did well with this instrument and in the process became a very good sight reader. His preference was clearly for popular music, and shortly before entering Austin High School a friend introduced "Tesch" to the alto saxophone. Soon he had purchased one of his own.
The new high school social scene was not easy for Tesch. He was slight of stature, non-athletic, noticeably cross-eyed, bespeckled, acne afflicted, quiet, shy and (with the exception of musical subjects) academically below average. His social life came to revolve around the musical interests he shared with a group of fellow students which included the brothers Jimmy and Dick McPartland, Jim Lanigan and Bud Freeman. The group became enthralled with the recordings of the New Orleans Rhythm Kings, a hot white band built around New Orleans musicians George Brunies, Leon Roppolo and Paul Mares.
The New Orleans Rhythm Kings were playing a long residency at the Friar's Inn, a Loop speakeasy owned by nightclub entrepreneur Mike Fritzel. The Friar's Inn was probably all the more interesting to the boys because of its wide reputation as a gangster hangout. The Austin High School Gang soon added pianist Dave North, drummer Dave Tough (from nearby Oak Park High School) and named their band "The Blue Friars" in homage to the Friar's Inn. It was not long before the Blue Friars were playing local dances for hire and taking an occasional out of town engagement.
Along the way Tesch had been introduced to the clarinet by Bud Freeman; he quickly mastered basic technique and soon came to prefer it to the saxophone. Tesch always remained a multi- instrumentalist however.
By 1923 the members of the Austin High School Gang were becoming sufficiently well known around town to attract the attention of Husk O'Hare, an aggressive and well connected band promoter. O'Hare changed the name of the band to "The Blue Dragons" and landed them both radio and dancehall work, including, eventually, an engagement at the popular White City Amusement Park where they performed under the name "Husk O'Hare's Wolverines".
To the disappointment of his parents, Tesch spent less and less time on his studies and finally dropped out of school entirely during his senior year. He had fallen in with a growing cadre of young white Chicagoans including the likes of Eddie Condon, Gene Krupa, Joe Sullivan, Muggsy Spanier, Benny Goodman and Floyd O'Brien, all of whom were obsessed with absorbing the Chicago jazz scene and most especially with absorbing the style and technique of black jazz musicians. Johnny Dodds became Tesch's particular favorite for his driving, cornet-like phrasing.
With his dedication to music, his versatility (banjo, violin, clarinet, saxes and piano) and a willingness to take any job that came along, Frank Teschemacher worked regularly, including stints with Wingy Manone, Sig Meyers, Charley Straight, Floyd Town and Art Kassel. Though he did some touring, most of his paying jobs were in dance orchestras that played the neighborhood dancehalls and amusement parks which had become ubiquitous in and around Chicago during the period 1900-1920.
His first recording was with McKenzie and Condon's Chicagoans on December 9, 1927 for Okeh ("Sugar" and "China Boy"). A follow up session took place one week later ("Nobody's Sweetheart" and "Liza"). The sessions included Austin High School pals Jimmy McPartland, Bud Freeman and Jim Lanigan in addition to Chicagoans Eddie Condon, Gene Krupa and Joe Sullivan. Ex-jockey "Red" McKenzie was the session leader.
Tesch recorded in the Spring of 1928 with two other McKenzie/Condon groups, the 'Chicago Rhythm Kings' and the 'Jungle Kings'. On April 28, 1928 Tesch cut his first recordings under his own name for Brunswick ("Jazz Me Blues" and "Singing the Blues"). The group recorded under the name "Frank Teschmacher's Chicagoans". The masters from this date were rejected and destroyed, but a test pressing of "Jazz Me Blues" was made, filed away and later discovered. It was finally issued in 1939 on the United Hot Clubs of America (UHCA) label and later reissued by Decca.
With successful recording sessions on their resume, promoters Condon and McKenzie sought bigger opportunities to spread the "White Chicago Jazz" gospel.
By mid-1928 the focus of the jazz world was shifting to New York City so Tesch joined Eddie Condon, Joe Sullivan, Gene Krupa, Bud Freeman, Jimmy McPartland and Red McKenzie in search of those greener pastures in the Big Apple. They found little work as a group, but individual bandsmen managed spotty employment. Tesch did better than most, playing during this time with the orchestras of Sam Lanin, Ben Pollack, Red Nichols, Miff Mole, the Dorsey Brothers and Don Redman. After only five months in New York, Tesch became homesick and returned to Chicago … and to Helen, his bride of only eight months.
During 1929 and 1930 Teschemacher played mostly in the Chicago area but toured briefly with the Jan Garber Orchestra for whom he arranged and played violin in addition to reeds. He recorded with Wingy Manone's Club Royale Orchestra, Ted "Is Everybody Happy?" Lewis and Elmer Schoebel's Friar's Society Orchestra (successor band to the New Orleans Rhythm Kings). On a sad note, his marriage ended in an apparently amicable divorce on November 7, 1930. Tesch's family had not been pleased with Helen, his mother referring to the match as "… an unfortunate thing".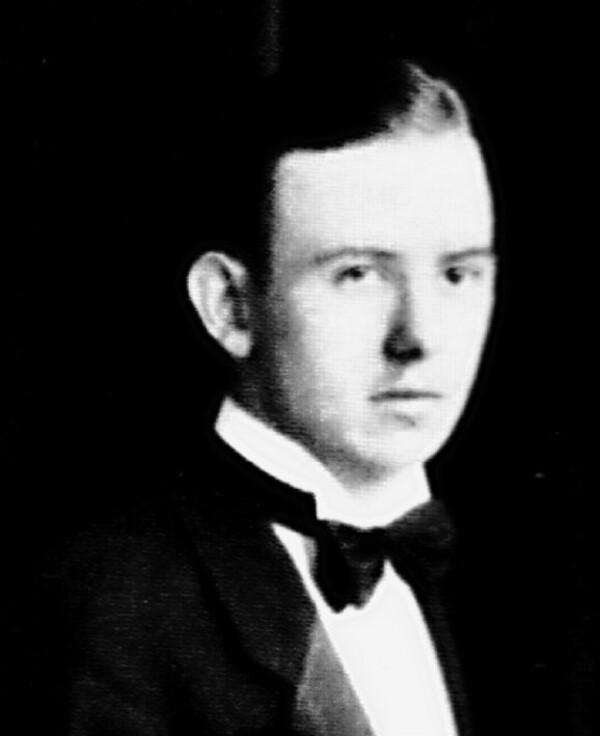 1931 found Teschemacher still working the Chicago dancehall circuit as a member of the Benny Meroff Orchestra at the Granada Ballroom where he struck up a friendship with trumpeter Wild Bill Davison. The pair eventually decided to form their own big band, so during the winter of 1931-32 they found themselves auditioning and rehearsing with carefully selected sidemen. The fledgling band was finding only limited work, but played to good reviews; eventually they landed a steady booking at Guyon's Paradise Ballroom in the "West Madison" neighborhood on Chicago's West Side. The job was to start in early March, 1932.
The Paradise was owned and operated by J. Louis Guyon who had been involved in the Chicago dancehall scene since 1909 and had opened the Paradise in 1914. The venue was located on the west side of N. Crawford Avenue (now Pulaski Road) about a block north of W. Madison Street. It was just two miles east of Austin High School where Tesch had attended with other members of the "Gang."
On the blustery evening of February 29, 1932 Tesch invited Davison to spend the night at his apartment to prepare for a band rehearsal the following day. They took Davidson's Packard Phaeton convertible and made a few stops on the way, one of which was in the company of drummer George Wettling at bandleader Charlie Straight's speakeasy. At about 2:00 am Davison was northbound on Magnolia Avenue in the city's Uptown neighborhood approaching Wilson Avenue with the Packard's top down. Tesch was hunched down against the wind and cold in the front seat with his hands thrust deeply into the pockets of a heavy overcoat. As Davison began to cross Wilson Avenue, his car was struck broadside by a Yellow Cab travelling on Wilson Avenue with its headlights off. The Packard was spun into a tree and both occupants were thrown over the windshield. Tesch struck his head on the concrete curb, suffering a very severe skull fracture. He was transported to Ravenswood Hospital (about a mile west of the accident site) where he died four hours later. The doctors believed that Tesch's chances for survival would have been much improved had his hands been free to protect his head.
Although Davison was briefly detained by the police, a coroner's inquest absolved both him and the cab driver of negligence. Still, the accident weighed heavily upon Davison and caused him to leave Chicago for several years.
Frank Teschemacher was interred at Woodlawn Cemetery in Forest Park, IL (not far from Austin High School) just ten days short of his twenty-sixth birthday and with his ex-wife, Helen, in attendance. His pallbearers included bandleader Floyd Town, drummer George Wettling and pianist Jess Stacy.
For the Paradise Ballroom job Teschemacher's saxophone chair was taken by Kensel C. "Toasty" Paul , but the band was not the same without Tesch. According to the band's part-time pianist Oro "Tut" Soper, when the ensemble lost Tesch it also lost its musical integrity and became "doomed". Tesch's death and the pressures of leadership were such a burden for Davison that he did not finish the Paradise gig, possibly turning leadership responsibilities over to Toasty Paul, according to Soper's recollection.
The enigmatic Frank Teschemacher remains controversial due in part to the brevity of his recording career. Most will agree that his technique was certainly fiery, energetic, unconventional and primitive, perhaps even poor in some respects. Some will say that any deficiencies simply indicate a work in progress and that had he lived only a few years longer, his musical thinking would become widely imitated and history would show him to be a brilliant innovator. Others will say that his approach to the clarinet was so fundamentally flawed, fumbling, downright odd and eccentric as to be self-limiting.
Teschemacher ignored his critics. He knew where he was going even if he did not always get there, and he usually seemed unconcerned about whether anyone else understood or cared. Frank Teschemacher played hot jazz for Frank Teschemacher. –by Mike Donovan