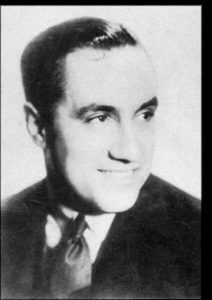 Decades ago, a classic Fletcher Henderson four-LP set was titled A Study In Frustration. I always thought that that title was inaccurate as far as Henderson's music went, but it would be a perfect summation of the life and musical career of Ben Pollack. While he was involved in many rewarding performances, Pollack fell short of the great potential that he showed as a bandleader during 1926-27, and he must have been very frustrated at the way things turned out.
Early Years and NORK
He was born June 22, 1903 in Chicago. After first hearing jazz while sitting outside of Chicago clubs, he took up the drums as a teenager. Pollack had his own kids' band while in high school and his early jobs included working regularly with a group led by Dick Schoenberg in 1921 and playing with pianist Izzy Wagner.
Pollack enjoyed seeing the performances of the New Orleans Rhythm Kings. Once when the NORK's drummer Frank Snyder said that he was not interested in playing at a jam session featuring the band, Pollack talked his way into the group and did such a good job that he took over the position. The 19-year old made his recording debut with the NORK in 1923, appearing on four sessions including the earliest recordings of "That's A Plenty," "Weary Blues," "Tin Roof Blues" (which he co-wrote), and "Angry" in addition to the numbers that Jelly Roll Morton recorded with the group. While Pollack is felt more than heard on these early dates since this was before drummers could record with their full sets, Benny Goodman would later say that Pollack was the first drummer he ever heard who evenly accented all four beats in a measure.
Californians
Offered the opportunity to work with a band in California, Pollack headed west where he played briefly with banjoist Erd King and then steadily with Harry Baisden's group. After Pollack visited New York where he worked for a short time with Ray Miller's orchestra, he received an offer to return to Los Angeles, take over Baisden's band, and work at the Venice Ballroom.
His orchestra, which included altoist Gil Rodin, stayed together for a year and made one test pressing in the summer of 1924 which was released 70 years later, "Red Hot." Pollack also recorded two numbers with cornetist Muggsy Spanier and the Stomp Six during a visit to Chicago in the summer of 1925. Showing that he was a major talent scout from the start, Pollack added clarinetist Benny Goodman (who was 16) and trombonist-arranger Glenn Miller to his ensemble near the end of the band's engagement.
Returning to Chicago with the nucleus of the group, Pollack soon had success playing at hotels as the Californians. He landed a recording contract with the Victor label, recording four numbers in December 1926. In those performances, one gets the idea of the sound that Pollack was after. He wanted to balance the artistic with the commercial, leaving room for hot solos from his key sidemen along with period vocals and melodic ensembles that included two violinists. He loved jazz but he also wanted some fame and fortune. The hottest number from these dates is "He's The Last Word" which has a catchy vocal by the Williams Sisters plus the first significant recorded solos by Benny Goodman and Glenn Miller.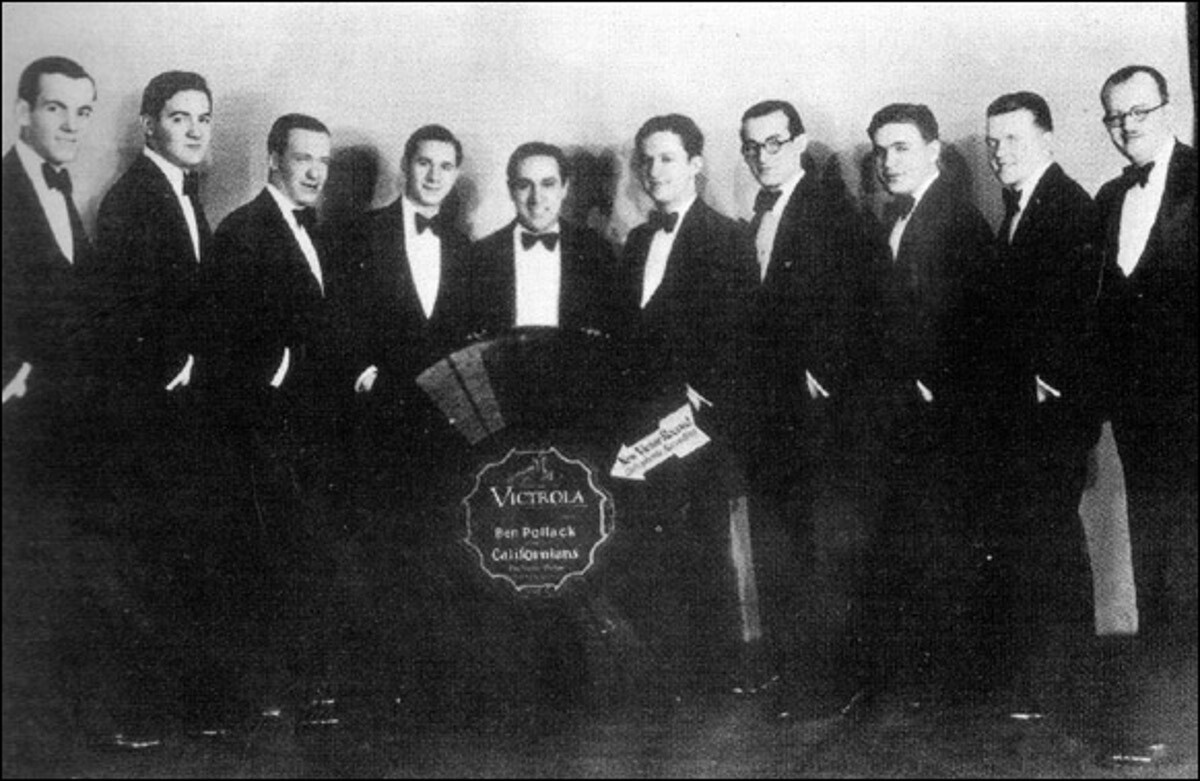 It would be a year before the band recorded again. By then Pollack had added cornetist Jimmy McPartland as the third major soloist in the group. Despite its potential quality, Pollack's orchestra only cut two songs that year: "Waitin' For Katie" which includes Benny Goodman's only recorded trumpet solo (a few short breaks) and "Memphis Blues."
Central Park Orchestra
1928 was notable for two major events in Ben Pollack's life. In March he moved his band to New York where they had a base for regular East Coast tours and appeared in many local venues. A few months later, Pollack hired the then largely unknown Jack Teagarden as his trombone soloist. From that point on Glenn Miller, quickly recognizing Teagarden's superiority, chose to focus more on arranging.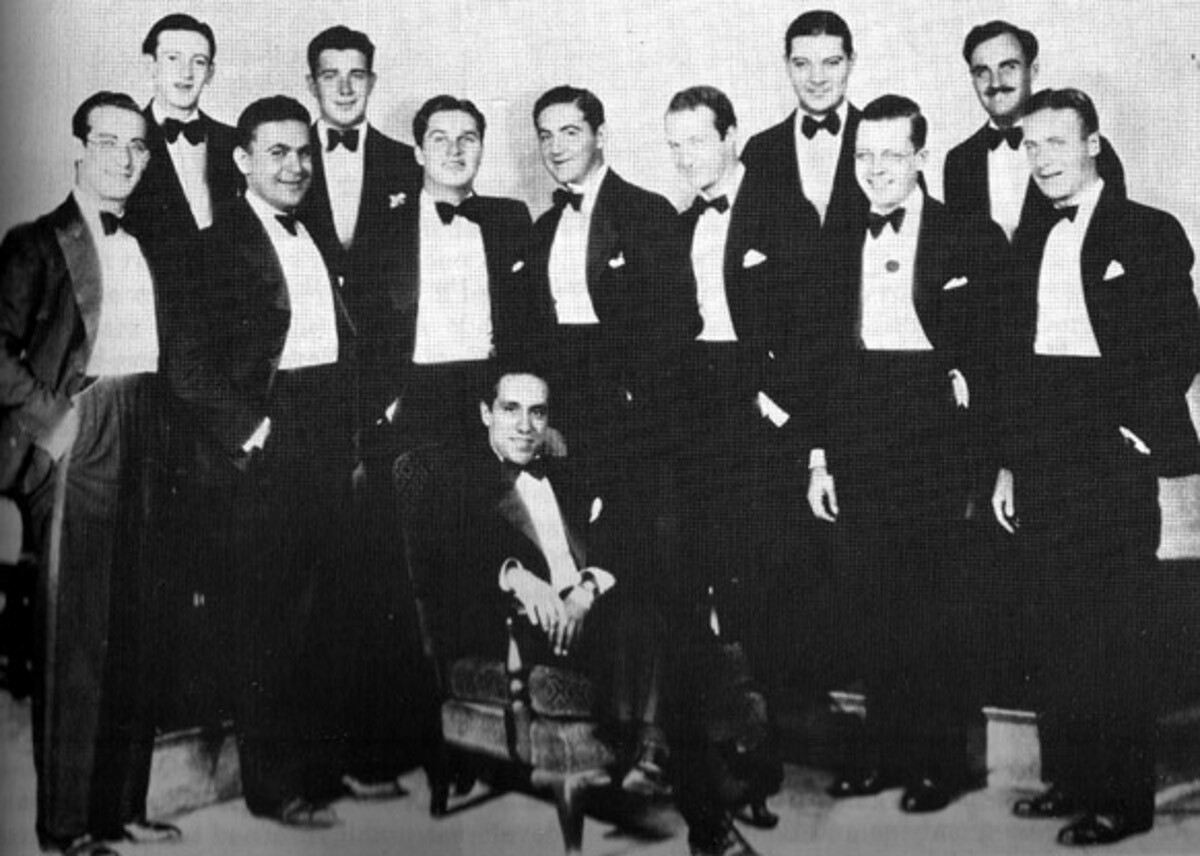 Unlike many other bandleaders, Ben Pollack was generous in letting his talented sidemen record elsewhere while still working nightly in his orchestra. Pollack himself participated in some of the sessions which were generally more freewheeling and jazz-oriented than most of the recordings released under his own name as Ben Pollack's Park Central Orchestra.
He was on a Benny Goodman date in 1928, and was on sessions during 1928-29 released under the names of the Hotsy Totsy Gang, Jimmy McHugh's Bostonians, Ben's Bad Boys, and the Louisville Rhythm Kings. At that point, Ben Pollack was at the height of his success, leading what could be considered in those segregated times as the top regularly working white jazz band, performing not only at the Park Central Hotel but for a few months in the stage show Hello Daddy. But there was something wrong.
An eight-minute film short from 1929 (simply called Ben Pollack and his Park Central Orchestra) should have been a classic for it has the earliest film appearances of Teagarden and Goodman. But Pollack, instead of playing drums, is a singing conductor, leading his band through dull versions of "California Echoes" and "Song Of The Islands." Only "My Kind Of Love" has a few moments of interest. Goodman takes a couple of two-bar breaks and Teagarden sings half a chorus and briefly leads one of the ensembles, but Pollack's singing is difficult to sit through. Instead of at least swinging the band through one number (he had hired Ray Bauduc to be the orchestra's drummer), Pollack appears throughout as a wannabe Paul Whiteman, wasting the opportunity.
Ben Pollack Orchestra and the '30s
With the Depression soon hitting, perhaps playing more commercial music was in retrospect a good move. Pollack did keep the quality of his underutilized orchestra at a high level. Goodman and McPartland departed in the summer of 1929 but were succeeded by clarinetist Matty Matlock and trumpeter Charlie Teagarden with tenor-saxophonist Eddie Miller joining the band in 1930. Pollack's band performed with the Broadway show Top Speed for three months, worked at a variety of hotels on the East Coast and Midwest and, despite some layoffs, recorded fairly often including features for Teagarden on "Beale Street Blues" and "If I Could Be With You." Although Teagarden left in 1933, the band by then included trumpeter Yank Lawson and guitarist-singer Nappy Lamare in addition to Rodin, Miller and Bauduc.
Unfortunately Pollack was still thinking of himself as a singer (he had a weak voice) and often ended recordings with the corny phrase "May it please you, Ben Pollack." Worse was that Pollack had become more interested in promoting his girlfriend Doris Robbins as a singer (she was an average vocalist) and an actress than he was in leading his band. One can see that in a film short from 1934 where the jazz is de-emphasized and Robbins and Pollack sing together on "Love Me Tonight." Of the 13 recordings made by the Ben Pollack Orchestra in 1934, Doris Robbins sings on four songs, Joe Harris (trying to emulate Teagarden) is on seven, there is one vocal by Pollack, and the only instrumental is a forgettable rhumba number. Virtually no jazz of interest was recorded.
In Sept. 1934 during an engagement in Los Angeles, the band had a mutiny and all of the musicians left Pollack. They would soon reform as the Bob Crosby Orchestra. Pollack, who was still just 31, hurriedly put together a new big band to fulfill engagements and in 1935 married Doris Robbins, a union that lasted until their 1940 divorce. She never recorded again nor made any films.
The Ben Pollack Orchestra next appeared on records in 1936 and Pollack's band was once again filled with impressive players. The sidemen included trumpeters Harry James, Shorty Sherock, and Charlie Spivak, Glenn Miller (who was temporarily back on trombone), clarinetist Irving Fazola, and pianist Freddie Slack, with tenor-saxophonist Dave Matthews contributing many of the arrangements. Pollack, who was back on drums, was still singing a little but was wise enough to feature Harry James (who was then 20) quite a bit including on "Love Me Tonight," "Zoom Zoom Zoom," "Jimtown Blues," and "Peckin'."
However Pollack was now considered in the minor leagues and his lineup was ripe for other more prosperous bandleaders to raid. By January 1937 James was part of Pollack's former sideman Benny Goodman's big band and his other top players were soon lured away.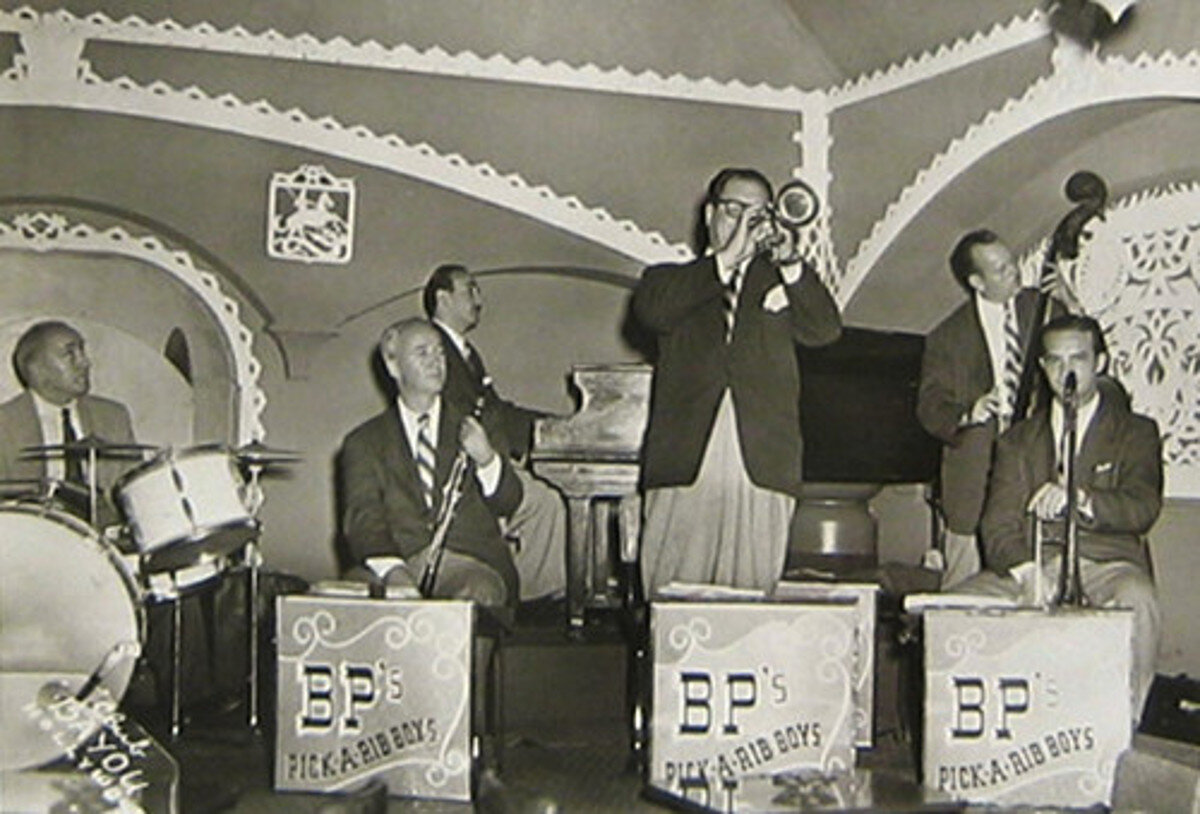 Pollack moved to Los Angeles where he led a new band in 1937 filled with fine local players plus the great cornetist Muggsy Spanier. In addition to a series of big band titles, he led a small-group from the orchestra, called Ben Pollack's Pick-A-Rib Boys (featuring Spanier), and accompanied Connee Boswell on some of her recordings. Spanier stayed with Pollack until a serious illness knocked him out of action.
The hot trumpet chair was taken by Clyde Hurley in 1938 (who later joined Glenn Miller) and finally by Andy Secrest who is on the last Pollack big band recordings. It is ironic that while many of his former sidemen (Goodman, Teagarden, James, Slack, and much of the Bob Crosby Orchestra) were major names, Pollack (who was still only 36 in 1939) was becoming increasingly forgotten by the end of the 1930s.
Later Years
In 1942, Ben Pollack and what would be his final big band was taken over by Chico Marx (Pollack became the band's manager) who played humorous piano and told jokes. The drummer and occasional singer with this ensemble was 17-year old Mel Torme, another ex-Pollack sideman who made it rather big. By 1943, Pollack was working in the music business as a manager and promoter but no longer playing music. He founded the short-lived Jewel record label which during 1945-46 recorded Kay Starr before folding. Giving up on all of these ventures, by 1947 Pollack was back playing drums, leading a Dixieland combo with the revived name of the Pick-A-Rib Boys.
During 1949-52, Pollack led a few sessions with the group for the Modern, Discovery, and Savoy labels, using such players as cornetist Dick Cathcart or trumpeter Charlie Teagarden, trombonist Moe Schneider, clarinetist Matty Matlock, and pianist Ray Sherman, They also recorded an extensive of radio transcriptions and appeared on dates backing Johnny Mercer and Hoagy Carmichael. Jack Teagarden made a guest appearance on "Mighty Lak' A Rose."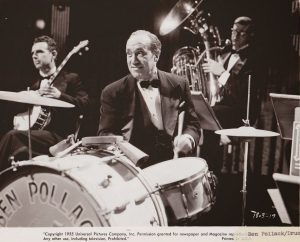 Although Ben Pollack did not record after 1952, he stayed active in various ways. He had appeared anonymously in the 1943 movie Presenting Lily Mars as a saxophonist (!) in an orchestra headed by Bob Crosby, and he was in 1951's Disc Jockey. Better known is that he had brief appearances in both 1954's The Glenn Miller Story and 1956's Benny Goodman Story as an early boss for both of the title characters.
Pollack ran the Pick-A-Rib restaurant in Hollywood during the 1950s and early '60s, leading a Dixieland group to perform at his establishment. His sidemen included clarinetist Barney Bigard and, for three months in 1956, his old friend Jack Teagarden. In 1965 he moved to Palm Springs where he and his sister owned a nightclub, Easy Street North.
Tragically that is where his life ended. The nightclub was never successful and he was having major financial problems. On June 7, 1971, 15 days before his 68th birthday, Ben Pollack committed suicide by hanging himself.
A large portion of Ben Pollack's recordings have been reissued. The Jazz Oracle label (which has been acquired by Upbeat) released all of his sessions from 1926-33 on seven CDs (Jazz Oracle 8015, 8016, 8017, 8026, 8032, 8042 and 8044) including all of the alternate takes and related sessions by the Whoopee Makers. His 1934 recordings were last on a VJM LP simply titled Ben Pollack and his Orchestra 1933-1934. The 1936-38 studio sessions are rare although a Golden Era LP (Ben Pollack Big Band) has some live sessions from 1938 by the Andy Secrest version of the band. Finally, Ben Pollack and His Pick-A-Rib Boys (Jazzology 224) compiles all of the radio transcriptions from 1950 and shows what a solid drummer Pollack was when he abandoned his dreams of glory and simply played the music he loved.
Discography and Downloads at the Red Hot Jazz Archive