(Excerpt from Ben Pollack: Profile in Jazz, by Scott Yanow)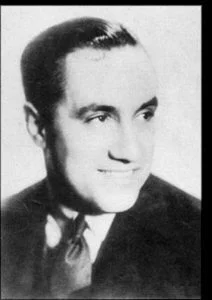 Unfortunately Ben Pollack was still thinking of himself as a singer (he had a weak voice) and often ended recordings with the corny phrase "May it please you, Ben Pollack." Worse was that Pollack had become more interested in promoting his girlfriend Doris Robbins as a singer (she was an average vocalist) and an actress than he was in leading his band. One can see that in a film short from 1934 where the jazz is de-emphasized and Robbins and Pollack sing together on "Love Me Tonight."
Of the 13 recordings made by the Ben Pollack Orchestra in 1934, Doris Robbins sings on four songs, Joe Harris (trying to emulate Teagarden) is on seven, there is one vocal by Pollack, and the only instrumental is a forgettable rhumba number. Virtually no jazz of interest was recorded.
In Sept. 1934 during an engagement in Los Angeles, the band had a mutiny and all of the musicians left Pollack. They would soon reform as the Bob Crosby Orchestra. Pollack, who was still just 31, hurriedly put together a new big band to fulfill engagements and in 1935 married Doris Robbins, a union that lasted until their 1940 divorce. She never recorded again nor made any films.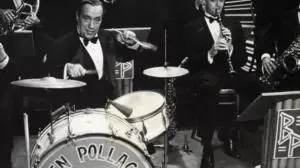 The Ben Pollack Orchestra next appeared on records in 1936 and Pollack's band was once again filled with impressive players. The sidemen included trumpeters Harry James, Shorty Sherock, and Charlie Spivak, Glenn Miller (who was temporarily back on trombone), clarinetist Irving Fazola, and pianist Freddie Slack, with tenor-saxophonist Dave Matthews contributing many of the arrangements. Pollack, who was back on drums, was still singing a little but was wise enough to feature Harry James (who was then 20) quite a bit including on "Spreadin' Knowledge Around," "Zoom Zoom Zoom," "Jimtown Blues," and "Peckin'."
However Pollack was now considered in the minor leagues and his lineup was ripe for other more prosperous bandleaders to raid. By January 1937 James was part of Pollack's former sideman Benny Goodman's big band and his other top players were soon lured away.
Pollack moved to Los Angeles where he led a new band in 1937 filled with fine local players plus the great cornetist Muggsy Spanier. In addition to a series of big band titles, he led a small-group from the orchestra, called Ben Pollack's Pick-A-Rib Boys (featuring Spanier), and accompanied Connee Boswell on some of her recordings. Spanier stayed with Pollack until a serious illness knocked him out of action. The hot trumpet chair was taken by Clyde Hurley in 1938 (who later joined Glenn Miller) and finally by Andy Secrest who is on the last Pollack big band recordings. It is ironic that while many of his former sidemen (Goodman, Teagarden, James, Slack, and much of the Bob Crosby Orchestra) were major names, Pollack (who was still only 36 in 1939) was becoming increasingly forgotten by the end of the 1930s.
Thanks to Wim van der Brugghen and Owen Miller for their help with this page.
Title

Recording Date

Recording Location

Company

After You've Gone
Vocal Chorus by Paula Gayle


(Henry Creamer / Turner Layton)

4-18-1938
Los Angeles, California
Decca
2057 A
Alone On The Range


(Mabel Wayne / Mack David)

2-23-1934
New York, New York
Columbia
2910-D
As Long As I Live
8-4-1938
Los Angeles, California
Decca
2005
Beale Street Blues (Duke Wilson and His Ten Black Berries)


(W.C. Handy)

3-2-1931
New York, New York
Perfect
15617


10422-5

Beale Street Blues


(W.C. Handy)

3-2-1931
New York, New York
unissued


10422-6

Cryin' For The Carolines


(Lewis / Young / Warren)

1-15-1930
New York, New York
Hit Of The Week
Dancing In The Moonlight


(Gus Kahn / Walter Donaldson)

2-23-1934
New York, New York
Columbia
2901-D
Deep Elm


(William R. Clay / Willard Robison)

12-18-1936
Hollywood, California
Variety
504
Vocalion
3769
Deep Jungle


(Mannono / Ben Pollack)

12-28-1933
New York, New York
Columbia
2879-D
Everybody's Doin' It
4-18-1938
Los Angeles, California
Decca
1891
Freckle Face, You're Beautiful


(Cliff Friend / Carmen Lombardo)

5-29-1934
New York, New York
Columbia
2931-D
Goin' To Heaven On A Mule


(Al Dubin / Harry Warren)

3-23-1934
New York, New York
Columbia
2886-D
Got The Jitters


(Loeb / Rose / Webster)

12-28-1933
New York, New York
Columbia
2870-D
Have You Ever Been In Heaven?
8-31-1937
Los Angeles, California
Decca
1476
Here Goes


(Harold Arlen / Ted Koehler)

2-23-1934
New York, New York
Columbia
2905-D
I Couldn't Be Mad At You


(Bob Rothberg / Joseph Meyer)

9-15-1936
New York, New York
Brunswick
7751
If I Could Be With You
(One Hour Tonight)


(Henry Creamer / James P. Johnson)

6-23-1930
New York, New York
Banner
0747
Broadway
1409


9819-2

If I Could Be With You
(One Hour Tonight)


(Henry Creamer / James P. Johnson)

6-23-1930
New York, New York
Banner
0747
Broadway
1409


9819-3

If I Could Be With You
(One Hour Tonight)


(Henry Creamer / James P. Johnson)

6-23-1930
New York, New York
Banner
0747
Broadway
1409


9819-4

If You Ever Should Leave
8-31-1937
Los Angeles, California
Decca
1435
I'm A Ding Dong Daddy From Dumas


(Phil Baxter)

2-12-1931
New York, New York
Crown
91088


10418-1

I'm A Ding Dong Daddy From Dumas


(Phil Baxter)

2-12-1931
New York, New York
Crown
91088


10418-2

I'm Dependable (You Can Count On Me)
8-31-1937
Los Angeles, California
Decca
1435
I'm Following You


(Dreyer / Macdonald)

1-15-1930
New York, New York
Hit Of The Week
I'm Full Of The Devil
From M.G.M. Picture "Fugitive Lovers"


(Jimmy McHugh / Dorthy Fields)

12-28-1933
New York, New York
Columbia
2870-D
I'm One Step Ahead Of My Shadow


(Sammy Cahn / Saul Chaplin)

9-15-1936
New York, New York
Brunswick
7751
I'm Yours For The Asking
8-26-1937
Los Angeles, California
Decca
1424
In A Sentimental Mood
12-18-1936
Hollywood, California
Variety
556
Vocalion
3819
I've Got A Warm Spot For You


(Harold Spina / Johnny burke)

5-29-1934
New York, New York
Columbia
2931-D
I've Got Five Dollars


(Hart / Rodgers)

2-12-1931
New York, New York
Romeo
1576
Jimtown Blues


(Charlie Davis)

9-16-1936
New York, New York
Brunswick
7764
Linger A Little Longer In The Twilight


(Woods / Campbell / Connelly)

3-19-1933
Chicago, Illinois
Victor
24284
Looking At The World Through Rose-Colored Glasses
4-18-1938
Los Angeles, California
Decca
2057 B
Mama, I Want More Rhythm
8-31-1937
Los Angeles, California
Decca
1476
Meet the Beat Of My Heart
8-4-1938
Los Angeles, California
Decca
2005
My Little Grass Shack In Kealekakua, Hawaii


(Bill Cogswell / Tommy Harrison / Johnny Noble)

3-23-1934
New York, New York
Columbia
2886-D
Naturally
8-4-1938
Los Angeles, California
Decca
2012
Night On The Desert


(Billy Hill)

5-29-1934
New York, New York
Columbia
2929-D
Now Or Never
Vocal refrain by Jim Hardy


(Sam Lewis / Peter DeRose)

9-16-1936
New York, New York
Brunswick
7747
Ole Mammy Ain't Gonna Sing No More


(James V. Monaco / Herb Magidson / Maurice Sigler)

2-23-1934
New York, New York
Columbia
2901-D
Peckin'
12-18-1936
Hollywood, California
Variety
556
Vocalion
3819
Rollin' Down The River


(Adams / Waller)

6-23-1930
New York, New York
Banner
0752


9818-1

Rollin' Down The River


(Adams / Waller)

6-23-1930
New York, New York
Banner
0752


9818-2

Rollin' Down The River


(Adams-Waller)

6-23-1930
New York, New York
Banner
0752


9818-3

Sing A Song Of Sixpence
8-4-1938
Los Angeles, California
Decca
2006
Sing-Song Girl
1-21-1931
New York, New York
Regal
10250
Sleepy Head


(Gus Kahn / Walter Donaldson)

5-29-1934
New York, New York
Columbia
2929-D
So Unexpectedly
8-4-1938
Los Angeles, California
Decca
2012
Song Of The Islands


(Charles King)

9-15-1936
New York, New York
Brunswick
7764
Song Of The Islands


(Charles King)

8-26-1937
Los Angeles, California
Decca
1424
Spreadin' Knowledge Around
(The Dean and His Kids)
9-16-1936
New York, New York
Vocalion
3342
Sweet And Hot


(Jack Yellen / Harold Arlen)

3-2-1931
New York, New York
Perfect
15431


10417-4

Sweet And Hot


(Jack Yellen / Harold Arlen)

3-2-1931
New York, New York
Banner


10417-5

Swing Out


(Ben Pollack / Wingy Manone)

12-28-1933
New York, New York
Columbia
2879-D
The Beat Of My Heart


(Burke / Spina)

2-23-1934
New York, New York
Columbia
2905-D
The Moon Is Grinning At Me
12-18-1936
Hollywood, California
Variety
504
Vocalion
3769
The Voodoo


(Don Azpiazu / Marion Sunshine)

2-23-1934
New York, New York
Columbia
2906-D
There's A Wah-Wah Gal Down in Agua Caliente


(Donaldson)

6-23-1930
New York, New York
Banner
0750


9820-1

There's A Wah-Wah Gal Down in Agua Caliente


(Donaldson)

6-23-1930
New York, New York
Banner
0750


9820-2

There's A Wah-Wah Gal Down in Agua Caliente


(Donaldson)

6-23-1930
New York, New York
Banner
0750


9820-3

There's Rain In My Eyes
4-18-1938
Los Angeles, California
Decca
1815
This Is The Life / The International Rag
4-18-1938
Los Angeles, California
Decca
1891
Thru' The Courtesy Of Love


(Jack Scholl / M.K. Jerome)

9-15-1936
New York, New York
Brunswick
7747
Two Tickets To Georgia


(Young / Tobias / Coots)

3-19-1933
Chicago, Illinois
Victor
24284


75412-2

Two Tickets To Georgia


(Young / Tobias / Coots)

3-19-1933
Chicago, Illinois
Victor
24284


75412-2R

What Are You Doing Tonight?
8-4-1938
Los Angeles, California
Decca
2005 B
(When You Fall In Love)
Fall In Love With Me
1-21-1931
New York, New York
Regal
10250
You Didn't Have To Tell Me
(I Knew It All The Time)


(Walter Donaldson)

1-21-1931
New York, New York
Regal
10266
You'll Be Reminded Of Me
4-18-1938
Los Angeles, California
Decca
1815
Zoom Zoom Zoom
(The Dean and His Kids)
9-16-1936
New York, New York
Vocalion
3342
| | |
| --- | --- |
| Artist | Instrument |
| Don Anderson | Trumpet |
| Ray Bauduc | Drums |
| Al Beller | Violin |
| Ed Bergman | Violin |
| Larry Binyon | Clarinet, Tenor Saxophone, Flute |
| Sterling Bose | Trumpet |
| Gil Bowers | Piano |
| Vic Briedis | Piano |
| Bud Carlton | Clarinet, Alto Saxophone |
| Opie Cates | Alto Saxophone |
| Shirley Clay | Trumpet |
| Ray Cohen | Violin |
| Ralph Copsey | Trombone |
| Irving Fazola | Clarinet |
| Frank Frederico | Guitar |
| Mort Friedman | Tenor Saxophone |
| Paula Gayle | Vocals |
| Benny Goodman | Clarinet, Alto Saxophone, Trumpet |
| Harry Goodman | Brass Bass, String Bass |
| Bob Goodrich | Trumpet |
| Earle Hagen | Trombone |
| Alan Harding | Tenor Saxophone |
| Jim Hardy | Vocals |
| Al Harris | Cornet |
| Joe Harris | Trombone |
| Bob Hemphill | Guitar |
| George Hill | Tenor Saxophone |
| Frances Hunt | Vocals |
| Clyde Hurley | Trumpet |
| Harry James | Trumpet |
| Jerry Johnson | String Bass |
| Ben Kanter | Clarinet, Alto Saxophone |
| Dean Kincaide | Alto Saxophone |
| Bob Laine | Piano |
| Nappy Lamare | Guitar, Vocals |
| Yank Lawson | Trumpet |
| Peyton Legare | Alto Saxophone |
| Jim Lynch | String Bass |
| Carol Mackay | Vocals |
| Peggy Mann | Vocals |
| Matty Matlock | Clarinet, Alto Saxophone |
| Dave Matthews | Tenor Saxophone |
| Garry McAdams | Guitar |
| Jimmie McPartland | Cornet |
| Joe Meyer | Trumpet |
| Eddie Miller | Clarinet, Tenor Saxophone |
| Glenn Miller | Trombone |
| Dick Morgan | Banjo |
| Benny Morton | Trombone |
| Francis Palmer | String Bass |
| Ben Pollack | Drums, Leader, Vocals |
| Sammy Prager | Piano |
| Joe Price | Steel Guitar |
| Frankie Quartell | Cornet |
| Artie Quenzer | Tenor Saxophone |
| Doris Robbins | Vocals |
| Gil Rodin | Clarinet, Alto Saxophone |
| Babe Russin | Tenor Saxophone |
| Bill Schumann | Cello |
| Andy Secrest | Trumpet |
| Shorty Sherock | Trumpet |
| Freddy Slack | Piano |
| Muggsy Spanier | Trumpet |
| Charlie Spivak | Trumpet |
| Bruce Squires | Trombone |
| Graham Stevenson | Drums |
| Lois Still | Vocals |
| Slim Taft | String Bass |
| Sammy Taylor | Drums |
| Charlie Teagarden | Trumpet |
| Jack Teagarden | Trombone, Vocals |
| Thurman Teague | String Bass |
| Carroll Thompson | Guitar |
| George Thow | Trumpet |
| Ruby Weinstein | Trumpet |
| Ray Woods | Trumpet |
| Joe Yukl | Trombone |