Next to Louis Armstrong, Harry James was not only the most famous trumpeter of the 1940s but remains a household name decades after his death. A brilliant virtuoso, James was criticized by some in the jazz world due to his pop hits but, in his prime, he had only a handful of equals.
Early Years
He was born March 15, 1916 in Albany, Georgia, the son of a father (Everett Robert James) who conducted bands for traveling circuses; his mother Myrtle Maybelle was an acrobat and horseback rider. James, who worked as a contortionist from the age of four in the circus, started playing drums when he was seven (he always enjoyed sitting behind a drum set) and began on the trumpet the following year.
His father was a bit of a taskmaster but the younger James took to the trumpet quickly. By the time he was 12, he was leading one of the ensembles for the Christy Brothers Circus.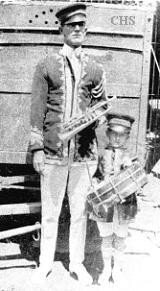 The circus training resulted in Harry James gaining strong endurance, a powerful melodic style, and versatility. During 1931-35 (starting when he was 15), he worked with a variety of territory bands based in Texas, becoming influenced by Louis Armstrong (always one of his heroes) and developing a swinging style that best displayed his wide range, use of dynamics, and ability to build up a solo to a passionate level.
James' first early break was when drummer Ben Pollack heard him play and asked him to join his band in 1935. The trumpeter stayed almost two years and made his recording debut in 1936, appearing on 12 numbers and already sounding like himself on "Song Of The Islands," "Spreadin' Knowledge Around," and his own song "Peckin'." James even took a very rare vocal on "Zoom, Zoom, Zoom." Pollack was already becoming famous for discovering talent that was soon stolen by other bandleaders. When Benny Goodman, who had the number one swing band, offered James a job at the beginning of 1937 (when he was still just 18), there was no way that the trumpeter would be turning him down.
Early Career
James joined Ziggy Elman and Chris Griffin as part of one of the great trumpet sections; each of the trumpeters took turns playing lead with James soon overshadowing Elman as the main soloist.
Goodman's band with Gene Krupa was at its height, leading the way in the crowded swing world. James, with his beautiful tone and exciting style, was a hit from the start, uplifting the orchestra on such numbers as "Down South Camp Meeting," a remake of "Peckin'," "Sing, Sing, Sing," "Roll 'Em," "Sugar Foot Stomp," "Life Goes To A Party," "One O'Clock Jump," and "St. Louis Blues."
He was part of Benny Goodman's famed Carnegie Hall concert on January 12, 1938 (including paying tribute to Louis Armstrong on "Shine"), and appeared in the Hollywood Hotel film with Goodman, playing "Sing, Sing, Sing," a song he grew to dislike, rarely ever performing it with his own orchestra. He also appeared on record dates with Teddy Wilson, including a quartet with Red Norvo and bassist John Simmons on "Ain't Misbehavin,'" "Just A Mood," and "Honeysuckle Rose." James led his first three sessions during this period including two during 1937-38 that teamed him with some of the members of the Count Basie Orchestra.
Leading The Band
In January 1939, Harry James went out on his own, putting together his own big band. He first recorded four dazzling numbers ("Boo Woo," "Woo Woo," "Home James" and "Jesse") in boogie-woogie trios featuring either Pete Johnson or Albert Ammons and then had his first big band date, debuting his theme song "Ciribiribin."
Considering his great popularity, it is a little surprising that it took two years for James' big band to start catching on, but there was an excess of swing orchestras in 1939, including Goodman, Artie Shaw, Glenn Miller, Tommy Dorsey, Duke Ellington, Count Basie, and Jimmie Lunceford to name just seven. James had to find his own niche.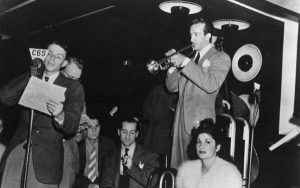 Other than altoist-arranger Dave Matthews, there were no notable names in his first big band. James did record regularly during this period including "Two O'Clock Jump" (which was Basie's "One O'Clock Jump" with an additional riff chorus), "Flash," and such displays as "Concerto For Trumpet" and "Flight Of The Bumble Bee," but he had no best sellers during 1939-40. For a few months James' band featured the young Frank Sinatra but the singer's only hit with the band, "All Or Nothing At All," did not sell that well until it was reissued several years later. Sinatra was snatched up after seven months by Tommy Dorsey.
"Sleepy Time Gal" (from October 13, 1939) was one of James' finest recordings, featuring the trumpeter with just the band's rhythm section, showcased at three different tempos in spectacular fashion. He should have recorded many more titles like that one but James (who recorded surprisingly few combo dates through the years) preferred to play with his big band.
Because his recordings were not selling that well (despite their excellent quality), James temporarily lost his contract with Columbia. He found a home with Eli Oberstein's budget label Varsity for a time in 1940, and there he recorded a series of rewarding if little-noticed sessions.
Success
Things changed permanently in 1941. Back on Columbia and with four strings added to his 14-piece big band (which also included singers Dick Haymes and Helen Forrest), James (who was always personally popular and a regular in the Metronome All-Star recording bands) hit pay dirt on May 20 with his instrumental recording of the old Al Jolson hit "You Made Me Love You." James had another hit record with "I Don't Want To Walk With You," featuring Forrest on a topical number just four days after the attack on Pearl Harbor. Forrest was a perfect match for James and she had further hits with "I Cried For You" and "I Had The Craziest Dream." The instrumentals "Cherry" and "Sleepy Lagoon" also caught on.
Suddenly Harry James was competing with Glenn Miller at the top of the swing world. When Miller broke up his civilian band in mid-1942 to join the Army Air Force, James was Number One, remaining there through 1945. Formerly married to singer Louise Tobin and for a time romantically involved with Helen Forrest, Harry James married Betty Grable (the actress with the million dollar legs) which gave him further celebrity status. Although he was never much of an actor, James made memorable appearances (usually playing a couple of songs) in many films of the era including Private Buckaroo, Bathing Beauty, If I'm Lucky, Springtime In the Rockies, and Best Foot Forward.
The recording strike of 1942-44 kept him off commercial records for two years but, due to the constant radio broadcasts, concert appearances, and movies, Harry James prospered throughout the war years.
Once he was back on records in November 1944, he had further hits in Duke Ellington's "I'm Beginning To See The Light" and the perfect song to end World War II, "It's Been A Long Long Time" (featuring singer Kitty Kallen).
Because some of his hit records featured relatively little improvisation and James could get a bit schmaltzy at times on ballads (accompanied by as many as 14 strings), he tended to be underrated by jazz fans, particularly when the bebop era began in the mid-1940s. However James always included some hot swing instrumentals in his repertoire and his key soloists included altoist Willie Smith and tenor-saxophonist Corky Corcoran.
Later Work
The end of the swing era and the rise of bebop, Dixieland, and pop vocalists resulted in James no longer having hit records by 1946. He broke up his orchestra at the end of the year, took a few months off, and returned with a reformed 18-piece swing band that dropped the string section (although they returned on some record dates in 1947). While he continued alternating swing instrumentals with ballad vocals, James had an open mind towards bebop. On November 3, 1947 he recorded an extended and cooking version of "Tuxedo Junction" that found him taking a boppish trumpet solo worthy of Fats Navarro and Dizzy Gillespie. Modern arrangements became part of his repertoire for the next couple of years.
By 1950, Harry James' interest in bop began to fade and his music began became more predictable. One could argue that his most creative years were over despite him still being in his prime and just 34 years old. James had success ghosting for Kirk Douglas in the soundtrack of Young Man With A Horn (sounding particularly hot on a brief "Get Happy") and also made an appearance in 1955's The Benny Goodman Story. He survived the 1951 loss of altoist Willie Smith, valve trombonist Juan Tizol, and his new drummer Louie Bellson to Duke Ellington in what was dubbed "The Great James Robbery" (all three eventually returned) and was good-humored about the raid, saying that he wished Ellington had asked him to join his band too.
While most other swing big bands had broken up, James continued to play engagements whenever he wanted with Las Vegas as his home base. Always a lover of Count Basie's style, by the mid-1950s James was using arrangements by Ernie Wilkins and Neal Hefti and his orchestra from then on sounded very much like Basie's. With Corky Corcoran, a returning Willie Smith, and either Buddy Rich or Louie Bellson in his band, James sailed through the 1950s, mixing together nostalgia with occasional hot swing numbers and appearing often on television.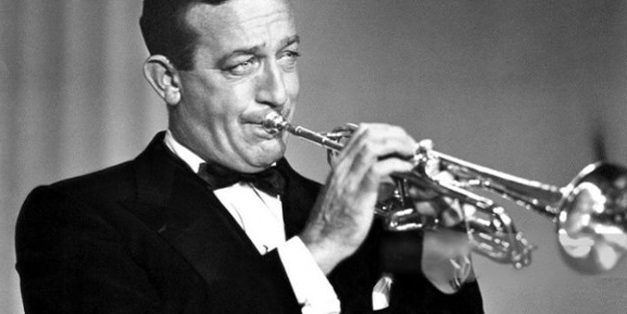 Even after he divorced Betty Grable and eventually lost his key soloists, nothing much changed for Harry James. He remained a brilliant trumpeter, making a very memorable appearance on a 1961 episode of The Danny Thomas Show that is climaxed by some stunning playing. Other than a few rare exceptions (the 1962 album Double Dixie in which he plays some 1920s classics and the Dixieland-oriented Mr. Trumpet from 1972), James stuck to similar music in the 1960s and '70s as he had played in the 1940s and '50s. His later recordings for MGM and Dot are rewarding in their own way but lacking in surprises, and his occasional big band versions of current pop tunes were usually less interesting than when he dug into his favorite standards.
The trumpeter gradually declined after the mid-1970s. He only made two recordings after 1976: a 1979 album for Sheffield Lab with his big band and a guest appearance from April 15, 1983 on a record by Japanese singer Kei Marimura, 43 years after his recording debut.
Harry James passed away less than three months later, on July 5, 1983, at the age of 67. Even now, few trumpeters are as well-known as the masterful swing virtuoso.