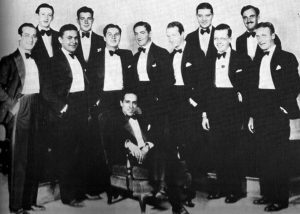 1928 was notable for two major events in Ben Pollack's life. In March he moved his band to New York where they had a base for regular East Coast tours and appeared in many local venues. A few months later, Pollack hired the then largely unknown Jack Teagarden as his trombone soloist. From that point on Glenn Miller, quickly recognizing Teagarden's superiority, chose to focus more on arranging.
Unlike many other bandleaders, Ben Pollack was generous in letting his talented sidemen record elsewhere while still working nightly in his orchestra. Pollack himself participated in some of the sessions which were generally more freewheeling and jazz-oriented than most of the recordings released under his own name as Ben Pollack's Park Central Orchestra.
Excerpt from Ben Pollack: Profiles in Jazz, by Scott Yanow
Thanks to Bob Palmer, Owen Miller and Richard Unger for the recordings on this page.
Title

Recording Date

Recording Location

Company

Bashful Baby


(Cliff Friend / Abner Silver )

7-25-1929
New York, New York
RCA X
LX-3003


53949-2

Bashful Baby


(Cliff Friend / Abner Silver)

7-25-1929
New York, New York
Victor
22074


53949-3

Buy, Buy For Baby
(Or Baby Will Bye-Bye You)


(Irving Caesar / Joseph Meyer)

10-15-1928
New York, New York
Victor
21743


47742-1

Buy, Buy For Baby
(Or Baby Will Bye-Bye You) (take 3)


(Irving Caesar / Joseph Meyer)

10-15-1928
New York, New York
RCA X
LX-3003


47742-3

Forever


(Jack Yellen / Milton Ager)

10-1-1928
New York, New York
Victor
21716
From Now On


(Edward Eliscu / Harry Ruby )

9-27-1929
New York, New York
Victor
22158
Futuristic Rhythm


(Dorothy Fields / Jimmy McHugh)

12-24-1928
New York, New York
Victor
21858
I'd Like To Be A Gypsy


(Ned Washington / Michael H. Cleary)

5-27-1929
New York, New York
Victor
22252
In A Great Big Way


(Dorothy Fields / Jimmy McHugh)

1-25-1929
New York, New York
Okeh
41189
(Louisville Rhythm Kings)
In The Hush Of The Night


(Sammy Lerner / Al Hoffman)

7-25-1929
New York, New York
Victor
22071
Keep Your Undershirt On


(Bert Kalmar / Harry Ruby)

11-29-1929
New York, New York
Victor
22267
Let's Sit And Talk About You


(Dorothy Fields / Jimmy McHugh)

1-24-1929
New York, New York
Victor
21858
Let's Sit And Talk About You


(Dorothy Fields / Jimmy McHugh)

1-16-1929
New York, New York
Okeh
(Louisville Rhythm Kings)
Louise
(from Paramount picture "Innocents of Paris")
Vocal refrain by Charles Roberts


(Leo Robin / Richard A. Whiting)

3-1-1929
New York, New York
Victor
21941-A
My Kinda Love
(One Way To Paradise)


(Jo Trent / Louis Alter)

3-5-1929
New York, New York
Victor
21944


50912-2

My Kinda Love
(One Way To Paradise)


(Jo Trent / Louis Alter)

3-5-1929
New York, New York
Victor
LPV-528


50912-3

On With The Dance!


(Monaco / Leslie / Dubin)

3-5-1929
New York, New York
Victor
21944
Sally Of My Dreams


(William Kernell)

1-24-1929
New York, New York
Victor
21857
Sentimental Baby


(Jack Palmer)

12-3-1928
New York, New York
Victor
21827
She's One Sweet Show Girl


(Edward Grossman / Ted Ward)

10-15-1928
New York, New York
Victor
21743


47743-1

She's One Sweet Show Girl


(Edward Grossman / Ted Ward)

10-15-1928
New York, New York
Victor
unissued


47743-2

She's One Sweet Show Girl


(Edward Grossman / Ted Ward)

10-15-1928
New York, New York
Victor
unissued


47743-3

Shout Hallelujah ! 'Cause I'm Home


(Dixon)

1-25-1929
New York, New York
Parlophone
R-340
(Bennie's Louisville Rhythm Kings)
Song Of The Blues


(Bernie Grossman / Isham Jones)

8-15-1929
New York, New York
Victor
22147
Sweetheart, We Need Each Other
(From the RADIO picture, "Rio Rita")
Vocal refrain by Burt Lorin


(Joseph McCarthy / Harry Tierney)

8-22-1929
New York, New York
Victor
22101-A
Then Came The Dawn


(Al Dubin / Harry Warren)

12-3-1928
New York, New York
Victor
21827
True Blue Lou
(from Paramount picture "The Dance of Life")


(Dobin / Coslow / Whiting )

8-15-1929
New York, New York
Victor
22089
Wait 'Til You See "Ma Cherie"
(from Paramount picture "Innocents of Paris")


(Leo Robin / Richard A. Whiting)

3-1-1929
New York, New York
Victor
21941-B
Where The Sweet Forget-Me-Nots Remember


(Mort Dixon / Harry Warren)

8-15-1929
New York, New York
Victor
22106-A
Won'tcha?
7-25-1929
New York, New York
Victor
22071
You're Always In My Arms
(But Only In My Dreams)
(From the RADIO picture, "Rio Rita")
Vocal refrain by Burt Lorin


(Joseph McCarthy / Harry Tierney)

8-22-1929
New York, New York
Victor
22101-B
You've Made Me Happy Today


(Graham John / Nicolas Kempner)

9-27-1929
New York, New York
Victor
22158
| | |
| --- | --- |
| Artist | Instrument |
| Gene Austin | Vocals |
| Smith Ballew | Vocals |
| Ray Bauduc | Drums |
| Franklyn Baur | Vocals |
| Al Beller | Violin |
| Ed Bergman | Violin |
| Larry Binyon | Clarinet, Tenor Saxophone, Flute |
| Vic Briedis | Piano |
| Joe Catalyne | Clarinet, Alto Saxophone |
| Benny Goodman | Clarinet, Alto Saxophone |
| Harry Goodman | Brass Bass |
| Al Harris | Cornet |
| Scrappy Lambert | Vocals |
| Belle Mann | Vocals |
| Matty Matlock | Clarinet, Alto Saxophone |
| Jimmy McPartland | Cornet |
| Dick Morgan | Banjo |
| Ben Pollack | Drums, Leader, Vocals |
| Snub Pollard | Trumpet |
| Dick Robertson | Vocals |
| Gil Rodin | Alto Saxophone |
| Bill Schumann | Cello |
| Murphy Steinberg | Trumpet |
| Charlie Teagarden | Trumpet |
| Jack Teagarden | Trombone |
| Ruby Weinstein | Trumpet |