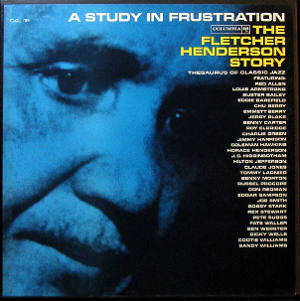 The Fletcher Henderson Orchestra was the first jazz big band to really swing. Arranger Don Redman figured out how to get the large ensemble sounding like a freewheeling combo as early as the spring of 1924. During 1923-34 and 1936-39 (the band broke up for a time in late 1934), Henderson employed most of the top young African-American jazz greats of the 1920s and '30s.
Consider that during that period, the personnel of Henderson's orchestra featured such talents as Louis Armstrong, Joe Smith, Tommy Ladnier, the greatly underrated Bobby Stark, Henry "Red" Allen, Cootie Williams, Rex Stewart and Roy Eldridge among its trumpeters and cornetists, trombonists Charlie Green, Jimmy Harrison, Benny Morton, J.C. Higginbotham, and Dicky Wells, clarinetist Buster Bailey, altoist Benny Carter, and tenors Coleman Hawkins, Lester Young (who unfortunately did not record with Henderson), Ben Webster, and Chu Berry. Henderson has to rank as one of jazz's greatest talent scouts.
A Study In Frustration, originally a 4-LP set and now available as a three-CD box, contains 64 of the greatest recordings of the Fletcher Henderson Orchestra. Few of the 64 performances would not be considered gems with the highlights including two versions of "Sugar Foot Stomp," three of "King Porter Stomp," "Copenhagen," "The Stampede," "Henderson Stomp," "Tozo,' "St. Louis Shuffle," "Oh Baby," "Clarinet Marmalade," "Honeysuckle Rose," "Yeah Man," "Christopher Columbus," and "Stealin' Apples." In Henderson's recordings, One can hear the evolution of jazz from dance music and early jazz through the height of the swing era. The arrangements of Redman, Carter and Henderson leave plenty of solo space for his illustrious sidemen.
While there have been other Fletcher Henderson collections, A Study In Frustration is essential.
Fletcher Henderson – A Study In Frustration (Columbia/Legacy 57596, 64 selections, TT = 189.50)