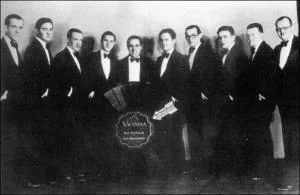 Returning to Chicago with the nucleus of the group, Ben Pollack soon had success playing at hotels. He landed a recording contract with the Victor label, recording four numbers in December 1926.
In those performances, one gets the idea of the sound that Pollack was after. He wanted to balance the artistic with the commercial, leaving room for hot solos from his key sidemen along with period vocals and melodic ensembles that included two violinists. He loved jazz but he also wanted some fame and fortune. The hottest number from these dates is "He's The Last Word" which has a catchy vocal by the Williams Sisters plus the first significant recorded solos by Benny Goodman and Glenn Miller.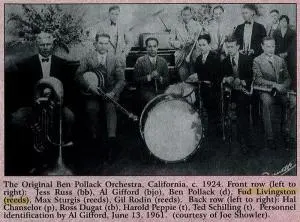 It would be a year before the band recorded again. By then Pollack had added cornetist Jimmy McPartland as the third major soloist in the group. Despite its potential quality, Pollack's orchestra only cut two songs that year: "Waitin' For Katie" which includes Benny Goodman's only recorded trumpet solo (a few short breaks) and "Memphis Blues."
Excerpt from Ben Pollack:Profiles in Jazz, by Scott Yanow
Thanks to Owen Miller and Richard Unger for the recordings on this page.
Title

Recording Date

Recording Location

Company

'Deed I Do


(Walter Hirsch / Fred Rose)

12-17-1926
Chicago, Illinois
Victor
20408-A
He's The Last Word


(Gus Kahn / Walter Donaldson)

12-17-1926
Chicago, Illinois
Victor
20425


37261-2

He's The Last Word


(Gus Kahn / Walter Donaldson)

12-17-1926
Chicago, Illinois
RCA X
LX-3003


37261-3

Memphis Blues


(W.C. Handy)

12-7-1927
New York, New York
Victor
21184


41343-1

Memphis Blues


(W.C. Handy)

12-7-1927
New York, New York
Victor
21184


41343-2

Singapore Sorrows


(Jack Le Soir / Ray Doll)

4-6-1928
New York, New York
Victor
unissued


43540-2

Singapore Sorrows


(Jack Le Soir / Ray Doll)

4-6-1928
New York, New York
Victor
unissued


43540-3

Singapore Sorrows


(Jack Le Soir / Ray Doll)

4-6-1928
New York, New York
Victor
unissued


43540-4

Singapore Sorrows


(Jack Le Soir / Ray Doll)

4-26-1928
New York, New York
Victor
21437-B


43540-6

Sweet Sue – Just You


(Will J. Harris / Victor Young)

4-26-1928
New York, New York
Victor
21437-A
Waitin' For Katie


(Kahn / Shapiro)

12-7-1927
New York, New York
Victor
21184
When I First Met Mary


(Little / Verges / Shay)

12-9-1926
Chicago, Illinois
Victor
20394
You're The One For Me


(Paul Ash / Walter Donaldson)

12-17-1926
Chicago, Illinois
Victor
20461
| | |
| --- | --- |
| Artist | Instrument |
| Wayne Allen | Piano |
| Ilomay Bailey | Vocals |
| Earl Baker | Cornet |
| Franklyn Baur | Vocals |
| Al Beller | Violin |
| Ed Bergman | Violin |
| Vic Briedis | Piano |
| Bud Freeman | Tenor Saxophone |
| Benny Goodman | Clarinet |
| Harry Goodman | Brass Bass |
| Harry Greenberg | Cornet |
| Al Harris | Cornet |
| John Kurzenknabe | Banjo |
| Fud Livingston | Tenor Saxophone |
| Jimmy McPartland | Cornet |
| Glenn Miller | Trombone |
| Dick Morgan | Banjo |
| Ben Pollack | Drums, Leader, Vocals |
| Joey Ray | Vocals |
| Gil Rodin | Alto Saxophone |
| Dorothy Williams | Vocals |
| Hannah Williams | Vocals |
| Victor Young | Violin |