In 1937 Ben Pollack moved to Los Angeles where he led a new band filled with fine local players plus the great cornetist Muggsy Spanier. In addition to a series of big band titles, he led a small-group from the orchestra, called Ben Pollack's Pick-A-Rib Boys (featuring Spanier), and accompanied Connee Boswell on some of her recordings. Spanier stayed with Pollack until a serious illness knocked him out of action.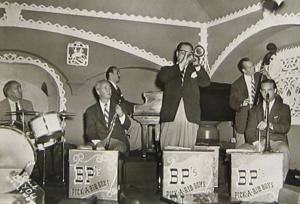 The hot trumpet chair was taken by Clyde Hurley in 1938 (who later joined Glenn Miller) and finally by Andy Secrest who is on the last Pollack big band recordings. It is ironic that while many of his former sidemen (Goodman, Teagarden, James, Slack, and much of the Bob Crosby Orchestra) were major names, Pollack (who was still only 36 in 1939) was becoming increasingly forgotten by the end of the 1930s.
In 1947 Pollack was back playing drums, leading a Dixieland combo with the revived name of the Pick-A-Rib Boys. Pollack ran the Pick-A-Rib restaurant in Hollywood during the 1950s and early '60s, leading a Dixieland group to perform at his establishment. His sidemen included clarinetist Barney Bigard and, for three months in 1956, his old friend Jack Teagarden.
Excerpts from Ben Pollack: Profiles in Jazz, by Scott Yanow
Title

Recording Date

Recording Location

Company

Alice Blue Gown


(Joseph McCarthy / Harry Tierney)

9-11-1937
Los Angeles, California
Decca
1546 B
Boogie Woogie
9-11-1937
Los Angeles, California
Decca
1517
California, Here I Come


(Buddy Desylva / Al Jolson / Joseph Meyer)

9-11-1937
Los Angeles, California
Decca
1517
Can't You Hear Me Calling, Caroline?
9-11-1937
Los Angeles, California
Decca
1458 A
Cuddle Up A Little Closer
9-11-1937
Los Angeles, California
Decca
1546 A
If It's The Last Thing I Do
Vocal Chorus by Peggy Mann


(Sammy Cain / Saul Chaplin)

9-21-1937
Los Angeles, California
Decca
1465 A
I'm In My Glory
From Universal Production "Merry Go Round of 1938")
Vocal Chorus by Peggy Mann


(Harold Adamson / Jimmy McHugh)

9-21-1937
Los Angeles, California
Decca
1488 B
Morocco
4-9-1938
Los Angeles, California
Decca
1851 A
My Wild Irish Rose


(Chauncey Olcott)

9-11-1937
Los Angeles, California
Decca
1458 B
Nobody's Gonna Take You From Me
4-9-1938
Los Angeles, California
Decca
1851 B
The Snake-Charmer


(Leonard Whiteup / Teddy Powell)

9-21-1937
Los Angeles, California
Decca
1488 A
You Made Me Love You
(I Didn't Want To Do It)
Vocal Chorus by Peggy Mann


(James V. Monaco / Joseph McCarthy)

9-21-1937
Los Angeles, California
Decca
1465 B
| | |
| --- | --- |
| Artist | Instrument |
| Paula Gayle | Vocals |
| King Guion | Tenor Saxophone |
| Bob Hemphill | Guitar |
| Clyde Hurley | Trumpet |
| Ben Kanter | Clarinet |
| Bob Laine | Piano |
| Charles LaVere | Piano |
| Happy Lawson | Tenor Saxophone |
| Peggy Mann | Vocals |
| Garry McAdams | Guitar |
| Francis Palmer | String Bass |
| Ben Pollack | Drums |
| Muggsy Spanier | Trumpet |
| Slim Taft | String Bass |
| Ted Vesley | Trombone |
| Joe Yukl | Trombone |