Clarinetist Ted Lewis was born in Circleville, Ohio in 1890 and was playing leading bands in Ohio as early as 1910.
Ted formed a musical vaudeville act with his older brother Edward Friedman that was billed as "Ted and Ed" which toured the Gus Sun Vaudeville circuit. When his brother tired of show business Ted moved to New York and got a job playing clarinet and saxophone at El Dorado Cafe in New York.
Ted then teamed up with a young singer named Jack Lewis and they called their act "Lewis and Lewis". From then on Ted Friedman went by the last name of Lewis. "Lewis and Lewis" disbanded after a disastrous vaudeville tour of Canada in December of 1912 and January of 1913 which left them broke and stranded.
Ted briefly returned to Circleville before moving to New York in 1915 where he formed a band that played at the College Cabaret at Coney Island. In 1916 Lewis joined Earl Fuller's band which had engagements at the Aux Caprice Domino Room and Rector's supper club in Manhattan. It was in Fuller's group that Ted Lewis rose to fame and made his first recordings in 1917.
The success of the Original Dixieland Jass Band had opened the doors for other hot and novelty syncopated orchestras and Earl Fuller's Famous Jazz Band was the most successful of the bunch. Lewis' wild stage antics and crazy clarinet sound stole the show and by 1919 he had left Fuller's band and started his own group which was featured in the "Passing Show of 1919" and the "Greenwich Village Follies" of 1919 through 1922.
When not taking part in these productions Lewis and his band were busy performing at Manhattan nightclubs such as the Bal Tabarin and the Montmarte and recording for Columbia. Ted Lewis and his Band
became one of the most popular bands of the early 1920s and continued to be very successful throughout the rest of the decade and the 1930s.
Lewis' bands and records over the years featured many up-and-coming Jazz musicians like Muggsy Spanier, Jimmy Dorsey, Benny Goodman, George Brunies, Jack Teagarden and Fats Waller.
He was renowned for his famous saying "Is Everybody Happy?" Lewis wore a battered top hat on stage and was billed as the "High-hatted Tragedian of Jazz" and "The Medicine Man for Your Blues".
There were three films made about Ted Lewis or starring him entitled "Is Everybody Happy?". The first was made in 1929 starring Tod Todd as Ted. In 1942 Universal made a musical short starring Lewis in 1942 with that title. In 1943 Columbia Pictures made a movie about Lewis' life called "Is Everybody Happy?" with Larry Parks playing Lewis (Parks also played Jolson in "The Al Jolson Story"). Ted Lewis' career continued up into the 1960s appearing on TV and playing in Las Vegas.
Here is a special bonus recording by Ted Lewis and his Band from the 1929 talkie movie "The Show Of Shows". The band performs the songs "Bold Pirates" and "Lady Luck".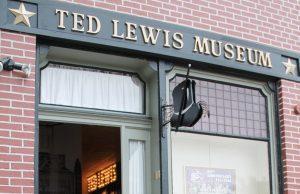 If you are in southern Ohio be sure to check out the Ted Lewis Museum which has on display memorabilia of the legendary jazz musician, Ted Lewis. The museum features the Ted Lewis Theater which provides guests with an opportunity to see Ted Lewis in performance by means of tapes from his movies and TV appearances. The museum is open 1-5 p.m. on Fridays and Saturdays. Group tours are available by appointment. Call(740) 474-3231 or (740) 474-3834 for details. The Ted Lewis Museum is located at 133 West Main Street, P.O. Box 492, Circleville, Ohio.
Thanks to Dennis Pereya and Uncle Dave Lewis for their help with this page.
| | | |
| --- | --- | --- |
| Title | Director | Year |
| Is Everybody Happy? | Archie Mayo | 1929 |
| The Show Of Shows | John G. Adolfi | 1929 |
| Happiness Remedy | | 1931 |
| Here Comes the Band | Paul Sloane | 1935 |
| Manhattan Merry-Go-Round | Charles Reisner  | 1937 |
| Hold That Ghost | Arthur Lubin | 1941 |
| Is Everybody Happy? | | 1942 |
| Is Everybody Happy? | Charles Barton | 1943 |
Me and My Father's Shadow: A Daughter's Quest and Biography of Ted Lewis, the Jazz King, by Dawn Williams, Sunrise House Publishers, 2005