Ted Lewis and his Band was one of the best selling Jazz bands of the 1920s and Lewis was Columbia Records best selling artist. Lewis got his start with Earl Fuller's Famous Jazz Band in 1917, but his clarinet antics soon made him the star of the group and he went solo in 1919, taking most of the musicians from Fuller's band with him.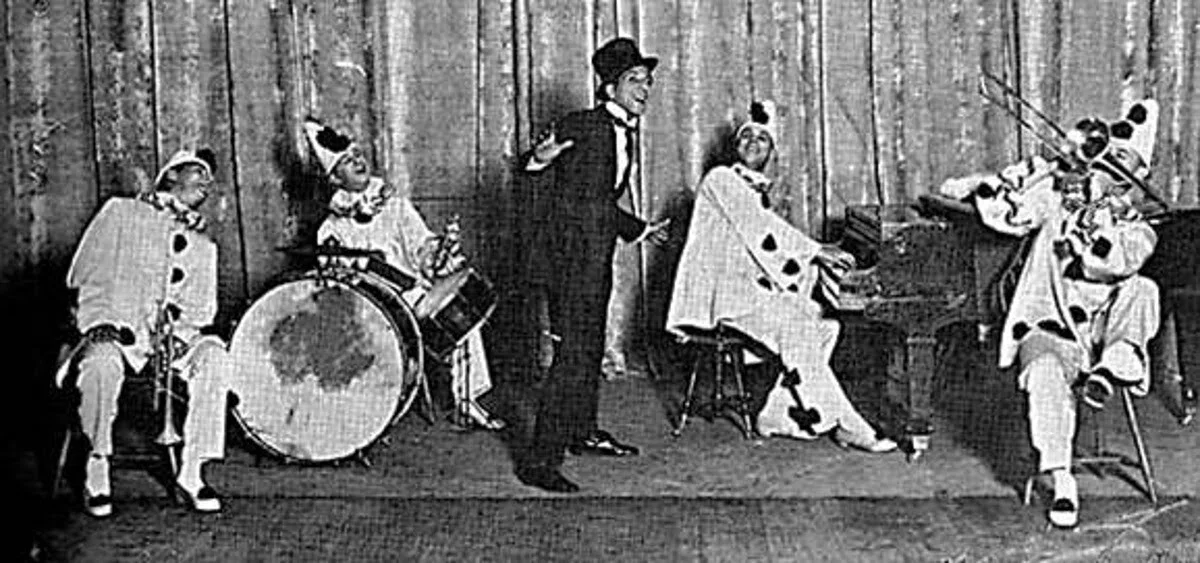 In 1924 Lewis hired George Brunies of the New Orleans Rhythm Kings and in 1928 he hired Muggsy Spainer. Over the years many up-and-coming Jazz greats like Benny Goodman, Jack Teagarden and Jimmy Dorsey passed through the band early in their careers. With all of this talent passing through the band they were really starting to swing by the early 1930s as evidenced in tunes like Jazznocracy, White Heat and Rhythm, but as the Depression worn on Lewis had become more of a Pop vocalist and Jazz was not figuring as prominently in the mix.
Most modern Jazz histories overlook or downplay 
Ted Lewis' role in the development of Jazz. When he is mentioned he is often dismissed as being commercial and corny, but Lewis was a true Jazz pioneer and on his best songs like Dip Your Brush In Sunshine it is easy to understand why he was so popular.
If you are in southern Ohio be sure to check out the Ted Lewis Museum which has on display memorabilia of the legendary jazz musician, Ted Lewis. The museum features the Ted Lewis Theater which provides guests with an opportunity to see Ted Lewis in performance by means of tapes from his movies and TV appearances. The museum is open 1-5 p.m. on Fridays and Saturdays. Group tours are available by appointment. Call(740) 477-3630 or contact Polly Miller at (740) 474-3231 for details. The Ted Lewis Museum is located at 133 West Main Street, P.O. Box 492, Circleville, Ohio, 43113. www.tedlewismuseum.org
Thanks to Carl Rose, Verne Buland, James Gallup, Dave Lewis, Owen Miller, Dave Bartholomew and Dennis Pereyra for their help with the recordings on this page.>
Title

Recording Date

Recording Location

Company

A Good Man Is Hard To Find


(Eddie Green)

3-22-1928
New York, New York
Columbia
1428-D
Ah-Ha!


(James V. Monaco / Sidney Clare)

2-3-1925
New York, New York
Columbia
311-D
A Jazz Holiday


(W. Benton Overstreet / Walter Melrose)

4-3-1928
New York, New York
Columbia
1525-D
Alexander's Ragtime Band


(Irving Berlin)

6-2-1927
New York, New York
Columbia
1084-D
All Aboard For Dreamland, Baby


(Baer / Young)

2-1-1933
New York, New York
Columbia
2758-D
Allah's Holiday


(Rudolf Friml)

12-6-1928
New York, New York
Columbia
5330
All By Myself


(Irving Berlin)

6-11-1921
New York, New York
Columbia
A3434
Anabelle


(Ray Henderson)

7-13-1923
New York, New York
Columbia
A3957
Regal
G8005
An Ev'ning in Caroline


(Walter Donaldson)

10-26-1931
New York, New York
Columbia
2560-D
Columbia
DO-665
An Old, Old Man With A Old, Old Pipe


(Revel / Gordon)

5-2-1933
New York, New York
Columbia
2777-D
Angry
(George Brunies / Jules Cassard / Abbie Brunies / Mecum)
6-22-1925
New York, New York
Columbia
416-D
Angry (140711-1)
(George Brunies / Jules Cassard / Abbie Brunies / Mecum)
6-22-1925
New York, New York
Columbia
416-D
At Last I'm Happy


(Friend / Clare / Conrad)

1-12-1931
New York, New York
Columbia
2408-D
Aunt Hager's Blues


(W.C. Handy)

4-16-1923
New York, New York
Columbia
A3879
Aunt Hager's Blues


(W.C. Handy)

1-20-1930
New York, New York
Columbia
3169-D
Away Down South In Heaven


(Bud Green / Harry Warren)

12-16-1927
New York, New York
Columbia
1242-D
Baby Face


(Benny Davis)

1957
Hollywood, California
RKO Unique 122
Bam-Bam-Bamy Shore


(Mort Dixon / Ray Henderson)

10-8-1925
New York, New York
Columbia
478-D
Barnyard Blues


(Nick LaRocca)

6-5-1924
New York, New York
Columbia
170-D
Be Yourself
1957
Hollywood, California
RKO Unique 122
Bimimi Bay


(Whiting)

7-18-1921
New York, New York
Columbia
A3473
Beale Street Blues


(W.C. Handy)

4-19-1923
New York, New York
Columbia
A3972
Beale Street Blues


(W.C. Handy)

6-8-1927
New York, New York
Columbia
1050-D
Beale Street Mama


(Roy Turk / J. Russel Robinson)

4-17-1923
New York, New York
Columbia
A3892
Beale Street Mama (80971-1)


(Roy Turk / J. Russel Robinson)

4-17-1923
New York, New York
Columbia
unreleased
Bee's Knees


(Leo Wood / Ray Lopez / Ted Lewis)

9-27-1922
New York, New York
Columbia
A3730
Blue Skies


(Irving Berlin)

3-8-1950
New York, New York
Decca
DL5233
Blues
(My Naughty Sweetie Gives To Me)


(Swanstone / MaCarron / Morgan)

10-1-1919
New York, New York
Columbia
A2798
Blues
(My Naughty Sweetie Gives To Me)


(Swanstone / MaCarron / Morgan)

7-16-1926
Chicago, Illinois
Columbia
770-D
Bo-La-Bo (Egyptian Fox-trot)


(George Fairman)

1-12-1920
New York, New York
Columbia
A2895
G7533
Bring Back Those Minstrel Days
7-26-1926
New York, New York
Columbia
unissued
Broadway Rose


(Martin Fried / Otis Spencer)

11-28-1920
New York, New York
Columbia
A3351
Bugle Call Rag


(Elmer Schoebel / Jack Pettis / Meyers)

11-22-1926
Chicago, Illinois
Columbia
826-D
Buy American!
(And Good Times Will Come Thru')


(Sherman / Lewis)

1-31-1933
New York, New York
Columbia
2748-D
Clarinet Marmalade (1)


(Larry Shields / Henry Ragas)

7-16-1928
New York, New York
Columbia
1573-D
Clarinet Marmalade (4)


(Larry Shields / Henry Ragas)

7-16-1928
New York, New York
Columbia
1573-D
Cooble-Stones


(Claire / Pollack)

1-26-1928
New York, New York
Columbia
1313-D
Cuddle Up A Little Closer, Lovey Mine


(Otto Harbach / Karl Hoschna)

3-8-1950
New York, New York
Decca
91804
Cut Yourself A Piece Of Cake


(Billy James)

7-5-1923
New York, New York
Columbia
A3944
Dallas Blues
Fats Waller at the Piano


(Hart A. Wand / Lloyd Garret)

3-5-1931
New York, New York
Columbia
2527-D
Melotone M 13379-B
Dark Town Strutters Ball


(Shelton Brooks)

3-23-1927
New York, New York
Columbia
1084-D
Did She Ask For Me?


(Rothberg / Grey)

11-10-1934
New York, New York
Brunswick RL-304
Dinah


(Sam M. Lewis / Joe Young / Harry Akst)

1-24-1930
New York, New York
Columbia
2181-D
Dip Your Brush In Sunshine


(Andy Razaf / J.C. Johnson)

4-13-1931
New York, New York
Columbia
2467-D
Don't Wake Me Up (Let Me Dream)


(Wayne / Baer / Gilbert)

12-15-1925
New York, New York
Columbia
531-D
Down The Old Church Aisle
from "Greenwich Village Follies of 1921"


(Ray Perkins)

10-20-1921
New York, New York
Columbia
A3538
Down The Old Church Aisle


(Ray Perkins)

6-8-1927
New York, New York
Columbia
1207-D
Down The Old Church Aisle


(Ray Perkins)

5-26-1941
Los Angeles, California
Decca
3846
Dream Daddy


(Louis Herscher / George Keefer )

2-10-1924
New York, New York
Columbia
82-D
Drifting And Dreaming


(Loyal Curtis / Haven Gillespie / Erwin R. Schmidt / Egbert Van Alstyne)

12-15-1925
New York, New York
Columbia
620-D
Earthquake
11-10-1934
Chicago, Illinois
Decca
unreleased
Eccentric


(J. Russel Robinson)

8-11-1924
New York, New York
Columbia
195-D
Egyptian Ella


(Doyle)

3-5-1931
New York, New York
Columbia
2428-D
Everybody Step
from "The Music Box Revue"


(Irving Berlin)

10-21-1921
New York, New York
Columbia
A3499
Every Day
Introducing: Oh Gee, Oh Gosh!
from "For Goodness Sake"


(Daly)

2-24-1922
New York, New York
Columbia
A3590
Fair One


(Ted Lewis / George Mallen)

8-25-1920
New York, New York
Columbia
A2998
Farewell Blues
(Paul Mares / Leon Roppolo / Elmer Schoebel)
8-21-1929
New York, New York
Columbia
2029-D
Okeh
41580
Fate


(Byron Gay)

9-27-1922
New York, New York
Columbia
A3738
Fifty Million Frenchmen Can't Be Wrong


(Rose / Raskin / Fisher)

4-27-1927
New York, New York
Columbia
988-D
Frankie And Johnnie
(You'll Miss Me In The Days To Come)


(Leighton Bros. / Ren Shields)

4-21-1927
New York, New York
Columbia
1017-D
Okeh
41582
Georgette


(Lew Brown / Ray Henderson)

6-28-1922
New York, New York
Columbia
A3662
Glad Rag Doll


(Jack Yellen / Milton Ager / Dougherty)

12-13-1928
New York, New York
Columbia
1709-D
Goodnight


(Leo Wood / Irving Bibo / Con Conrad)

12-16-1927
New York, New York
Columbia
1296-D
Goodnight


(Leo Wood / Irving Bibo / Con Conrad)

7-16-1938
Los Angeles, California
Decca
23919
Goodnight


(Leo Wood / Irving Bibo / Con Conrad)

1957
Hollywood, California
RKO Unique 108
Gypsy Moon


(Leo Camby / Ed Moebus)

8-25-1920
New York, New York
Columbia
A2998
Happiness Ahead
(from "Happiness Ahead")


(Mort Dixon / Allie Wrubel)

10-1-1934
New York, New York
Decca
239
Harmonica Harry (The Harmonica King)


(Baxter)

1-6-1930
New York, New York
Columbia
2088-D
Have You Ever Been Lonely?
(Have You Ever Been Blue)


(Rose / Brown)

2-1-1933
New York, New York
Columbia
2753-D
Heading For Better Times


(Tobias / Mencher)

1-12-1931
New York, New York
Columbia
2378-D
Columbia
2721-D
Hello Montreal!


(Billy Rose / Mort Dixon / Harry Warren)

3-22-1928
New York, New York
Columbia
1346-D
Here You Come With Love


(Tent / Tobias / Moret)

7-28-1933
New York, New York
Columbia
2799-D
Hi – Diddle – Diddle


(Coon / Keidel)

6-2-1926
Chicago, Illinois
Columbia
670-D
Ho Hum!


(Suesse / Heyman)

4-15-1931
New York, New York
Columbia
2452-D
Home Again Blues


(Irving Berlin / Akst)

7-18-1921
New York, New York
Columbia
A3464
Homemade Sunshine


(Sammy Fain / Norman / Kahal)

10-3-1930
New York, New York
Columbia
2311-D
Homemade Sunshine


(Sammy Fain / Norman / Kahal)

1957
Hollywood, California
RKO Unique 108
Homesick


(Irving Berlin)

9-15-1922
New York, New York
Columbia
A3709
Home Town


(Jimmy Kennedy / Michael Carr)

1-14-1949
Los Angeles
Decca
24649
Hot Lips


(Henry Busse / Jack Lange / Lou Davis)

7-20-1922
New York, New York
Columbia
A3676
I Ain't Got Nobody
(And Nobody Cares For Me)


(Williams / Graham)

3-23-1928
New York, New York
Columbia
1428
Okeh
41587
I Ain't Got Nobody To Love (140199-2)


(Sam Coslow / Abner Silver)

12-19-1924
New York, New York
Columbia
274-D
I Ain't Got Nobody To Love (140199-4)


(Sam Coslow / Abner Silver)

12-19-1924
New York, New York
Columbia
unreleased
I Can Sew A Button
11-10-1934
Chicago, Illinois
Decca
unreleased
I Can't Get Over A Girl Like You
(from "Lemaire's Affairs")


(Ruskin / Martin Broones)

7-26-1926
New York, New York
Columbia
754-D
If I Had A Million Dollars
From "Transatlantic Merry-Go-Round"


(Matty Malneck / Johnny Mercer)

10-1-1934
New York, New York
Decca
242 A
If I Were A Millionaire


(Gus Edwards / Will Cobb)

1957
Hollywood, California
RKO Unique 122
If You See Sally


(Donaldson / Kahn / Egan)

11-26-1926
New York, New York
Columbia
844-D
(I Got A) New Deal For Love


(Robinson / Livingston)

11-10-1934
New York, New York
Brunswick RL-304
I Like You Best Of All


(Little / Sizemore / Shay)

12-23-1924
New York, New York
Columbia
274-D


140205-1

I Like You Best Of All


(Little / Sizemore / Shay)

12-23-1924
New York, New York
Columbia
unreleased


140205-4

I'll Close My Eyes To Everyone Else (If You'll Open Your Heart To Mine)


(Tinturin / Kenny / Terker)

10-2-1934
New York, New York
Decca
240
I'll See You In C-U-B-A


(Irving Berlin)

3-14-1920
New York, New York
Columbia
A2927
I Love You In The Same Sweet Way


(King / Moll)

7-1-1931
New York, New York
Columbia
2492-D
I Love You


(Lewis / Yoell)

6-5-1929
New York, New York
Columbia
1916-D
I Love You Sally
 
New York, New York
Columbia
I Love You Sunday


(Charley Straight)

8-25-1920
New York, New York
Columbia
A3306
I Love You, Sweet Angeline
from "Strut Miss Lizzie"


(Henry Creamer / J. Turner Layton)

7-22-1922
New York, New York
Columbia
A3676
I'm All Dressed Up With A Broken Heart


(Fisher / Unger / Stern)

7-1-1931
New York, New York
Columbia
2492-D
I'm Coming Back To You – Maybe


(Ernie Golden / Ted Lewis)

2-1921
San Francisco, California
Columbia
A3400
I'm Crazy About My Baby


(Andy Razaf / Fats Waller)

3-5-1931
New York, New York
Columbia
2428-D
I Miss My Swiss


(Gilbert / Baer)

6-23-1925
New York, New York
Columbia
406-D
I'm Stepping Out With A Memory Tonight
1957
Hollywood, California
RKO Unique 108
I'm Sure Of Everything But You


(O'Flynn / Meyer / Wendling)

11-28-1932
New York, New York
Columbia
2728-D
I'm The Medicine Man For The Blues
From Ted Lewis' Talking Picture "Is Everybody Happy?"


(Harry Akst / Grant Clarke)

5-26-1929
New York, New York
Columbia
1882-D
I'm The Medicine Man For The Blues


(Harry Akst / Grant Clarke)

7-25-1938
Los Angeles, California
Decca
2033 B
I'm The Medicine Man For The Blues


(Harry Akst / Grant Clarke)

1957
Hollywood, California
RKO Unique 108
I'm Walking Around In A Dream
(Ted Lewis / Larry Yoell / Robert E. Spencer)
5-26-1929
New York, New York
Columbia
1854-D
In A Garden In Old Kalua


(Jack Aronson / Mickey Kippel)

4-19-1933
New York, New York
Columbia
2777-D
In A Shanty In Old Shanty Town


(Young / Siras / Little)

3-15-1932
New York, New York
Columbia
2652-D
In My Gondola


(Bud Green / Harry Warren)

2-1926
New York, New York
Columbia
585-D
In The Land Of Jazz
(Theme Song, "Is Everybody Happy")


(Brennan / Perkins)

5-30-1929
New York, New York
Columbia
CB 5
In The Vine-Covered Church Way Back Home


(Weldon / Miller)

6-22-1933
New York, New York
Columbia
2799-D
Is Everybody Happy Now?
(From "Artists and Models")
(Rubens / Osterman / Ted Lewis)
11-18-1927
New York, New York
Columbia
1207-D
Isn't It A Shame?


(Silver / Sherman / Lewis)

10-2-1934
New York, New York
Decca
241 B
Is It True What They Say About The South?
1957
Hollywood, California
RKO Unique 122
It's Only A Paper Moon


(Billy Rose / Yip Harburg / Harold Arlen)

7-9-1940
Los Angeles, California
V Disc 883 A
It's Sunday Down In Caroline
Vocal Refrain by Shirley Jay


(Levinson / Symes / Neiburg)

5-2-1933
New York, New York
Columbia
2775-D
I've Found A New Baby


(Jack Palmer / Spencer Williams)

2-1926
New York, New York
Columbia
600-D
I've Got A Million Wonderful Memories
1957
Hollywood, California
RKO Unique 122
I Wish I Was In Peoria


(Mort Dixon / Billy Rose / Harry W. Woods)

12-28-1925
New York, New York
Columbia
543-D
I Wonder What's Become Of Sally?


(Milton Ager)

6-5-1924
New York, New York
Columbia
157-D
Iyone – My Own Iyone


(Bryan / Britt / Leonard)

6-2-1926
New York, New York
Columbia
670-D
Jazz Me Blues


(Tom Delaney)

5-26-1941
Los Angeles, California
Decca
4272
Jazznochracy


(Will Hudson)

8-27-1934
New York, New York
Decca
107 A
Jealous


(J. Little / D. Finch / T. Malie)

3-8-1950
New York, New York
Decca
DL5233
Jenny


(Friend and Conrad)

1-5-1923
New York, New York
Columbia
A3814
June Night


(Abel Baer / Cliff Friend)

5-24-1924
New York, New York
Columbia
157-D
Jungle Blues
(Jelly Roll Morton)
4-3-1928
New York, New York
Columbia
1525-D
Just A Gigolo


(Leonello Casucci / Irving Caesar)

1-13-1931
New York, New York
Columbia
2378 -D
Just Around The Corner
(Featured In The Universal Picture "Oh, Charlie")


(Harry Von Tizer / Dolph Singer)

10-28-1925
New York, New York
Columbia
504-D
Just Around The Corner
Featured In The Universal Picture "Oh, Charlie"


(Harry Von Tizer / Dolph Singer)

5-26-1941
Los Angeles, California
Decca
3846
Keep A Little Sunshine In Your Heart


(Harry Von Tizer)

11-23-1926
New York, New York
Columbia
922-D
Keep Sweeping The Cob Webs Off The Moon
With Ruth Etting


(Levant / Lewis / Young)

12-16-1927
New York, New York
Columbia
1242-D
King For A Day


(Ted Fiorito / Sam Lewis / Joe Young)

7-19-1928
New York, New York
Columbia
1485-D
King For A Day


(Ted Fiorito / Sam Lewis / Joe Young)

3-8-1950
New York, New York
Decca
1485
Lady Luck
Talkie Hit from Warner Bros. Motion Picture Production "Show of Shows"


(Perkins)

8-22-1929
New York, New York
Columbia
1999-D
Laugh! Clown! Laugh!


(Ted Fiorito / Sam Lewis / Joe Young)

3-23-1928
New York, New York
Columbia
1346-D
Laughing At Life
(Todd / Kenny)
10-3-1930
New York, New York
Columbia
2311-D
Lazy Bones


(Johnny Mercer / Hoagy Carmichael)

6-22-1933
New York, New York
Columbia
2786-D
Lewisada Blues (148568-5)


(Ted Lewis)

6-4-1929
New York, New York
Columbia
1916-D
Lewisada Blues (148568-4)


(Ted Lewis)

6-4-1929
New York, New York
Columbia
unreleased
Lily
(from "Rufus Le Maire's Affairs")


(Macdonald / Warren / Broones)

2-6-1927
New York, New York
Columbia
895-D
Limehouse Blues


(Furber / Braham)

12-11-1928
New York, New York
Columbia
1789
Columbia 14274
Okeh
41582
Little Locket Of Long Ago


(Joseph Burke / Harry M. Woods)

7-28-1933
New York, New York
Columbia
2807-D
Lonely Troubadour


(John Klenner)

8-24-1929
New York, New York
Columbia
1957-D
Louisville Lou (The Vamping Lady)


(Milton Ager)

4-20-1923
New York, New York
Columbia
A3892
Love Me


(Golden / Byres)

3-1921
San Francisco, California
Columbia
A3411
Lovin' Sam (The Sheik Of Alabam')


(Milton Ager)

9-29-1922
New York, New York
Columbia
A3730
Ma
Introducing: When The Honeymoon Was Over
(Con Conrad)
(Fred Fisher)
7-18-1921
New York, New York
Columbia
A3473
Madeline


(Friend / Baer / Whiteman)

11-14-1924
New York, New York
Columbia
255-D
Margie


(Davis / Con Conrad / J. Russel Robinson)

11-28-1920
New York, New York
Columbia
A3351
Marguerite


(Sherman / Bernie / Murphy)

6-23-1925
New York, New York
Columbia
406-D
Marie


(Motzan / Santly)

10-23-1921
New York, New York
Columbia
A3538
Mary Ann


(Silver / Davis )

1-18-1928
New York, New York
Columbia
1313-D
Maybe – Who Knows?


(Tucker / Schuster / Getting)

5-26-1929
New York, New York
Columbia
1854-D
Memphis Blues


(W.C. Handy)

4-21-1927
New York, New York
Columbia
1050-D
Milenberg Joys


(Jelly Roll Morton)

6-22-1925
New York, New York
Columbia
439-D
Moonlight Madness
(Then You Were Gone)


(Fred Coots / Lou Davis)

7-17-1928
New York, New York
Columbia
1485-D
Moonlight Millionaires


(Irving Kahal / George Meyer / Billy Rose)

4-19-1933
New York, New York
Columbia
2774-D
Mr. Radio Man


(Cliff Friend)

2-10-1924
New York, New York
Columbia
82-D
Music Is Magic


(Ted Lewis)

1957
Hollywood, California
RKO Unique 122
My Blue Heaven


(Walter Donaldson / George Whiting)

3-8-1950
New York, New York
Decca
24967
My Little Dreamboat


(Fred Coots / Lou Davis)

7-18-1928
New York, New York
Columbia
1999-D
Columbia
CB 5
My Little Girl
1957
Hollywood, California
RKO Unique 122
My Mama's In Town


(Hirsch / Panico / Nuzzo)

6-3-1926
Chicago, Illinois
Columbia
697-D
My Melancholy Baby


(Ernie Burnett / George Norton / Maybelle Watson)

3-8-1950
New York, New York
Decca
24967
My Old Flame
(From "Belle Of The Nineties")


(Sam Coslow / Arthur Johnson)

10-2-1934
New York, New York
Decca
241 A
My Woman!


(Wallman / Wartell / Crosby)

3-15-1932
New York, New York
Columbia
2635-D
New Farewell Blues


(Paul Mares / Leon Roppolo / Elmer Schoebel)

1-12-1931
New York, New York
Columbia
2721-D
Nobody Loves You Like I Do


(Benny Davis / Harry Akst)

10-17-1924
New York, New York
Columbia
241-D
Oh, Baby!
(from "Rain Or Shine")


(Murphy)

3-21-1928
New York, New York
Columbia
1391-D
"O" (Oh!)
Introducing: "The Vamp" with vocal by Jack Kauffman


(Byron Gay / Arnold Johnson)

12-9-1919
New York, New York
Columbia
A2844
O! Katharina


(Fall / Gilbert)

1-29-1925
New York, New York
Columbia
295-D
Old High Hat


(Brennan J. Keirn )

1957
Hollywood, California
RKO Unique 108
Old Playmate


(Matt Malneck / Gus Kahn)

10-26-1931
New York, New York
Columbia
2560-D
Columbia
DO-665
On The Sunny Side Of The Street


(Dorothy Fields / Jimmy McHugh)

2-28-1930
New York, New York
Columbia
2144-D
On The Sunny Side Of The Street
Just Around The Corner
Medley
1957
Hollywood, California
RKO Unique 108
One Sweet Letter From You


(Lew Brown / Sidney Clare / Harry Warren)

4-27-1927
New York, New York
Columbia
988-D
One More Time


(Buddy DeSylva / Lew Brown / Ray Henderson)

4-13-1931
New York, New York
Columbia
2452-D
Pal-ing Around With You


(Gladys Keyes / Mildred Kelly / Geraldine Du Bois)

1-14-1949
Los Angeles
Decca
24564
Play Fiddle Play


(Arthur Altman / Emery Deutsch / Jack Lawrence)

11-28-1932
New York, New York
Columbia
2728-D
Pop! Goes Your Heart
(from "Happiness Ahead")


(Mort Dixon / Allie Wrubel)

10-1-1934
New York, New York
Decca
239
Brunswick RL-208
Poor Papa


(Billy Rose / Harry Woods)

2-10-1925
Chicago, Illinois
Columbia
565-D
Pretty Little Baby


(Phil Baker / Ben Bernie / Sid Silvers)

12-28-1925
New York, New York
Columbia
543-D
Queen Of Sheba
(Ted Lewis)
2-1921
San Francisco, California
Columbia
A3421
Rhythm


(Jimmy Dale)

6-22-1933
New York, New York
Columbia
2786-D
Okeh
41587
Rose-Marie
from "Rose Marie" (140140-4)


(Rudolf Friml)

11-14-1924
New York, New York
Columbia
255-D
Rose-Marie (140140-1)


(Rudolf Friml)

11-14-1924
New York, New York
Columbia
unissued
Roses Of Picardy


(Wood / Weatherly)

12-20-1928
New York, New York
Columbia
1789-D
Rosy Posy
from "The Blushing Bride"


(Romberg)

2-24-1922
New York, New York
Columbia
A3590
Royal Garden Blues
Vocal Refrain by Fats Waller


(Spencer Williams / Clarence Williams)

3-5-1931
New York, New York
Columbia
2527-D
Okeh
41579
Runnin' Wild


(Joe Grey / A. Harrington Gibbs)

12-5-1922
Chicago, Illinois
Columbia
A3790
Russian Lullaby


(Irving Berlin)

12-20-1928
New York, New York
Columbia
5389
Columbia 14274
Sally, Won't You Come Back?
Introducing "Bring Back My Blushing Rose"
from "Ziegfeld Follies Of 1921"


(Stamper) (Friml)

6-11-1921
New York, New York
Columbia
A3453
San


(Lindsay McPhail / Walter Michaels)

6-10-1924
New York, New York
Columbia
122-D
San


(Lindsay McPhail / Walter Michaels)

1-8-1930
New York, New York
Columbia
2113-D
Say, Arbella


(Gus Kahn / Ted Fiorito)

6-23-1925
New York, New York
Columbia
416-D
Second Hand Rose
Introducing "I Know"
from "Ziegfeld Follies Of 1921"


(Hanley) (Monaco)

7-13-1921
New York, New York
Columbia
A3453
Send Back My Honeyman


(Lou Handman)

6-28-1922
New York, New York
Columbia
A3662
September Song


(Kurt Weill / Maxwell Anderson)

1957
Hollywood, California
RKO Unique 108
She Loves Me


(Lew Brown / Austin Egen)

9-10-1924
New York, New York
Columbia
227-D
She's Everybody's Sweatheart


(Con Conrad)

6-10-1924
New York, New York
Columbia
122-D
She's Funny That Way
(I Got A Woman Crazy For Me Blues)


(Neil Moret / Richard Whiting)

12-5-1928
New York, New York
Columbia
1656-D
She's Funny That Way


(Neil Moret / Richard Whiting)

7-25-1938
Los Angeles, California
Decca
2054
She's Funny That Way


(Neil Moret / Richard Whiting)

1957
Hollywood, California
RKO Unique 108
Shim-Me-Sha-Wabble
(Spencer Williams)
7-16-1928
New York, New York
Columbia
1573-DMelotone M 13379-A
Show Me The Way
(Lewis / Ross / Davis)
10-9-1924
New York, New York
Columbia
241-D
Sing A Little Song For My Baby


(Buddy Kaye / Ted Lewis / Howard Steiner)

1-14-1949
New York, New York
Decca
24649
Singing A Vagabond Song
(Richman / Messenhiemer / Burton)
3-3-1930
New York, New York
Columbia
2144-D
Sing You Sinners


(Sam Coslow / W. Franke Harling)

3-8-1950
New York, New York
Decca
91805
Sobbin' Blues (1)
(Art Kassell / Vic Berton)
4-24-1930
New York, New York
Okeh
41585
Sobbin' Blues (2)
(Art Kassell / Vic Berton)
4-24-1930
New York, New York
Columbia
2217-D
Somebody Loves You


(De Rose / Tobias)

3-16-1932
New York, New York
Columbia
2635-D
Somebody Stole My Gal


(Wood)

4-17-1930
New York, New York
Columbia
2336-D
Somebody Stole My Gal


(Wood)

1957
Hollywood, California
RKO Unique 122
Someday, Sweetheart


(Benjamin Spikes / John Spikes / Jelly Roll Morton)

4-17-1930
New York, New York
Columbia
2336-D
Some Of These Days
With Sophie Tucker


(Shelton Brooks)

11-23-1926
New York, New York
Columbia
826-D
Columbia
3169-D
Somehow Fox-Trot
(Ted Lewis)
4-9-1920
New York, New York
Columbia
A2945
Start The Band


(Rubens / Osterman / Lewis)

3-21-1928
New York, New York
Columbia
1391-D
Steppin' Out


(John S. Howard / Con Conrad)

12-4-1923
New York, New York
Columbia
48-D
St. Louis Blues


(W.C. Handy)

12-7-1922
Chicago, Illinois
Columbia
A3790
Stormy Weather
Vocal Refrain by Shirley Jay


(Harold Arlen / Ted Koehler)

5-2-1933
New York, New York
Columbia
2774-D
Sunshine Alley


(West)

5-19-1922
New York, New York
Columbia
A3647
Sweetie Pie


(Loeb)

10-2-1934
New York, New York
Decca
240
Sweetheart Of Sigma Chi


(Byron D. Stokes / F. Dudleigh Vernon)

11-18-1927
New York, New York
Columbia
1296-D
Sweetheart Of Sigma Chi


(Byron D. Stokes / F. Dudleigh Vernon)

7-16-1938
Los Angeles, California
Decca
23919
Sweet Little You


(Irving M. Bilbo)

8-11-1924
New York, New York
Columbia
195-D
Sweet Sue – Just You


(Will J. Harris / Victor Young)

3-16-1932
New York, New York
Columbia
2652-D
Ted Lewis Popular Favorites
9-13-1923
New York, New York
Columbia
1-S
Ted Lewis Presents A Miniture Dance Program
Introducing: Dinah
The Lonesome Road
Columbia
56000
Ten Little Fingers And Ten Little Toes
(Down In Tennessee)


(Schuster / Nelson)

10-20-1921
New York, New York
Columbia
A3499
Ten Thousand Years Ago
(Berns / King / Benny Goodman)
7-28-1933
New York, New York
Columbia
2807-D
That Certain Party


(Gus Kahn / Walter Donaldson)

12-18-1925
New York, New York
Columbia
531-D
That Riga-Liga-Lee


(Ted Lewis / Egbert Van Alstyne)

8-25-1920
New York, New York
Columbia
A3329
That's Why I Love You


(Donaldson / Ash)

7-1-1926
New York, New York
Columbia
667-D
The Best Things In Life Are Free
(Featured in MGM Picture and Musical Production"Good News")


(B.G. DeSylva / Lew Brown / Ray Henderson)

3-8-1950
New York, New York
Decca
91805
The Camel Walk


(Robert Schafer / Cecil Mack / Tim Brymm / Chris Smith)

10-8-1925
New York, New York
Columbia
478-D
The Cop On The Beat
Me And My Shadow
Medley
(Murray / Goodhart / Hoffman)
(Al Jolson / Dave Dreyer / Billy Rose)
1957
Hollywood, California
RKO Unique 108
The Gold Digger's Song (We�re In The Money)
(from "Gold Diggers of 1933")


(Al Durbin / Harry Warren)

4-19-1933
New York, New York
Columbia
2775-D
The Hula Blues


(John Avery Noble)

8-25-1920
New York, New York
Columbia
A3306
The Memphis Blues


(W.C. Handy)

1-4-1923
New York, New York
Columbia
A3813
The Moon Shines On The Moonshine


(Bowers)

3-28-1920
New York, New York
Columbia
A2927
The New St. Louis Blues


(W.C. Handy)

6-3-1926
Chicago, Illinois
Columbia
697-D
The Old St. Louis Blues


(W.C. Handy)

7-25-1938
Los Angeles, California
Decca
2033 A
The One I Love Belongs To Somebody Else


(Isham Jones / Gus Kahn)

12-4-1923
New York, New York
Columbia
52-D
The World Is Waiting For The Sunrise
(Ernest Seitz / Eugene Lockhart)
4-14-1930
New York, New York
Columbia
2246-D
The Little Old Church In The Valley


(Gus Kahn / Gene Arnold / Egbert Van Alstyne)

4-15-1931
New York, New York
Columbia
2467-D
The Little Old Church In The Valley


(Gus Kahn / Gene Arnold / Egbert Van Alstyne)

1-14-1949
Los Angeles, California
Decca
The Lonesome Road
(Talkie Hit from Universal Production "Showboat")


(Nat Shikret / Gene Austin)

1-10-1930
New York, New York
Columbia
2181-D
The Monkey Doodle-Doo


(Irving Berlin)

12-18-1925
New York, New York
Columbia
620-D
The Yellow Dog Blues
(He's Gone Where the Southern Cross the Yellow Dog) (1)


(W.C. Handy)

4-18-1930
New York, New York
Columbia
2217-D
The Yellow Dog Blues
(He's Gone Where the Southern Cross the Yellow Dog) (4)


(W.C. Handy)

4-18-1930
New York, New York
Columbia
2217-D
There's A New Day Comin'


(Milton Ager / Young)

1-31-1933
New York, New York
Columbia
2753-D
There's A Ring Around My Rainbow


(Harry Link)

1-31-1933
New York, New York
Columbia
2758-D
There'll Be Some Changes Made


(Billy Higgins / W. Benton Overstreet)

8-11-1924
New York, New York
Columbia
170-D
There'll Be Some Changes Made


(Billy Higgins / W. Benton Overstreet)

1957
Hollywood, California
RKO Unique 122
There's Going To Be A Wedding In The Band


(Baxter)

10-1-1934
New York, New York
Decca
242 B
Three O'Clock In The Morning
(Julian Robledo / Dorothy Terriss)
4-24-1930
New York, New York
Columbia
2246-D
Three O'Clock In The Morning
(Julian Robledo / Dorothy Terriss)
1945
Hollywood, California
Columbia
Telefocal
Radio Series disc (number 2 of 3)
Three O'Clock In The Morning
(Julian Robledo / Dorothy Terriss)
7-25-1938
Los Angeles, California
Decca
2110 B
Through!
(How Can You Say We're Through?)
(Monaco / McCarthy)
8-22-1929
New York, New York
Columbia
1957-D
Tiger Rag


(Nick LaRocca)

1-5-1923
New York, New York
Columbia
A3813
Tiger Rag


(Nick LaRocca)

7-16-1926
Chicago, Illinois
Columbia
770-D
Tiger Rag


(Nick LaRocca)

5-26-1941
Los Angeles, California
Decca
4272
Tin Roof Blues
(New Orleans Rhythm Kings)
6-22-1925
New York, New York
Columbia
439-D
Tired Of Me


(Walter Donaldson)

8-25-1920
New York, New York
Columbia
A3329
To-morrow
(I'll Be In My Dixie Home Again)


(Turk / Robinson)

9-16-1922
New York, New York
Columbia
A3709
Tonight Is Mine
From "Stingaree"


(Gus Kahn / Franke Harling)

8-27-1934
New York, New York
Decca
106
Too Tired


(George A. Little / Arthur Sizemore / Larry Shay)

10-7-1924
New York, New York
Columbia
227-D
Truly (I Love You)
2-13-1931
New York, New York
Columbia
2408-D
Try A Little Tenderness


(Harry Woods / Jimmy Campbell / Reg Connelly)

2-1-1933
New York, New York
Columbia
2748-D
Twelve O'Clock At Night


(Lou Handman)

12-4-1923
New York, New York
Columbia
52-D
12th Street Rag


(Euday L. Bowman)

4-19-1923
New York, New York
Columbia
A3972
Two Cigarettes In The Dark
From "Kill That Story"


(Lew Pollack / Francis Webster )

8-27-1934
New York, New York
Decca
106
Underneath The Palms


(Golden / Olman)

2-1921
San Francisco, California
Columbia
A3411
Unfortunate Blues


(Henry Winston / Fred Ham)

12-4-1923
New York, New York
Columbia
48-D
Wabash Blues


(Ringle / Meinken)

8-21-1929
New York, New York
Columbia
2029-D
Okeh
41579
Walking Around In A Dream


(Ted Lewis / Larry Yoell / Robert E. Spencer)

1957
Hollywood, California
RKO Unique 122
Wandering In Dreamland
(from "Rufus Le Maire's Affairs")


(Macdonald / Broones)

2-6-1927
New York, New York
Columbia
895-D
Wang Wang Blues


(Gus Mueller / Bert Johnson / Henry Busse)

7-18-1921
New York, New York
Columbia
A3464
Wah! Wah!
(from "Rufus Le Maire's Affairs")


(Macdonald / Broones)

3-23-1927
New York, New York
Columbia
1017-D
Wear A Hat With A Silver Lining


(Alfred Bryan / Al Sherman)

12-4-1928
New York, New York
Columbia
1656-D
Wear A Hat With A Silver Lining


(Alfred Bryan / Al Sherman)

7-16-1938
Los Angeles, California
Decca
2110 A
We'll Build A Dear Little, Cute Little Love Nest – Some Sweet Day


(Leason / Hanbury)

5-19-1922
New York, New York
Columbia
A3647
We're Back Together Again


(James V. Monaco / Sidney Clare)

2-7-1925
New York, New York
Columbia
311-D
Wet Yo' Thumb


(Harry Akst)

4-17-1923
New York, New York
Columbia
3879
When My Baby Smiles At Me


(Andrew B. Sterling / Bill Monroe / Ted Lewis)

12-9-1919
New York, New York
Columbia
A2908
When My Baby Smiles At Me (1)


(Andrew B. Sterling / Bill Monroe / Ted Lewis)

11-22-1926
Chicago, Illinois
Columbia
922-D
When My Baby Smiles At Me (3)


(Andrew B. Sterling / Bill Monroe / Ted Lewis)

11-22-1926
Chicago, Illinois
Columbia
922-D
When My Baby Smiles At Me


(Andrew B. Sterling / Bill Monroe / Ted Lewis)

7-16-1938
Los Angeles, California
Decca
2054
When My Baby Smiles At Me


(Andrew B. Sterling / Bill Monroe / Ted Lewis)

1957
Hollywood, California
RKO Unique 108
When The Curtain Comes Down


(Al Sherman / Al Lewis / Carl Hoefle)

12-12-1928
New York, New York
Columbia
1709-D
When You're Smiling


(Mark Fisher / Joe Goodwin / Larry Shay)

1957
Hollywood, California
RKO Unique 122
Where Daddy Now Blues
Introducing: Naughty Waltz Blues
(Motzan / Olman)
(Olman)
3-1921
San Francisco, California
Columbia
A3421
Where'd You Get Those Eyes


(Walter Donaldson)

6-1-1926
New York, New York
Columbia
667-D
While We Danced Till Dawn (141211-4)


(Henry Santly / Ira Schuster)

10-28-1925
New York, New York
Columbia
504-D
While We Danced Till Dawn (141211-1)


(Henry Santly / Ira Schuster)

10-28-1925
New York, New York
Columbia
unreleased
White Heat


(Will Hudson)

8-27-1934
New York, New York
Decca
107 B
Will You Remember Me?


(Davis / Santly / Richman)

1-9-1925
New York, New York
Columbia
295-D
Wistful And Blue


(Davidson / Etting)

11-26-1926
New York, New York
Columbia
844-D
Wond'ring


(David)

10-1-1919
New York, New York
Columbia
A2857
Wouldn't It Be Wonderful?
From Ted Lewis' Talking Picture "Is Everybody Happy?"


(Harry Akst / Grant Clarke)

5-26-1929
New York, New York
Columbia
1882-D
You've Got That Thing
(from "Fifty Million Frenchmen")


(Cole Porter)

12-23-1929
New York, New York
Columbia
2088-D
Artist

Instrument

Jack Aaronson
Piano
Harry Barth
Tuba
Sam Blank
Trombone
George Brunies
Trombone, Kazoo
Vic Carpenter
Banjo
Ernie Cutting
Piano
Benny Davis
Vocals
Jimmy Dorsey
Clarinet, Baritone Saxophone, Alto Saxophone
Ruth Etting
Vocals
Tony Gerhardi
Banjo, Guitar
Benny Goodman
Clarinet, Alto Saxophone
Bob Escamilla
Tuba
John Lucas
Drums
Walter Kahn
Cornet
Jack Kaufman
Vocals
Dave Klein
Cornet
Sol Klein
Violin
Manny Klein
Trumpet
Don Murray
Clarinet, Baritone Saxophone, Tenor Saxophone, Alto Saxophone
Ted Lewis
Clarinet, Alto Saxophone, Harmonica, Vocals
Slats Long
Clarinet, Alto Saxophone
Louis Martin
Baritone Saxophone
Don Murray
Clarinet, Tenor Saxophone, Baritone Saxophone,
Alto Saxophone
Harry Raderman
Trombone, Bass Saxophone
Dick Reyolds
Trombone, Bass Saxophone
Sam Shapiro
Violin
Muggsy Spainer
Cornet
Jack Teagarden
Trombone
Frank Teschemacher
Clarinet
Sophie Tucker
Vocals
Fats Waller
Piano, Vocals
Hymie Wolfson
Tenor Saxophone
The Four Dusty Travelers
Vocal Harmonies