Following the publication of "Nick Fatool – the Perfect Jazz Percussionist" (Syncopated Times, Nov. 2019), I have been carrying on a dialogue with Kevin Dorn—a World Class drummer and great friend—regarding Nick Fatool, and several others who have influenced our playing. We both think that Syncopated Times readers would be interested to know more about some of the drum masters who inspire us…
Hal Smith: Nick Fatool is universally admired by drummers, other instrumentalists and jazz fans alike. What is it about Nick's playing that appeals to you?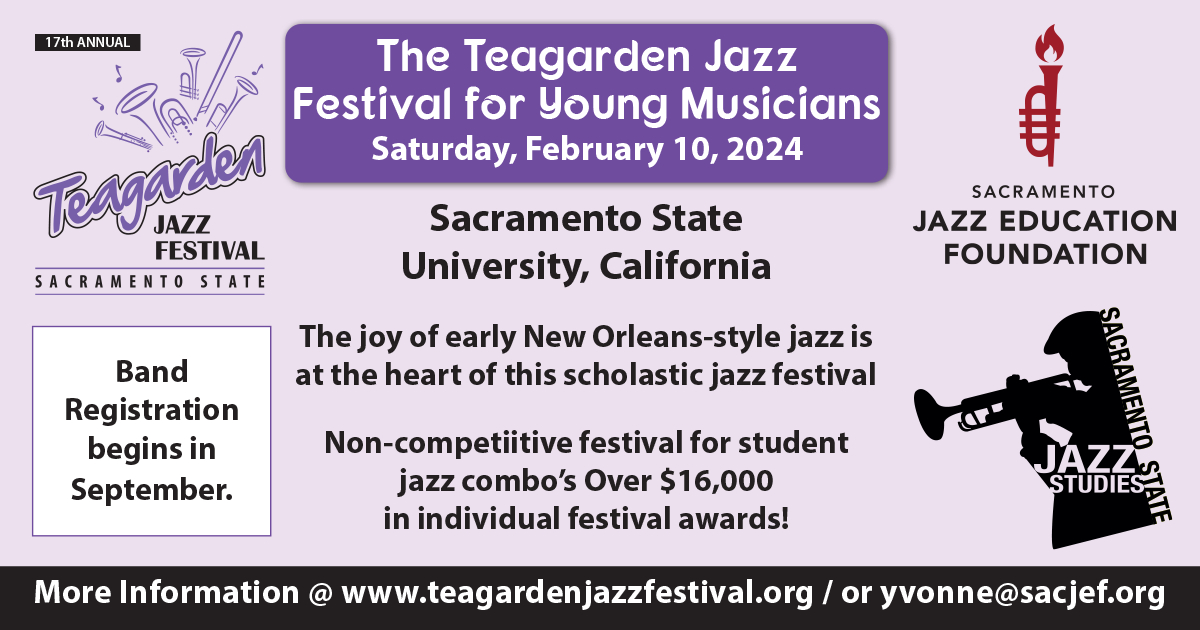 Kevin Dorn: I love his sound, which was never piercing or abrasive. He often used a riveted ride cymbal and a swish cymbal with rivets, and the combination worked perfectly. He had an incredible swinging beat. He would also leave lots of space in his solos. Like George Wettling and Cliff Leeman, he was a master of the four-bar drum break at the end of a tune. The tag he plays at the end of "Butter and Egg Man" from Bobby Hackett and Jack Teagarden's Coast Concert is an absolute classic.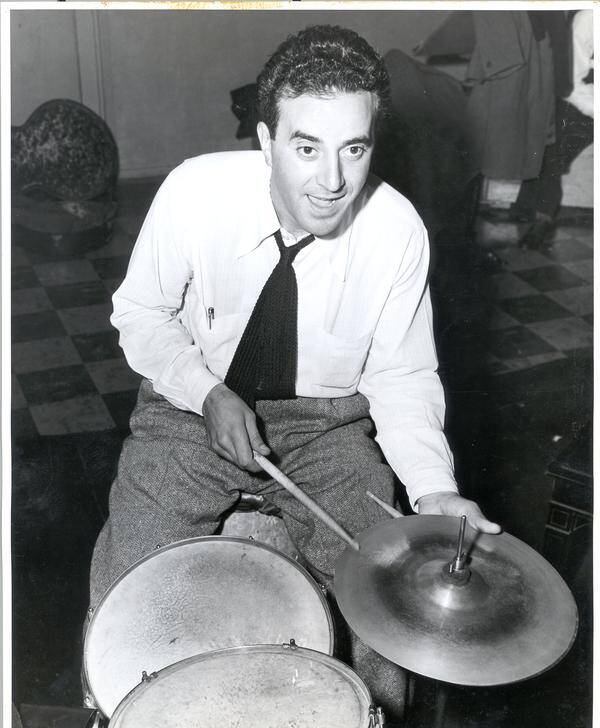 He had his own individual style that he could make work in a variety of settings while always remaining himself. He would constantly break all the "rules" of traditional jazz drumming by playing a ride cymbal with a tuba or cowbell licks with a mainstream swing group. He did his own thing. Nick Fatool is truly one of my favorite drummers and biggest influences.
HS: You mentioned his four-bar drum tags…I agree with you that he played some of the best, along with Wettling and Leeman. And I also like his use of open space. Many times, he would roll up to a rimshot, leave a rest, smack the swish cymbal, and then play uncluttered syncopations between the cowbell and tom-toms or bass drum. And it never disrupted the rhythmic flow. That kind of phrasing was really effective as a four-bar drum tag, after a final chorus where the horns were playing lots of notes. I'm so glad that I got to hear Nick play those fills and tags in person, and that I got to meet him – and to play his drum set! He is without a doubt one of my main inspirations.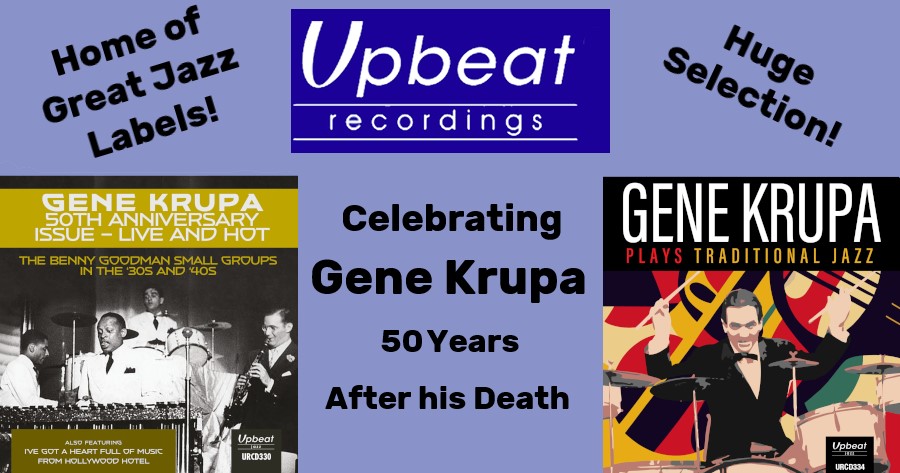 KD: I'm envious that you got to hear Nick Fatool in person! I wish I could have seen him play. A drummer we both got to hear in person on numerous occasions was Jake Hanna and we've talked about him many times. Jake has been a huge influence on me. His touch on the cymbals, his brushwork, and his driving feel were all incredible. How did hearing and knowing Jake influence your playing?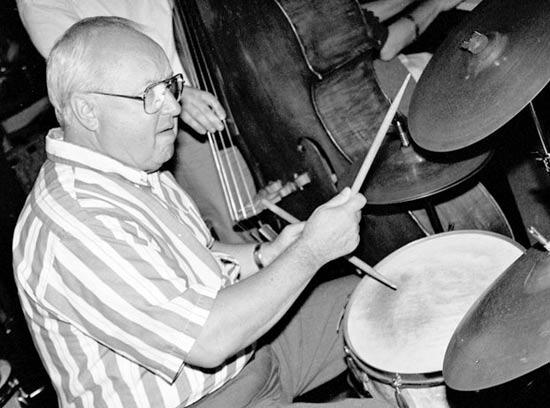 HS: I was still learning about swing drumming when I bought Soprano Summit's Live at the Concord Jazz Festival LP with Jake on drums. The drumming was unlike anything else I had heard up to that point: so light and swinging, but driving at the same time! As I continued to listen to Jake on record, I noticed cool things he did such as switching to brushes for certain solos, then going back to sticks for a full-band passage. The way he coordinated his phrasing between snare, cymbals and bass drum was amazing, and so was the sound he drew out of the cymbals—in particular the Chinese. And his brush playing was sensational; on slow and medium numbers he "swept" a huge sound out of the snare, but on fast tempos, his hands were a blur!
Living on the West Coast for so many years, I got to hear Jake in a variety of settings, and even took lessons from him in the early 1980s. Later, I got to know him better and furnished him with drums on a few occasions when he was reluctant to haul his set around to different clubs. And as you might imagine, he had some incredible stories—and not just about drummers! I feel extremely fortunate to have gotten an opportunity to hear him play, to hear his stories about the musicians I admire and of course to study with him. Those lessons were worth their weight in gold, and I use every single thing he taught me when I play today—regardless of the band style.
KD: I also took a great lesson from Jake one time when I was in LA. He was so inspiring and truly loved every swinging drummer from Zutty Singleton to Kenny Clarke. I remember that he spoke very highly of you!
Another way in which he influenced me was with his minimal set-up. He would often just use two drums—snare drum and bass drum—-and cymbals. I even saw him remove the tom toms from drum sets that were provided for him at festivals and in recording studios. It showed where his priorities were. He focused on playing time and swinging the band. When he took a solo, it made it all the more amazing because of how little he had to work with. But it was all he needed. I'm so glad I got to know him and see him play.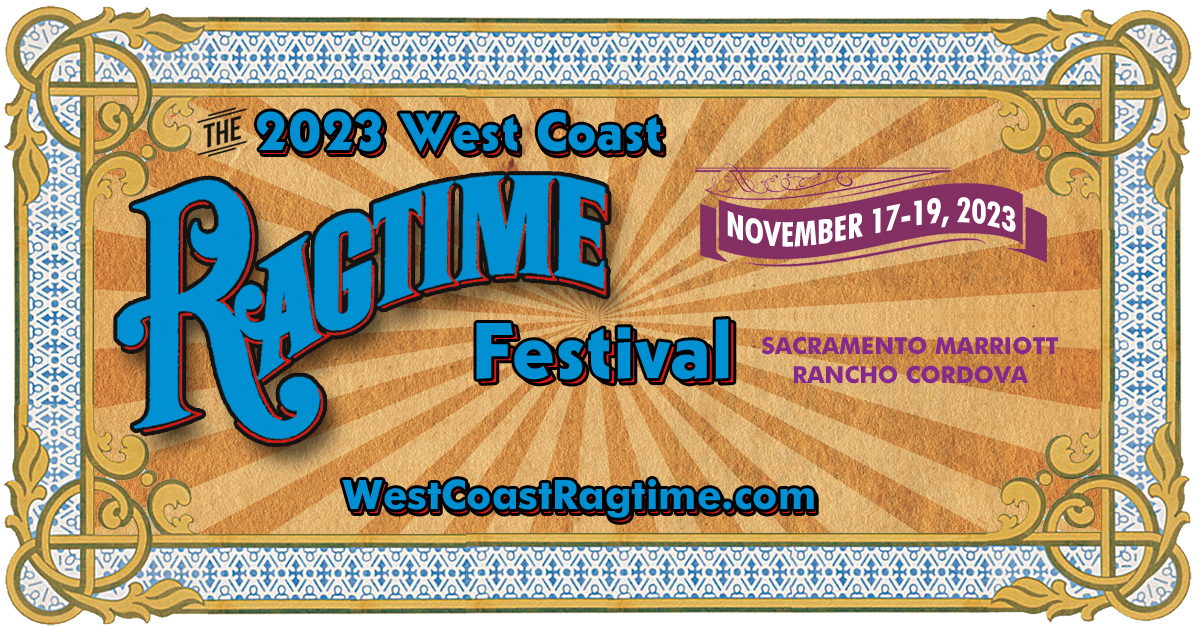 HS: I'm sure that you noticed what a great sound Jake got from the bass drum too. One time at a festival I was listening from the back of the room to a band with Jake, thinking "Wow—he is really locked in with that bass player." Eventually I noticed: There was no bass player! All those beautiful tones were coming from the bass drum!
It's great to know that you were able to have a lesson from him. Jake advertised his lessons for awhile in Modern Drummer magazine; something like "Teaching Swing, brushes and what not to do!" As you mentioned, I saw him remove the tom-toms from festival drums on a number of occasions. He really knew how to get the most music out of the least amount of equipment!
HS: One drummer you and I have talked about quite often is Morey Feld. He has never achieved the recognition he deserved, and that is puzzling. He sounded terrific in each of his tenures with Benny Goodman and he also played a lot with Eddie Condon's band. Even Ken Colyer singled him out as an excellent drummer when Colyer heard the Condon band! Morey had fantastic technique, even at lightning-fast tempos. But to my ears, he never overplayed.
KD: Morey Feld is another of my favorites! He also had a great bass drum sound and played a very prominent four to the bar on the bass drum, even at very fast tempos. I agree with you that he never overplayed. He was the ultimate swinging and supportive drummer, but when he took a solo, you realized that he also had some scary hands!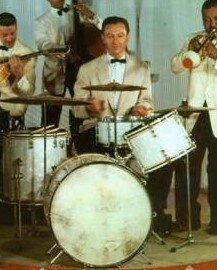 One of my desert island recordings is Benny Goodman Live at Basin Street East from 1954, with Morey Feld on drums. I know you love that one as well. In fact, I heard you play a great set in San Diego one time, doing some of that material.
On that recording, Morey Feld's bass drum playing, brushwork, beautiful cymbal sound, and driving technique are all on display. I love how he could get so many different sounds from just the hi-hat and how he could be very subdued when it suited the music, and then a complete powerhouse when it was called for. He's another one of those guys (maybe there's a trend here) who could play with anyone and make his style work.
I hear a lot of Gene Krupa in Morey Feld's playing and some Buddy Rich too. But also some perhaps more unexpected influences like Max Roach and Art Blakey. He put it all together into his own sound. He was a master and should definitely be better known!
HS: I appreciate your compliments for that set in San Diego. I don't have anything remotely resembling Morey Feld's technique, but his spirit must have helped me through that performance! You're right: There are definitely traces of Krupa and Rich in Morey Feld's playing. He also liked to play in modern settings—like the recordings with his trio and the "Straight-Ahead Six" but as you noted, he sounded great in any style. And fortunately, we can watch films of Morey with Goodman, Condon, and Bobby Hackett on YouTube.
KD: Sid Catlett is another drummer who I know we both love. He's better known than some of the other players we've been talking about, but I didn't want to hold that against him! When speaking of swinging drummers who were able to make their style fit a wide variety of musical situations, Sid Catlett is pretty hard to top. I feel that you could put almost anyone from any era of jazz on top of his playing and it would sound good.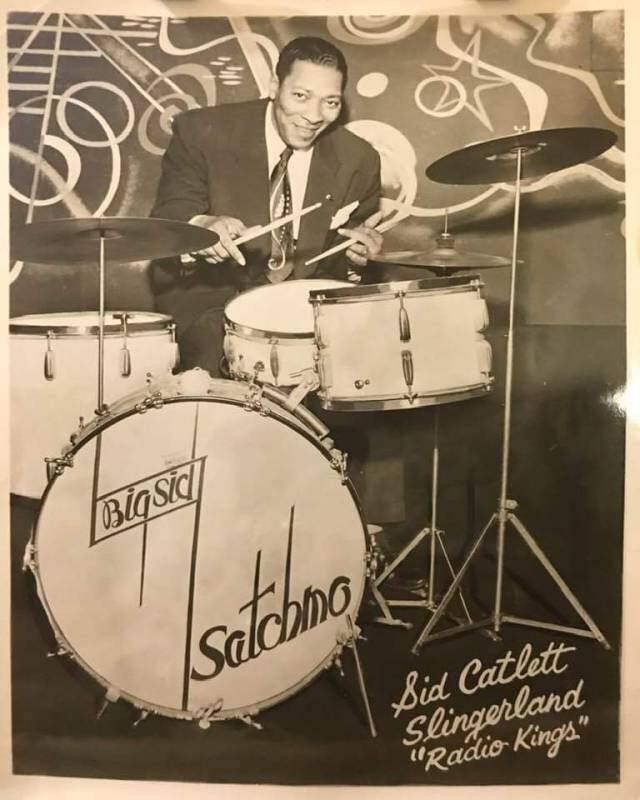 HS: Yeah—as far as I'm concerned, Sid was THE MAN—regardless of the musical style he was playing. I have heard that he played a date with Dizzy Gillespie and a jam session with Bunk Johnson on the same day, and played perfectly in both settings! I don't doubt that for a minute. Also, I was told that he was one of the substitute drummers—along with Zutty Singleton and Minor Hall—for the Firehouse 5 + 2! Can you picture Big Sid in a fireman's outfit?!?
Sid sounds amazing on every single recording he made with Armstrong, Condon, Gillespie and Parker, Bechet, James P. Johnson, and everyone else. He played absolutely perfect backing for each ensemble and each soloist, and he made the drums and cymbals sing. He was the greatest of all for leaving space in his solos and drum tags and also for the way he coordinated the choke cymbal with the bass drum. I could go on and on and on about Big Sid, but I would like to hear more from YOU!
KD: When I was around 25, I spent several months listening to nothing but Louis Armstrong's live recording, Satchmo at Symphony Hall. The reason was Sid Catlett. I wanted to immerse myself in that recording to try to really get into what he was doing. It's some of the greatest drumming ever.
You mentioned him playing with both Dizzy and Bunk, and he could have played with both of them—-or anyone else in jazz—-exactly the way he plays here with Louis. It's timeless. The different colors he gets by switching cymbals, his interaction with the soloists, and his own incredible solos on "Steak Face" and "Mop Mop" are all examples of drumming at the highest level. I listened to that record so much that it's always somewhere in the back of my mind.
Sid Catlett is one of those rare drummers who changed the way people played the instrument. I think that the effect he had on what came after him cannot be overstated. Every drummer in every style of music is probably influenced by him in some way, whether they know it or not.
HS: Another great player who has inspired both of us is Dave Tough. I put him right up there with Big Sid for the sounds he drew out of the cymbals, the way he made them shimmer underneath the band, the inventive fills he played, and his incredible driving beat. Lionel Hampton described Dave Tough's rhythm as "a magic carpet" and that really says it all.
S
tarting with his first recordings, you can tell who Dave was listening to at the time: Baby Dodds, Zutty Singleton, and Tubby Hall in the late twenties; Chick Webb and then Jo Jones in the thirties and, finally, the modernists in the mid to late 1940s. When he recorded with Eddie Condon on the Chicago Jazz album in 1939, he basically played an older style—which was appropriate to the sound of the band—but with his own distinctive ideas. Those records still knock me out every time I hear them.
KD: Me too! I believe some of the greatest drumming ever recorded is Dave Tough's work with Bud Freeman and His Famous Chicagoans from 1940. Those recordings changed my life. It's another example of timeless drumming that would fit with anything. The beat is just relentless and the way he accompanies the other musicians is subtly revolutionary. It fits the band so perfectly and yet it's so ahead of its time. Fortunately the recording quality is very good and you can really hear what he's doing.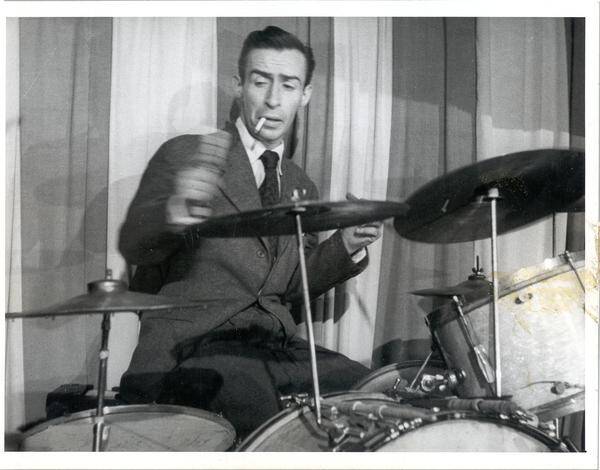 Dave Tough had so many wonderful aspects to his style, but there is one thing he did that has always stood out to me: instead of coming off the cymbals to play little fill-ins on the drums (as almost all drummers do), he would often play those fill-ins on the cymbals. This created a beautiful continuity because the cymbal flow was never interrupted, yet it still added excitement and rhythmic variation.
I really became fascinated with that when I heard him because it's so different. I feel that Jake Hanna found his own way of doing that as well. I think he was probably influenced by Dave, but he made it his own. It's an area of drumming that I don't think has fully been explored.
Like Sid Catlett, Dave Tough is a drummer who not only encapsulated all the great drummers who had come before him, but who also pointed the way toward all the great drummers who would follow.
HS: Dave was definitely in top form on those Bud Freeman records! As you say, the cymbal fills are a great way to keep the rhythm going while adding color and texture. His cymbal work was kind of a signature, and I think it is the most distinctive aspect of the Dave Tough sound. By the way, you are right about his influencing Jake Hanna. I heard that directly from Jake!
KD: Another drummer who I know influenced Jake and who has been a huge influence on you and me is George Wettling. I first heard him on an Eddie Condon recording that my father had and right away I knew that I was listening to a master. He just did everything right. As we've discussed before, the variations he played on the ride cymbal are a lifetime study, and that was only one aspect of his playing! He had an incredible touch and got such a beautiful sound out of the instrument. ​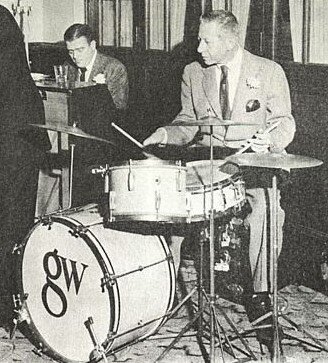 HS: Wettling is definitely one of my heroes on the drums. He was influenced by all the right guys: Baby Dodds, Zutty Singleton, Ben Pollack, Chick Webb…but he created his own style and sound. In the book Drummin' Men Burt Korall wrote that Wettling's drumming "bubbled and danced." That's a great description of his sound. Jack Maheu also said that when Wettling took a four-bar break with the band at Eddie Condon's "it would lift you right up out of your seat!"
You and I agree that he was one of the very best at crafting four-bar drum tags and also playing a variety of rhythms on the ride cymbal, even when staying on it for multiple choruses. And I can't think of any recording by George Wettling where the drums sound lethargic or dull!
Besides influencing us, Wettling was also an inspiration to Jake Hanna and another one of our friends: Wayne Jones. And Chick Webb was another drummer who thought highly of him. My late friend, "Jax" Lucas, told me of going with Dave Tough to the Savoy in Harlem to hear Chick Webb's Orchestra. When they arrived, George Wettling was playing with the band. Jax asked Dave what was going on and he replied, "George is warming up the band for Chick!" When Webb made his grand entrance and took his place behind the drums, Wettling sat with Jax and Tough at their table to listen. Jax told me that halfway through the set, he realized that someone else had joined their party at the table. He turned to look, and it was Gene Krupa!
KD: Wow, that's incredible! I'll always remember the first time I saw a film clip of George Wettling playing. I had already been listening to him extensively, but I was amazed when I saw how relaxed he looked. Everything seemed effortless. I couldn't understand how he could barely move, yet still produce so much intensity. It almost didn't make sense. It was truly eye-opening and a great lesson.
Aside from his beautiful sound and swinging feel, he was incredibly creative. When he was playing the hi-hat or ride cymbal, he would often play a light buzz on the snare drum on beats 2 and 4 with his left hand. It kept the press roll going even when he went to the cymbals and it was very subtle, you had to listen for it. I love that. I also love how he would sometimes accent the backbeat on the bass drum, which is an unusual thing to do, but it's such a great effect. Sometimes when he took a four-bar tag at the end of a tune, he would just keep playing time and make it a "time" solo. That's another very hip thing to do.
I think it's impossible to imagine the music I love—-particularly that of Eddie Condon—-without George Wettling. His sound is just part of that style. He's one of the drummers who really showed all of us exactly how it should be done. I cannot praise him enough.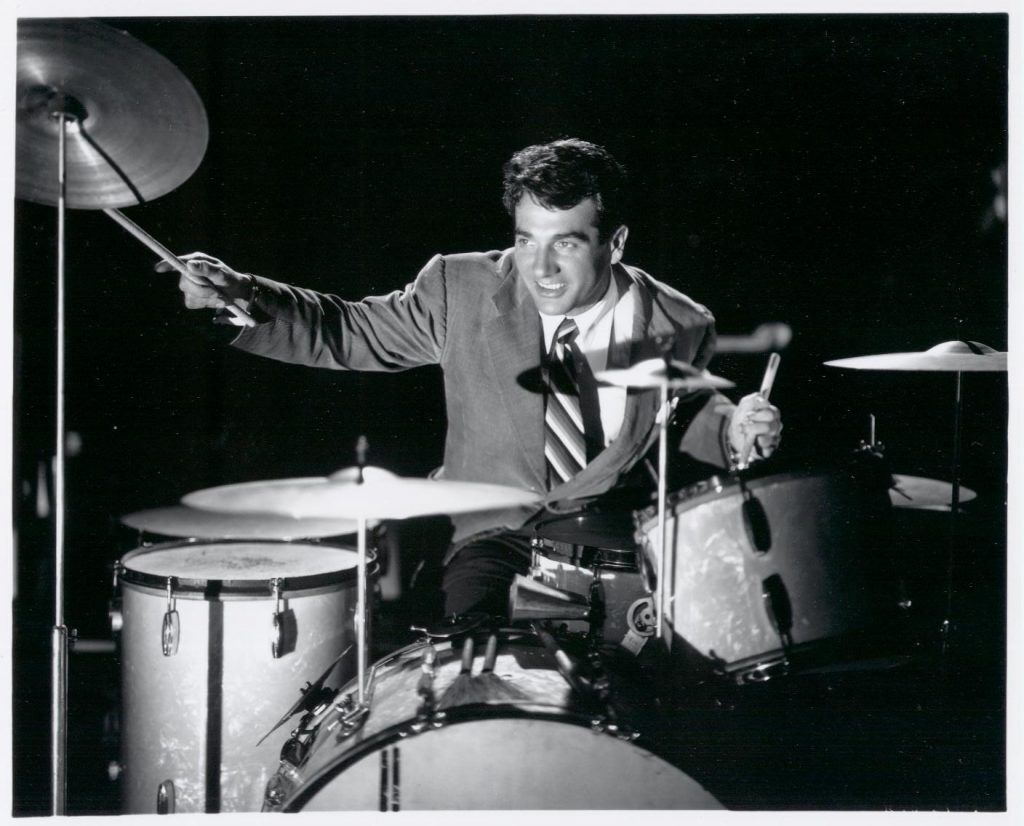 HS: I wish we could just keep going with these discussions, but for reasons of space, we should probably wrap up. For one last subject, let's talk about a drummer who is one of the greatest, and who has probably influenced more jazz drummers than anyone: Gene Krupa. He was marvelous at everything: sticks, brushes, cymbals, the tone of his drums, technique, showmanship…he had it all!
Gene always acknowledged his roots, too. Even at the height of the bop era, when trumpeters were screaming their highest notes and the pianists were playing the most modern chords—Gene still played press rolls! He fit perfectly with the Condon groups too. His playing on the Town Hall broadcasts always included press rolls, choke cymbal, four-beat bass drum, and all the good things he learned from Chick Webb.
Krupa's solos are really something, too. He played with such dynamics, and great technique—but never allowed his technical ability to get in the way of swinging!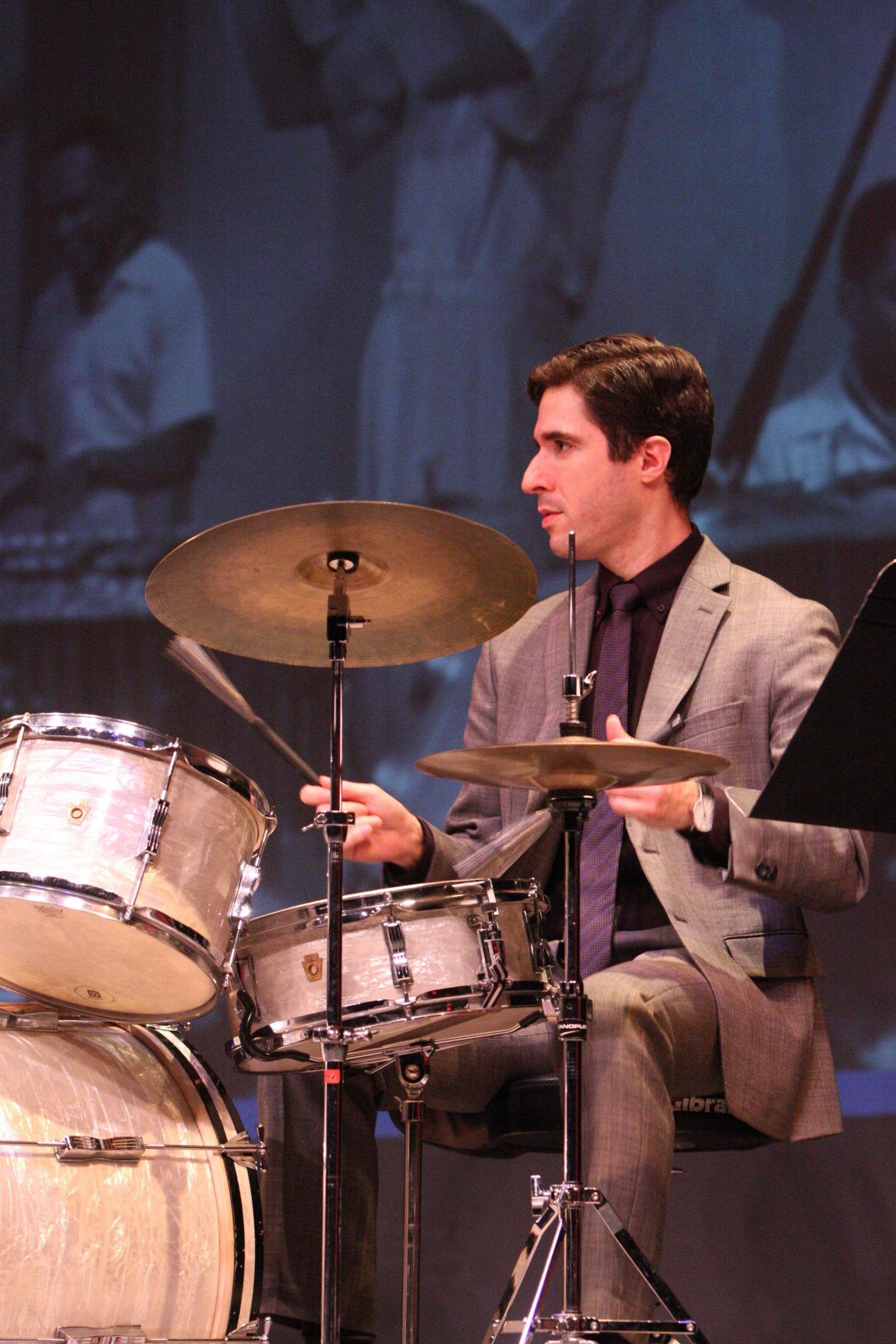 One of the most impressive drum solos I have ever heard was at the Bix Festival in Davenport. I was in the break room when the drummer onstage laid into a chorus that made me jump me out of my seat.
When I looked out the door onto the stage, I saw Kevin Dorn! You had already hit some rimshots to launch the solo. Next, you brought in some rudiments like Gene played, then added bass drum accents and cymbal crashes. All the while you were using dynamics to gradually increase the energy of the solo.
At the end, you played some perfectly-articulated triplets, then brought the band back in at a much greater intensity than before. That drum solo was the highlight of the weekend for me, and I have no doubt at all that Gene Krupa was smiling down on you that day.
KD: Thanks so much for saying that! It's difficult to put into words just how important Gene Krupa has been in my life. He's the reason I became interested in jazz and the reason I became a professional drummer. Seeing The Gene Krupa Story when I was 14 is what did it. The very first thing you hear in that movie (over the Columbia Pictures logo) is Gene swinging on the hi-hat. I had never heard anything like that before. I was already messing around with the drums, but I had no idea what could be done with the instrument. To this day, the most beautiful sound to me is a Gene Krupa rimshot.
Like you, I love hearing him play press rolls behind guys like Red Rodney in the late 1940s. It sounds great! Who else would have had the conviction to do that? It also sounds great when he plays a ride cymbal behind Bix Beiderbecke in 1930. I like that he didn't seem to associate particular parts of the drum set with specific styles or eras. It was all hip, it all swung, and it was all Gene Krupa. I wish there was more of that kind of thing today, instead of each style seeming to have all of its own rules that can't be deviated from.
To me, Gene Krupa showed that press rolls aren't "old timey" and ride cymbals aren't "modern"—they're just sounds. The specific sound isn't what's important; it's the feel, and Krupa had such a great feel. I could talk about him forever, but one thing I would like to stress is that when I was first getting into jazz drumming, the thing that really struck me was that all of these guys had their own style. Gene Krupa didn't sound like Dave Tough, and neither of them sounded like George Wettling, and they didn't sound like Sid Catlett, etc. That's maybe the biggest lesson I took away from hearing all of these guys. The more I learn about drumming, the more I'm amazed by just how great they were.
HS: I agree! All of our heroes had their own musical identities. And when we do it the right way, we can pay homage to all of them without losing our musical identities! Well, Brother—this dialogue has been a real pleasure. I really appreciate your enthusiasm for the idea, and your insights (and the compliments)! Are you up for doing this again, and maybe talking about some of the older players who influenced the guys we have talked about?
KD: Yes, I would love to! This has been great, my Brother!
Video Links
Sid Catlett
Sid Catlett & Louis Armstrong 1942
John Kirby Band featuring Sid Catlett on the Drums 1947
1947, Sid Catlett, Gene Krupa, Slam Stewart, Beryl Booker
Nick Fatool
Tin Roof Blues – Jack Teagarden 1950
Struttin' with some Barbecue – Teagarden 1950
Matty Matlock's Rampart Street Paraders (1956)
Big Noise from Winnetka – Haggart Bob/ Nick Fatool 1986
Morey Feld
Benny Goodman – 3 from Sweet & Lowdown
1963 Twice As Nice – Eddie Condon, Wild Bill Davison, Pee Wee Russell, Lion Smith, Helen Ward
Struttin with some barbecue -Hackett
Bobby Hackett Sextet Feat. Urbie Green – Sentimental Blues
Bobby Hackett Sextet, 'Bill Bailey, Won't You Please Come Home?'
Bobby Hackett Sextet, 'Deed I Do'
Bobby Hackett – Swing That Music (Goodyear film 1962)
When the Saints go marchin' in – Bobby Hackett.1962
Jake Hanna
Bing Crosby Live in Oslo, Norway, 1977
The Joe Bushkin Quartet: "Hallelujah!"
Jake Hanna – The American All Stars: PERDIDO
Jake Hanna & The American Swing All Stars: Pick Yourself Up
Gene Krupa
1958 Timex All-Star Jazz Show with Gene Krupa and Bobby Haggart
1959 Timex All-Star Jazz Show with Gene Krupa, Louis Armstrong, Bobby Hackett, Trummy Young
Benny Goodman Trio 1/25/1953 "Nice Work if You Can Get It" – Gene Krupa, Teddy Wilson
Eddie Shu, Gene Krupa Jazz Quartet, Dial M for Music, 1967
1961 Gene Krupa, Zutty Singleton, Eddie Condon, Bud Freeman
Dave Tough
1946 – Eddie Condon's Nightclub, New York
George Wettling
1964 Salute To Eddie Condon -6 Royal Garden Blues – Ed Hall – Cutty Cutshall
1964 Salute To Eddie Condon -11 Blue And Broken Hearted – Wild Bill Davison Ed Hall Cutty Cutshall
1964 Salute To Eddie Condon-4 Jazz Band Ball + Singing The Blues – Billy Butterfield
1964 Salute To Eddie Condon -3 Jazz Me Blues Ed Hall, Vic Dickenson, Wild Bill Davison
Selected Discography
Sid Catlett
"Sid Catlett 1944-1946" CLASSICS 974
"The Complete Associated Transcriptions 1944" Teddy Wilson Sextet Storyville STCD 8236
"Roll 'Em! Live in 1941" Benny Goodman Vintage Jazz Classics 1032
"Satchmo At Symphony Hall" Louis Armstrong Verve Select B 001689102
Nick Fatool
"Bing With A Beat" Bing Crosby with Bob Scobey's Frisco Jazz Band Bluebird/RCA Victor 82876-60142-2, LPM-1476
"Coast Concert" Bobby Hackett and Jack Teagarden Membran Music Ltd. 222977-203
"Dixieland USA" Matty Matlock and His Dixie-Men Pickwick/Simitar 1124 – 2
"Tribute to Benny Goodman" Jess Stacy and The Famous Sidemen Koch Jazz KOC CD 8506
Morey Feld
"Dr. Jazz Vol. 14" Pee Wee Erwin Storyville STCD 6059
"Bud Freeman 1939-1940" Bud Freeman CLASSICS 811
"Live At Basin Street East" Benny Goodman Sextet American Jazz Classics AJC 99090
Jake Hanna
"Major League" Scott Hamilton, Dave McKenna, Jake Hanna Concord Jazz CCD-4305
"No Bass Hit" Scott Hamilton, Dave McKenna, Jake Hanna Concord Jazz CCD-4097
"Raisin' The Roof" Allan Vache and Jim Galloway Nagel Heyer Records NHCD 054
"Soprano Summit In Concert" Soprano Summit Concord Jazz CCD-4029
Gene Krupa
"Drummer Man" Gene Krupa Big Band Verve 827 843-2
"The Famous 1938 Carnegie Hall Jazz Concert" Benny Goodman Avid AMBX 151
"Krupa and Rich" Gene Krupa and Buddy Rich EMI 5216432
"Who's Rhythm? All Star Small Group Recordings" Gene Krupa Ocium OCM 004
Dave Tough
"Eddie Condon: Dixieland All-Stars" Eddie Condon GRP/Decca GRD-637
"Tommy Dorsey and His Clambake Seven 1936-1938" Tommy Dorsey Retrieval ‎RTR 79012 "Bud Freeman 1939-1940" Bud Freeman CLASSICS 811
George Wettling
"Austin High School Jazz In Hi-Fi" Bud Freeman Mosaic MCD-1002
"Bixieland" Eddie Condon Membrian LC 12281
"Bud Freeman 1928-1938" Bud Freeman CLASSICS 781
"Live! Miami Beach 1955" Wild Bill Davison with Eddie Condon's All Stars Storyville 1016065