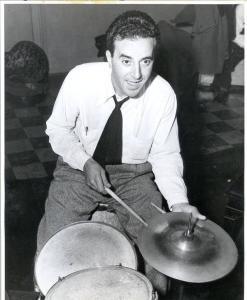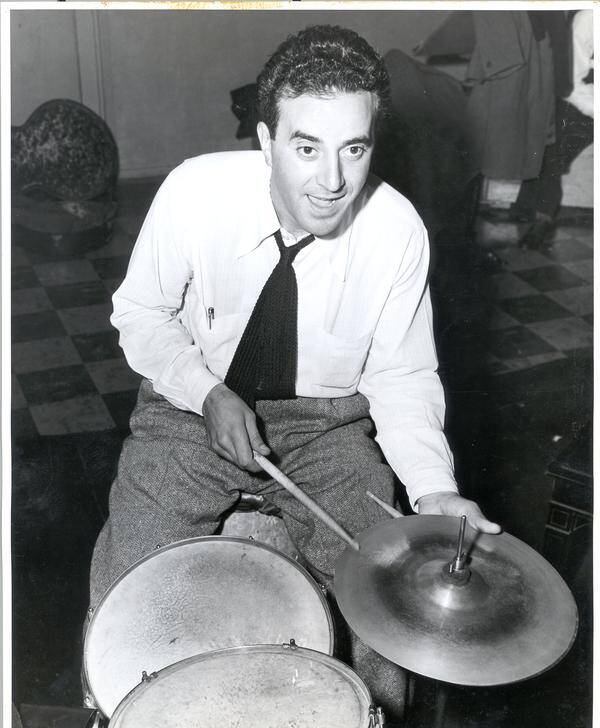 The great jazz pianist Jess Stacy told his biographer, Keith Keller: "Nick Fatool was always 100 per cent of what a good drummer should be." Drummers, other instrumentalists and jazz fans around the world agree without hesitation.
Albert "Nick" Fatool was born in Milbury, Massachusetts, in 1915. After his family moved to Rhode Island, he played drums in the local high school. Just a few years later he was living in New York City and playing with the much-admired Joe Haymes Orchestra. A residency in Dallas with the Don Bestor Orchestra followed, then Fatool went straight to the top—joining the Benny Goodman Orchestra in 1939.
His driving but always musical hi-hats, backbeats, and brushes were integral to the orchestra's rhythmic pulse at the second Carnegie Hall concert, the second Spirituals to Swing concert and on numerous "Camel Caravan" broadcasts. In 1939, guitarist Charlie Christian joined the Goodman orchestra. Fatool's swinging rhythm was an integral part of the rhythm section that backed Christian on the classic recordings of "Rose Room," "Seven Come Eleven," and other sides.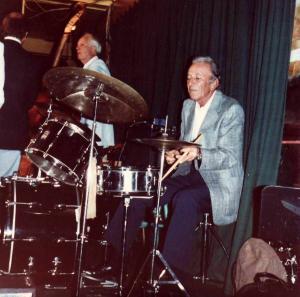 In 1940, after an acrimonious parting with Goodman, Fatool moved on to another top orchestra: Artie Shaw's. There, he blended seamlessly with Shaw's rhythm section. He is seen onscreen with Shaw and the orchestra in the 1940 film "Second Chorus." During his stay with Shaw, Fatool participated in some of the orchestra's greatest recordings—including "Concerto For Clarinet." He also recorded with Shaw's Gramercy Five, foreshadowing some of the licks which would later project him to the top of the list of "Dixieland" drummers.
Following his stint with Shaw, Fatool worked with the Claude Thornhill Orchestra and then moved to Los Angeles in 1943. He quickly became a favorite with studio musicians and also with the jazz and swing musicians who settled in Southern California during wartime. Between 1945 and 1951 he recorded with specially-assembled recording ensembles such as the Capitol Jazzmen, Lavere's Chicago Loopers and the Four-Star Rhythm Section as well as established bands such as Bob Crosby's Orchestra and the Bob Cats.
Later he recorded several sessions with Jess Stacy, including three magnificent quartet dates with guitarist George Van Eps and bassist Morty Corb. Fatool's contributions (in beautiful hi-fi sound) also spark the octet that Stacy led for a mid-'50s salute to Benny Goodman. For some discerning listeners, his drumming on "Sing, Sing, Sing"—while totally different from Gene Krupa's on the Goodman Carnegie Hall Concert—is equally inventive.
Nicknamed "Old Rub-A-Dub," Fatool became a reliable and sought-after drummer in the Los Angeles music scene. He made hundreds of records, from vocal accompaniments (Frank Sinatra, Peggy Lee, Nat King Cole, Rosemary Clooney, Claire Austin) to countless sessions with groups led primarily by Matty Matlock (Rampart Street Paraders, Paducah Patrol, Kings of Dixieland) to excursions into Ragtime, banjo music, and trad jazz (Wally Rose, Johnny Maddox, Banjo Kings, Wonderland Jazz Band, and a splendid session with Bing Crosby, backed by Bob Scobey and an all-star group playing Matlock arrangements).
He played a memorable concert with Louis Armstrong's All-Stars in 1951 (when Armstrong was between drummers); appeared on the soundtrack of Pete Kelly's Blues (film and television versions); backed Jack Teagarden with an all-star group on the Stars of Jazz TV program and was the regular drummer/percussionist on Bing Crosby's CBS Radio program.
In the 1960s he played with Pete Fountain, then continued to freelance around Southern California. He also developed a love of golf—enough to briefly become a professional golfer!
During the 1970s, Fatool was involved with an extensive recording project for Time-Life: The Swing Era. For this multi-volume series, top Los Angeles jazz and studio musicians re-created the classic sides originally recorded in the '30s and '40s. Nick Fatool used many of the licks he learned from Chick Webb, Dave Tough, Ray Bauduc, and other great drummers, but also added his own interpretations to the drum parts. It is amusing to speculate about what Fatool was thinking when he re-created his own part on the Time-Life version of the Gramercy Five "Summit Ridge Drive!"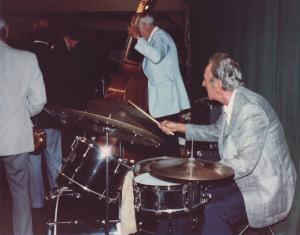 As the jazz festivals came to prominence, Fatool was heard with all-star combinations at the Sacramento Dixieland Jubilee, the Los Angeles Classic Jazz Festival and the early version of the San Diego Thanksgiving Dixieland Jazz Festival as well as concerts of the Poor Angel Jazz Club and similar groups in the Los Angeles area.
He gradually cut back on his musical activities in later years, to spend more time on the links. However, he toured Europe with the World's Greatest Jazz Band and made his only recording as a leader (Nick Fatool's Jazz Band on the Jazzology label). He passed away in Los Angeles on September 26, 2000.
Fortunately for drummers AND everyone else, nearly everything that Nick Fatool recorded is available on CD, and—in far too few cases—video. To get a feel for how much he added to an already-outstanding musical group, hear him with Bobby Hackett and Jack Teagarden on the Coast Concert recording. The perfectly-timed rimshots, bass drum accents, cowbell taps, and crashes on the big swish cymbal are hallmarks of the Nick Fatool style. They never fail to cause a grin, in appreciation of his musicianship and quiet sense of humor. In fact, listen to any recording with Nick Fatool and it is likely that your first thoughts will include most, if not all of these adjectives: "Subtle, swinging, tasteful, and inventive." Jess Stacy was right!