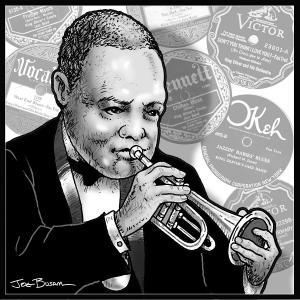 The date and birthplace of Joseph Nathan Oliver are uncertain. The date given by many sources is December 19, 1885. Whenever and wherever he was born, Joe Oliver grew up in New Orleans and developed a high degree of proficiency playing brass instruments, first trombone and then cornet.
New Orleans at the turn of the 20th century was an exciting place to be a young musician. Oliver had the opportunity to hear a freewheeling new music being born that its practitioners were still calling "ragtime." He heard the playing of cornet kings Buddy Bolden, Manuel Perez, and Freddie Keppard and, by 1907, took his place among them.
Eventually, Joe Oliver was hired by trombonist Edward "Kid" Ory, who led the finest jazz band in town—and earned the sobriquet "King" after defeating both Freddie Keppard and Manuel Perez in cornet battles. Oliver took fellow cornetist Louis Armstrong under his wing; after Oliver moved to Chicago and became established there as a bandleader, he sent for Armstrong as his second cornetist.
Joe and Louis had an almost telepathic rapport; their unison execution of dazzling cornet breaks astonish us via the first recordings King Oliver's Creole Jazz Band made for Gennett in 1923. While Louis favored the soaring tone of his open-bell instrument, Oliver was expert at employing mutes for a variety of effects. Louis soon left Oliver for New York and a plum gig with Fletcher Henderson's Orchestra; Oliver continued to work and record in Chicago until deciding to relocate his band (now the Dixie Syncopators) New York in 1927.
While in New York, Joe Oliver blundered. The Dixie Syncopators had what seemed a secure gig at the Savoy Ballroom when he was offered a contract to play at the Cotton Club. Oliver balked at the terms of the contract and Duke Ellington was hired instead. When his Savoy job ended soon thereafter, the Dixie Syncopators disbanded.
After a year of being a sideman, King Oliver bounced back in 1929 with a new orchestra, which boasted excellent arrangements and fine musicianship. Sadly, by 1931 the Depression and Oliver's own health problems curtailed his reign; following a long decline he died while employed as a janitor in a Savannah pool room on April 8, 1938.