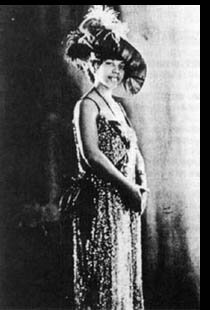 Blues singer Esther Bigeou  (c.1892 – November 15, 1936) was a cousin of drummer Paul Barbarin which made her part of one of the most musical families in New Orleans in the Teens and 1920s.
Despite her Jazz pedigree, her style tends to be more vaudeville oriented than Blues and Jazz sounding. Esther Bigeou came to prominence as a singer in the musical revue "Broadway Rastus" which was staged in Philadelphia and New York in 1917.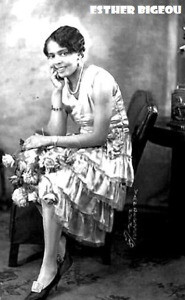 Bigeou was one of many vaudeville singers who picked up on the Blues fad and recorded Blues records after the amazing success of Mamie Smith's Crazy Blues. On her March of 1923 sides Bigeou is accompanied by Rickett's Stars. On The December 13th, 1923 sides she is accompanied by Piron's New Orleans Orchestra on all other sides she is accompanied by Clarence Williams.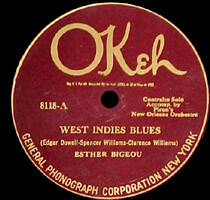 Bigeou's style is very similar to Mamie Smith's who was also a vaudeville performer. Bigeou toured the country throughout the 1920s working the TOBA circuit. She reportedly left the music business and returned to New Orleans sometime around 1930.

Title

Recording Date

Recording Location

Company

Aggravatin' Papa
(Don't You Try To Two-Time Me)


(Roy Turk / J. Russel Robinson)

3-1923
New York, New York
Okeh
8053
Beale St. Blues


(W.C. Handy)

3-28-1923
New York, New York
Okeh
8058-B
Beale Street Mama
Piano Accompaniment by Clarence Williams


(Roy Turk / J. Russel Robinson)

3-15-1923
New York, New York
Okeh
8057-A
Four O'Clock Blues


(Johnny Dunn / Gus Horsley)

3-1923
New York, New York
Okeh
8054-B
The Gulf Coast Blues


(Clarence Williams)

3-20-1923
New York, New York
Okeh
8056-A
The Hesitating Blues


(W.C. Handy)

3-28-1923
New York, New York
Okeh
8065-B
If That's What You Want Here It Is


(Shepard N. Edmonds)

11-15-1921
New York, New York
Okeh
8025-B
I'm Through With You (As I Can Be)
Piano Accompaniment by Clarence Williams


(Billy Higgins)

3-15-1923
New York, New York
Okeh
8057-B
The Memphis Blues


(W.C. Handy)

10-5-1921
New York, New York
Okeh
8026
Nervous Blues


(Perry Bradford)

11-15-1921
New York, New York
Okeh
8029-A
Outside Of That, He's All Right With Me


(Clarence Williams)

3-20-1923
New York, New York
Okeh
8056-B
Panama Limited Blues


(Esther Bigeou / Maceo Pinkard)

12-13-1923
New York, New York
Okeh
8125-B
The St. Louis Blues


(W.C. Handy)

10-5-1921
New York, New York
Okeh
8026
Stingaree Blues
(A Down Home Blues)


(Clinton A. Kemp)

11-5-1921
New York, New York
Okeh
8025-A
That Twa-Twa Tune


(Aaron C. Thompson)

12-2-1923
New York, New York
Okeh
8118-B
West Indies Blues


(Clarence Williams / Spencer Williams / Edgar Dowell)

12-14-1923
New York, New York
Okeh
8118-A
You Ain't Treating Me Right


(Esther Bigeou / Clarence Williams)

12-13-1923
New York, New York
Okeh
8125-A